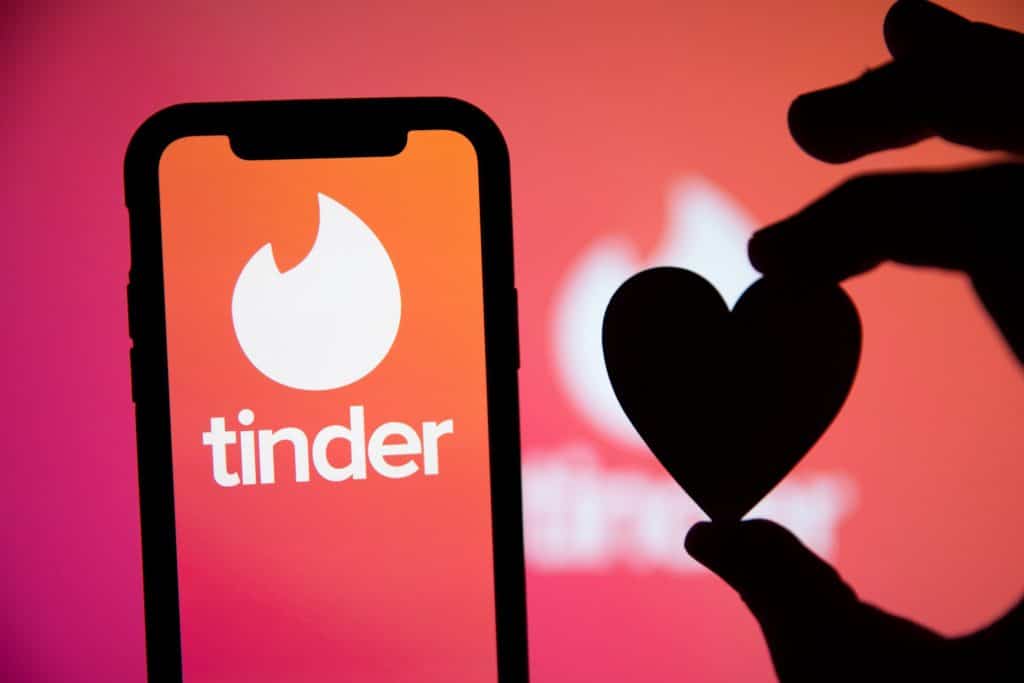 Tinder is now, without doubt, one of the best-known dating apps on the market and is used by around 75 million people per month worldwide. Since its inception in 2012, the platform has steadily grown, with many users loving its simplicity and the ability to find and date people local to them. While most users use the free version of the app, there are also a number of premium paid options such as Tinder Plus, Tinder Gold and Tinder Platinum. Unfortunately, this prolific dating platform has become an opportunity for con artists, with Tinder Forex scams emerging for unsuspecting victims.
One of the most high-profile scams on Tinder has now been publicised by the Netflix documentary The Tinder Swindler, which tells the story of a man who conned a number of women out of hundreds of thousands of dollars. While this scam was elaborate, there are plenty of other scams on the platform that are often much simpler and sometimes harder to spot.
Romance scams are common. In 2015 it was estimated that 30% of Tinder subscribers are married, for example, and many of them are not being honest about this with the people they match with.
However, Tinder scammers go much further than that when it comes to deceiving other users. In this article, we will have a look at how Tinder scams work, why they are so common, and what you can do to protect yourself.
---
Related Articles
---
How do these scams work?
Different scams work in different ways, but ones to stay especially alert for are the scams that will try to swindle you out of money. This may involve one of your matches on Tinder slowly getting into your affections and then asking to borrow money, as happened with the high-profile Tinder Swindler case. However, it could also take the form of a classic online forex trading scam or other investment scams.
When it comes to forex trading scams on Tinder, scammers act much like they would on any other platform. First, they gain your confidence, and because this dating app will generally involve them engaging with you romantically. They then try to get you to invest money with them, or with brokers they recommend, often promising very high returns or other perks, and sometimes offering to trade on your behalf, which will involve you transferring money to them or their (usually bogus) company. As with any other type of trading scam, you will not see the money again. In fact, you will likely be asked for more money when it's time to withdraw (perhaps to cover 'fees' or 'tax').
Not all trading scams involve people actually getting you to sign over money in order for them to trade on your behalf. Some scammers will present themselves as very successful and wealthy, saying that they got this way through forex trading. They will then try to persuade you to try trading, offering to 'help' in various ways. Many forex scammers simply persuade you to buy information products, trading tools or signals software, which is mostly worthless or unnecessary.
Others may try to persuade you to sign up with a particular broker, claiming that they have made a lot of money due to the unique features of that broker. At best, this will be a legitimate broker, but the scammers may not be making money there. They are simply getting a referral or affiliate fee for signing you up. In the worst cases, however, the brokers that the scammers recommend may be 'clone firms', which are unregistered, unlicensed firms using the name, logo and registration number of another legitimate broker.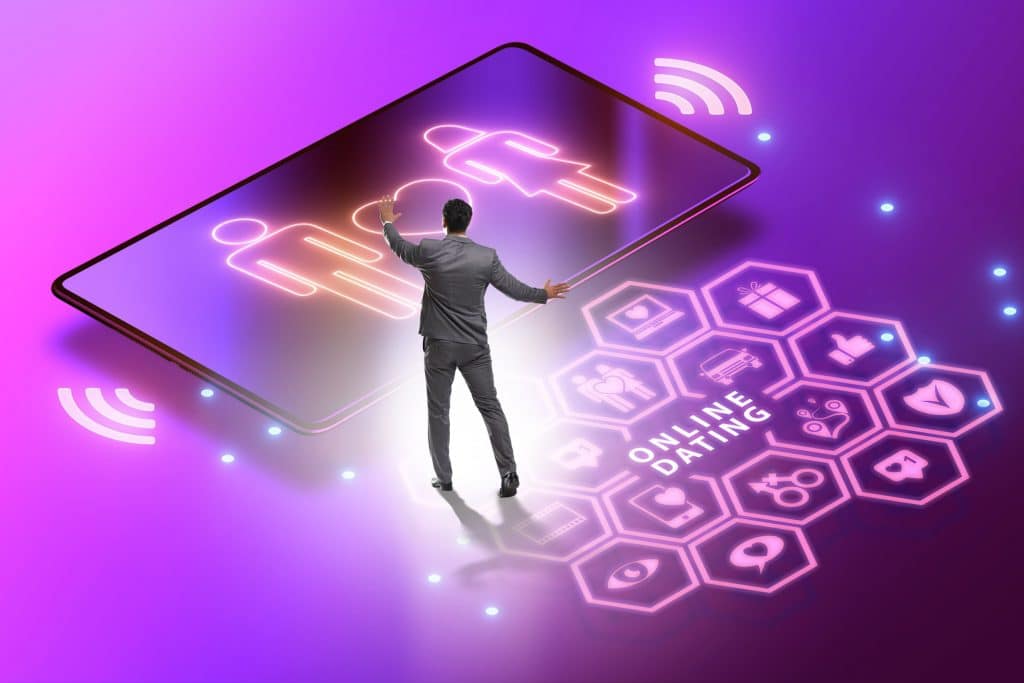 Romance scams
Romance scams are, understandably enough, most common on Tinder and other dating sites. Users are on the app looking for love, so scammers tend to offer that, or the illusion of it, to lure in their victims. They develop a romantic connection with their victim first before convincing them to hand over money, often in the form of Bitcoin or other cryptocurrencies, as these transactions can be hard to trace or reverse.
By the time a victim realises they are not in a real relationship with the scammer, they may have handed over large amounts of money. These scams can be particularly hard on the victims as they come with personal heartbreak and often a lot of embarrassment at being taken in.
To make it worse, scammers often prey on vulnerable or lonely people as they feel that it will be easier to persuade them of their good intentions and less likely that the victims will seek advice from friends and family before transferring money. These scammers are very good at spotting, leveraging, weaknesses and manipulating people.
It is possible for anyone to be the victim of a Tinder scam, regardless of gender, age or anything else. While there may be a stereotype of men preying on lonely women when it comes to romance scams, it is common to see profiles of attractive and seemingly wealthy women persuading men to invest in a certain way.
Men have reported profiles featuring beautiful women who have conned them out of large amounts of money. It is important to note that, with some of these scams, the victims never actually meet their scammer in person. Often, they live conveniently far away or are always travelling on business. In these cases, the people in the scammer's profile pictures are probably not who you are actually talking to.
How to avoid scams on Tinder
Stay alert when using Tinder, and be aware that if anyone asks you for money for any reason, it is always a red flag. Be aware that not all scammers are pushy and aggressive. Many will simply post photos of their high-end, luxury lifestyle and wait for you to ask what they do for a living.
They will then start talking about a trading or investment scheme and perhaps suggest that you try it. They will often indicate that there is some 'trade secret' that allows them to get guaranteed high returns or make a lot of money in a short time. They may then say that they can share that advantage, either by trading for you, or selling you whatever that secret is (perhaps some trading software or tool).
If you ask for more information, many scammers will share screenshots of high trading profits or other evidence of how they make money, which is generally fake. Stay alert to the fact that almost anything can be faked online. You may even find that if you do a reverse image search online, using their profile pictures, they turn out to be stock photos or even photos of minor celebrities or influencers they have found online.
In order to avoid scams, never transfer money, in any form, to anyone you meet on Tinder. If someone suggests a particular company or brokerage to use as an investment platform, do your own research, check that they are regulated, and visit their website directly, rather than using any links sent to you via Tinder or elsewhere online.
How to report a scammer on Tinder
To report someone on Tinder, go to their profile, scroll down and tap on 'report'. You can choose a few different reasons to report someone, such as inappropriate messages or spam. Choose the one that best fits the situation, depending on how far the scam has gone. You can also select 'other' and tell Tinder exactly why you are filing a report. Tinder will investigate and may well suspend the person's account and ban them from the platform.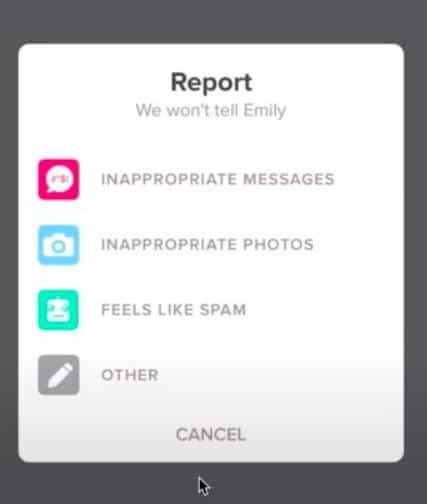 Who else can I contact?
When you report a scammer on Tinder, they may well have their account suspended, but Tinder will not necessarily take legal action. If you have actually been scammed out of any money, you will want to make a report to the police or other authorities. In the UK, you can report scams to Action Fraud, using its website ActionFraud.Police.UK. In the US, internet crimes can always be reported to the FBI's Internet Crime Complaint Center at its website, IC3.gov.
Investment scams on any platform can also be reported to the relevant financial regulator for a specific region. In the UK, you can contact the Financial Conduct Authority (FCA). In the US, you can alert the Financial Industry Regulatory Authority (FINRA). Look up the relevant governing body where you live, report the scam, and give as many details as possible to the authorities.
The Safest Forex Brokers
The best way to avoid scams is to ensure you always trade with a regulated broker. This is why we have listed below the safest forex brokers for you to trade with

Broker
Features
Min Deposit
EURUSD Spread
72% of retail CFD accounts lose money.

US Clients: No

Regulated : Yes

– Ultra-fast execution from 0.2s
– Low spreads from 0.0 pups
– All trading strategies allowed
– No restrictions on profitability
– Top trading conditions

$100
from 0.0 pips
Your capital is at risk

US Clients: No

Regulated : Yes

– Flexible leverage up to 500:1
– Multi award-winning New Zealand broker
– Institutional-grade spreads from 0.1 pips

$200
From 0.1
Your capital is at risk

US Clients: No

Regulated : Yes

– 40% New Member Bonus
– MIFID, ASIC, FSA & FSCA regulated
– Free Online Trading Coach

$100
Fixed

Sign Up

Europe* CFDs are complex instruments and come with a high risk of losing money rapidly due to leverage. 79% of retail investor accounts lose money when trading CFDs with this provider. You should consider whether you understand how CFDs work and whether you can afford to take the high risk of losing your money.

82% of retail investor accounts lose money when trading CFDs with this provider. You should consider whether you can afford to take the high risk of losing your money.

US Clients: No

Regulated : Yes

– FCA, ASIC, CySEC Regulated.
– Multi Asset Trading Platform.
– No Time Frame For Demo Accounts.
– the provider offers CFD trading only

100GBP/AUD/EUR/USD
variable

Sign Up

82% of retail investor accounts lose money when trading CFDs with this provider. You should consider whether you can afford to take the high risk of losing your money.

Between 74-89 % of retail investor accounts lose money when trading CFDs

US Clients: No

Regulated : Yes

FCA, CySEC, DFSA, BaFIN, SCB, CMA & ASIC Authorized and Regulated
24 Hour Support
Negative Balance Protection

$200
NDD 0.09 / Standard 0.69

Sign Up

Between 74-89 % of retail investor accounts lose money when trading CFDs
Conclusion
Ultimately, Tinder is a dating app. Be wary of anyone who approaches you on the platform with any kind of opportunity to make money, especially if they are offering high returns or promising that you can make a lot of money very quickly. Never give money to anyone you 'meet' on Tinder, whether they are asking for a loan or offering to trade or invest for you. If you think that you have been scammed on Tinder, then report it straight away. Your report could prevent others from being defrauded in the future.