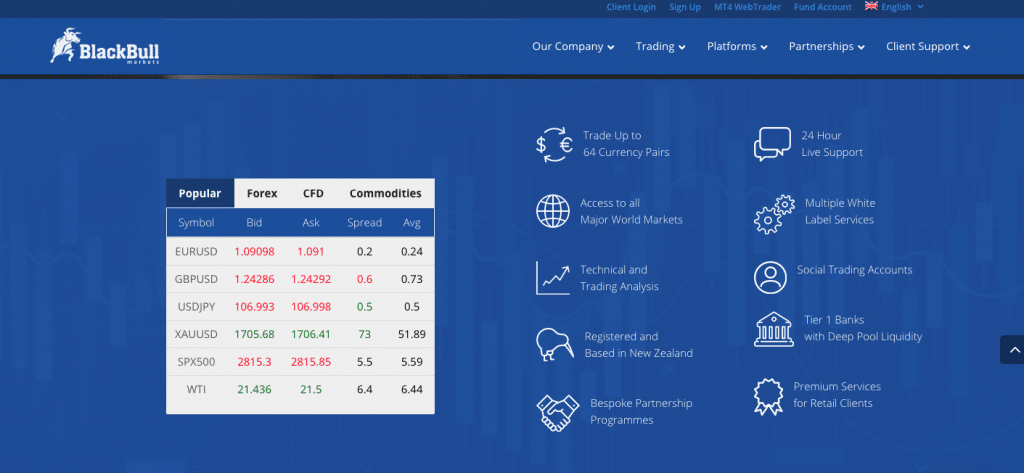 Expert's Viewpoint
BlackBull Markets – a trading platform that provides services for trading on Forex, CFD, products. BlackBull Markets, based in Auckland, New Zealand, is registered in the Register of Financial Services Providers (FSPR) and Financial Services Complaints Limited (FSCL). 
The broker provides its clients with several ways to deposit funds, including bank transfer, Visa, MasterCard, Skrill, Neteller, China Union Pay and FasaPay. The site does not indicate what commission is charged for replenishment.
BlackBull Markets offers its customers several areas of education: a video on training, trading guides and a glossary on trading. Additionally, the company has a section "Trading resources" where you can look at the economic calendar.
Opening an account with Blackbull Markets will take no more than five minutes, you need to go to their website and fill out the registration form. However, in order to pass verification, it is necessary to provide personal documents confirming the identity and also your place of residence, the procedure will take no more than 48 hours.
Rating Overview
| | |
| --- | --- |
| Overall rating | |
| Regulation | |
| Fees | |
| Range of Markets | |
| Platforms | |
Blackbull Markets customers have access to more than 50 different currency pairs and Forex crosses. As well as gold and silver precious metals priced in US dollars, crude oil and natural gas and six major stock indexes.
The company also provides its customers access to trading CFD contacts on popular cryptocurrencies.
Blackbull Markets offers several types of accounts:
ECN Standard – The minimum deposit is $ 200. Spreads start at 0.8 pips with a minimum trade size of 0.01 lots. No additional fees are charged, the maximum leverage that the broker provides up to 1: 500.
ECN Prime – the minimum deposit is already $ 2,000, spreads start at 0.1 pips, and a commission of $ 6 is charged from each lot. Leverage is available up to 1: 500 and the minimum transaction volume is 0.01.
ECN Institutional is a serious account with a minimum deposit of $ 20,000 or more. Spreads start from 0 points, and commission fees are the subject of an agreement between the client and the broker. The minimum transaction volume starts from 0.01 lots, the maximum leverage, which is available 1: 500.
In addition, customers have the opportunity to use an Islamic account.
Blackbull Markets offers its customers several platforms for trading:
MetaTrader 4 (MT4) is one of the most popular trading platforms in the world for several reasons. Some of its many functions include several types of orders, a market review window, a navigator window, many preset indicators and analysis tools, multiple chart settings, as well as the ability to automatically trade and the ability to execute orders.
MetaTrader 5 (MT5) Some of the functions that it includes include more than 20-time frames, more than 30 built-in indicators, an integrated economic calendar, optimised trading processing speeds, the ability to hedge your trading positions and advanced functionality of pending orders. As with MT4, it is also available for download on a PC, in a mobile application, and for a web trader.
MAM and PAMM accounts are also available. For social / copy-trading, BlackBull Markets works with ZuluTrade and myfxbook to make it accessible to its customers.
Broker Summary
As far as FX/CFD brokers are concerned, getting the reputation of their business in good shape is probably the most difficult part of what they're looking to achieve.
Reviews can be manipulated, but when it comes to the judgment of the trading masses, there is truly no room for error, and no second chances.
This is however just the part of the online trading equation New Zealand's BlackBull Markets has gotten right. Since 2014 (when the brokerage was launched) users have had plenty of time to post feedback good and bad, and they did exactly that.
Message boards and trading forums are rife with user feedback about BBM, and the overwhelming majority of this feedback is positive. In fact, most trader reviews border on the ecstatic, extolling the virtues of the BlackBull setup.
Compare BlackBull Markets with other approved brokers
| | | | | |
| --- | --- | --- | --- | --- |
| | | | | |
| Regulation | FSPR | ASIC, MiFID, FSA, FSCA | FCA, CySEC, ASIC, FSA | FCA, CySEC, DFSA, BaFIN, SCB, CMA & ASIC |
| Customer Support | email, phone, live chat | email, phone, live chat | email, whatsapp, live chat | email, phone, live chat |
| Trading Platforms | MT4, MT5, WebTrader, Mobile Apps | MT4, MT5, Mobile App | desktop and mobile via brokers own platform | MT4, MT5, cTrader, TradingView |
| Minimum Deposit | $200 | $100 | 100GBP/AUD/EUR/USD | $200 |
| Leverage | 1:500 | 400:1 | 1:30 | 1:30 |
| Total Markets | 182 | 1260 | 1896 | 1200 |
| Total Currency Pairs | 72 | 55 | 61 | 62 |
| Total Cryptocurrencies | 0 | 17 | 19 | 18 |
There are only a handful of negative posts, which are mostly focused on the difficulties experienced by some traders regarding the verification process and the paperwork they were required to submit.
The way BlackBull Markets operates is a bit peculiar – to say the least. The brokerage is based and regulated in New Zealand, yet it does not accept clients from the country. Other than that however, with the exception of the US and a handful of European countries, such as France and Belgium, its services can be accessed from all over the world.
The corporate backer of the BlackBull Markets brand is Black Bull Group Limited. Based in New Zealand, Black Bull Group is a registered company (reg no: 5463921), and it is licensed and regulated by the Financial Services Provider Register (under reg. no: FSP403326).
Level 22 120, Albert Street, Auckland 1010, New Zealand is the actual address of the company.
How can a New Zealand company legally peddle financial services in the EEA though? Simple: in addition to its New Zealand headquarters, BlackBull Markets maintains a corporate presence in the UK too.
Black Bull Group UK Limited is a registered UK company and it uses BlackBull Group UK Ltd for payments clearing.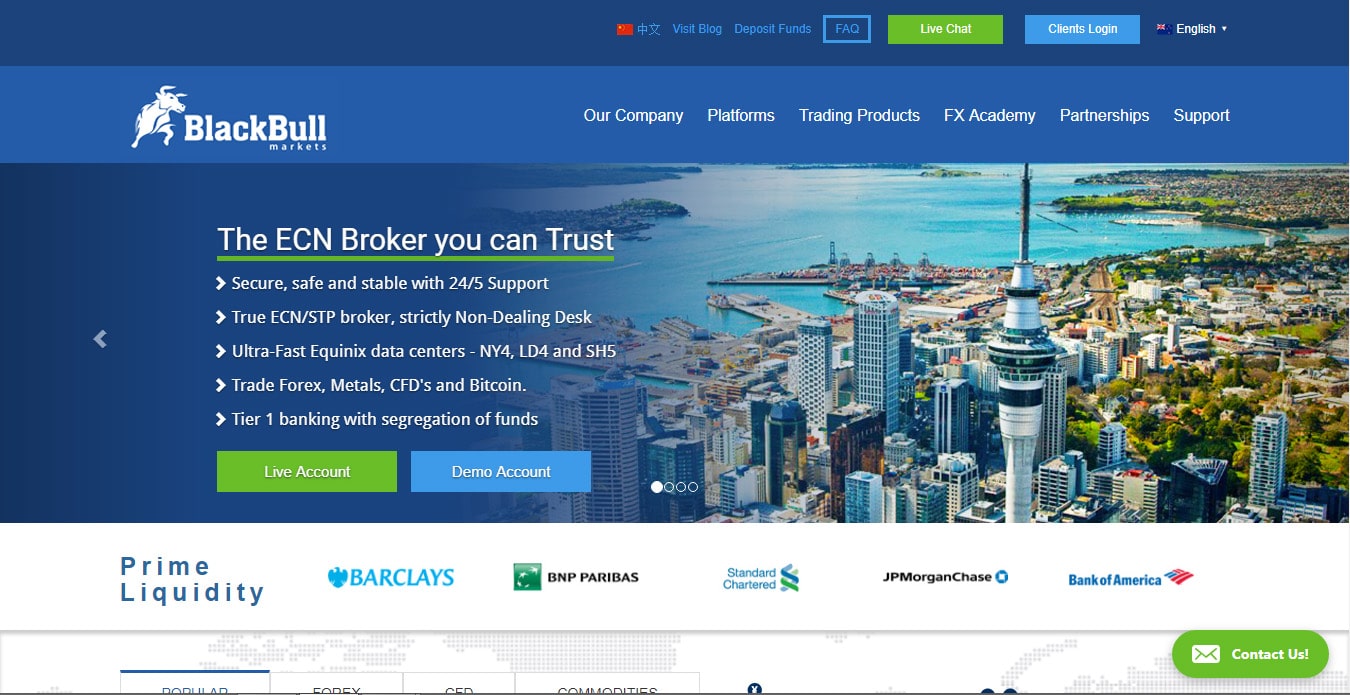 It is presumably this UK presence that gives the operator the right to accept clients from Europe as well as from the majority of the rest of the world.
Why is BlackBull Markets based in New Zealand? – you might wonder…
According to the official site of the broker, the stable political climate and innovation-focused business environment were two major factors in the decision to establish the main corporate headquarters there.
New Zealand is also an emerging Fintech hotbed and that is a definite advantage as well.
Why is BlackBull Markerts an attractive trading destination – above and beyond its nearly spotless reputation and solid regulatory standing?
 The broker offers excellent trading products, account types, superb market coverage and a great, no-nonsense trading platform.
It is also an award-winning broker and it offers outstanding maximum leverage of 1:500 across all its account types.
Trading conditions and execution (ECN/STP execution) are quite superb as well. The minimum deposit requirement of just $200 means that the most basic account of the broker is very accessible.
Spreads and Leverage
In addition to a free demo account (for which it is easy and quick to register) and an Islamic account option, the broker has three main types of accounts.
Of these, the cheapest is the standard ECN account, which is clearly intended for beginners.
As already mentioned, the minimum required deposit on this account is $ 200. Obviously, you cannot get the best available trading conditions for that kind of money. However, what the broker offers in this regard is nothing short of impressive.
A standard account has spreads from 0.8 pips on major currency pairs such as EUR / USD.
No commissions are charged on this account, and the maximum available leverage is 1: 500.
The main account offers STP execution and spreads, starting from just 0.1 points. The cost of such generous terms of trade means a commission of $ 6 per lot.
To be eligible for such an account, traders must deposit at least $ 2,000. Despite this, this type of account is the most popular among brokers.
Leverage is 1: 500 for this version of the account.
An institutional account is at the top of the list of account types. The minimum deposit required is $ 20,000.
Spreads start at 0 pips, and commissions are negotiable. Institutional users are offered MAM / PAMM and white marking options.
Platform and Tools
The only trading platform offered by the broker is MetaQuotes' MT4, which is arguably the best such platform in the business.
Several different MT4 variants can be downloaded for free at the BlackBull Markets website, covering Windows and Mac machines as well as Android and iOS-based mobile systems.
Interestingly, the broker has not yet made available the Web Trader variant of the platform.
Experienced traders know MT4 all too well. The platform is in effect a fully customizable trading environment, offering superb charting capabilities, as well as automated trading via its EAs.
The platform version that can be downloaded from the BlackBull Markets website offers no fewer than 85 preinstalled technical indicators. Being keen on customization, MT4 allows traders to install additional indicators and even to create their own from scratch.
Multiple order types are supported by the platform, as well as an impressive number of time frames. Chart setup templates can be saved for later use.
A VPS service is available for EAs. For institutional and large volume investors, who deposit at least $20,000, the service is complementary.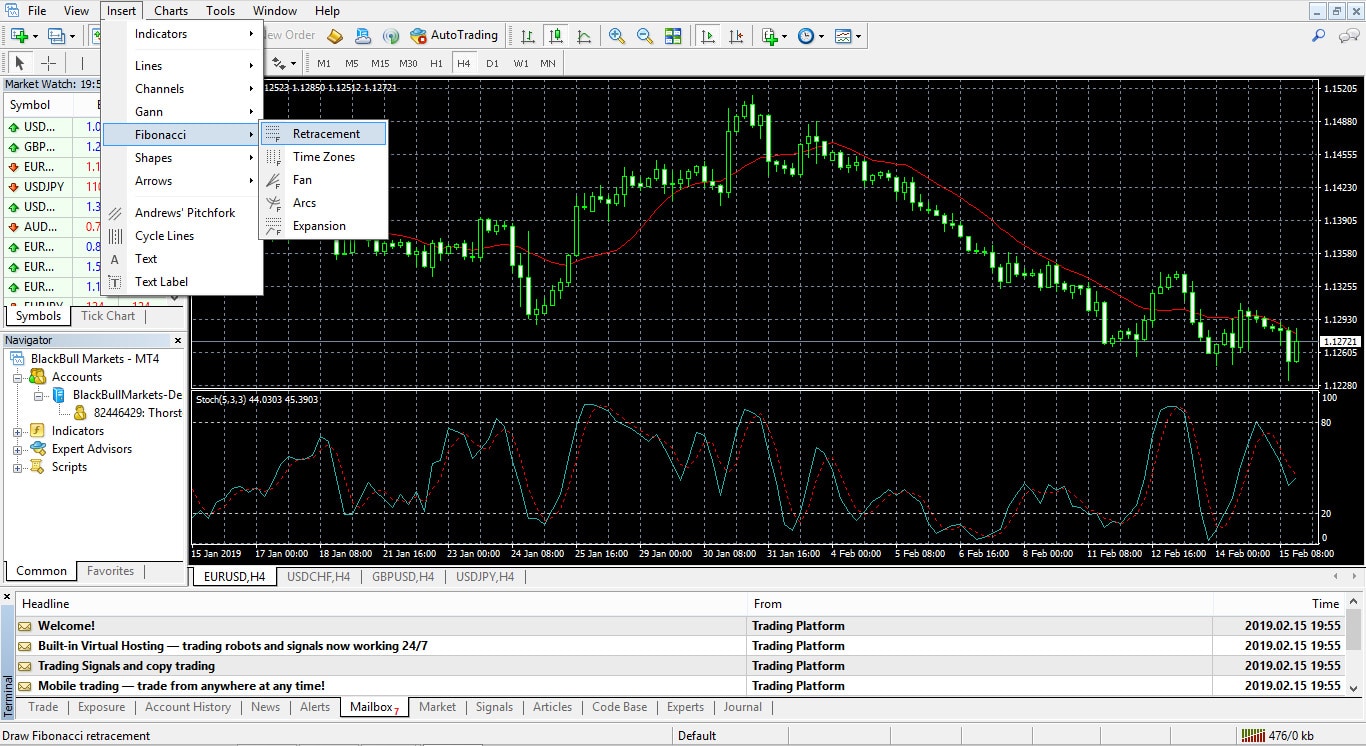 Different BlackBull Markets Account Types
In addition to a free Demo Account (for which it is easy and quick to register), and an Islamic Account option, the broker features three basic account types.
Of these, the cheapest is the ECN Standard Account, which is obviously aimed at beginners.
As mentioned, the minimum required deposit by this account is $200. It is obvious that for that kind of money, one won't get the best available trading conditions. Still, what the broker offers in this regard is nothing short of impressive.
The Standard Account features spreads starting from 0.8 pips on major currency pairs such as the EUR/USD.
No commissions are charged on this account and the maximum available leverage is a massive 1:500.
The Prime Account offers STP execution and spreads beginning from just 0.1 pips. The cost of such generous trading conditions translates to a commission of $6 per lot.
To be eligible for such an account, traders need to deposit at least $2,000. Despite that, this account type is the most popular of the broker.
The leverage is 1:500 on this account version too.
The Institutional Account is at the top of the account-type list. The minimum required deposit on this one is $20,000.
The spreads start from 0 pips, and the commissions are negotiable. Institutional users are offered MAM/PAMM and white labeling options.
Which Markets do BlackBull Markets Cover?
While the default FX pair selection offered by the broker is impressive enough, BlackBull Markets is very flexible in this regard. Traders can actually request access to various crosses and exotics.
Some 6 index-based CFDs can also be traded, together with a handful of metals and energy commodities.
The most interesting asset class covered by the operator is the cryptocurrency one. Besides Bitcoin, this class includes Litecoin, Ethereum and DASH too.
Cryptocurrencies are also traded through CFDs (which are financial derivatives). This means that BlackBull Markets does not sell actual cryptocurrencies, as CFDs only offer exposure to the price-variations of the underlying asset. No actual possession is involved in this type of trading.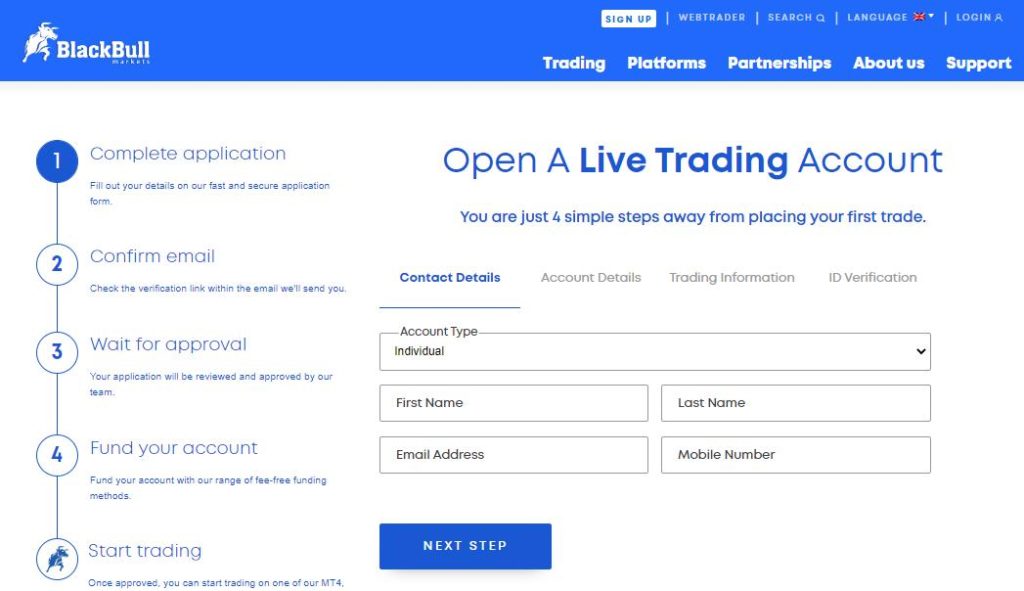 Opening an Account
BlackBull Markets' reputation as a modern broker with a user-friendly feel extends to the account opening process. New clients setting up accounts start by completing a questionnaire which outlines the client's profile and requires them to share information on trading experience, source of funds and investment objectives.
This type of questionnaire is standard procedure for a well-regulated broker. The KYC (Know Your Client) information allows firms such as BlackBull Markets to establish a user profile for clients and ensure they follow duty of care protocols.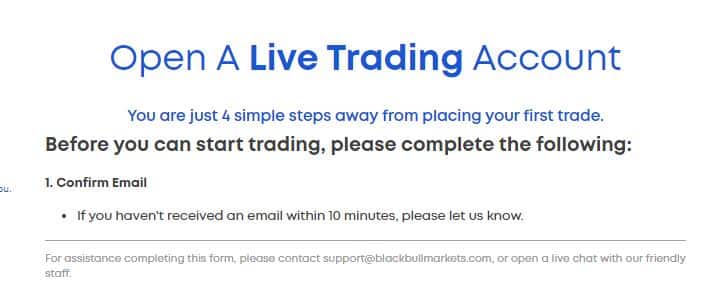 BlackBull offers four different accounts, Standard, Prime, Islamic, and Institutional, and accepts corporate clients as well as individuals. During the onboarding process, new clients must select the type of account they want to use. There are also some risk disclaimers to read and accept during the process, which is worth doing thoroughly as one of the choices to make is what level of leverage to go up to, with rates as high as 1:500 being offered.

After uploading two pieces of documentation, such as a utility bill and passport, stage two of the process involves locating and verifying an email sent by BlackBull. Opening it and clicking on the appropriate link is followed by a period when new users have to wait for BlackBull staff to verify the account details.
The 'Wait For Approval' stage of the account opening process can, according to the email sent by BlackBull, take 1-3 working days. It's reassuring that BlackBull takes its regulatory obligations as seriously as it does, but our testers did suggest any new users would do well to factor this regulatory review into their timeline.
Making a Deposit
Whilst the checks are being run it is still possible to make further progress in terms of getting closer to starting trading. Users can enter the Secure Client Area, download the trading platform, and check out the funding options. Once accounts have been approved, payments to BlackBull Markets can be made using bank transfers, credit cards and debit cards. The minimum initial balance is $50 or the equivalent.

Those who find themselves frustrated by the 1-3 working days taken for accounts to be verified should note that the card payment processing times are faster than those of bank transfers which can take 0-3 working days to complete. If you are planning to use cards to deposit funds, you will need to upload a scanned image of your credit card for approval.
Placing a Trade
The platform provided by BlackBull Markets is the ever-popular MetaTrader MT4. As this software is operated by a third party, downloading it requires agreeing to license agreements. This process is relatively straightforward and involves simply reading and clicking on agreements.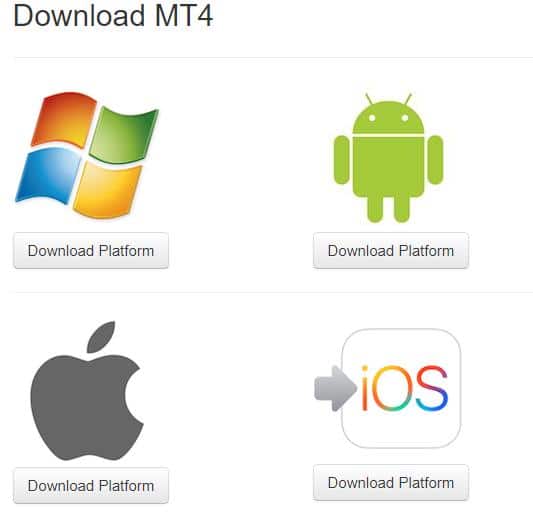 Once completed, the login details for the MT4 platform, which are different from those used to access the BlackBull site, are sent via email. This email was sent instantly, so there was no delay in accessing MT4 to try out trading. The MT4 platform can be downloaded in a format suitable for Windows, Mac, Android and iOS devices.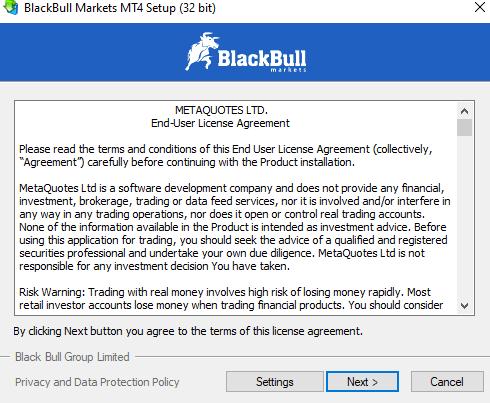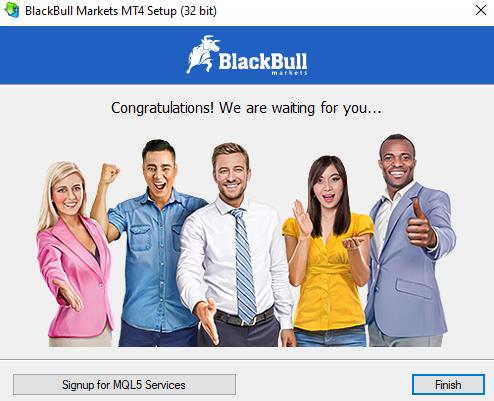 During the time the account is being verified, it is possible to access the Demo account version of the MT4 platform and carry out some test trades. That allows new users to become familiar with the mechanics of the platform and to try out trading ideas.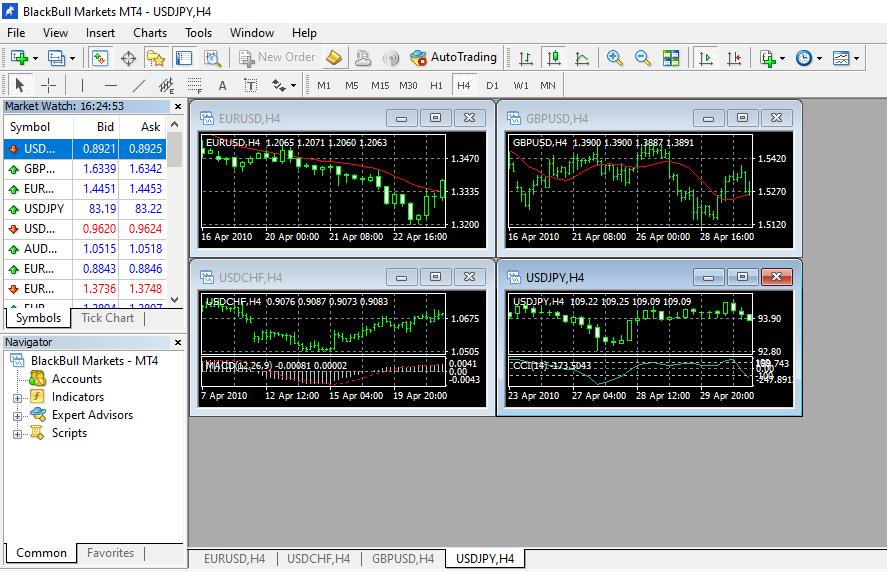 Our test trade in GBPUSD took seconds to book. The reliable MT4 trade execution GUI flags any instances of trade orders being bounced due to the market price moving. During our testing, all the virtual trades were executed as planned, and the position was reported accurately in the Portfolio section of the platform.

Contacting Customer Support
BlackBull Markets customer support can be contacted by LiveChat and email. Our testers found the LiveChat experience to be wholly rewarding. After confirming our account details, a human member of staff, rather than a bot, immediately started engaging with us on our chosen topic.
In this instance, we asked for an update on the current turnaround time for new account documents to be processed and got an answer to our question within three minutes. The representative advised that our account had been approved within less than one hour, rather than 1-3 working days, so maybe following this course of action will work for other eager new users as well.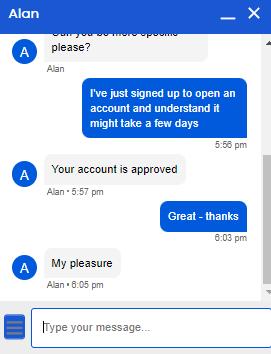 Using the email 'contact us' address was similarly straightforward. BlackBull Markets include a reference to [email protected] on their main site, and our question on where to locate research materials on the site was answered overnight, within 14 hours. Again, entirely to our satisfaction. The response shared a link to the best page for us to use and an invitation to follow up with the representative if there was anything else with which we needed help.
During testing, our team of researchers found the BlackBull Markets customer support team to be easily contactable, efficient and professional. All our questions were answered well within any timelines we would consider appropriate.
BlackBull Markets Review Conclusion
When all is said and done, BlackBull Markets stands as perhaps the most reputable broker we have reviewed thus far. The trading community just likes these guys and that is quite priceless. In fact, reputation could well be considered the main selling point of this operator.
Beyond that however, let us not forget that we're dealing with a well-regulated broker here, one that offers superb trading conditions and a great deal of flexibility leverage-wise as well as in regards to the assets it offers for trading.
Please be advised that certain products and/or multiplier levels may not be available for traders from EEA countries due to legal restrictions.
---
---