Expert's Viewpoint
Plus 500 has been operating since 2008 and has a strong reputation in the industry and trading community. It has a loyal customer base formed of traders who find the platform's super-easy functionality a neat fit for their interaction with the markets. Also, it continues to develop and release innovative features, all designed to stack the odds in favour of its clients. The firm is regulated by Tier-1 authorities including FCA, CySEC, MAS and ASIC and has bricks and mortar offices in the UK, Cyprus, Singapore, Australia, and Seychelles. It is one of the established 'big boys' in the sector, which means Forex Fraud mark them down as a trusted broker.
From a trader's viewpoint, Plus 500 offers most of the markets needed to get started. It provides CFD markets in forex, indices, commodities, stocks, and ETFs. Those looking to run strategies that are a little bit more sophisticated will be interested in the options markets on offer.
Since the Financial Conduct Authority's clampdown on CFD trading of crypto in January of 2021, the firm has decided to restrict crypto CFD trading from retail investors. This step is in line with the rest of the market. While crypto-only traders may need to look elsewhere, the decision by Plus 500 to comply with the spirit, as well as the letter of the law, demonstrates the firm has a commitment to comply with regulatory terms and conditions.  Professional Trading accounts are available to those who meet specific criteria, and they open the door to scaling up on risk-return by maxing out on leverage.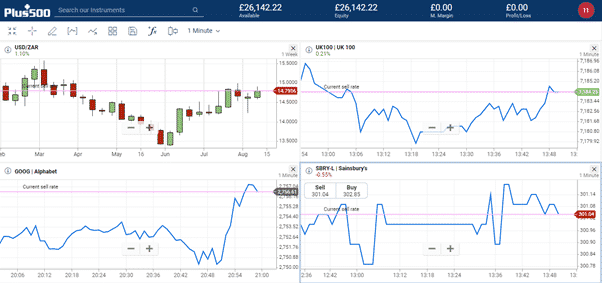 The firm has in recent times worked on building up its educational and research materials, which had for some time meant it lagged its peer group in that area. This is a welcome move and removes the only major downside to using the broker. It has now established itself as a firm favourite amongst retail traders due to the favourable trading conditions on offer.
Please note that Plus500 does not accept US clients. Therefore, if you are located in the United States, we suggest choosing another top rated broker.
72 % of retail investor accounts lose money when trading CFDs with this provider. You should consider whether you can afford to take the high risk of losing your money.
Plus500 is a CFDs service.

This service is not available in all regions.
Broker Summary
Plus500 has quickly earned a reputation as a reliable broker offering competitive spreads and a relatively seamless trading experience. It is publicly traded on the London Stock Exchange under the ticker PLUS, having first floated with its IPO in 2013. The broker currently has a market capitalisation of more than £1.4bn, up from the £1.3 billion market cap size of 2020.
Traders signing up to Plus 500 may be more interested in trading the thousands of other shares on offer rather than shares in the broker itself. Still, the relative stability of the share price is a good sign for those placing funds in accounts on the platform. Not all brokers are listed on exchanges and being a publicly traded company means Plus 500 must comply with additional rules and regulations. It has to file reports to the exchange and, compared to privately-owned brokers, has to provide greater transparency about its financial health.
As a financial services firm registered in Cyprus, Plus500 falls under the regulatory oversight of the Cyprus Securities and Exchange Commission—or CySEC as it is more popularly known—that is one of the leading financial regulators in the European Union. As part of this, client funds are held on a segregated basis and in accordance with ESMA client money rules.
In addition, Plus500 are also licensed to operate by regulatory bodies in Australia, the United Kingdom, Singapore, and Seychelles. Another thing you notice when using the Plus500 trading platform is how open and transparent it is. Not only is using the website very user friendly, but the information is easy to find. Based on that alone, the designers have put a lot of effort into the website's usability, and Plus500 is keen to ensure information is easy to access.
Broker Introduction
Plus500 is a leading provider of CFDs and delivers trading facilities for shares, forex, commodities, ETFs, options, ETFs, and indices. Cryptocurrency trading is not available due to regulators bringing in new controls on CFD trading of those markets. Currently, it provides access to over 2,000 trading instruments and offers some of the lowest spreads and commissions of any broker in the CFD space.

Trading is conducted through one of two account types; the standard trading account available to all users or a Professional Trading account which offers more leverage. There is also a free Demo account option that has no time limit. Live accounts require a minimum deposit of £100, and leverage on standard accounts is capped at an industry-standard 1:30.
Trading foreign exchange on margin is high-risk, and it may not be suitable for all types of investors. A high degree of leverage can cause positive and negative outcomes.
Spreads & Leverage
Plus 500 is in line with its peer group in terms of spreads and leverage. Leverage terms across the sector now tend to fall in line with the conditions of national regulators. It's possible to get 1:30 of leverage using a standard account which is market standard, and given the additional risks involved, it is more than enough for most traders.
Spreads are tighter in some markets than others, but we didn't find any that were way off the mark during our testing.

Platform & Tools
Plus500 offers a comprehensive and easy to use proprietary trading platform and technical analysis software for clients. The trading platform allows the trader to trade in multiple markets from the same screen and provides real time quotes for all its products.
Besides its ease of use, the main advantage of the Plus500 trading platform is the all-inclusive trading screen with clearly labelled tabs on top for details on past trades and current positions, as well as multiple market trading capabilities. Charting software is included with the trading platform, but charts appear individually since the charting software does not allow for multiple graphs on the same screen.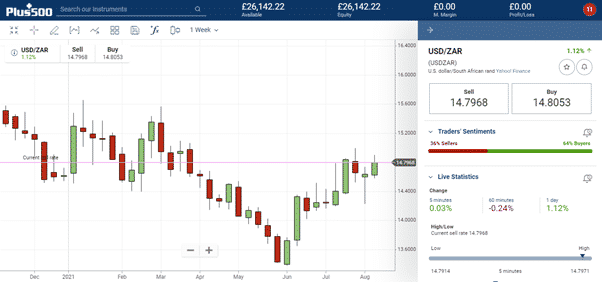 The Plus500 trading platform comes in four different versions: a downloadable version, which can be copied to your laptop or desktop; a web-based version, which allows the trader to access the platform from any other computer, App versions for iOS, Windows, and Android smartphones and also an Apple Watch platform.
Scalping is not allowed according to the terms and conditions, and Plus500 does not currently provide access to the MetaTrader 4 or MetaTrader 5 platform as is offered as standard by most online brokers. While this might seem like a massive drawback, the web trader platform is perfectly functional and should serve the needs of even the most experienced day trader.
Commissions & Fees
While Plus 500's headline bid-offer spreads may not be at the sector's cutting edge, this is compensated by the broker's aggressive approach to other fees. Charges relating to managing positions can stack up and eat into returns, particularly if positions are held for some time. This makes Plus 500's commitment to charging zero on a range of services an attractive proposition.

All the main services are provided free of charge; there are no add-ons for data feeds or charting services. Nor are there charges on cash being deposited in accounts or rolling positions. Not only does this help the bottom line, but by offering such a transparent and simplified approach to these T&Cs, the broker makes it easier for clients to keep track of where they stand.

Education
Plus 500 provide a dedicated News and Market Insight service. It allows clients to keep track of recent events and consider the trading opportunities they generate. There is a selection of other materials and services, such as the Trading Academy, which addresses questions along the lines of 'What is a CFD'? 'What is slippage'? And so on. However, the intuitive nature of the trading dashboard means that hands on learning will be sufficient to get most users up to speed. The materials that address the basics, such as how to use stop-losses and manage risk, are well laid out and explain how to build trading skills.

Customer Service
Customer support is limited to Live Chat, but response times during our testing were immediate, and the Plus 500 staff was knowledgeable and helpful. All our queries were solved at the first time of asking and within a few minutes.
The quality of the Chat service goes some way to making up for the absence of a telephone option but could be a more significant issue for those who prefer to solve matters using a phone.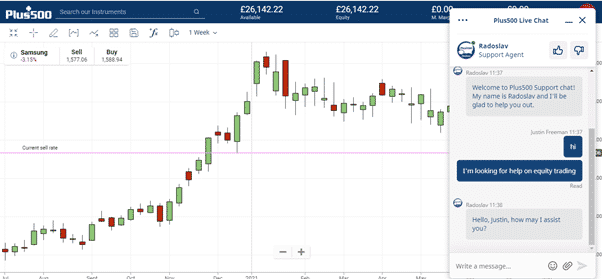 Final Thoughts
A lot of the positivity around Plus 500 is based on the ease of use of the platform. The desktop trading experience is smooth and streamlined and provides a stable trading experience delivered through a proprietary web trader platform. There is a range of powerful software tools which can be accessed, but the general feeling is that it's easy to trade using Plus 500 whether you are sitting at a desk or trading on the go.
In terms of what the future holds for Plus500, according to the investor relations section of its website, its aim over the next year is to continue to invest in research and develop industry leading CFD trading technologies and to expand its client offerings into Western Europe. Whether it can keep pace with such a fast moving, dynamic industry, where new challengers are bursting onto the scene each week, remains to be seen!
Broker Details
Finding a broker that operates within a robust regulatory framework is step 1 of safer trading. In that respect, Plus 500 performs well.
Plus500UK Ltd is authorised and regulated by the Financial Conduct Authority (FRN 509909).
Plus500CY LTD is authorised and regulated by the Cyprus Securities and Exchange Commission (Licence No. 250/14).
Plus500AU Pty Ltd, ACN 153 301 681, AFSL # 417727, issued by the Australian Securities and Investments Commission is authorised to issue these products to Australian residents. Derivatives issuer licence in New Zealand, FSP #. 486026 authorises us to issue these products to New Zealand residents.
Plus500AU Pty Ltd is also an authorised Financial Services Provider in South Africa, FSP 47546. You do not own or have any rights to the underlying assets. Please consider the Disclosure documents available on Plus500's websites.
If you're looking to take the next step and sign up with a trusted broker, the good news is that the Plus 500 onboarding process is as straightforward and user-friendly as the rest of the platform.
Funding an account at Plus500 can be accomplished through a Visa or MasterCard credit card, Moneybookers, or a wire transfer. The fastest turnaround times and those which get you trading almost instantly come by depositing using a credit card. To complete a deposit, customers need to click on "Funds Management" -> Deposits" and follow the instruction accordingly.
Funding an account through Moneybookers is just as easy. The customer must navigate to the "Funds Management" window in the trading platform, select the Moneybookers option, and enter the Moneybookers e-mail address. A new pop-up window will open where the Moneybookers transfer can be confirmed.
Deposits made to Plus500 through a wire transfer are generally straightforward but take up to ***five days** to show up in the account. For a wire transfer deposit, go to the "Funds Management" window, click on "Deposit", and choose "Wire", then click on the "Send me Wire Details" option. Plus500 will then email the customer with the wiring details.
The Plus500 email will give the customer the details for wiring funds to their bank and state the minimum and maximum deposit amounts allowed through a wire transfer. The minimum deposit is £100.
Due to regulation requirements, each customer must provide a photo ID (passport, driver's licence, or another official document) before being allowed to make a withdrawal. 
This information can be sent via *the Plus500 Contact Us form or by uploading a pdf, tiff, jpeg or doc type file with the upload function provided on the Plus500 trading platform. Clients should allow up to 24 hours for the files to be reviewed. If the identification document cannot be scanned, the client can photograph the ID with a digital camera or a mobile phone.
Warning: 72 % of retail investor accounts lose money when trading CFDs with this provider. You should consider whether you can afford to take the high risk of losing your money.
Contact
Plus 500 has offices around the globe. All the contact details are found online here.
FAQs
How can I open a Demo account with Plus 500?
This is easy to do. Simply follow this link to be taken to the onboarding portal. After spending a few moments providing an email address and password, you'll be taken through to the platform, where you can practice simulated trading with virtual funds.
Is Plus 500 a regulated broker?
Yes. Plus 500 has one of the strongest regulatory frameworks in the market. It operates under licence from Tier-1 regulators; however, being a global broker, the exact terms and conditions of client protection depend on where account holders live.
How can I change leverage with Plus 500?
In line with standard market practice, Plus 500 offers leverage terms in line with those of the overseeing regulator. UK and EU clients, for example, can access leverage up to 1:30 in forex markets. Those traders who match the required criteria can apply for a Professional Trader account with more aggressive leverage terms.
How do I withdraw money from Plus 500?
There are a variety of payment methods available, including bank transfers and credit/debit cards. Paying funds back from your trading account to your base account involves logging on to the Plus 500 platform and following the online steps to book a transfer
Please be advised that certain products and/or multiplier levels may not be available for traders from EEA countries due to legal restrictions.
---
---