Pepperstone Forex Broker Review
Last Updated: February, 2020.
Founded in 2010, Pepperstone has grown into a truly global Forex and CFD brokerage, sporting an impressive regulatory profile and offering a decent selection of trading products, among them cryptocurrency-based CFDs. In this review, we'll take a closer look at the various operational aspects of the brokerage, as well as its account types and trading conditions, among other things.
As said above, the parent-company behind the Pepperstone brokerage brand is Pepperstone Group Limited, and it dates back to 2010. Pepperstone Group Ltd is indeed the corporate handler of the brand in Australia to this day. It is licensed by ASIC and it offers financial services to clients in Australia as well as a number of different countries (that are not actually covered by ASIC's regulatory umbrella). Pepperstone Group Ltd. is a registered Australian company (its registration number is ACN 147 055 703. Its ASIC license number is AFSL 414530. As a regulated operator, Pepperstone Group keeps its clients' monies in segregated accounts with the National Australia Bank. The operation is subjected to regular third-party audits, by Ernst and Young. It has been said above, but it bears repeating: if you are in a country outside Australia, the above-mentioned AFSL does not protect you.
The European side of the operation features a different corporate actor: Pepperstone Ltd, based in the UK, and licensed by the country's FCA. Unlike the Pepperstone Group itself, Pepperstone Ltd was only registered in 2016. Through it though, traders from the UK as well as from all over the EEA, can take full advantage of the services brought to bear by the brokerage.
The registration number of Pepperstone Ltd is CN 08965105. The FCA license number of the operation is FRN 684 312. The address of the operation is 68 Hanbury Street, London, E1 5JL, UK. Like its parent company, Pepperstone Ltd. keeps its clients' monies in segregated bank accounts too, with Barclays.
The official Pepperstone trading website provides full legal documentation to all clients of the brokerage, documentation which can be downloaded for free.
Now that the background and regulatory status of the operation is clear, let us take a closer look at what the brokerage offers in the way of trading products.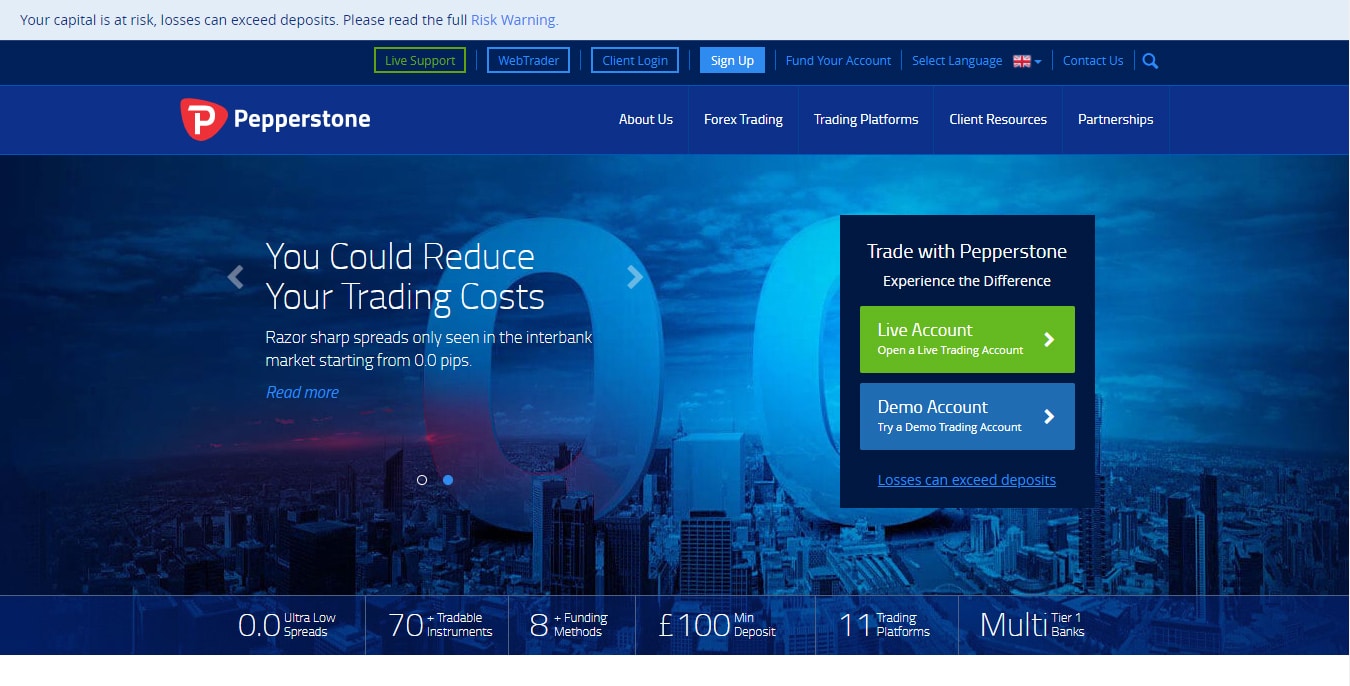 Pepperstone Trading Products
Forex trading is one of the main draws of the operation, though it has to be said that not all user feedback available out there in this regard is positive. Still, Pepperstone feature no fewer than 70 currency pairs, among them majors, minors and exotics. The brokerage seems proud of the fact that on majors like the EUR/USD and GBP/USD, it features spreads starting from 0.0 pips. The maximum leverage is pretty impressive on Forex too: 1:500.
In regards to Indexes, Pepperstone offers some 13 CFDs, which cover most of the important nooks and crannies of the global economy. Pepperstone boasts superb trade execution (though some of their clients have been known to complain in this regard too). Apparently, the whole trading setup is optimized for institutional traders, which means that retails clients are offered access to the same technology.
The Precious Metals selection covers assets such as Gold, Platinum, Palladium and Silver. The minimum trade size on these assets has been set to $0.10 per pip, and the maximum available leverage is 1:500 on this category too. No commissions are charged on commodities.
The Energy section is about assets such as Oil and Gas. The trading conditions are indeed quite attractive on this category as well. We have spreads starting from 0.04, and margin requirements of AUD 0.81-AUD 1 per minimum trade size. Traders can use leverage of 1:500 on these assets too.
The Crypto section covers Bitcoin, Ethereum, Dash and Litecoin-based CFDS. The maximum available leverage on these underlying assets is just 1:5, and the trading conditions are generally not as attractive as on the above discussed categories. All that is quite understandable though, given the semi-regulated nature of these markets and the extreme volatility which characterizes them. Again: these are CFDs (Contracts for Difference), financial derivatives, which means that you will only be trading the price-swings of the above-said cryptos, and you won't ever get to actually purchase any cryptos through Pepperstone.
Trading Conditions
Pepperstone offer detailed information regarding the trading conditions associated with each of their above-described asset-classes. The same goes for swap rates. According to the site, the attractive spreads are made possible by the Edge technology used by the operation, as well as by the no fewer than 11 trading platforms.
Pepperstone is currently a participant in the Equinix Financial exchange, a state-of-the-art network of execution venues and trading servers. This way, the brokerage has unfettered access to a wide range of low-latency networks, as well as to some truly impressive VPS hosting options, that complement MT4s EAs wonderfully.
Pepperstone Account Types
The Edge Standard account is the entry-level account of the brokerage. Requiring a minimum deposit of just AUD 200, it is indeed very accessible. It features spreads starting from 1 pips and no commissions. It offers STP execution through 22 banks and ECNs.
The Edge Razor account offers much better spreads, but it features commissions as well. The minimum required deposit for this account is AUD 200 too. The account allows scalping, hedging, as well as the use of EAs.
The Pepperstone Islamic account is a swap-free account, which is indeed fully Swap-Free. The minimum required deposit is USD 200. The average spreads on this account, on a Forex pair like the EUR/USD, range from 1 pips to 1.2 pips. There are no commissions. This account allows for scalping, hedging and EAs as well.
The Active Traders account is aimed at institutional investors and those retail traders, who can afford to move massive amounts of money through their trades. This account also features custom account managers, VPS hosting, advanced reporting and custom trading solutions. The users of such accounts can trade through APIs, as well as third-party trading platforms.
Pepperstone Trading Platforms
As said above, the brokerage offers no fewer than 11 trading platforms. Some of these are industry staples, such as MT4 and MT5, while a number of others are mobile- and web traders. The primary web trader of the brokerage is an MT4-based solution, which carries most of the perks and features of the full version.
MetaTrader 4 itself (its full, downloadable version) is available in different versions for Windows as well as Mac. The cTrader suite offers a Windows-based solution as well, in addition to yet another web trader.
MAM/PAMM accounts are offered too, designed specifically for money managers, who handle multiple trading accounts and trade block orders through a single, master account. Such accounts support all order types, as well as periodic client report management. EAs are supported by the MAM/PAMM suite as well.
Through such an account, commissions and trading performance can be monitored in real time.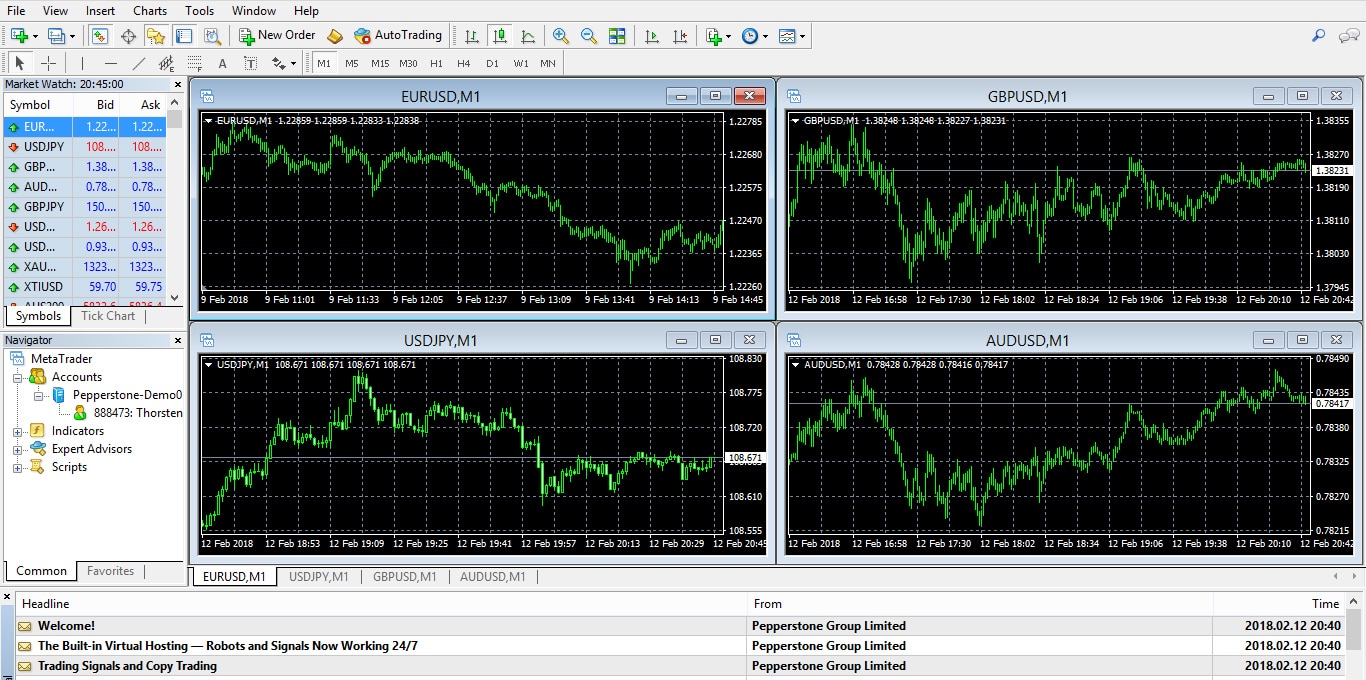 Pepperstone Review Conclusion
Pepperstone covers everything an expert Forex/CFD trader could possible need. From the above-detailed MAM/PAMM accounts, to EAs and VPS hosting, and a truly impressive selection of trading platforms, it does indeed have all the bases covered. Its trading conditions are great for the most part, though the user feedback regarding various aspects of the service, could indeed be better…
Read all forex broker reviews.
Please be advised that certain products and/or multiplier levels may not be available for traders from EEA countries due to legal restrictions.