People under 25 are falling in droves for the lavish payouts promised by rudimentary Instagram scams. The phenomenon has become so wide-spread that even the FCA saw it fit to sound the alarm on the issue.
Until not-so-long-ago, old people (those over 55) were considered to be most vulnerable to various scams perpetrated online. It makes perfect sense: a generation that did not grow up alongside this new online world, would indeed be expected to fare poorly when faced with its perils.
All that is apparently a thing of the past now though. Those who currently make up the over-55 age-category, have grown somewhat immune to the tricks of the online scammers. In their stead, the young adult category has become the preferred target of shady online operators, and yes, that means you too.
These days, young people on Facebook, Instagram, YouTube and the likes, are the most likely to fall for get-rich-quick schemes, even if these schemes are rudimentary and lack any kind of credibility, even at first glance.
Why do these social media scams work that "well"?
Is this all part of the much referred-to "dumbing down" of the populace, or are there other reasons behind this strange phenomenon?
The gullibility of the social media consumer space should not be underestimated, even if you think you'd never fall for such shady dealings yourself.
Not only do these (mostly Instagram-borne) scams make no sense to anyone with the least amount of common sense, there are scores of celebrities (among them The Rock – Dwayne Johnson – himself) who have gone out of their way to warn people about them.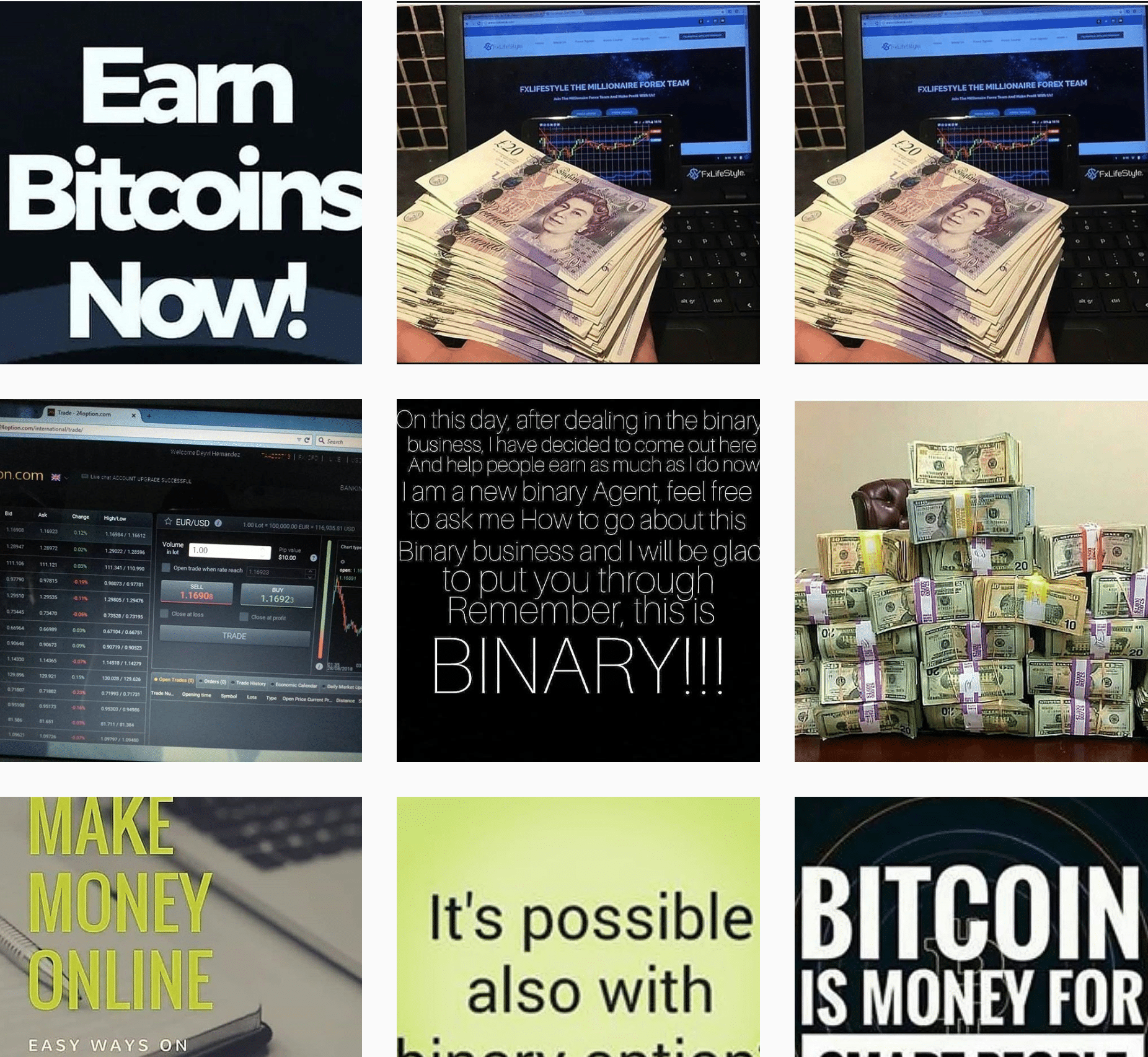 To really understand why such scams are so successful, we need to consider what the Instagram generation finds highly appealing and cool. That's what this game has always been about: appealing to a certain target audience, eliciting greed and possibly envy, and then hammering home the pitch.
The scammers start out by setting up Instagram accounts. To the expert eye, these accounts are very easy to spot and they do tend to be mostly alike.
They feature pictures of attractive young people, posing in front of expensive mansions and cars, while holding up wads of cash – as if saying: this could be you! Accounts featuring attractive young women tend to draw noticeably more followers for the obvious reasons.
That said, there are plenty of such scam accounts featuring the alleged profiles of young men too. The scammers do not want to leave any demographic group uncovered and since they are sort of saying "this could be you", they need characters their targeted people can identify with.
Just ask yourself whether you find these Instagram profiles more attractive and trustworthy than that of some old geezer in a suit, trying to sweep you off your feet with corporate lingo…the answer's obvious.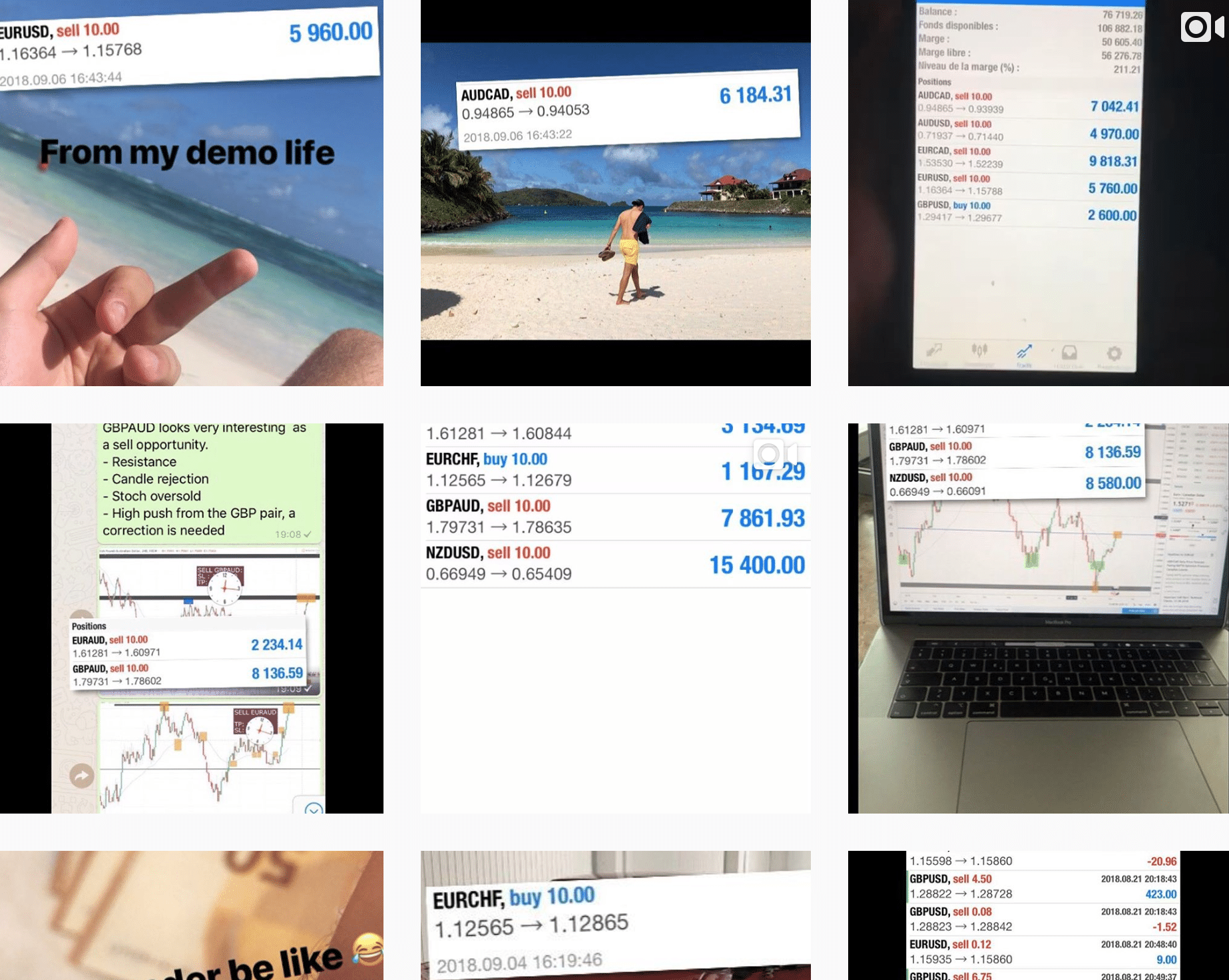 In addition to the actual pictures of the "Instagram account owners" and "would-be influencers", the accounts post pictures about trading and about Bitcoin too: after all, hailed as the currency of the future and thought to carry tremendous upside, BTC is not only "cool" right now, it is considered a superior investment-vehicle by many. The younger generation sees what BTC is trying to accomplish and they are therefore much more open to it.
How exactly does the Instagram scam unfold though?
Having followed the bogus account, young people are then chatted up through Instagram Chat, Facebook Messenger or Whatsapp, by the scammers. Many engage in conversation with the perpetrators of the scam. After all, who wouldn't want to talk to that hot babe who lives in a mansion and drives a Ferrari?
The conversation is quickly steered towards finances and lo and behold: the Instagram rich-kids are more than willing to share their wealth and to help others become as cool as they are.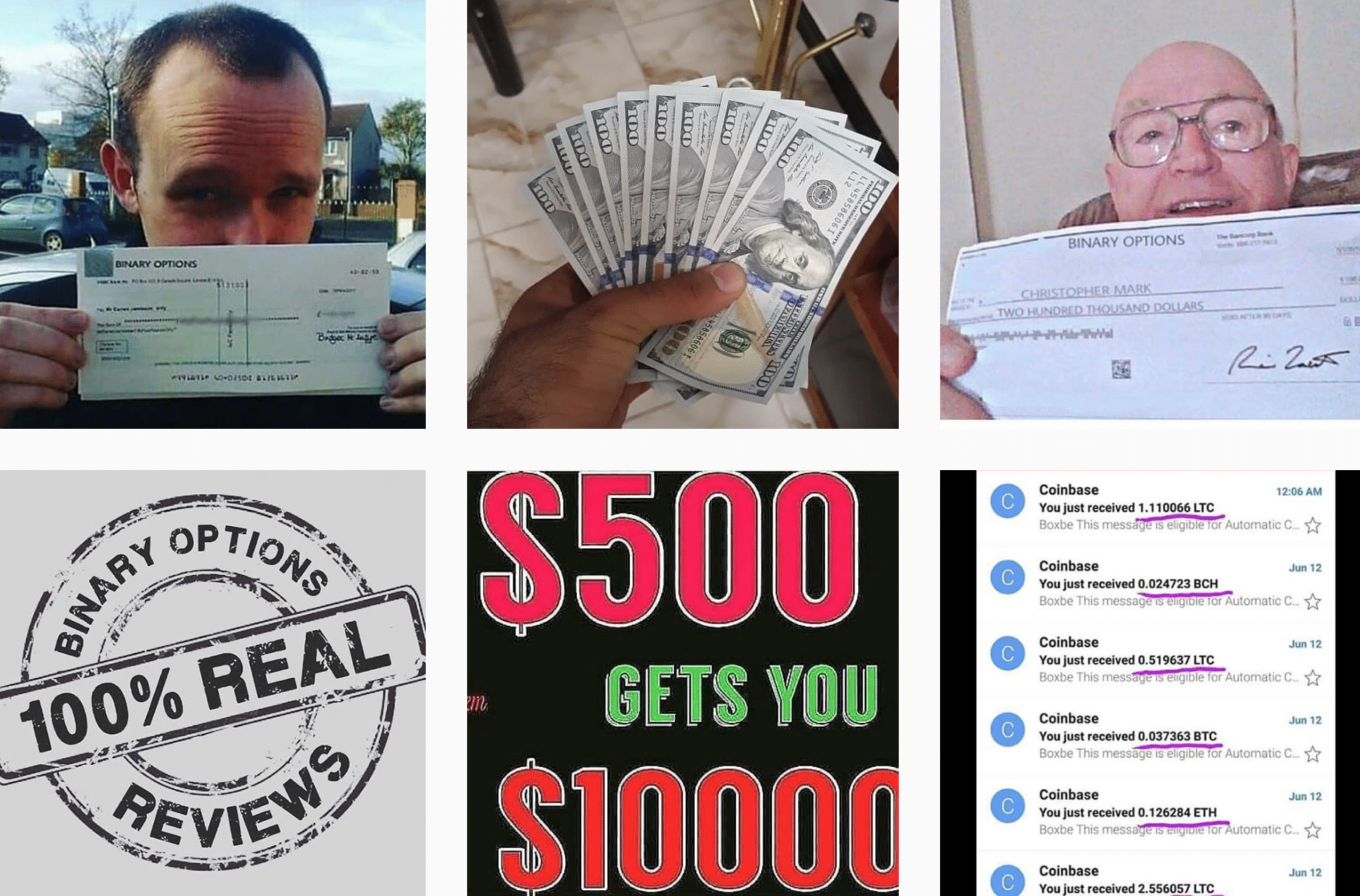 How is Bitcoin involved in the fraud?
The victim is usually talked into creating a BTC account and transferring some $500-$5,000 to the scammer, in BTC. Guess what though: BTC transfers cannot be charged back and the funds obtained by the scammers can be laundered extremely easily in the crypto-sphere.
If this initial transfer weren't made in BTC, victims might be able to bring credit card companies into the fray on their behalf, but this way, there's not much they can really do when the whole thing inevitably blows up in their faces.
Once their "investment" reaches its intended destination (the scammer's pockets), victims are kept in the loop regarding the "profits" earned on their behalf.
The "trading" angle
Scammers allegedly create an account with an online FX/CFD provider (binary options were heavily used in the past too) and they then send photoshopped screenshots to the victims, showcasing the profits they make. Why do they do that at this stage? You see, the scam hasn't wrapped up yet.
The "deals" are usually agreed upon for 1-2 weeks. After this magical waiting period expires, the time comes for the scammer to return the money and the profits accrued. To do that though, he will require another payment (usually 10% of the total) for fees/taxes. Those who do send money again, are swindled yet again. Those who do not (they don't have the funds, or they begin suspecting they're led on) are considered to have willingly given up the funds to the scammer.
The interesting thing is that nowhere along the scamming chain are there any papers signed, any terms and conditions presented, or any guarantees really, other than the "word" of the scammer. Exactly how victims believe this is a setup they can benefit from is difficult to see, though it probably all has to do with the trust these people have in social media in general.
The bottom line is that despite its apparent sophistication, the scam really is a rather crude one, and falling for it is at least a little embarrassing, on top of being painful.
The Safest Forex Brokers
The best way to avoid scams is to ensure you always trade with a regulated broker. This is why we have listed below the safest forex brokers for you to trade with
Just how big is this "industry", and why are young people like you more prone to falling for these scams?
According to the FCA, while scammers will usually settle for just about any sum they can squeeze out of their victims, the illicit funds generated by the activity are northward of $100,000 a day.
To understand why people are falling for these scams, we need to understand exactly who are falling for them.
University students are placed under an enormous amount of financial stress these days. Many of them start off their studies being entirely unsure whether they will ever finish them.
These circumstances make these young people not only desperate for cash, but also much more willing not to listen to the voice of reason, when a deal that's obviously too good to be true pops up on the radar.
Students are not the only demographic vulnerable to such scams though. In fact, people seeking financial opportunities are generally at risk, and indeed, such people tend to be generally from the younger, "hungrier" generations.
Even so, out of every 10 young people, only 1.3 will fall for an Instagram scam – make sure you're not that odd one out.
While this number is not particularly large, it is obviously large enough to make the activity a profitable and worthwhile one for the scammers.
A couple of years ago, binary options were all the rage scams-wise, but eventually, this scamming-avenue got abused to such a degree that regulatory authorities finally cracked down on it.
Obviously though, the shutting down of binary options hasn't left creative scammers without a tool to exploit. In fact, they now seem to be very comfortable with the above detailed model too. As long as there's online trading out there, they will produce all the "profits" and "proof" their victims need to see, to agree to getting fleeced.
How can you fend off such fraud though?
First off: do not be gullible. Force yourself to accept the fact that if something looks too good to be true, it most certainly is just that. Use reason. Someone offering you 300-400% returns on your investment within a couple of weeks (or even months) just cannot be real.
Develop of habit of swatting away all social media-borne investment "opportunities". This channel has indeed been saturated by scams.
Always check the registry of your local financial regulator (such as the FCA, CySEC, FSCA) to see whether the entity offering you the "deal" is indeed an authorized one. This goes for individuals, as well as firms. Needless to say, scammers are not registered with these regulators.
Many such financial authorities go above and beyond simply providing a list of authorized entities: they have offender lists set up as well, where you're most likely to locate that hot girl off Instagram who's just offered to solve all your financial problems, for free.
Be proactive and seek advice before you make your decision. Some national financial authorities have hotlines set up, through which would-be scam victims can seek assistance, before any monetary loss occurs.
Last, but not least, make sure to report the scammer you may have happened upon, to help out others who may – in turn – also fall for the dubious deals peddled by these online swindlers.
Conclusion
Though they have been all the rage for some time now, Instagram scams are relatively easy to spot and ultimately: to avoid.
Just bear in mind that if it looks too good to be true, it definitely IS.
Also: never even consider handing anyone any money for investment purposes without having papers signed, background checks conducted, terms and conditions understood and guarantees provided.
Do you know of any social media accounts like the above mentioned? Please post a comment about them to help others avoid being scammed. Thank you.
---
Safest Forex Brokers 2022
Forex Fraud Certified Brokers
Stay up to date with the latest Forex scam alerts
Sign up to receive our up-to-date broker reviews, new fraud warnings and special offers direct to your inbox
Stay up to date with the latest Forex scam alerts