Expert's Viewpoint
eToro is one of the biggest and most trusted brokers in the market. It has become a household name worldwide and supports the trading of more than 20m account holders.
**Below content does not apply to US users
EToro's success can be traced back to offering beginner traders a super-easy and effective route into the financial markets. The broker then offered those clients competitive terms, an impressively wide range of markets to trade, and the market-leading Copy Trading service. The Copy Trading area of the platform allows beginners to copy the trading ideas of other traders and to gain exposure to the markets with others carrying out the required research.
Rating Overview
| | |
| --- | --- |
| Overall rating | |
| Regulation | |
| Fees | |
| Range of Markets | |
| Platforms | |
Trading at eToro is about easy access to the markets using a trusted broker.
It takes less than 20 seconds to sign up for a Demo account to practice trading at no cost
Registering for a Live account is equally straightforward and can be carried out using a desktop or handheld device
Self-trading and Copy Trading activity is managed from the same account, making eToro the 'go to' platform for busy people looking to make their money work harder for them
Head to eToro to book your first trade and you'll find a distinctive looking trading platform that has been specifically designed to make things as easy as possible for clients. There are also intermediate and advanced level tools available to take your trading to the next level, but these don't get in the way of the simple act of booking trades.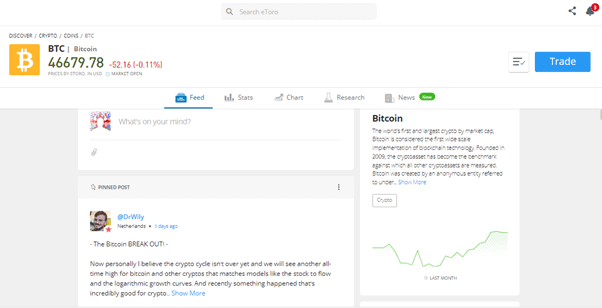 The Copy Trading service requires a special mention as its popularity has resulted in it becoming eToro's trademark. Copy Trading allows you to follow the leading trader and to 'copy' their trades with your own investment funds. It is an excellent tool for beginners trying to get a feel for trading and is a great way to learn directly from the most successful traders on the platform. Another way eToro scores points over its rivals is by allowing new users to Copy Trade using a Demo account. Not all brokers offer that service.
Broker Summary
The eToro platform is well thought out, robust and exceptionally user-friendly. It sets a benchmark for the online broking industry, and as it was developed in-house, it is only available at eToro. Even if you think eToro might not be for you, it's worth taking 10 seconds to set up a Demo account to familiarise yourself with what 20 million traders are using.
76% of retail investor accounts lose money when trading CFDs with this provider.

eToro is a world-leading social investment community that helps people develop their knowledge of investment vehicles and trading. It is an excellent place to pick up trading ideas and to gain a view of market sentiment.
Broker Introduction
Based in Tel Aviv, Israel, eToro was founded in 2007 by two brothers, Ronen and Yoni Assia and partner David Ring. The brokerage was founded with the vision of being a popular financial trading and investment platform suitable for anyone to use. The universal appeal of eToro's platform has resulted in the firm experiencing significant growth and it is now one of the largest brokers in the world.
eToro is headquartered in London, where it is regulated by the Financial Conduct Authority (FCA). It is a global broker and has clients in over 140 countries. That makes eToro one of the largest brokers around by customer base alone, and being a big player helps in terms of access to markets and being able to offer attractive trading terms to clients.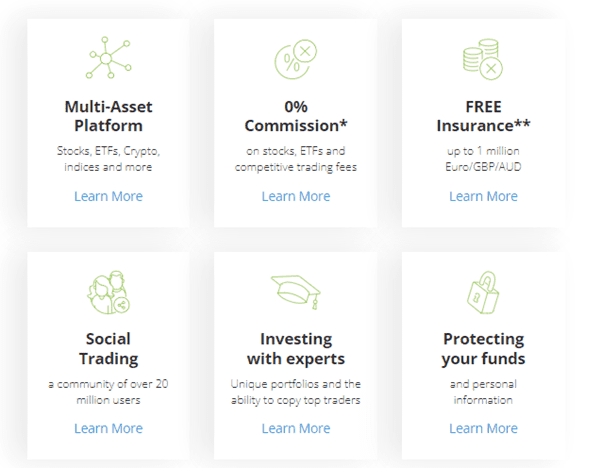 eToro has a good track record of keeping its customer information secure. The company uses advanced Secure Socket Layer (SSL) technology to authentic users and data transfers. The day-to-day security of the operation is backed up by regulatory oversight from the below listed well-regarded financial authorities.
eToro (Europe) Ltd. is based in Limassol, Cyprus and is a registered Cypriot Investment Firm or CIF. The company is regulated by the Cyprus Securities and Exchange Commission (CySEC) under licence number 109/10.
In the United Kingdom, eToro (UK) Ltd. is a Financial Services Company headquartered in London and is a registered UK firm under registration number 7973792. eToro UK is authorised and regulated by the Financial Conduct Authority or FCA under the reference number 583263
eToro AUS Capital Limited is approved by the Australian Securities and Investments Commission (ASIC) to provide financial services under Australian Financial Services Licence 491139
eToro (Seychelles) Ltd. is licensed by the Financial Services Authority Seychelles ("FSAS") to deliver broker-dealer services under the Securities Act 2007 Licence #SD076
Possibly most importantly, eToro is making ground in the US, where it has recently been approved to take US clients in several States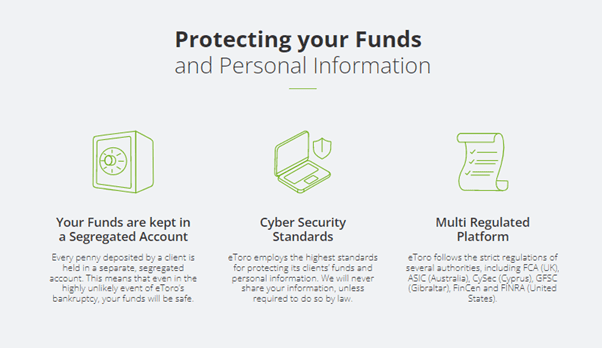 These extensive layers of customer protection are supplemented by a free insurance policy that applies to all eligible customers – it doesn't even need to be applied for. Eligible clients are, by default, protected by Lloyds of London source insurance cover of up to one million GBP, EUR or AUD. It provides protection from "eToro's insolvency and in case of Event of Misconduct".
Trading the markets is inherently risky because there are no guarantees on which way prices will move. Operational risk can be managed, and the endeavours of eToro to provide a trustworthy service means that Forex Fraud analysts consider eToro to be a safe broker.
Spreads & Leverage
One neat feature that will appeal to beginners is that no extra commissions are charged on Copy Trades. The cost of trading using someone else's ideas is the same as if you were booking your own trades into the platform. As eToro has grown, it has passed on some of the cost savings to its clients, resulting in eToro very successfully shaking off its reputation for having wide spreads. It now offers some of the most cost-effective trading in the markets, with some forex pairs currently trading with spreads as narrow as 1pip.

Leverage can be set on a trade-by-trade basis. This flexibility allows clients to adjust their risk appetite to market conditions. The minimum leverage is 1:1, and the maximum rate is determined by national regulators, which in the UK and the EU means the cap is set at 1:30.
eToro offers a wide variety of financial instruments to trade, including CFDs, real stocks, commodities, cryptocurrencies, and forex pairs. The fractional trading service (trading in small size) and Copy Portfolio products are user-friendly features that eToro offers that some other brokers don't.
Platform & Tools
eToro offers clients an all-inclusive trading platform. Everything is in one place, and the screen is uncluttered, allowing easy navigation. On-screen guidance and useful FAQ-style prompts are on hand to help traders make the most of their trading.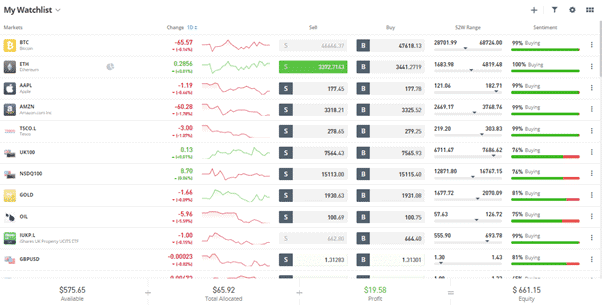 The Watchlist function allows you to build a collection of markets you might want to trade, or alternatively, you can search by sector to dig into the detail of one asset group. The crypto offering is, for example, market-leading, with more than 127 cryptocurrency markets on offer. The list of cryptos includes the big names like Bitcoin and Ethereum but also a market-beating number of Altcoins, which have the potential to be the next big thing.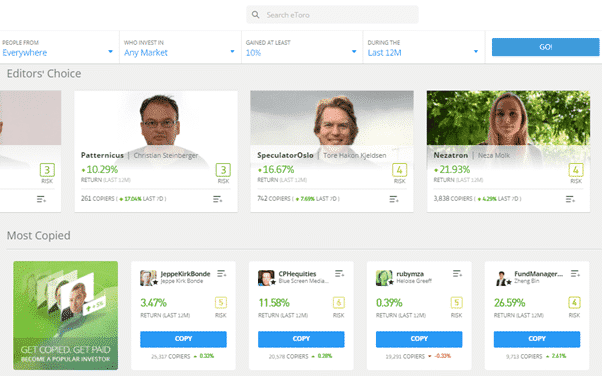 Past performance is not an indication of future results.
Much of eToro's competitive advantage is due to its online social trading community, which is among the world's largest. If you're looking to trade forex, equities or crypto, each market has a chat room where traders can share thoughts about what the next price move might be. Some of the contributors even go to the extent of sharing details of their strategies and how successful they have been in the past. This way, it's possible to identify a trader to follow, and if you ever want to stop following them, it's just a case of clicking a button to end the relationship.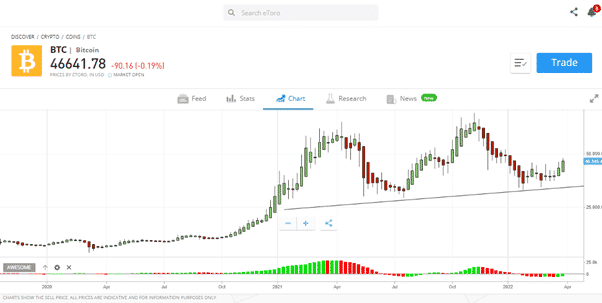 The charting resources and other technical indicators have recently been upgraded to help those who prefer to carry out their own research. Another area that has received significant investment is the Market Research part of the site. The materials start at a basic level to help newbies get to grips with the basics of the instruments they're trading and how to trade them. Intermediate and advanced level research includes free to read in-depth reports on markets, ranging from fundamental analysis of Litecoin to weekly stock market updates.
eToro launched its first Android app in 2012 and has since been one of the brokers responsible for pushing the boundaries of what is possible using app trading. All the functionality of the desktop platform has been converted to a format that is ideal for a smaller screen and makes eToro a perfect choice for those who like to trade on the go.
Commissions & Fees
In most markets, eToro doesn't charge separate commissions on trades. Instead, the company generates most of its income on the difference between buy and sell prices, the bid-offer spread. This transparency makes it easy for traders to establish their trading costs. Another welcome aspect of the setup is that eToro trading fees are generally lower than the market average.
To test eToro's credentials, Forex Fraud analysts carried out live-market research and established that the spreads offered in real-time matched the claims made by the broker. In the forex markets, EURUSD and USDJPY spreads started at 1pip, and other major currency pairs typically had spreads of 2pips.
Spreads on stock trades are slightly wider, but the 'no commission' policy compensates. Another benefit of there being no commissions is that it makes it cost-effective for clients to manage their risk by diversifying their portfolio and buying a lot of smaller positions rather than one big one in a single stock.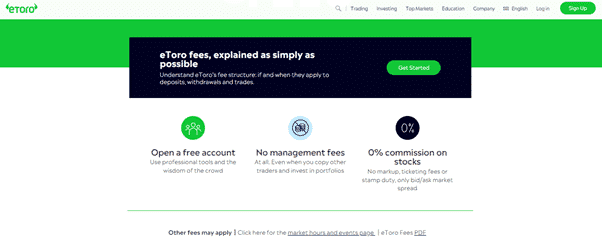 eToro only offers accounts that are denominated in US dollars. Deposits made in any other currency are converted into USD upon receipt and back from USD when funds are withdrawn. The spreads on these forex conversion trades are tight, but they do mean there is an additional cost to factor in when setting up an account.
eToro charges a fee of $5 for cash withdrawals. These take up to five days to process and can be delayed further due to third party withdrawal payment methods. There are no management fees for holding an account, not even for Copy Trading, but an inactivity fee of $10 per month kicks in after 12 months. That can be easily avoided as simply logging in to your account is all that is required to buy some more time for your position to be seen as active.
In line with standard market practice, eToro charges overnight financing fees on leveraged positions, but the rates applied are again at the lower end of the scale compared to the broker's peer group.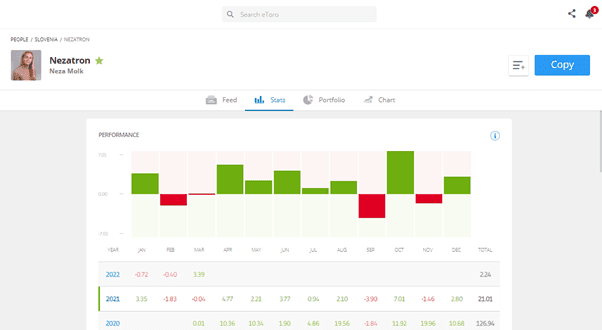 Past performance is not an indication of future results.
Education
Another great feature for new and intermediate traders is the numerous educational programmes eToro offers through the platform. It includes trading articles, guides, lessons and input from the financial trading community that has developed through the platform. For users looking to connect with other similarly minded traders from across the world, this trading community is an excellent resource for connecting with and learning from hundreds of experienced traders.
Those looking to focus on learning about particular areas of the financial markets can tap into a wide range of free and high-quality material. This includes the eToro Online Trading Academy, eToro Plus, which takes a deep dive into market events, and the Bull Club, which provides insight from industry experts.

If you want to try out eToro's educational materials before committing any funds, then testing strategies in the Demo account could be for you. Registering for one of these allows you to try out all the site's features and a chance to get a feel for using the platform on the live markets using $100,000 of virtual funds.
Compare eToro with other approved brokers
| | | | | |
| --- | --- | --- | --- | --- |
| | | | | |
| Regulation | FCA, CySEC, ASIC, Seychelles FSAS, | ASIC, MiFID, FSA, FSCA | FCS, CySEC, FSC | FCA, CySEC, DFSA, BaFIN, SCB, CMA & ASIC |
| Customer Support | email | email, phone, live chat | email, phone, live chat | email, phone, live chat |
| Trading Platforms | desktop and mobile via brokers own platform | MT4, MT5, Mobile App | MT4, MT5 | MT4, MT5, cTrader, TradingView |
| Minimum Deposit | $50 (varying by Country) | $100 | $10 | $200 |
| Leverage | From 1:2 to 1:30 | 400:1 | Flexible | 1:30 |
| Total Markets | 2368 | 1260 | 252 | 1200 |
| Total Currency Pairs | 49 | 55 | 62 | 62 |
| Total Cryptocurrencies | 37 | 17 | 4 | 18 |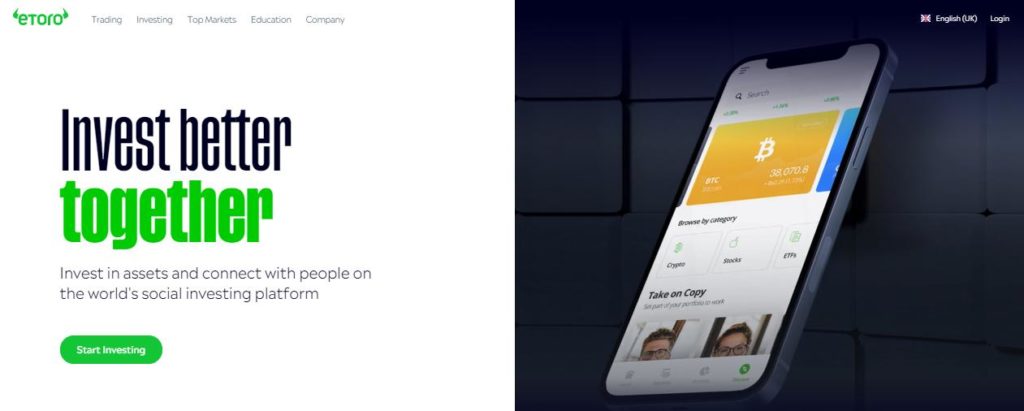 Opening an Account
The process of setting up a new account with eToro is relatively straightforward. The first step involves providing basic contact details, which can be taken from an existing online profile such as a Google account. After that, new clients are required to complete a questionnaire that covers topics such as trading experience, source of income and investment aims. This acts as a useful reminder about the risks involved with trading the markets.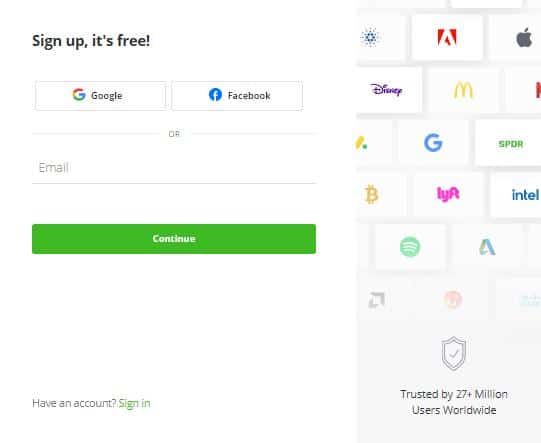 This type of questionnaire is standard procedure for the best brokers that are regulated by Tier-1 financial authorities. It helps them comply with KYC (Know Your Client) protocols, which go on to form part of their client care obligations.
New users have to accept risk disclaimers, enter their phone details so that accounts can be set up for two-step verification, and submit other contact information.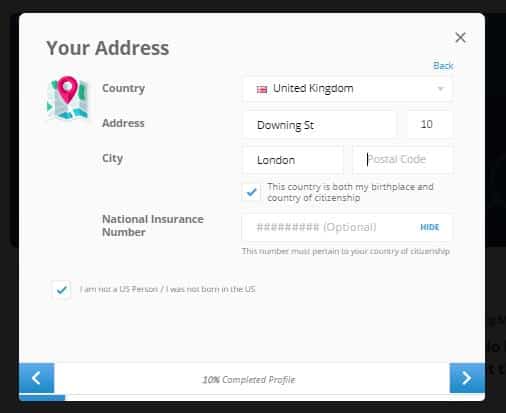 After completing the questionnaire, new clients are required to verify their details by uploading two pieces of documentation. These can be a copy of a driver's licence or passport, and a utility bill.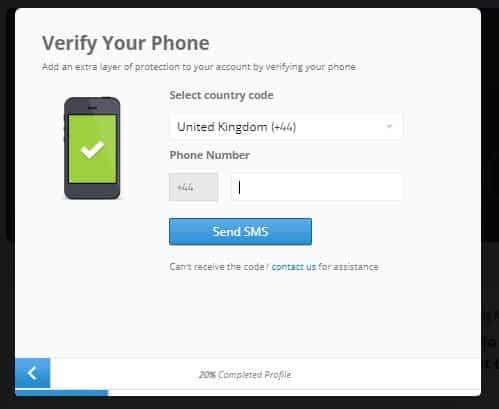 Making a Deposit
The eToro platform is renowned in the investment community for providing some of the most user-friendly functionality. This extends to the payment process, where with one click, new account holders are taken through to an easy-to-use payment interface.
Credit and debit card payment options are the default option, but other payment options also exist, including bank transfers and Neteller and Skrill.
Although eToro accounts are USD-denominated, deposits can be made using EUR, GBP, AUD, CAD and USD. Those not making payments using US dollars may want to check the currency conversion rate being offered to ensure that it is competitive, but there aren't any additional commissions applied to the transfer.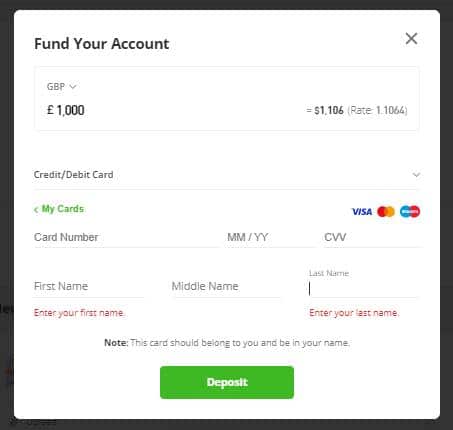 The minimum deposit requirement in most countries is $50. After your first deposit, further instalments can be made, with the minimum size of those being $50 ($10 in the UK and US). All deposits via bank transfer must be at least $500 in size.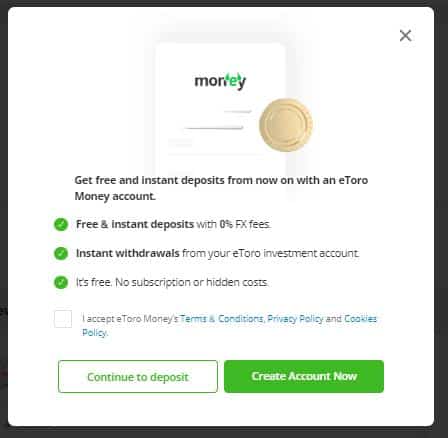 There are some neat additional options for eToro traders. The eToro Money program offered is an example of how the broker continues to offer innovative new features. In this instance, those who use the free eToro Money service are provided with some additional features, such as instant withdrawals and deposits.
Placing a Trade
eToro is set up slightly differently from many other brokers. Its focus on commission-free copy trading means that new clients are directed to forum-style pages relating to different markets, such as stocks, forex and cryptocurrencies. There, they can consider the thoughts of experienced traders who also disclose their trading performance, so it is possible to decide how much weight to give to their opinions.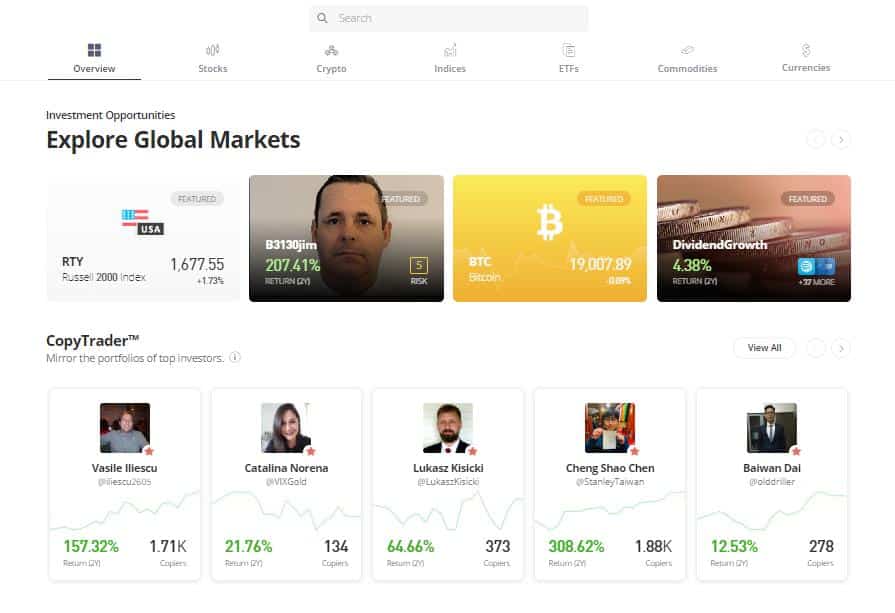 Copying an investor involves clicking on their profile, entering in a cash amount, and, if desired, a stop-loss order. There is the option of copying all live trades in order to replicate the lead trader's portfolio exactly. The alternative option is to just start copying new trades.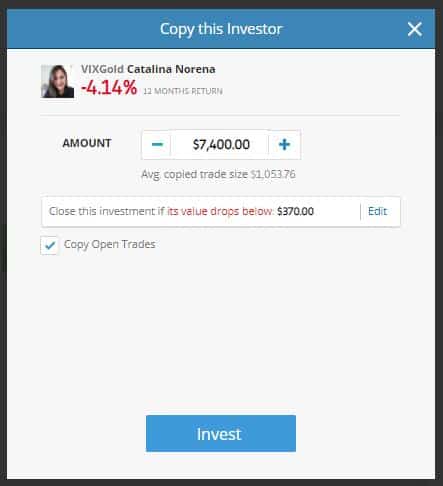 Those who want to trade their own ideas can access the price charts and research materials more typical of traditional brokers and decide to buy or sell different assets. This process involves entering the quantity you want to invest and clicking on 'Open Trade'. At that point, part of your cash holding will be used to buy an asset such as Bitcoin at the current market price.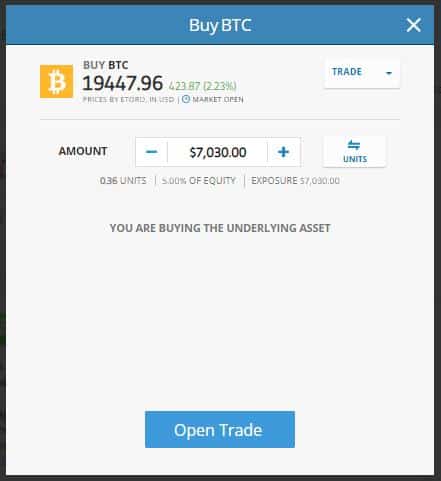 Contacting Customer Support
The eToro service is so simplistic that there are very few things that can go wrong. The platform now supports more than 27 accounts, but despite that, it doesn't really have a customer support team in the same sense that most other brokers do.

Anyone with queries is first directed to a comprehensive FAQ section. These cover most eventualities and provide extra information on subjects ranging from how to make a withdrawal to how lead trader performance statistics are calculated.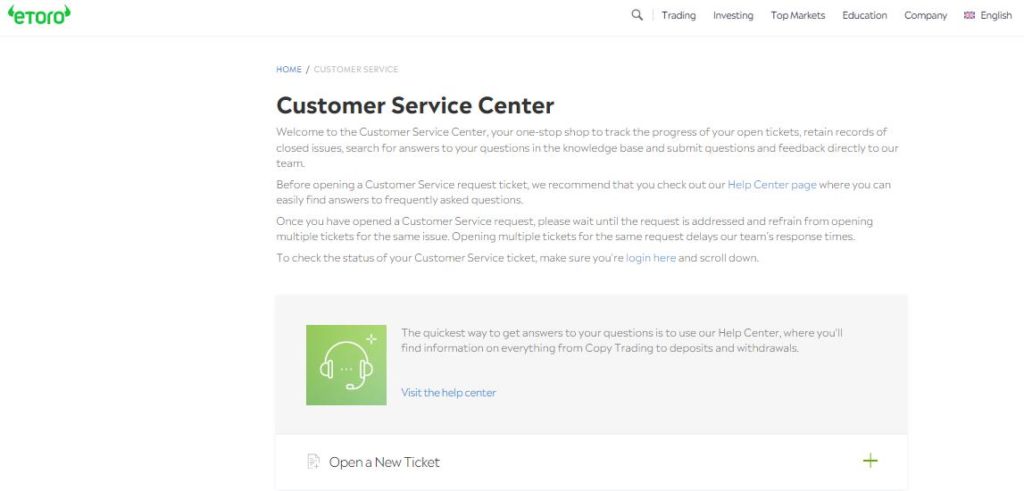 During our testing, the FAQs proved an effective way of dealing with issues, which was a good thing as the only way to contact eToro directly is by email. This involved clicking on the 'Open a New Ticket' button in the Customer Service Center and inputting the details of our query.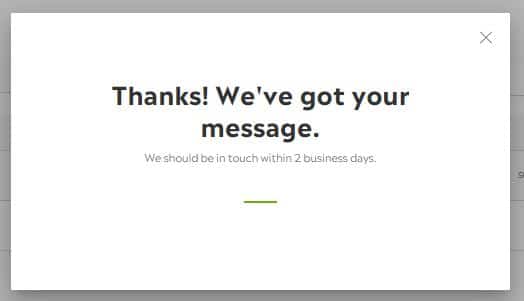 It was possible to upload files to give more information regarding the issue, but these were limited in size to 15MB. The process isn't ideal for those looking for a quick response, with the declared response time being "within two business days". During our testing, eToro did respond within that time limit, but it is a low bar to clear.
One benefit of the eToro approach is that all contact with the support team is logged. If clients need to refer back to a previous question, then that is easy to do.

Final Thoughts
eToro is one of the safest brokers in the market and one of the most innovative. It is at the forefront of social investing and is the preeminent online broker for traders who value such networking activities. New features and services are continuously being added to ensure eToro clients get all the help they need to succeed.
The broker's proprietary online trading platform and Copy Trading programs are straightforward. If things go as planned, there is also the option of signing up for the Popular Investor Program to become a lead trader yourself. You'll then receive income from those who copy you as well as enjoy the profits of your trading activity.
eToro offers traders a safe environment to learn how to trade and the potential to sell their newly discovered skills to others.
FAQs
How can I open a Demo account with eToro?
It can take less than 10 seconds to sign up for an eToro Demo account and start practising trading. All you need to provide is an email address. You're taken to the trading platform where the real-life trading experience is simulated with $100,000 of virtual funds.
What fees does eToro charge?
Most of eToro's revenue is generated by the difference between the sell and buy prices – the spread. There are no additional charges for Copy Trading and following the ideas of others. The T&Cs are laid out clearly and transparently, which is a good sign that the broker is confident in its pricing schedule. Admin fees are worth looking out for and include a $5 charge per cash withdrawal and account inactivity fees, which kick in after 12 months.
How can I change leverage with eToro?
Leverage is set at time-of-trade. Whatever market you are trading, you'll be asked to input the amount you want to trade, be offered the option of setting stop losses and set leverage rates.
Risk warning
All trading involves risk. Only risk capital you're prepared to lose. Past performance does not guarantee future results.
This post is for educational purposes and should not be considered as investment advice.
Cryptocurrencies can widely fluctuate in prices and are not appropriate for all investors. Trading cryptocurrencies is not supervised by any EU regulatory framework. Your capital is at risk.

eToro is a multi-asset platform which offers both investing in stocks and cryptoassets, as well as trading CFDs.
Please note that CFDs are complex instruments and come with a high risk of losing money rapidly due to leverage. 76% of retail investor accounts lose money when trading CFDs with this provider. You should consider whether you understand how CFDs work, and whether you can afford to take the high risk of losing your money.
Past performance is not an indication of future results. Trading history presented is less than 5 complete years and may not suffice as basis for investment decision.
Copy Trading does not amount to investment advice. The value of your investments may go up or down. Your capital is at risk.
Don't invest unless you're prepared to lose all the money you invest. This is a high-risk investment and you should not expect to be protected if something goes wrong. Take 2 mins to learn more
eToro USA LLC does not offer CFDs and makes no representation and assumes no liability as to the accuracy or completeness of the content of this publication, which has been prepared by our partner utilizing publicly available non-entity specific information about eToro.
Please be advised that certain products and/or multiplier levels may not be available for traders from EEA countries due to legal restrictions.
---
---