Expert's Viewpoint
In the world of online trading and investment, few brands have made quite the same splash as eToro have. Since first being founded in 2006 by two visionary brothers in Israel, eToro has truly gone from strength to strength, and they are now by far one of the most recognisable brands in this space.
Much of this success has come from the resources they have put into advertising and sponsorship deals, which has done a huge amount to raise the global profile of eToro. As a result, eToro is now one of the most recognisable brands around and are often the first port of call for new traders just starting to trade online for the first time.
As of writing, eToro is headquartered in London, although they have a customer base of over 5 million customers spread across over 170 countries. This makes eToro by far one of the largest brokers around by customer base alone.
In terms of customer trust and safety, this wide geographic spread means eToro come under the regulatory oversight of a number of financial regulators. This includes CySEC in the EU and FCA in the UK. Additionally, eToro operates in compliance with the Markets in Financial Instruments Directive—also known as the MiFID.
When it comes to actually trading on the eToro website, the platform has a distinctive look and feel that easily distinguishes it from the competition. As a beginner-focused platform, eToro is incredibly easy to trade on, with a very low learning curve overall.
Amongst the many notable features on offer is a comprehensive copy-trading feature, which is one of eToro's trademarks. This feature allows users to follow the leading trader using the eToro platform and to 'copy' their trades with your own investment funds. This is a great tool for beginners trying to get a feel for trading and investment strategy, and allows you to learn directly from the most successful traders on the platform.
Another great feature for new and intermediate traders are the numerous educational programmes eToro offer through the platform. This includes not only trading articles, guides, and lessons, but also the financial trading community they have grown through the platform. For users looking to connect with other similarly minded traders from across the world, this trading community is a great resource for connecting with and learning from hundreds of experienced traders.
If you want to try out eToro before committing any funds, they provide all new users with a full-featured demo account which gives you full access to the platform. This allows you to try out all the features on offer and to get a feel for using the platform on the live markets in a risk-free environment.
In terms of the trading conditions on offer, whilst eToro does offer a huge variety of financial instruments to trade—which includes CFDs, real fractional stocks, cryptocurrencies, and forex pairs—the spreads on offer are not necessarily the most competitive. Although it will vary depending on the instrument, on forex pairs, the spread starts from around 2 pips and up.
With all that said, although not necessarily offering the most competitive trading conditions, eToro has nevertheless put together a platform that is well thought out, stable, and beginner-friendly.
Based in Tel Aviv, Israel, eToro was founded in 2006 by two brothers, Ronen and Yoni Assia and partner David Ring. The brokerage was founded with the vision of a popular financial trading and investment platform suitable for everyone. eToro has grown significantly since its founding and is currently ranked among the top social trading networks, as well as an online forex broker.
As far as oversight and regulation is concerned, eToro (Europe) Ltd. is based in Limassol, Cyprus and is a registered Cypriot Investment Firm or CIF, registered under the number HE200585. The company is regulated by the Cyprus Securities and Exchange Commission or CySEC under license number 109/10.
In the United Kingdom, eToro (UK) Ltd. is headquartered in London and is a registered UK firm under registration number 7973792. eToro UK is authorized and regulated by the Financial Conduct Authority or FCA under the firm reference number 583263. Both eToro (UK) Ltd. and eToro (Europe) Ltd. comply and operate under the Markets in Financial Instruments Directive or MiFID.
eToro currently has more than 5 million users in over 170 countries. The company's clients have access to trade in currencies, indices, CFDs and commodities. eToro's online platform attracts thousands of new accounts every day as one of the world's premiere social investment networks.
eToro launched its social investment platform "OpenBook" in 2010, along with the company's "CopyTrading" feature. In 2010, eToro launched its first Android apps to enable investors to make trades over their mobile devices. These innovative platforms allowed investors to watch, follow and copy the top traders in the network automatically, and they have now been replaced with an updated all-in-one eToro trading platform that is also available on Android.
In the United States, eToroUSA is not currently active, therefore eToro does not accept customers based in the United States.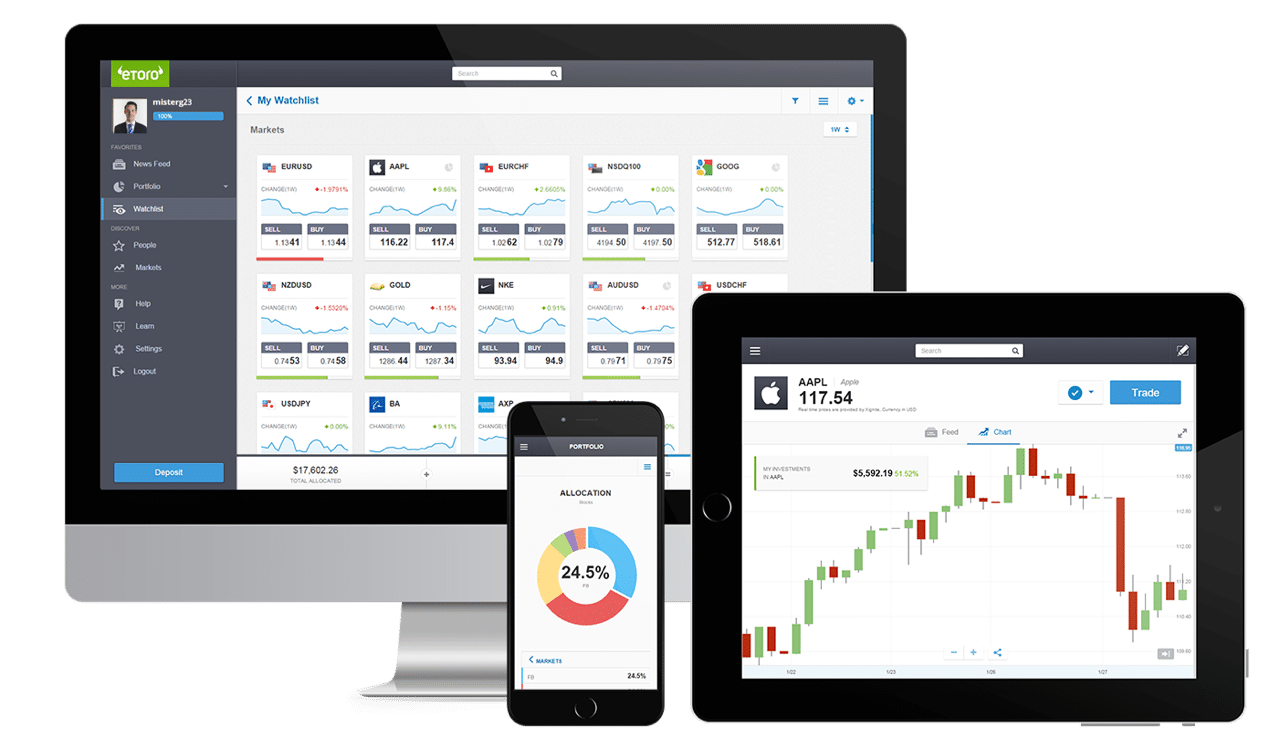 Unique Features of Trading with eToro
In addition to the company's excellent educational program and all inclusive trading platform, eToro's most striking feature is its online financial trading community, which is among the world's largest. eToro recently replaced its two popular WebTrader and OpenBook trading platforms into a new all-in-one platform that gives the trader access to all of their services across all types of devices.
Depending on what region and country the client resides in, the minimum first time deposit for an eToro live account ranges from $200 to $1,000. In addition to being able to open a funded account, the company offers a practice account just for signing up at no cost.
The eToro practice account allows the potential customer to test the trading platform without any financial obligation with an initial deposit of up to $100,000 in virtual currency. In addition to the standard funded account and the practice account feature on their platform, eToro also offers an Islamic account, with a minimum deposit of $1,000.
Much like other online forex brokers, eToro charges no commissions on trades. Instead, the company relies on quoting their customers a slightly wider dealer spread to compensate themselves. A survey of real time dealing spreads at eToro showed they start at two pips for the USD/JPY pair and three pips for EUR/USD, USD/CHF and USD/CAD.
Pairs like GBP/USD and AUD/USD show spreads of four pips wide, while the NZD/USD spread was five pips wide and the USD/RUB spread as seven pips wide. The dealing spreads for other less traded currency pairs looked as wide as 20 pips, and spreads in Bitcoin trades are apparently 225 pips, according to the broker's website.
As of April 29th 2018 eToro has moved from trading stocks as CFD to real stocks on their platform. All the countries will now be real stocks and only the listed countries will remain CFDs: Afghanistan Angola Australia Belarus Macedonia Iraq Liberia Libya Nauru New Zealand Nigeria Sierra Leone Zimbabwe Cote d'Ivoire Congo Congo Republic Myanmar.
As of August 1st 2018 eToro is fully compliant with new ESMA rules. Read more here.
eToro Trading Software
When eToro began, their original trading platform was primarily geared toward new and inexperienced traders and incorporated graphic animations depicting currencies racing against each other or participating in a tug of war. The broker's previous platforms have since been consolidated into the all-in-one award-winning eToro software, which is also available on Android and iOS, and integrates all of the features previously available. The eToro app is currently available at the iOS App Store or Google Play.

eToro has added some NEW FEATURES… eToro CopyPortfolio! Hear all about it Here
eToro Deposits and Withdrawals
Since eToro only allows trading in U.S. Dollars, any deposit in another currency is converted to that currency upon receipt. The minimum eToro deposit required to open a live trading account ranges from $200 to $1,000, depending on the regional regulations that a customer's account is subject to.
For example, Neteller minimum deposits range from $200 – $1,000 and a maximum of $10,000; while Webmoney and GiroPay have a $200 – $1,000 minimum and a $50,000 and $30,000 maximum respectively. Russia based Yandex has a $5,000 maximum deposit.
For their client's convenience, deposits and to open an account can be made through Visa, MasterCard and Diner's Club credit and debit cards, by bank wire transfer, and via Wirecard – Wire and Credit Card, Yandex, Neteller, Skrill Limited UK, China Union Pay, PayPal, Wirecard and Webmoney UK.
For withdrawals, the user must fill out a withdrawal form in the Cashier section of the website, clicking on the "WITHDRAWAL" tab. The amount is entered on the form and eToro will then notify the client via email of the withdrawal process. Typically, funds are withdrawn via credit card, PayPal or bank transfer, in that order of priority.
For first time withdrawals, clients must submit a clear color copy of their Passport including their written signature, as well as a clear copy of a utility bill not older than three months and that was mailed to your address of residence. Also, if the deposit to fund the account was originally via credit card, a clear copy of both sides of the credit card must be submitted.
eToro charges a fee of $25 for withdrawals. Withdrawals take up to five days to process and may be delayed even further due to third party withdrawal payment methods.
eToro Customer Support
eToro's customer support is available 24/5 – Monday through Friday via telephone and email, with email having a 48 hour response time. They do not appear to have a live chat function, but a personalized digital customer service feature provided by a company called "Nano Rep" is available by clicking on a button to the bottom left corner of eToro's customer service page.
The company also features a "Customer Service Wall", where customers can interact with customer service in a forum type format. Most customer service queries are handled by referring customers to Online Guides and eToro's Knowledge base.
If a client wishes to speak to a representative, a ticket is opened and a representative contacts the customer as soon as possible. Customers can choose their customer service representative by clicking on their photograph, which is included with a brief bio of the representative on eToro's customer service team page. Customer support is currently available by region in the following languages: English, German, Spanish, French and Italian.
Is eToro Safe?
In addition to its CySEC and FCA oversight, which ensures the broker is duly regulated in the European Union and the United Kingdom, eToro keeps their customer information secure. The company uses advanced Secure Socket Layer or SSL technology for the authentication of users and data transfers.
eToro Review Conclusion
eToro is at the forefront of social investing and is the preeminent online broker for traders who value such networking activities. With their newly integrated eToro trading and social investment platform, as well as their mobile app, eToro offers traders an excellent opportunity in this exciting new field. In addition, the company offers a Trading Academy, a Blog, a Trading eCourse and live webinars to educate novice traders.
Their proprietary online eToro trading and social investment platform is fairly easy to use, and offers a free practice account just for signing up. eToro also rewards its most successful clients, since in addition to making money in their own accounts, profitable traders can also enter competitions, earn cash prizes, and have other traders follow their activities. The larger the following of a trader, the larger the proceeds become from eToro, which can significantly increase a trader's income versus just their trading activity.
The most significant drawback with this broker are the rather long five day withdrawal period.
Risk warning
All trading involves risk. Only risk capital you're prepared to lose. Past performance does not guarantee future results.
This post is for educational purposes and should not be considered as investment advice.
Cryptocurrencies can widely fluctuate in prices and are not appropriate for all investors. Trading cryptocurrencies is not supervised by any EU regulatory framework. Your capital is at risk.

Please be advised that certain products and/or multiplier levels may not be available for traders from EEA countries due to legal restrictions.
---
---
Safest Forest Brokers 2020
Forex Fraud Certified Brokers
Stay up to date with the latest Forex scam alerts
Sign up to receive our up-to-date broker reviews, new fraud warnings and special offers direct to your inbox