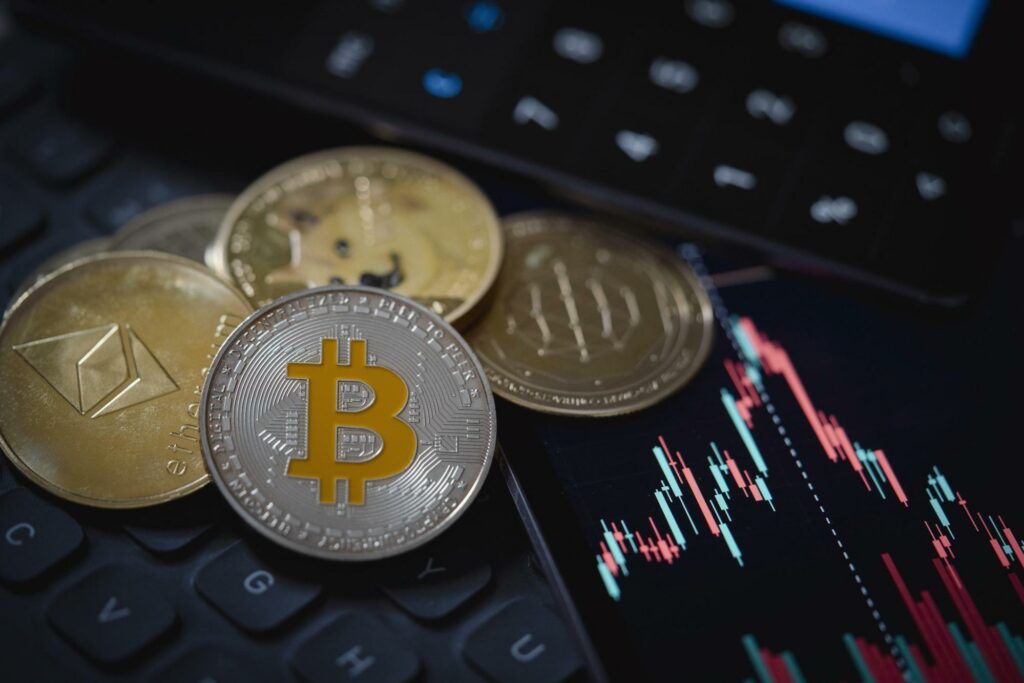 Cryptocurrencies have been with us for over a decade, and public awareness of the investment medium has never been higher, but are cryptos a safe place to invest for the average investor? There are a multitude of risks that can cause the value of your chosen crypto asset to fluctuate wildly in the market, the reason why crypto assets have been categorized as the most volatile asset class of all time.
Cryptos continue to be high risk, even to this day in February of 2023. Evaluating these risks is made more difficult since there is no common standard for consistency, which can be often found in other investment mediums that comply with basic regulatory standards. The term "safe" takes on a broader meaning to include not only investment risk, but also risks related to technology, platform-operating standards, and the threat of cybersecurity attacks.
In the following article, you will learn more about what makes a cryptocurrency secure, and what it takes to be the most secure cryptocurrency. Lastly, we will provide a table of the safest crypto brokers in the industry today, based on our latest compilations of the best the industry has to offer.
What Makes a Cryptocurrency Secure?
Since cryptocurrencies are relatively young on the investment scene, risk issues continue to evolve, while the industry and regulators adapt. Safe and secure can mean many things, depending upon your perspective. Is the token free of hacking compromises, free of fraud, and has the backing of a competent management team? Is the technology safe and operated in accordance with accepted protocols?
Cryptos are inordinately connected with blockchain technology, a complex public ledger system that depends upon cryptography and a host of software requirements. The blockchain is known for security, but upgrade processes and smart contract codes can be problematic. How can you tell if a crypto system and its team are IT savvy and adhering to basic IT compliance standards? There have been a few companies that have tried to address these questions by developing assessment algorithms for producing a security score for investors to rely upon.
Unfortunately, these rating services are fairly subjective in that the scores from different firms can vary greatly, depending upon each firm's perspective. The data aggregator, Coingecko.com, has attempted to assist the investing public by including these new ratings within the information page for each program. Not all programs have a rating, but 1,500 tokens do have security scores where available. Bitcoin and Ethereum are not rated, since the industry regards these two programs as the most secure offerings in Crypto-Land.
Ranking methodologies differ, but individual assessments tend to review these five individual categories:
Project Audit: Has a full-scope audit been performed, and by whom, are results published?
Bug Bounty Program: Is there a reward system for finding bugs in Smart Contract routines and software code?
Insurance: Does the program carry insurance to protect against external risks to its platform, and wallet, and to what capacity?
Team Composition: Are team Bios public?
Previous Hacking Cases: Have there been hacking incidents, what is the time between incidents?
Guarding against cybersecurity attacks is only one aspect when evaluating security and safety. Investors also need to know about program stability, privacy protections, and encryption strength. Program stability is often a measure of investor support in the market. A program's market capitalization is an immediate sign of program acceptance and viability.
Crypto programs are known for ensuring privacy through the use of blockchain technology and various encryption verification algorithms. Personal keys and encryption may disguise identity, but the anonymity of the blockchain is waning as law enforcement authorities acquire new tools and methods for following a blockchain trail. Be wary of privacy concerns if a program touts this feature as an advantage, due to regulatory objections about criminal activity.
How strong is encryption in blockchain technology? Cryptography in this arena makes tampering with transaction data almost nonexistent. Transactions on these public ledgers cannot be reversed. All crypto programs benefit from this characteristic, but a program's encryption verification algorithm may be an issue. Tokens that depend upon a Proof-of-Work protocol require a great deal of computational power. Programs are shifting to and other related protocols to address environmental concerns going forward.
The Most Secure Cryptocurrencies
What is the most secure cryptocurrency? The primary criteria for determining the safety and security of a crypto investment will always be the program's stability and viability in the public marketplace. Does the token provide a service that solves a problem and has a defined future? Bitcoin and Ethereum meet this test, but firms like Forbes that publish Top Ten lists tend to gravitate to programs with market caps in excess of $5bn. Size does matter.
If you peruse the Coingecko.com website for market capitalizations, the amounts can change over time, but a $5bn requirement in February of 2023 limits this list to its top 20 participants. Several of these programs are stablecoin programs tied to the value of the US Dollar. Investors use these tokens to store their capital before investing in active crypto programs. Tether and USD Coin are typical stablecoins used for this purpose.
If you want to invest in cryptos for a potential gain in valuation and you want a safe and secure program, then the list will exclude stablecoins. By selecting potential tokens from the Top 20 on Coingecko.com and evaluating their respective security rating scores, there are seven programs, which top the list and satisfy the definition of the "most secure cryptocurrency". A brief recap of each program, as provided on the Coingecko.com website, is as follows:
Bitcoin (BTC): Bitcoin is the major market leader by market cap and accepted by regulators as a legitimate token for the exchange of value. Launched in January of 2009, it was the first decentralized digital currency based on cryptography and blockchain technology.
Ethereum (ETC): Ethereum is the second largest crypto program, also accepted by regulators. It is also the innovator for smart contract applications, along with a platform that provides a home for other programs via the use of ERC-20 tokens.
Cardano (ADA): Founded in 2017, Cardano is a Proof-of-Stake platform with a multi-level protocol for smart contracts that attempts to balance the needs for privacy along with compliance with the wishes of regulators. Holders of the ADA token may exchange value with friends or exchanges.
Polygon (MATIC): Polygon is one of the first programs to take advantage of the smart contract aspects of the Ethereum platform. It provides developers with the means to scale applications using smart contracts with user-friendly features, using the program's proven technology and existing ecosystem.
Solana (SOL): Founded in 2017 by 4 co-founders, Solana is a general purpose blockchain patterned after the Ethereum platform that enables Internet applications from DeFi to marketplaces with a unique Proof-of-History code profile in Rust, an open-source programming language. The system is known for its scalability.
Avalanche (AVAX): Avalanche is devoted to smart contract applications. Its platform is scaled for high volume throughput. The token's Mainnet platform went live in late 2020 and employs a Proof-of-Stake protocol for speed and low cost.
OKB (OKB): Tokens for this program act as a payment utility for features on the OKX platform. It operates as an ERC-20 token on the Ethereum platform and can be used to pay fees, gain rewards, and access features offered by OKX over time.
If you wish to expand this list to include programs with a greater risk/reward potential, then do so at your own peril. Crypto assets are high risk, especially smaller programs where liquidity and transparency are lacking. There are certainly crypto programs with great potential that could become the next BTC or ETC, but the industry is relatively young. Investor protections and regulatory standards remain a challenge. Caution is advised.
---
Related Articles:
---
The Safest Crypto Brokers
The best way to trade in the crypto space in a safe and secure manner is via a partnership with one of the best brokers in this high-risk investment medium. Based upon our continuing review of the brokers that offer trading and investing in crypto programs, we have compiled the following list of the Best-of-the-Best for your consideration:
Broker
Features
Min Deposit
EURUSD Spread
77% of CFD traders lose US Clients: Yes (eToro USA) Regulated : Yes

Social Trading Platform
FCA & CySEC Regulated
Minimum Deposit $200
Demo Account
Copy Trading
2000+ Instruments

$200
from 1

Sign Up

77% of retail investor accounts lose money when trading CFDs with this provider. You should consider whether you understand how CFDs work, and whether you can afford to take the high risk of losing your money.

82% of retail investor accounts lose money when trading CFDs with this provider. You should consider whether you can afford to take the high risk of losing your money. US Clients: No Regulated : Yes

– FCA, ASIC, CySEC Regulated.
– Multi Asset Trading Platform.
– No Time Frame For Demo Accounts.
– the provider offers CFD trading only

100GBP/AUD/EUR/USD
variable

Sign Up

82% of retail investor accounts lose money when trading CFDs with this provider. You should consider whether you can afford to take the high risk of losing your money.

Your capital is at risk US Clients: No Regulated : Yes

– 40% New Member Bonus
– MIFID, ASIC, FSA & FSCA regulated
– Free Online Trading Coach

$100
Fixed

Sign Up

Europe* CFDs are complex instruments and come with a high risk of losing money rapidly due to leverage. 79% of retail investor accounts lose money when trading CFDs with this provider. You should consider whether you understand how CFDs work and whether you can afford to take the high risk of losing your money.
Concluding Remarks
Do you wish to trade or invest in cryptocurrencies, but only in the safest and securest programs in the crypto industry? There are thousands of programs in today's crypto world to choose from, but how do you evaluate the ability of a program to ward off modern-day cybersecurity threats? How can you determine true transparency from a crypto team seeking your support?
Coingecko.com is one data aggregator that has stepped forward to provide security ratings for over 1,500 crypto programs, using scores provided by firms devoted to this assessment activity. You may use these ratings as one further confirmation of your choice of a potentially safe and secure digital token, but your due diligence reviews should also include reviews of the program's stability, how it protects your privacy, and the strength of its encryption verification methods.