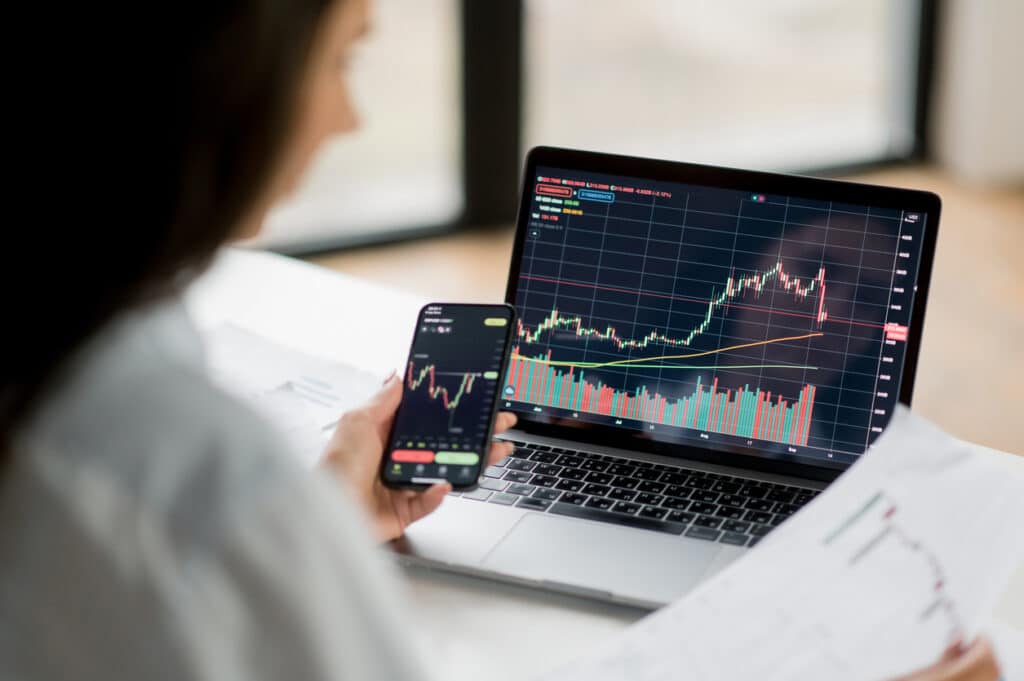 If you are thinking of investing in cryptocurrency, you are probably asking yourself the same questions that investors had been pondering since the original launch of Bitcoin back in 2010. Is crypto a scam? Is it safe to invest in? And could I lose my money?
In this article, we take a look at these questions and assess the future safety of crypto and the regulations that various countries are bringing in to help citizens avoid crypto scams and issues with crypto exchanges.
Is Crypto Safe to Trade?
Is crypto legit, and is it safe to trade? Generally speaking, the answer is yes, but there is a lot to be aware of before you start your crypto trading journey.
Crypto trading is a common and popular form of trading, and crypto is generally a safe asset to trade. However, it is vital to understand how crypto trading works, and be aware of all the risks involved. Any trading carries risk, but crypto trading carries the added factor that most cryptocurrencies are highly volatile.
This is part of their appeal, of course, because it means that there is the opportunity to make a substantial profit when trading crypto, sometimes in a relatively short time span. However, the same volatility that makes this possible also makes it possible to lose money very quickly when trading this kind of asset.
For these reasons, practising good money management and discipline is crucial when trading crypto. This means knowing when to cut losses, and when to take profits (before a coin peaks and starts going in the other direction). You should not be investing money you cannot afford to lose in cryptocurrency, and you should be mentally prepared to experience both gains and losses during your crypto trading career.
It's also important to be aware that crypto trading often doesn't carry the same protections and compensation schemes that are available to investors of fiat currencies. As we will discuss below, crypto is simply not regulated in the same way that other investments are, though this is slowly changing.
There is no guarantee that any crypto project you invest in will be successful, but, of course, that is the case with any other investment you make, whether in a business or in trading specific assets.
There are also certain risks involved in the way that you store your crypto. Because cryptocurrency is not backed by banks, there is usually no government-backed protection scheme if a crypto exchange, for example, goes bust (whereas if you had fiat currency stored in a bank, there would be).
For this reason, it's vital that you choose a secure wallet to store your crypto in and consider the pros and cons of both 'hot wallets' (storing your crypto online) and cold storage (storing your private keys offline in a USB or external hardware).
Is Crypto Regulated?
For a long time, cryptocurrency has been largely deregulated, operating outside of normal fiat monetary systems that are backed by national governments and central banks.
Most cryptocurrencies are not legal tender in any one country. This does not mean that these coins are not legal, just that they are not issued and controlled by any specific national government. This means that those governments do not classify them as legal tender in the same way that they do their own currency issued by their central banking system.
This has always been, in fact, part of the appeal of Bitcoin and other altcoins for many people. It has given these digital currencies a level of autonomy that comes from not being controlled by the world banking authorities and financial institutions.
However, this is slowly changing in many countries. There has been a push to bring cryptocurrency under the control of financial regulators, especially since the demise of FTX, formerly one of the largest crypto exchanges in the world. The exchange collapsed in 2022, wiping out the multi-million-dollar crypto accounts of various clients and leaving billions of dollars of assets simply unaccounted for.
This led to governments making moves to tighten up national and international regulations around the crypto industry. In January 2023, the UK government held a debate on the regulation of cryptocurrencies, and it is likely that more regulations will be brought in to govern the industry, such as bringing stablecoins under UK banking regulations via the Financial Services and Markets Bill and setting out many other new regulations around the crypto industry.
Other countries are taking similar steps. In Canada, it has now been announced that cryptocurrency is considered a security, which is a move towards regulating crypto trading under the Canadian Securities Administrators (CSA). Crypto assets are now regulated in the US by several government agencies on a federal level as well as by local regulators at the state level.
It's important for traders to understand that while many brokers that allow you to trade cryptocurrency via their platform may be fully licensed and regulated, this does not mean that the asset itself is regulated. It is legally required that firms offering financial services in certain jurisdictions are regulated by local governing bodies, so when you sign up at a multi-asset brokerage, you would always expect that to be the case.
However, the lack of regulation around cryptocurrency still means that your crypto assets can be more vulnerable than other assets. The investor compensation scheme at your broker, for example, is usually tied to government rules and protections that currently may not extend to cryptocurrency holdings.
Is Crypto a Good Investment?
The short answer to this question is, it certainly can be. In July 2010, when Bitcoin launched, it began trading at US$0.0008, climbing to US$0.08 by the end of the month. In 2021, it peaked at a value of more than US$68,000 per coin, before 'crashing' to a value of closer to US$20,000 in 2022.
This is why there are plenty of Bitcoin millionaires out there. While it's important to realise that Bitcoin is the stand-out most valuable cryptocurrency by far, there are plenty of traders who have made money with other altcoins.
The success of any new cryptocurrency project is very hard to estimate, but early investors in one that does well can find that it is a very lucrative investment over the long term. However, crypto assets are very volatile, so investors have to be prepared for investments to go down, often significantly, as well as up.
---
Related Articles
---
The Safest Crypto Brokers
While there are no guarantees when investing in crypto, choosing the right broker can certainly provide peace of mind. Check out our list of recommended crypto brokers. These are the firms that we consider the safest crypto brokers to trade with.
Broker
Features
Min Deposit
EURUSD Spread
77% of CFD traders lose US Clients: Yes (eToro USA) Regulated : Yes

Social Trading Platform
FCA & CySEC Regulated
Minimum Deposit $200
Demo Account
Copy Trading
2000+ Instruments

$200
from 1

Sign Up

77% of retail investor accounts lose money when trading CFDs with this provider. You should consider whether you understand how CFDs work, and whether you can afford to take the high risk of losing your money.

82% of retail investor accounts lose money when trading CFDs with this provider. You should consider whether you can afford to take the high risk of losing your money. US Clients: No Regulated : Yes

– FCA, ASIC, CySEC Regulated.
– Multi Asset Trading Platform.
– No Time Frame For Demo Accounts.
– the provider offers CFD trading only

100GBP/AUD/EUR/USD
variable

Sign Up

82% of retail investor accounts lose money when trading CFDs with this provider. You should consider whether you can afford to take the high risk of losing your money.

Your capital is at risk US Clients: No Regulated : Yes

– 40% New Member Bonus
– MIFID, ASIC, FSA & FSCA regulated
– Free Online Trading Coach

$100
Fixed

Sign Up

Europe* CFDs are complex instruments and come with a high risk of losing money rapidly due to leverage. 79% of retail investor accounts lose money when trading CFDs with this provider. You should consider whether you understand how CFDs work and whether you can afford to take the high risk of losing your money.
By now, you should have the information you need to make decisions about whether investing in crypto is the right choice for you. While crypto is not a scam, it is an inherently high-risk and potentially volatile investment, and there is a lot to think about before taking the plunge. If, however, you have an appetite for risk, understand the market, and are prepared to be disciplined and take managed and calculated risks, crypto can certainly be a good investment.