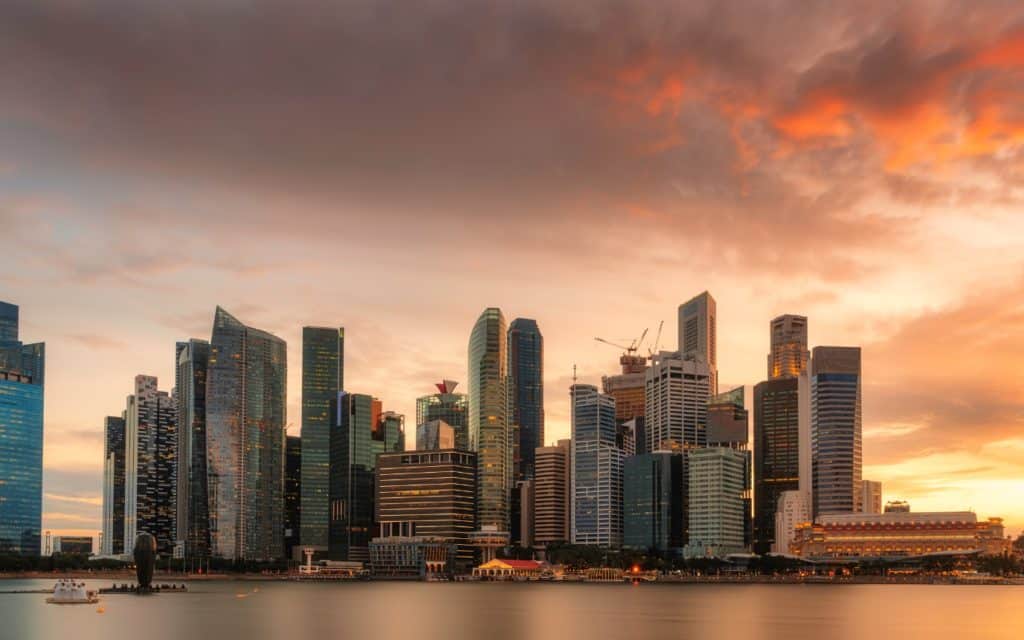 CFD trading is a popular and potentially lucrative type of trading with several benefits, including the ability to use leverage to optimise your trading activities. However, it is also inherently risky, especially if you do not fully understand how CFDs work. We strongly advise that you educate yourself and ensure you are fully aware of the pros and cons of CFDs before you dive in and start trading.
Today we will look at what options are available for traders in Singapore who want to start trading CFDs. Which CFD brokers are the best in the country? And how can you be sure the broker you choose is safe and trustworthy? We'll look at everything you need to know if you want to trade CFDs in Singapore.
What Are CFDs?
CFD is an acronym for contract for difference. Trading any instrument via CFDs means a trader can speculate on the price movement of that instrument, potentially profiting from the trade without ever actually owning the underlying asset. Traders interested in CFDs need to find a brokerage that offers CFD trading in the asset classes they want to trade. Be aware that some brokers offer CFD trading across all or most of the available assets. Others may only offer CFD trading in specific asset classes, such as forex.
CFD trading is legal in Singapore and many other countries, although it is usually strictly regulated. It is illegal to trade CFDs in the USA. National regulators have various requirements in place for brokers that offer CFDs. They protect clients and ensure they understand the risks involved before investing. In Singapore, brokers offering CFDs also have a responsibility to ensure that potential investors fully understand they could lose money as well as make a profit.
CFD traders in Singapore, and indeed all over the world, tend to use leverage when trading CFDs. It effectively allows them to place trades using much more capital than they have on deposit in their account. If, for example, you can access 10:1 leverage, you can trade using ten times the amount of capital you hold. That is what makes CFD trading so lucrative, potentially, but also very high-risk!
Leverage is accessed via your broker, and the broker will ultimately decide on the amount of leverage they will provide for each instrument, although they must also follow national guidelines. Singapore limits the amount of leverage offered to traders, which depends on the assets being traded.
The Monetary Authority of Singapore (MAS) is Singapore's central bank and integrated financial regulator, which means it regulates institutions in the financial sector, including firms involved in banking, capital markets, insurance and trading. The MAS limits leverage for forex trades in Singapore, according to the asset being traded. As is the case elsewhere, leverage is usually higher in forex trading, particularly when major pairs are traded. In Singapore, many currency pairs can be offered with leverage of up to 1:50, so traders can enter trades using up to 50 times more than the amount of capital they have available.
Are CFDs Safe?
Most traders and brokers agree that CFDs are a high-risk form of trading, and reputable brokers in Singapore are obligated to warn new clients of the risks involved. However, this does not mean that CFD trading is not safe. It is a legitimate and legal form of trading and, like many high-risk investment activities, comes with the potential for high profits.
To protect yourself and trade as safely as possible, always trade through a reputable broker regulated by the MAS. In addition, you should ensure that you fully understand how CFDs work and respect the fact that while they offer the potential for large profits, there is also the risk that you can make significant losses.
To be successful long term, CFD traders must know how to use leverage wisely, manage risk, and practice good trading discipline. Trading with low leverage levels is advisable for beginner traders, as is spreading the risk by investing some of your capital in other, low-risk investments. Doing so will ensure you have a well-balanced portfolio with a diverse range of investments.
To trade CFDs safely in Singapore, look for a broker regulated by the MAS. CFD brokers in Singapore, or those who offer their services to residents in the country, should always be licensed and regulated. Some international brokers will have regulatory oversight in place via several governing bodies in the different countries and regions in which they operate. Be wary of offshore brokers who may be unregulated or subject to local regulations, which may not be particularly strict or well-enforced.
The Benefits of Trading CFDs in Singapore
The reason that CFD trading is so prevalent in Singapore, as it is elsewhere, is that it comes with various benefits. You can take advantage of both rising and falling markets, with the potential for large profits, if you can successfully predict price movements without investing a large amount of capital. CFD trading at a reputable brokerage means you have access to various markets, usually with fast and easy order execution and the peace of mind that comes with knowing you are using a legitimate platform.
There are also tax benefits when trading CFDs in Singapore. As you are engaged in derivative trading, you are not required to pay stamp duty, as you might if you invest in shares and other securities. In addition, you will not be paid dividends, which are taxable, as you would be when investing in company shares outright. Always consult a tax professional if you are unsure of your tax position regarding profits or losses from CFD trading.
You will generally find that trading CFDs in Singapore is relatively easy, and the investment required is usually fairly small. With many CFD brokers in Singapore, you will need to deposit just a few hundred dollars or less to start trading, and leverage will mean that you will have considerably more than that to trade with.
How to Choose a Safe CFD Broker in Singapore
If you want to start CFD trading in Singapore, you have several options. There is a choice of CFD brokers who are either based in the country or have a presence there. Residents of Singapore can also access international CFD brokers as long as the broker you choose is happy to accept customers from Singapore.
As mentioned, some unregulated offshore brokers market their services to CFD traders in Singapore. We advise that you avoid these, especially if you are a new CFD trader. Consult the MAS website to check that the brokers you are considering registering with are regulated by MAS and be wary of scam brokers who will try and imitate or clone the website of a well-known and regulated broker to lure in inexperienced traders.
CFD brokers in Singapore offer a variety of instruments, trading platforms, account types and payment options, so once you have made sure your broker is safe and regulated, examine the details of their offering to make sure it fully meets your needs and your aims as a CFD trader. If you are new to CFD trading, we advise you to pick a beginner-friendly broker that offers an education portal, excellent customer service, and preferably a demo account so you can try out the platform features before trading with real money.
The Safest CFD Brokers in Singapore
When it comes to CFD trading, Singapore residents have plenty of brokers to choose from. Some great CFD brokers are operating in the country, but some second-rate brokers and scammers are also on the scene. Here at ForexFraud.com, we have carefully reviewed some CFD brokers in Singapore to ensure that they offer their clients all necessary protections and safe and fair-trading conditions. Here is a table of our preferred and trusted CFD brokers in Singapore.
Broker
Features
Min Deposit
EURUSD Spread
72% of retail CFD accounts lose money.

US Clients: No

Regulated : Yes

– Ultra-fast execution from 0.2s
– Low spreads from 0.0 pups
– All trading strategies allowed
– No restrictions on profitability
– Top trading conditions

$100
from 0.0 pips
Your capital is at risk

US Clients: No

Regulated : Yes

– 40% New Member Bonus
– MIFID, ASIC, FSA & FSCA regulated
– Free Online Trading Coach

$100
Fixed

Sign Up

Europe* CFDs are complex instruments and come with a high risk of losing money rapidly due to leverage. 79% of retail investor accounts lose money when trading CFDs with this provider. You should consider whether you understand how CFDs work and whether you can afford to take the high risk of losing your money.

Your capital is at risk

US Clients: No

Regulated : Yes

CySEC regulated.
Good for beginners with excellent trading academy.
Beginner Friendly

$500
From 0.6 pips
Your capital is at risk

US Clients: No

Regulated : Yes

$50
from 0
Your capital is at risk

US Clients: No

Regulated : Yes

ASIC Regulated
Well Established
No Fees
24 hour support

$200
From 0.1 pips
Citizens and residents of Singapore will find that the above brokers provide everything they need for their CFD trading journey. Just remember that as you look through them, you should focus on the factors that matter to you as a new CFD trader, such as the educational resources on offer, the minimum deposit required, the leverage available, and whether a demo account is provided. As with any new type of trading or investing, take time to understand how CFDs work. They are complex instruments, so be sure to educate yourself and have solid risk management strategies in place. If you do, your CFD trading adventure will likely be safe and profitable.