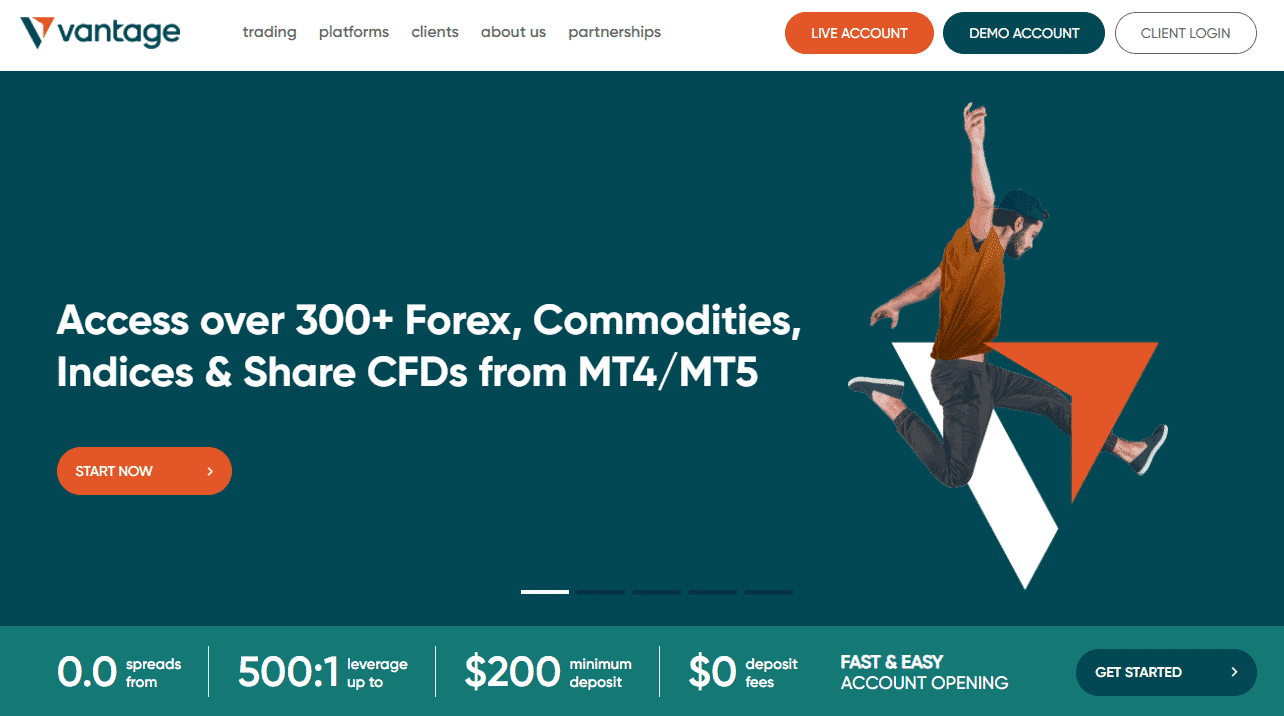 Expert's Viewpoint
Vantage – Vantage was founded in 2009 as an international forex broker registered in Australia. The company's operations are licensed and regulated by the Australian Investment and Securities Commission (ASIC), one of the most stringent regulators in the world, and regulated by the Cayman Islands Monetary Authority (CIMA). ASIC's tight regulatory control ensures that all Vantage customers are fully transparent financial transactions.
In addition to a secure trading environment, Vantage provides its customers with high-speed execution of trade orders. In addition to low spreads and a wide selection of trading tools, Vantage offers customers a real competitive advantage over most brokers.
Rating Overview
| | |
| --- | --- |
| Overall rating | |
| Regulation | |
| Fees | |
| Range of Markets | |
| Platforms | |
The costs associated with trading, such as spreads and commissions, vary depending on the type of account and the trading platform used. Vantage offers three main types of live trading accounts called Standard STP, Raw ECN and Pro ECN. The broker also offers swap-free Islamic accounts and a free MT4 demo account.
On STP trading accounts, the minimum spread starts at 1 pip. On ECN trading accounts, the minimum spread is 0.0 points. But for each traded lot, traders are required to pay a commission of $ 3.00.
All accounts are available on the MetaTrader 4 and MetaTrader 5 trading platforms for the Windows, Mac, Android and iOS operating systems. The biggest differences between the three trading accounts are the minimum balances required for a Pro ECN, requiring a minimum deposit of $ 20,000, for an unprocessed ECN of $ 500, and for a standard STP of only $ 200. In addition, Vantage has MAM and PAMM accounts. And for social trading and copy-trading, collaborates with ZuluTrade to make it accessible to its customers.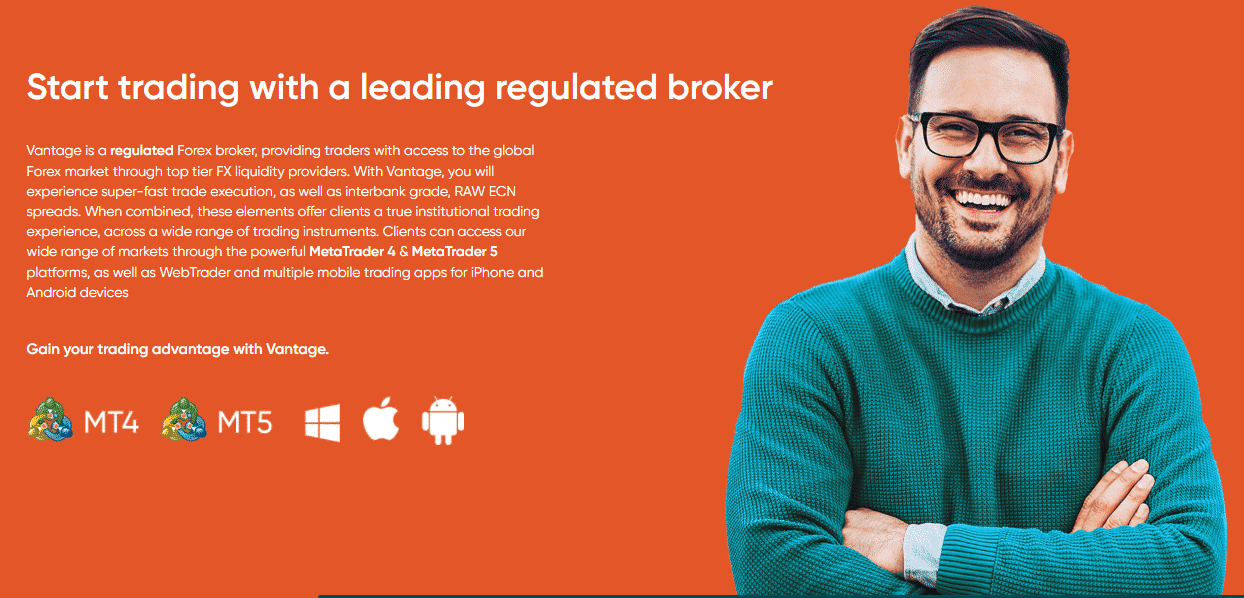 Also, on the Vantage website, there is a section for clients on the education of future traders. Having carefully studied the information presented, the client will have the necessary basic terminology, as well as an understanding of how the web platforms presented on the site function, what factors affect the value of assets, etc.
The registration process on the Vantage website takes no more than 5 minutes. To create a trading account, the client needs to click on the Live account button at the top of the page and fill out the registration form. You must also specify personal and contact information, country of residence, as well as the type of account.
Vantage offers over 100 trading instruments covering Forex ECNs, Indices, Commodities and CFDs for US and Hong Kong stocks. Vantage also does not have actual cryptocurrencies; however, the company provides CFD contracts for popular cryptocurrencies for trading.
Clients can choose between free trading accounts or lower commission trading spreads. To open a live or demo account, users simply need to go to the Vantage homepage and select "Live Account" or "Demo Account" located in the upper right corner. Vantage offers traders several ways to fund their trading accounts, such as bank transfer, credit card, Paypal, Neteller, Skrill, China Union Pay and others.
Vantage offers traders an excellent level of service. The platforms provided by the broker work quickly and reliably, and a low minimum deposit (only $ 100) allows you to open a real trading account for everyone.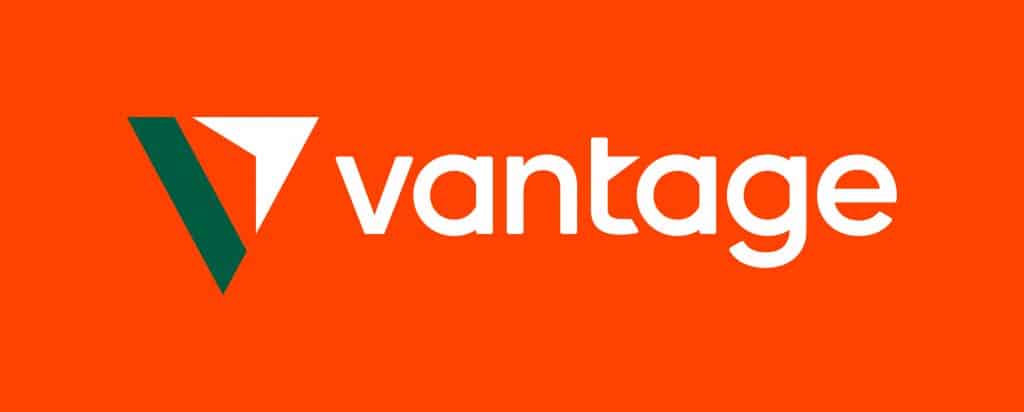 Free Demo Account
No Deposit Required
Broker Summary
Founded in 2009, Vantage is indeed a major brokerage based in Australia, operating under one of the strictest regulatory jurisdictions and thriving.
Like some of its peers out there, Vantage uses a collection of numbers on its official site, to describe the operation, and to offer up an informative snapshot of its activity in a nutshell.
What exactly do these numbers tell us though? The maximum leverage offered by the broker is a massive 1:500 – indeed rather impressive. The broker offers no fewer than 15 trading platforms and some 70 FX pairs, commodities and indices can be traded. The broker does not charge any account maintenance fees, the spreads start from 0 pips (only on select account types of course) and the minimum required deposit is just $200, placing the services of the broker well within the reach of all those interested to trade.
Why did we call Vantage reputation "spotty" in the title though? While most of the reviews/feedback shared by users  of the brokerage through various portals are positive, there are always a few dissenters. Apparently – above and beyond the usual range of complaints regarding withdrawals and trade execution – the broker was involved in a number of allegedly underhanded practices at certain points of its existence.

One such incident saw it deny payment to one of its IBs (Introducing Brokers). After the said affiliate posted a complaint about the operator at one of the review portals, Vantage allegedly offered to pay him only if he first removed the said complaint. Whether or not such stories are true, is quite impossible to verify at this point. Their mere existence and implied credibility raises a few red flags though.
Another such problem was that Vantage allowed a known scammer to act as an IB for the operation for a while, even though it had been warned in his regard.
The corporate entity behind the Vantage brand is Vantage Pty Ltd. The company is registered in Australia, its registration number being ACN 140 903 886. That said, this company is not the direct issuer of the services presented on the Vantage website. That honor goes to Vantage Global Prime Pty Ltd, also a registered Australian company, of whom Vantage Pty Ltd is an Authorized Representative.
The liquidity partners of the brokerage are some truly high-profile entities in their own rights. We're talking about the likes of Citibank, JP Morgan and HSBC.
Why would you want to trade with this undoubtedly serious online FX/CFD provider though?
Unlike most other regulated brokerages, Vantage offers a cash bonus, as well as access to real ECN execution. With spreads starting from 0 pips, its trading conditions are nothing to sneeze at either.
Featuring MT4 as well as MT5, the broker offers its users access to some of the best online trading solutions in existence.
Opening an account with Vantage is literally a matter of but a few clicks.
Vantage Introduction
The corporate entity behind the Vantage brand is Vantage Pty Ltd. The company is registered in Australia, and its registration number is ACN 140 903 886. However, this company is not a direct issuer of the services presented on the Vantage website. This honour belongs to Vantage Global Prime Pty Ltd, also a registered Australian company, whose official representative is Vantage Pty Ltd.
Liquidity brokerage partners are some truly high-profile legal entities in their own right, such as Citibank, JP Morgan and HSBC. Why do you want to trade with this undoubtedly serious online FX / CFD provider? Unlike most other regulated brokers, Vantage offers a cash bonus, as well as access to real ECN execution. With spreads starting at 0 pips, there is no need to sneeze on the trading conditions either. Thanks to MT4, as well as MT5, the broker offers its users access to some of the best existing solutions for online trading.
Vantage Market Coverage
The broker supports a relatively standard range of tradable assets: besides FX pairs, indices and commodities covering precious metals, soft commodities and energies, cryptocurrencies are supported too.
Several USD and EUR pairs are offered for Bitcoin, Bitcoin Cash, Dash, Litecoin, Ripple and Ethereum.
On BTC, the maximum available leverage is a very respectable 1:5.
Platform and Tools
When it comes to trading platforms, the diversity of Vantage 's offer is unparalleled. No fewer than 9 options are available, mostly centered on MT4 and MT5.
The world's most popular trading platform, MT4 is arguably the centerpiece of the Vantage offer. In addition to its Windows version, which can be downloaded freely from the official Vantage website, the platform is also available in a Mac version.
MT5 is obviously an upgrade from MT4, yet is it somewhat less popular than its successful predecessor. Those looking for better and easier ways to create personalized technical indicators and EAs, will certainly appreciate the improvements delivered by MT5.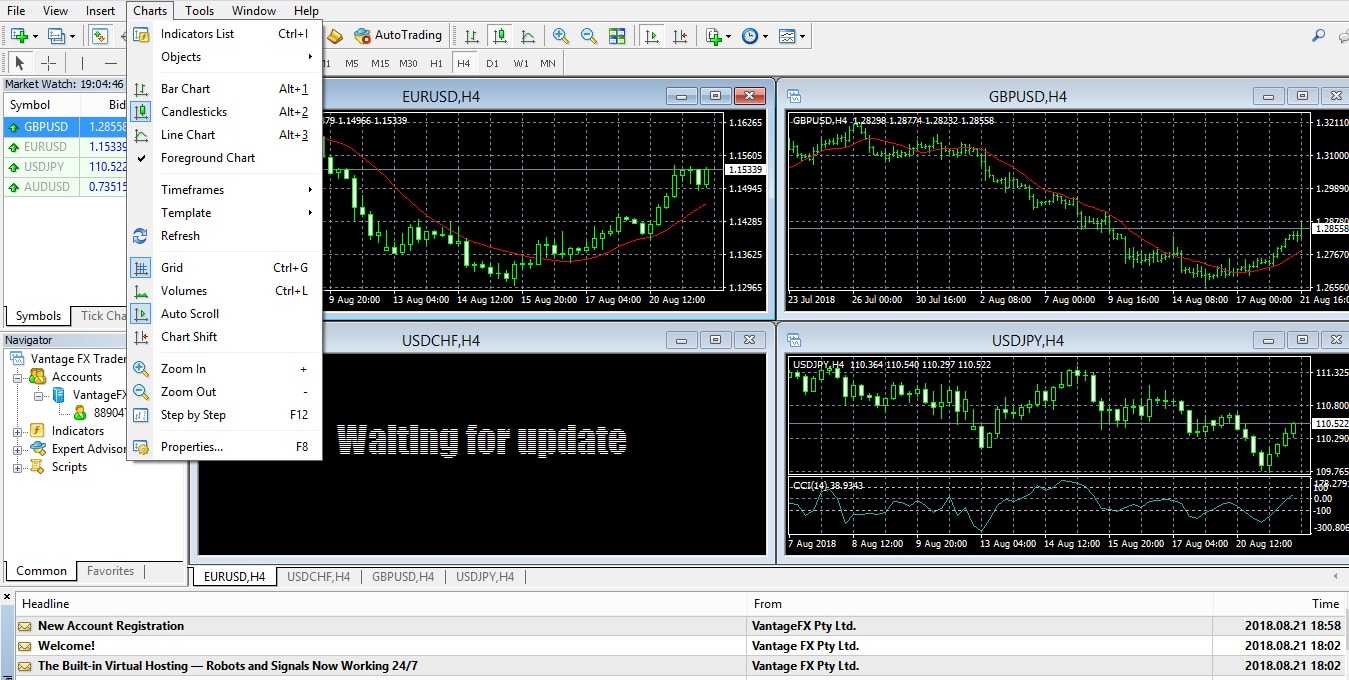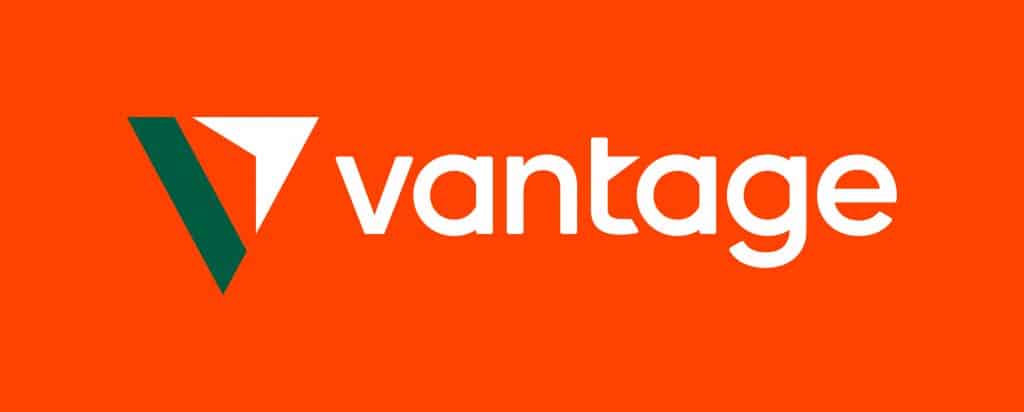 Learn To Trade
No Obligation Demo Account
Both platforms are available in mobile formats, so busy traders can continue to trade away while on the move. The mobile versions retain most of the useful features and perks of the full versions.
In addition to all the above, both MT4 and MT5 are available in Web Trader versions, for those who cannot or do not want to download anything to their local machines. The web trader versions are surprisingly capable and customizable as well.
The MT4 and MT5 Web Traders are not the only browser-based trading options though. Developed by ChartIQ, Market Trader is available at the brokerage too. An HTML5-based platform, Market Trader is compatible with just about every browser out there.
The MAM/PAMM account options offered by the broker are obviously aimed at those looking for high-performance trading solutions. Multiple accounts can be managed through this option – very useful for experts trading for several clients.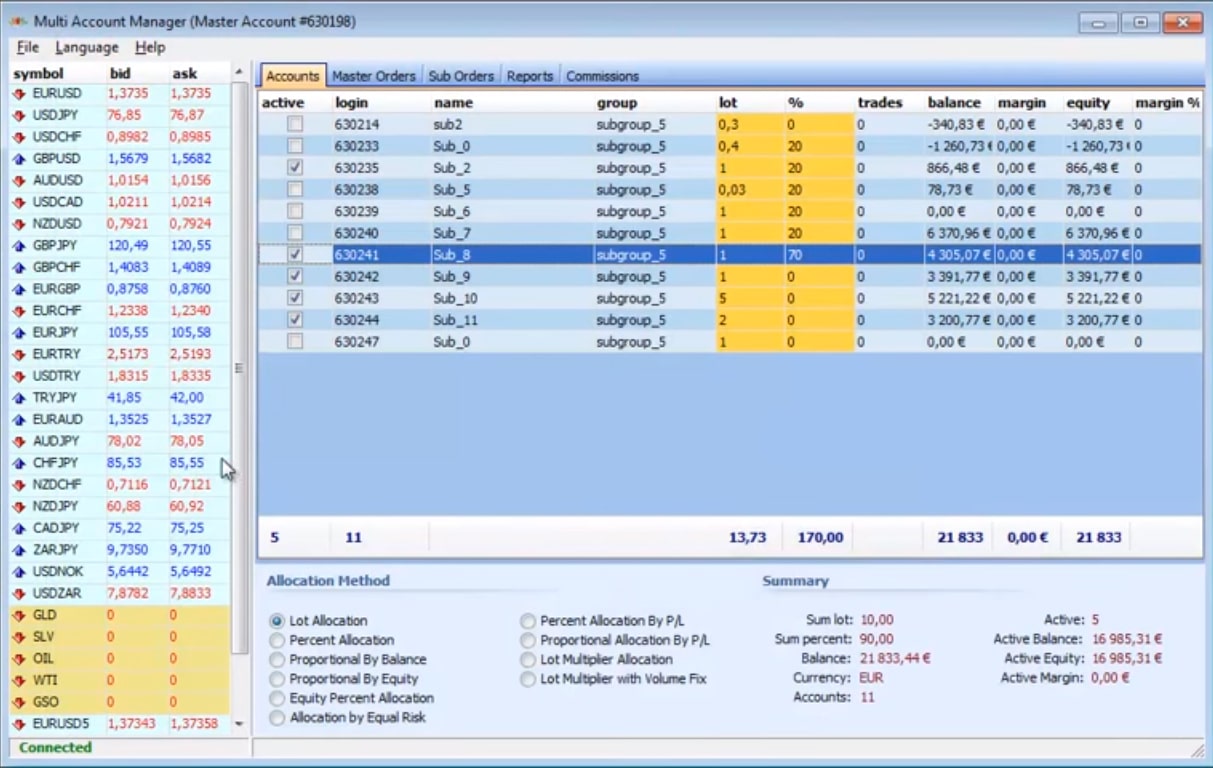 The MyFxBook AutoTrade feature takes the social trading aspect even further. It allows users to copy the trades of more successful and profitable traders.
The peak of the social trading experience is represented by ZuluTrade though, another solution-provider with whom Vantage have teamed up.
What Account Types do Vantage Offer?
Vantage currently feature 3 account types, of which the most accessible is the Standard STP account – which obviously features STP execution.
This account type offers access to the full range of markets supported by the broker and its minimum balance requirement is $200.
The spreads on this one start from 1.4 pips and the maximum available leverage is 1:500.
The Standard STP account does not charge any commissions.
The next step up the account-type ladder is the Raw ECN account, which is proclaimed the most popular account option of the broker.
The execution on this account is ECN and the minimum balance that it requires is 1:500.
Compare Vantage with other approved brokers
| | | | | |
| --- | --- | --- | --- | --- |
| | | | | |
| Regulation | FCA, ASIC, CIMA | ASIC, MiFID, FSA, FSCA | FCS, CySEC, FSC | FCA, CySEC, FSCA, Seychelles FSA, Labuan FSA |
| Customer Support | email, phone, live chat | email, phone, live chat | email, phone, live chat | email, phone, live chat |
| Trading Platforms | MT4, MT5, Mobile Apps | MT4, MT5, Mobile App | MT4, MT5 | MT4, MT5, WebTrader |
| Minimum Deposit | $200 | $100 | $10 | $100 |
| Leverage | 1:500 | 400:1 | Flexible | Tickmill Ltd 1:500, Tickmill Europe 1:30 (retail) & 1:300 (pro), Tickmill UK 1:30 (retail) |
| Total Markets | 339 | 1260 | 252 | 637 |
| Total Currency Pairs | 44 | 55 | 62 | 62 |
| Total Cryptocurrencies | 34 | 17 | 4 | 9 (* CFD Crypto trading is available only to Professional Clients under Tickmill UK.) |
The spreads start from 0 pips (as one would expect from such an account) but there is a $3 commission charged per lot per side.
The Pro ECN account represents the "full extra" option of the broker. The minimum required balance on such an account is $20,000. The trading conditions are truly the best on this one. In addition to ECN execution, the Pro account features spreads from 0 pips and $2 commission charged per lot per side.
The maximum available leverage is 1:500 on this account type too.
In addition to the above detailed account types, the broker offers Islamic account versions too, as well as a Demo account for those looking to put the platform(s) to a risk-free test.
Education
Vantage offers its customers to use the section on the website that is dedicated to the education of future traders. Having carefully studied the information presented, the client will have the necessary basic terminology, as well as an understanding of how the web platforms presented on the site function, what factors affect the value of assets, etc.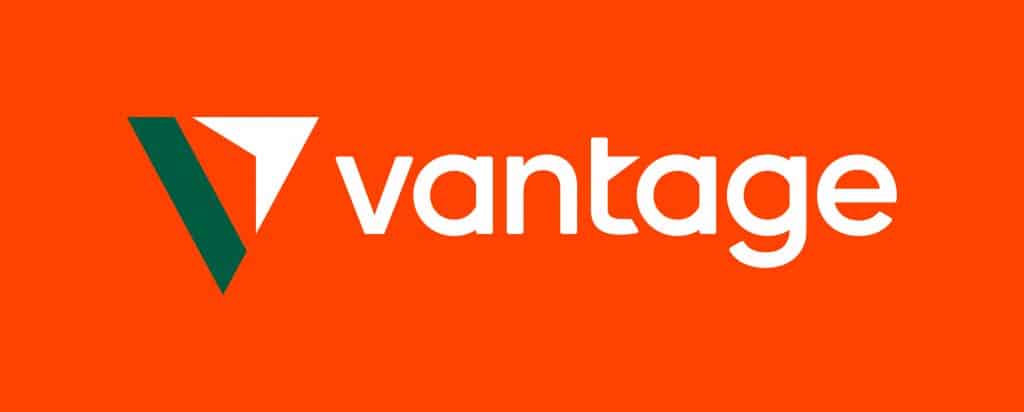 Learn With A Free Demo Account
No Deposit Required
Opening an account
Vantage deserves credit for clearly having considered how to make setting up an account as easy as possible for new clients. The link to open an account on the broker's homepage claims that it can be done in five minutes, but they could be underselling themselves. During our testing, we were able to complete the application much quicker than that.
In line with standard market practice, new clients are required to provide information about themselves so the broker can build a profile of its users. This ensures they comply with regulatory client care protocols.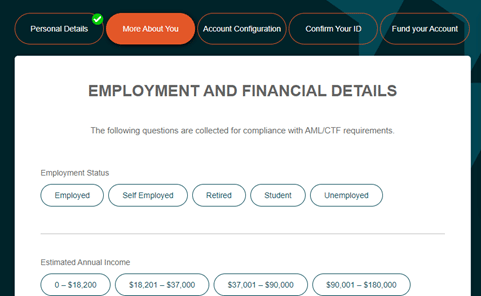 These questions extend beyond basic information related to country of domicile and address to include questions related to trading experience and educational background. The neat functionality of the site made this part of the process easy to navigate; it took less than one minute to complete.

There are various platforms to choose from at Vantage, including MetaTrader's MT4 and MT5.  An account type also must be set during the onboarding process, with STP and ECN options in standard and 'swap free' format.
One feature we found particularly beneficial was the monitor in the sidebar, which kept track of our progress and gave a suggested amount of time until completion.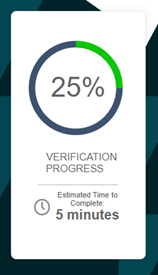 Making a deposit
One of the standout features of an account set up with Vantage is the wide choice of base currency options available. While some brokers only offer one type of account, such as USD, Vantage enables users to create an account denominated in one of nine different currencies, ranging from the Singapore dollar to the Japanese yen.
This range of options is about more than convenience. It also cuts down on frictional currency conversion costs, making a real difference to the trading bottom line.

The minimum deposit amount is $200, but it can be processed using a variety of payment agents. Credit and debit card, Neteller and Skrill transactions are generally instant but may take up to one hour to clear. Domestic wire transfers and Bpay, on the other hand, normally take one to two business days. Those choosing to make bank transfers need to allow up to three to five business days for the funds to hit their account.
Vantage does not charge any internal fees for deposits or withdrawals, but International Bank Transfers do incur charges applied by third parties.
Placing a trade
Vantage offers its clients the choice between two leading trading platforms, MetaTrader's MT4 and MT5. This software is provided under license by a third-party (MetaTrader), so traders need to sign up with a separate Terms of Service agreement, but this takes just a few seconds. After that, log-in details to the MT platform of your choice are sent via email.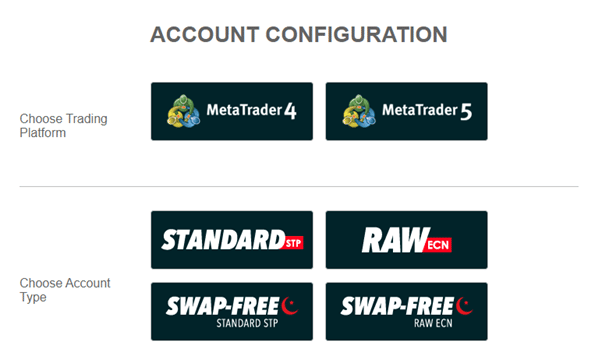 MetaTrader platforms have been operating since the early 2000s and have built a reputation for being an ideal starting point for those looking to carry out chart-based analysis. Additional support is offered by signal provider ProTrader. Those who want to draw on the ideas of others can consider the Zulu Trade and Vantage Social Trading services.
Our Live Vantage trading account took 24 hours to be verified. In the meantime, we tested the trading experience using the free-to-use Demo account. This has all the same functionality as the Live account, including real-time price feeds, so we were able to establish how trading works using virtual funds.
Our test trades were in EURUSD and EURGBP. These were executed first time and reported accurately in the Portfolio section of the main dashboard. Reliability is one of the hallmarks of MetaTrader platforms, so efficient and accurate trade execution was not a surprise.

It is possible to set up additional accounts, which is useful considering Vantage offers traders the choice of STP or ECN processing. Both have their pros and cons and suit different types of trading, so there is flexibility if you want to try a new strategy.
Contacting customer support
Vantage customer support can be contacted via Live Chat, phone, email, Messenger, Twitter, Telegram and Instagram. Their service runs 24/7, so clients can get help with live trading situations and draw on support when learning how to get the most out of the available tools.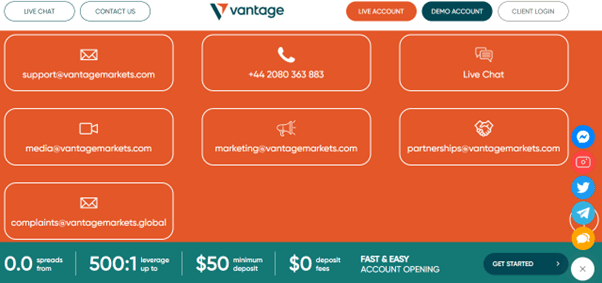 There is also a dedicated support line to help with the process of opening an account. This is available from 9:00 am to 5:00 pm Monday to Friday, but during our testing, we found that their regular support staff were also able to help with queries.
Live Chat response times are relatively fast. During our testing, we found ourselves in a short queue, and the first interaction was with the broker's virtual assistant VIVA. It was easy to clarify that we wanted to speak to a human member of the team rather than a bot, and that request was granted immediately.

Once we got through to the customer support team, we found that staff were able to resolve all of our queries almost immediately. More detailed questions were sent via email and were again resolved to our satisfaction, with replies received within 24 hours.
Customer Service
One of the most convenient ways to contact Vantage support is to use the Live Chat feature, which can be launched from anywhere on their website.
Alternatively, you can content Vantage via their email: [email protected].
In addition to all of the above, regional phone numbers are listed in the "Contact Us" section of the site for China, Canada and international customers.

Vantage Review Conclusion
Vantage is an online broking powerhouse – there is no doubt about that. Whatever some of its detractors may say, the broker is serious about what it does. It is regulated and it features superb account type- and platform selections.
Its market coverage may not be the best in the business, but it is certainly extensive enough to cater to all possible needs.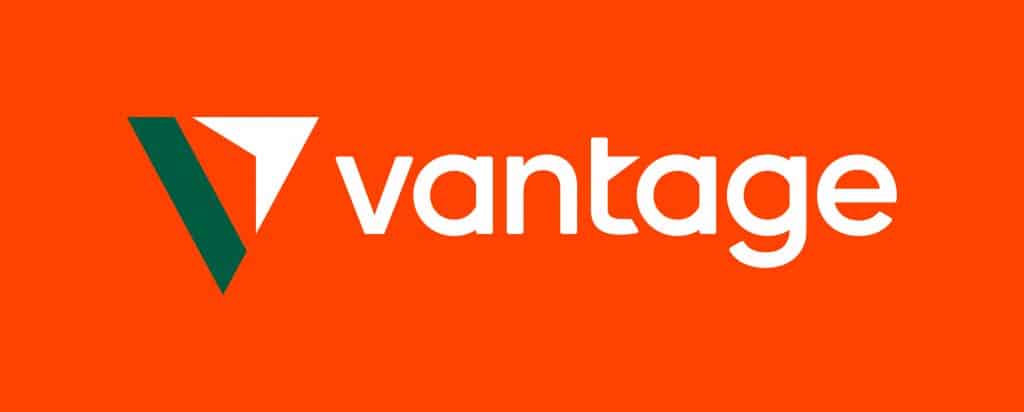 Open Your Vantage Account
Forexfraud Trusted Broker
Read all fx broker reviews
Please be advised that certain products and/or multiplier levels may not be available for traders from EEA countries due to legal restrictions.
---
---