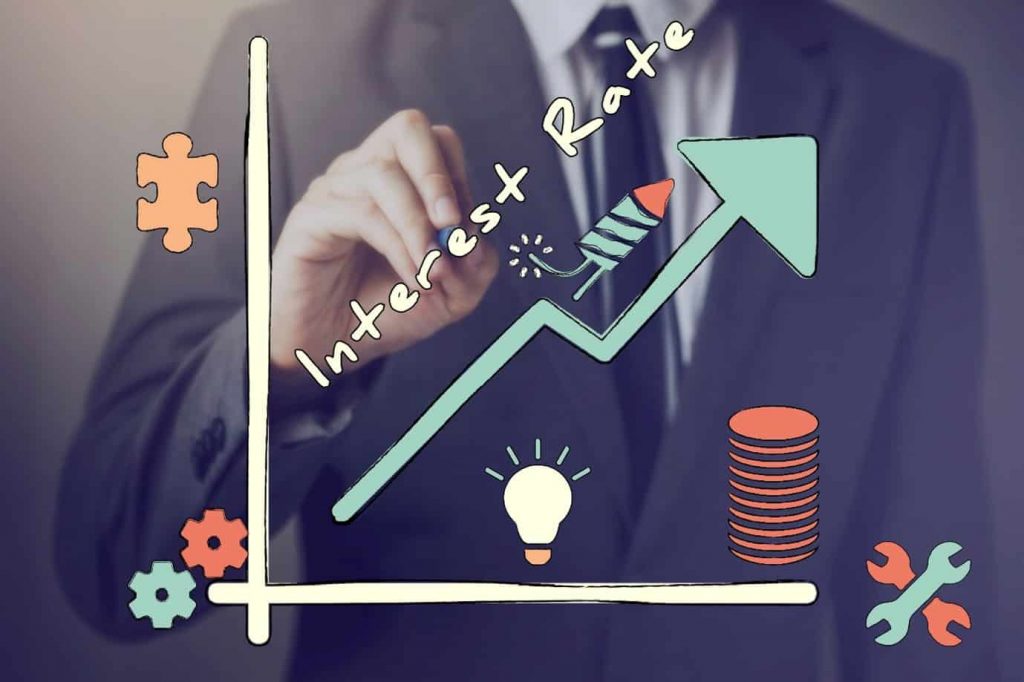 Since the US Federal Reserve released the minutes of its last interest rate meeting, the NASDAQ 100 index has given up more than 6% of its value and has left many investors wishing they'd sold out sooner. That NASDAQ crash occurred in less than four full trading sessions and it highlights the influence the decisions of central bankers can have on asset prices.

When interest rates go up, there are winners and losers, and digging behind the news headlines can help you spot the next short and long-term trends and how to trade the new environment
US Tech 100 – Daily Price Chart – July 2021 – April 2022 – Q1 Price Crash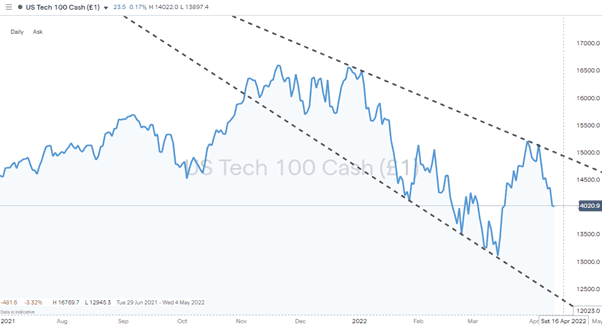 Source: IG
What Did The US Fed Say About Interest Rates?
Guidance from US Fed officials through the first quarter of 2022 had already pointed towards tightening monetary policy. By 15th April 2018, that had helped wipe 21.01% of value off the NASDAQ 100. That now looks like it was a warmup act, with analysts now suggesting we could be about to see the most aggressive policies enacted since 1994.
Quantitative Easing Becomes Quantitative Tightening
QE, which has done so much to inflate prices since 2009, will not only cease but go into reverse. Quantitative tightening is now on the cards, and that new phenomenon, termed "balance sheet runoff", could be up to a run rate of as much as $95bn per month by July.
50 Basis Point Interest Rate Rises Are On The Cards
There is also potential for monthly interest rate hikes in the form of 50 basis point rises rather than the slow and steady increments of 25 basis points per month.
The consensus among Fed staff was that a 50bp interest rate hike in March would have been optimal, but the move was scaled back to 25bp due to geopolitical uncertainty.
Tackling Inflation Is Now The Priority
Inflation rate target levels are 2 – 2.5%, and the Fed is willing to get to that level "expeditiously". Analyst forecasts suggest the US Consumer Price Index data due out on Tuesday could put current inflation rates as high as 8%, so any "expeditious" or otherwise "efficient" policy is now expected to include extreme measures.
This is a significant shift in terms of language as previously inflation had been described by Fed Chair Jerome Powell as "transitory".
Rising Interest Rates – Winners
A rise in interest rates doesn't have to be bad news for your trading returns. It could, however, make now the right time to test out a new trusted broker that specialises in a market set to benefit from the new environment.
Day Traders
The potential for interest moves to be 50bps rather than 25bps heightens the uncertainty in the markets, as with each interest rate announcement by the Fed. Some of the market will be pricing in a 50bp move and some a 25bp move. Once the Fed makes its announcement, those positions will unwind within minutes, causing price to whipsaw. That increased price volatility will create trading opportunities for short-term trading strategies looking to benefit from big positions being unwound.
US Dollar Basket Index – 10 Minute Price Chart – 6
th
April 2022 – Whipsawing Price Action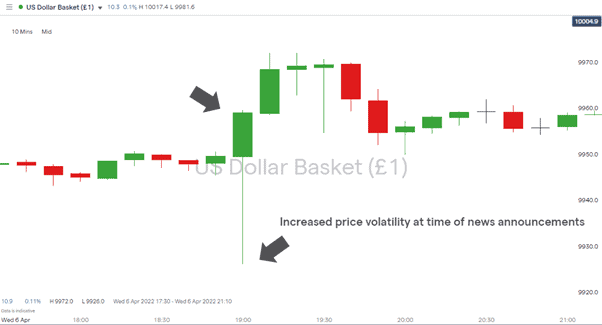 Source: IG
The US Dollar
Forex markets look set for a change. Interest rate moves by the US Fed can be expected to be mirrored by the other central banks, but the impetus is the US administration. The vast quantities of 'hot money' that circulates in the global financial system can be expected to head to US bank accounts to tap into the higher returns.
The dash to the dollar will be backed up by the uncertainty that the new policies are causing. It's a win-win for USD as demand for the greenback increases on the back of higher yields and its role as a 'safe-haven' currency.
US Dollar Basket Index – Daily Price Chart – January 2019– April 2022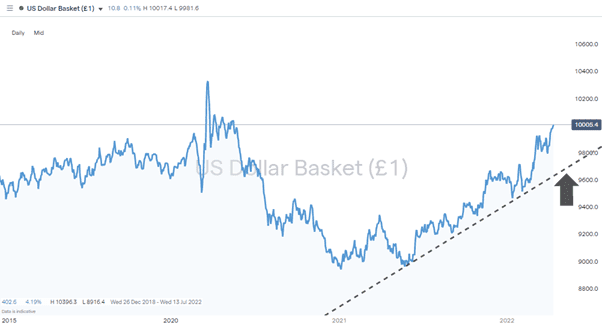 Utilities and Defensive Stocks
Slow and steady stocks with solid fundamentals might not be your ideal stock pick during boom years, but they become increasingly popular during times of inflation. Utility firms and grocers don't often have market-beating growth potential, but they sell the items people need to buy even when fuel and food prices are spiralling out of control.
Vanguard Utilities ETF – Daily Price Chart – April 2018 – April 2022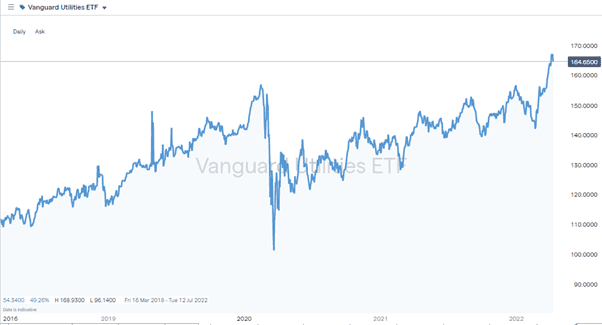 Source: IG
It is also worth factoring in that some money managers are running trillions of dollars of investments and are obliged to allocate a certain percentage of their cash pile to stocks. They might not be fans of stocks at this time but still have to hold something, and defensives can be seen as the least bad option. Their rotation out of growth stocks and into defensives results in a wall of cash moving from one sector to another
Rising Interest Rates – Losers
Traders who use good brokers and CFDs to be able to trade short as well as long can benefit from the upcoming price moves in the market.
Tech Stocks
Tech stocks are widely considered sensitive to interest rate policies and inflationary pressures. That is due to customer demand for the firms' products being impacted by reductions in discretionary expenditure.
Recent falls in the NASDAQ 100 have occurred due to the risk of interest rate policy turning hawkish, and the prospects for tech stocks appear much bleaker than 12 months ago.
US Tech 100 – Daily Price Chart – December 2018 – April 2022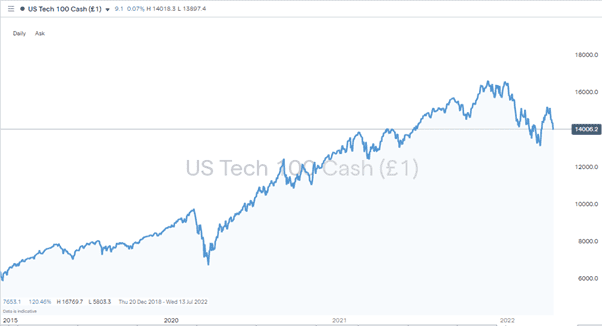 Source: IG
Commodities
Historical data points to commodity prices being inversely correlated to interest rate levels. Storing and transporting stockpiles of raw materials is costly and is such a key factor for the commodity sector that it has its own name, "cost to carry". Commodity firms are therefore incentivised to get their holdings to market, increasing supply.
At the same time, investors will be increasingly attracted to the safer and higher returns offered by simply holding cash in a bank account. The risk-return of investing in a copper mine in a remote location suddenly looks less appealing.
Copper – Daily Price Chart – August 2016 – April 2022 – Ready For A Fall?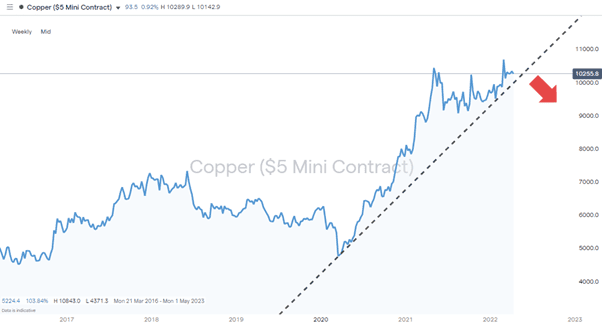 Source: IG
People Who Read This Also Viewed:
Crowdsourcing information about scam brokers can help others avoid falling into the traps set by disreputable brokers, and you can share your experiences here. If you would like to know more about this particular topic or have been scammed by a fraudulent broker, you can also contact us at [email protected]
---
Safest Forex Brokers 2023
Forex Fraud Certified Brokers
CFDs are complex instruments and come with a high risk of losing money rapidly due to leverage. Between 74-89% of retail investor accounts lose money when trading CFDs. You should consider whether you understand how CFDs work and whether you can afford to take the high risk of losing your money.
Stay up to date with the latest Forex scam alerts
Sign up to receive our up-to-date broker reviews, new fraud warnings and special offers direct to your inbox
Stay up to date with the latest Forex scam alerts