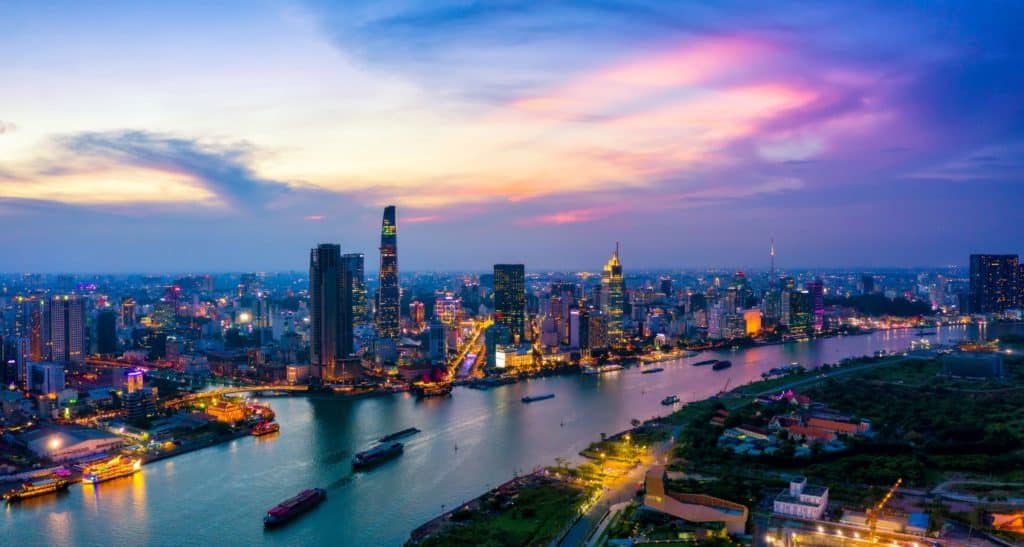 In this article, we will cover all the elements you need to know to choose a CFD broker in Vietnam that is the most suited for you. We will discuss the significance of regulation and the many positive aspects associated with trading CFDs.
The Best CFD brokers in Vietnam 2022
All of the brokers we include have been chosen based on various criteria, including regulation, commissions, spreads and usability. With the help of our list, you will have no trouble finding a broker that caters to your preferred method of trading.
Broker
Features
Min Deposit
EURUSD Spread
72% of retail CFD accounts lose money.

US Clients: No

Regulated : Yes

– Ultra-fast execution from 0.2s
– Low spreads from 0.0 pups
– All trading strategies allowed
– No restrictions on profitability
– Top trading conditions

$100
from 0.0 pips
Your capital is at risk

US Clients: No

Regulated : Yes

– 40% New Member Bonus
– MIFID, ASIC, FSA & FSCA regulated
– Free Online Trading Coach

$100
Fixed

Sign Up

Europe* CFDs are complex instruments and come with a high risk of losing money rapidly due to leverage. 79% of retail investor accounts lose money when trading CFDs with this provider. You should consider whether you understand how CFDs work and whether you can afford to take the high risk of losing your money.

Your capital is at risk

US Clients: No

Regulated : Yes

CySEC regulated.
Good for beginners with excellent trading academy.
Beginner Friendly

$500
From 0.6 pips
Your capital is at risk

US Clients: No

Regulated : Yes

$50
from 0
Your capital is at risk

US Clients: No

Regulated : Yes

ASIC Regulated
Well Established
No Fees
24 hour support

$200
From 0.1 pips
For instance, mobile users may want to choose a broker that offers a more user-friendly interface overall, but high-volume traders may focus more on the fees and spread offered by a broker.
Trading CFDs in Vietnam
Contracts for differences, otherwise known as CFDs, are a method of trading that allows traders in Vietnam to speculate on the movement of asset prices. When acquiring CFDs, Vietnamese participants can take either a long or a short position in the market.
Additionally, CFDs are a well-liked form of trading forex, commodities and equities in Vietnam because certain brokers provide the trader with the ability to employ leverage, with some offering a leverage ratio of 1:1000 or higher.
There is no need for concern: trading foreign currencies is entirely legal and risk-free for everyone in Vietnam. All of the Vietnam trading sites featured here are regulated by a governing body such as the State Securities Commission (SSC), which ensures that they adhere to the law and comply with its regulations. The SSC is an agency under the Ministry of Finance responsible for regulating and supervising the securities market and the securities themselves.
The Benefits of Trading CFDs
The availability of leverage in the CFD markets is a significant benefit. Because of this, the trader has the power to manage a position that is far greater than usual. This is a position backed by a margin, which is part of the actual transaction size retained inside the account. This is referred to as an "open margin position."
Trading in the CFD market also comes with several key benefits, one of the most notable being the opportunity to short a market. Simply put, "going short" means placing a wager that the price will continue to fall. You would make money, for instance, if you shorted the S&P 500 index and the price of the index went down while you were shorting it. Because you are required to keep a portion of the company you are shorting, conventional brokerages make it far more difficult and expensive to engage in this practice. A significant advantage of CFDs is the convenience of selecting the direction to trade.
Last, when trading CFDs, there is no expiry date, which enables the trader to hold on to the position for a far more extended period than would be possible for a trader in the future. The trouble of rolling over a contract is removed entirely when there is no expiry date. This makes it feasible to have an easier time expressing a longer-term view since it is now conceivable to "purchase and hold."
How to Choose a Safe CFD broker
If a broker is subject to regulation, the fact that they are regulated will be disclosed on their website, along with the license number that the applicable regulator has issued them. Always be sure that the broker you choose is approved and regulated by the financial governing body of your jurisdiction. These days, there are a lot of cons operating on CFD trading platforms, and a lot of the time, these websites have restrictions that aren't very stringent, or they don't have any regulations at all.
Regrettably, many consumers have the wrong impression that CFD trading is a kind of investment fraud. The issue is that there are a rising number of dishonest businesses promoting incorrect information, which is why regulation is critical.
Conclusion
Now that we've covered some of the most important aspects of CFD trading in Vietnam, we'll provide you with a list of the Vietnamese CFD brokers that we recommend the most based on various factors like commission rates, ease of use and more. Trading CFDs is gaining in popularity, and novice CFD traders should be careful of any possible fraud. Always be sure to examine the regulatory status of a broker and educate yourself about trading CFDs in a manner that is appropriate for you.