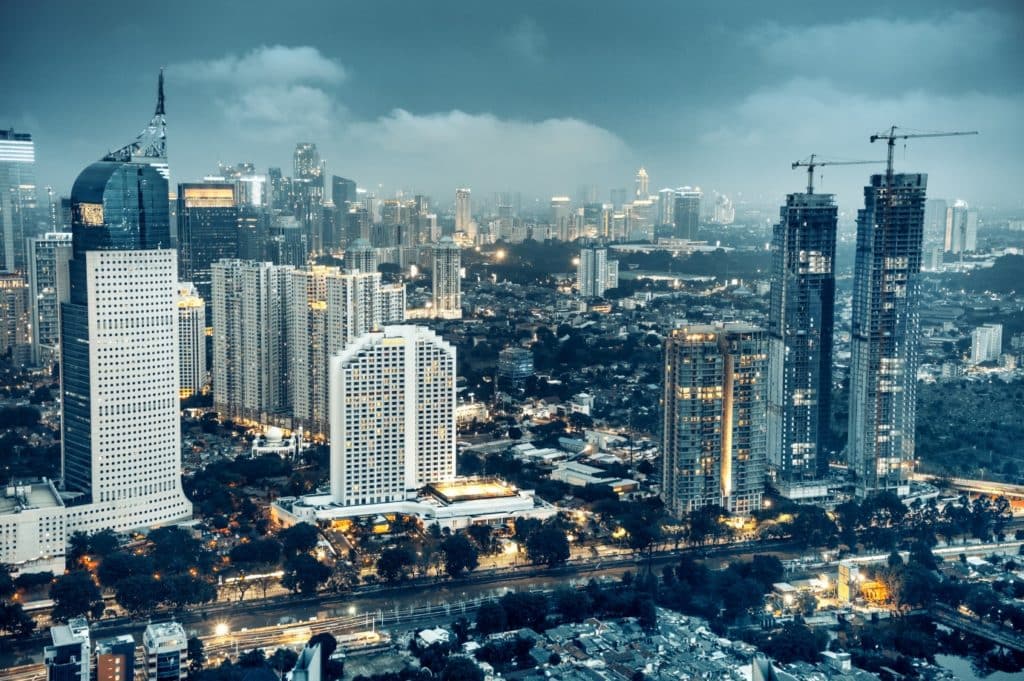 The Republic of Indonesia is situated in Southeast Asia and Oceania, flanked by the Indian and Pacific oceans. The republic is made up of 17,000 islands and is the world's largest archipelagic state, the fourth-largest country by area, and the largest economy in Southeast Asia.
The financial markets in Indonesia broadly comprise stocks, forex, commodities, money markets, cryptocurrencies, sharia financing and structured products. According to CNBC, an estimated 6.43 million retail investors participated in the stock markets and another 9.5 million in cryptocurrencies in 2021. Although the number is very small compared to the other developed markets, retail investment is booming, with a 66% uptick noted in the last couple of years.
CFD trading in Indonesia is governed by the Commodity Futures Trading Regulatory Agency (BAPPEBTI), which comes under the purview of the Ministry of Trade. The agency's primary functions include issuing business licenses for exchanges, clearing houses, brokers and advisors, in addition to providing registration certificates to futures traders.
BAPPEBTI also fixes the limits on the maximum open positions held or controlled by each party and limits the open positions that must be reported. In addition, the regulator stipulates the list of Foreign Futures Exchanges that domestic customers can access and prevents misleading advertisements or promotions about futures trading from being disseminated.
The Best CFD Brokers in Indonesia 2022
The best CFD brokers operating from Indonesia must register with the Commodity Futures Trading Regulatory Agency (BAPPEBTI) to provide CFD trading facilities in the country. If you wish to choose the best CFD broker in Singapore, look for those that provide multiple trading platforms, low spreads and fees, high-speed trade execution, speedy deposits and withdrawals, and good customer support.
Here's a table of the best CFD brokers in Indonesia.
Broker
Features
Min Deposit
EURUSD Spread
72% of retail CFD accounts lose money.

US Clients: No

Regulated : Yes

– Ultra-fast execution from 0.2s
– Low spreads from 0.0 pups
– All trading strategies allowed
– No restrictions on profitability
– Top trading conditions

$100
from 0.0 pips
Your capital is at risk

US Clients: No

Regulated : Yes

– 40% New Member Bonus
– MIFID, ASIC, FSA & FSCA regulated
– Free Online Trading Coach

$100
Fixed

Sign Up

Europe* CFDs are complex instruments and come with a high risk of losing money rapidly due to leverage. 79% of retail investor accounts lose money when trading CFDs with this provider. You should consider whether you understand how CFDs work and whether you can afford to take the high risk of losing your money.

Your capital is at risk

US Clients: No

Regulated : Yes

CySEC regulated.
Good for beginners with excellent trading academy.
Beginner Friendly

$500
From 0.6 pips
Your capital is at risk

US Clients: No

Regulated : Yes

$50
from 0
Your capital is at risk

US Clients: No

Regulated : Yes

ASIC Regulated
Well Established
No Fees
24 hour support

$200
From 0.1 pips
Trading CFDs in Indonesia
CFD traders in Indonesia can access various financial markets, such as forex, stocks, indices, commodities, fixed-income instruments, cryptocurrencies, and others. Although there are no specific regulations overseeing CFD brokers in particular, all financial market trading activities in Indonesia are covered by BAPPEBTI Regulation No. 109/CoFTRA/PER/01/2014, with CFDs legally classified as derivative contracts in an Alternative Trading System (ATS). This is because ATS trades are bilateral and conducted outside a futures exchange. Moreover, CFD trading is regulated explicitly under the BAPPEBTI Regulation No. 5 of 2017 on ATS. Meanwhile, BAPPEBTI Regulation No. 5 of 2019 provides a detailed regulatory framework for futures trading in cryptocurrencies in Indonesia.
The Benefits of Trading CFDs
Although CFD brokers offering services in Indonesia must be licensed by the Commodity Futures Trading Regulatory Agency (BAPPEBTI), the regulator is not as stringent as a few others regarding leverage. While market regulators in Europe, the UK, and Singapore have capped the max leverage of CFD brokers, BAPPEBTI has not framed any such rules. Therefore, clients signing up for CFD trading receive massive leverage and access to various securities from forex, commodities, share CFDs, treasury instruments, cryptocurrencies, and others from a single platform.
Brokers offer the choice of zero to low spread, fast and reliable trade execution, zero to low fees, a variety of trading tools, multi-language customer support, and quick deposits and withdrawals, making CFD trading in Indonesia a delightful experience.
How to Choose a Safe CFD Broker
The best CFD brokers operating in Indonesia are licensed by the Commodity Futures Trading Regulatory Agency (BAPPEBTI). For those trading CFDs in US stocks, transactions can be facilitated and guaranteed by Kliring Berjangka Indonesia (KBI), the state-owned clearing corporation, ensuring transparency of trades.
However, that does not mean that CFD brokers cannot suddenly cease operations, leaving traders high and dry. Therefore, it is essential to choose a broker that is regulated in other countries such as Europe, the UK, Singapore, and Australia. To ensure high transparency in the price disseminated, it's vital to sign up with a CFD broker who also provides Direct Access (DMA), where prices correspond directly to the reference instrument in the underlying exchange or market instead of the non-DMA or market-making model
Conclusion
Domestic retail investors who wish to legally trade or invest in a range of assets, including US equities, can do so only via the CFD route. Although CFD trading is the only way to ensure the diversification of your investments, brokers also allow traders to invest in fractional shares starting from as low as 0.1 units of a share. However, because markets are fast-paced and CFDs are leveraged instruments to speculate on short-term price swings, it requires close monitoring to ensure the safety of your investments.