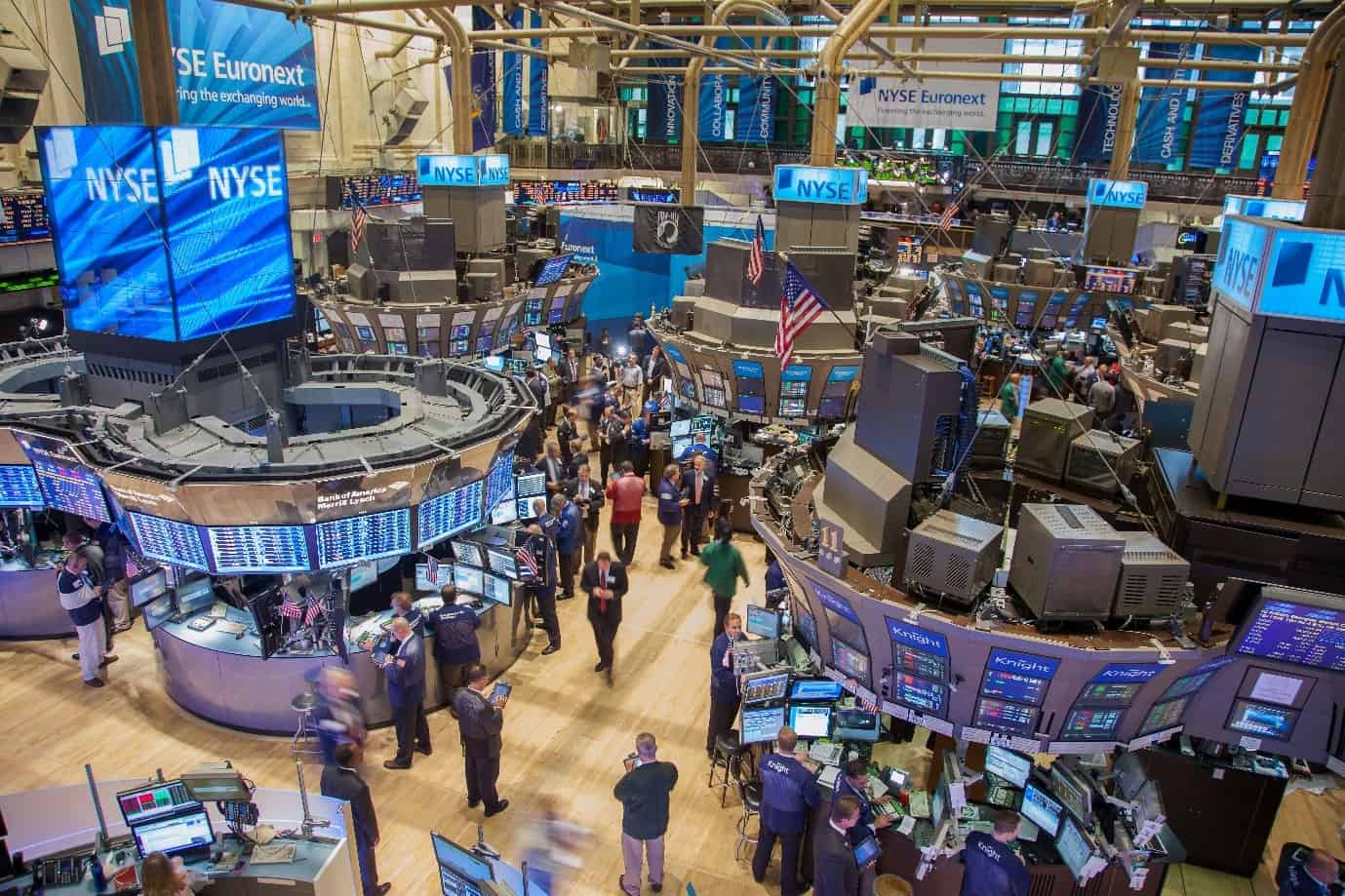 The worst kept secret in the markets is out: on Wednesday, Jerome Powell of the Federal Reserve confirmed US base interest rates are going up 0.5% in one leap. The 50 basis points move should have been bad news for stocks due to US consumers now having to trim their spending and instead pay off increasingly expensive debts. The reaction of the major stock indices was instead to rally hard into the close of the session.
Contrarian moves such as this aren't unheard of, but tracking the reasons offers an insight into which way the markets might be heading next.
NASDAQ 100 – Hourly Price Chart – Rally After Rate Hike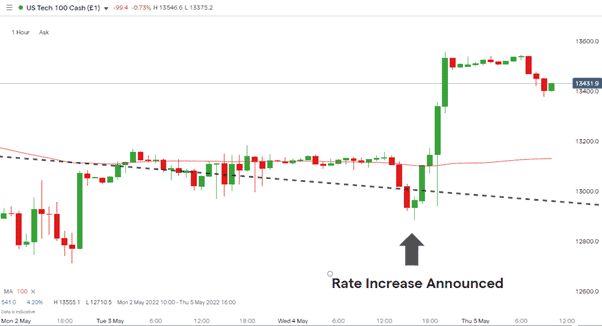 Source: IG
Fed Rates Were Already Priced In
Putting Wednesday's rally into context, it followed the largest rate hike for 22 years, and rate changes are usually booked in increments of 0.25% for a good reason. The FOMC meets eight times each year when there has traditionally been an opportunity to adopt a more measured approach to stifle inflation that doesn't unsettle the economy too much but keeps price rises in check.
One of the main reasons for the relief rally was that guidance from the Fed had allowed traders to already price in a 50-basis point increase. The CME FedWatch tool, which tracks derivative trading activity by big institutions to establish interest rate expectations, put a 96.5% probability of a 0.50% rate rise on the 28th April.
CME FedWatch Chart – 28th April 2022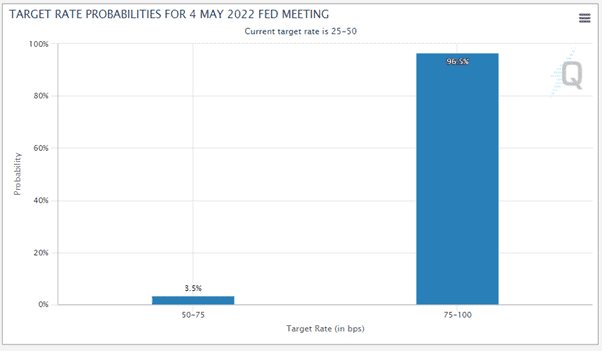 Source: CME
Whilst the 50-basis point rise is bad news for stocks which thrive on consumers having spare cash to spend; the NASDAQ 100 index was already down in April by 13.52%. The article 'Is This The Time To Buy The Dips?' used technical analysis to identify a buying opportunity due to the market being oversold. The markets certainly aren't out of the woods yet, but the first week of May has recorded three up days and a NASDAQ rally of 4.84%.
NASDAQ 100 – Daily Price Chart – RSI at 46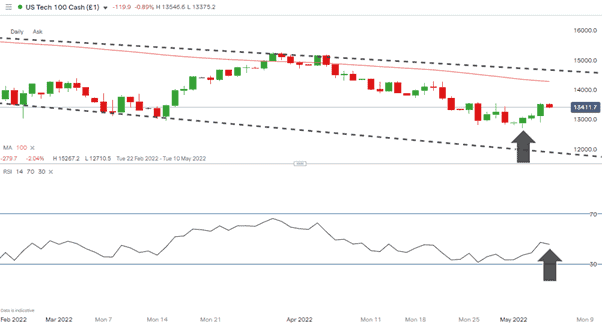 Source: IG
Recent trading activity does look like a classic case of 'buy the rumour, sell the fact', or in this instance, 'sell the rumour, buy the fact'. The US Non-Farm Payroll jobs numbers due on Friday could offer some curveballs, but it's hard to call the next move right now. The NASDAQ 100 shows an RSI of 45.6 on the Daily Price Chart, which points to it being neither over nor undersold.
Zachary Hill, head of portfolio strategy at Horizon Investments, spoke with CNBC when he outlined the case for the bulls to be cautious:
"Despite the tightening that we have seen in financial conditions over the last few months, it is clear that the Fed would like to see them tighten further… Higher equity valuations are incompatible with that desire, so unless supply chains heal rapidly or workers flood back into the labor force, any equity rallies are likely on borrowed time as Fed messaging becomes more hawkish once again."
Source: CNBC
Crowdsourcing information about scam brokers can help others avoid falling into the traps set by disreputable brokers, and you can share your experiences here. If you would like to know more about this particular topic or have been scammed by a fraudulent broker, you can also contact us at [email protected]
---
Safest Forex Brokers 2022
Forex Fraud Certified Brokers
Stay up to date with the latest Forex scam alerts
Sign up to receive our up-to-date broker reviews, new fraud warnings and special offers direct to your inbox
Stay up to date with the latest Forex scam alerts