With December marking the end of the trading year and being packed full of national holidays, there was always the chance that anomalies in returns would come about in the markets. Reporting deadlines and quiet markets often bring about peculiar price moves, and the 'Santa Rally' explains the unusual bullish run into the end of the year.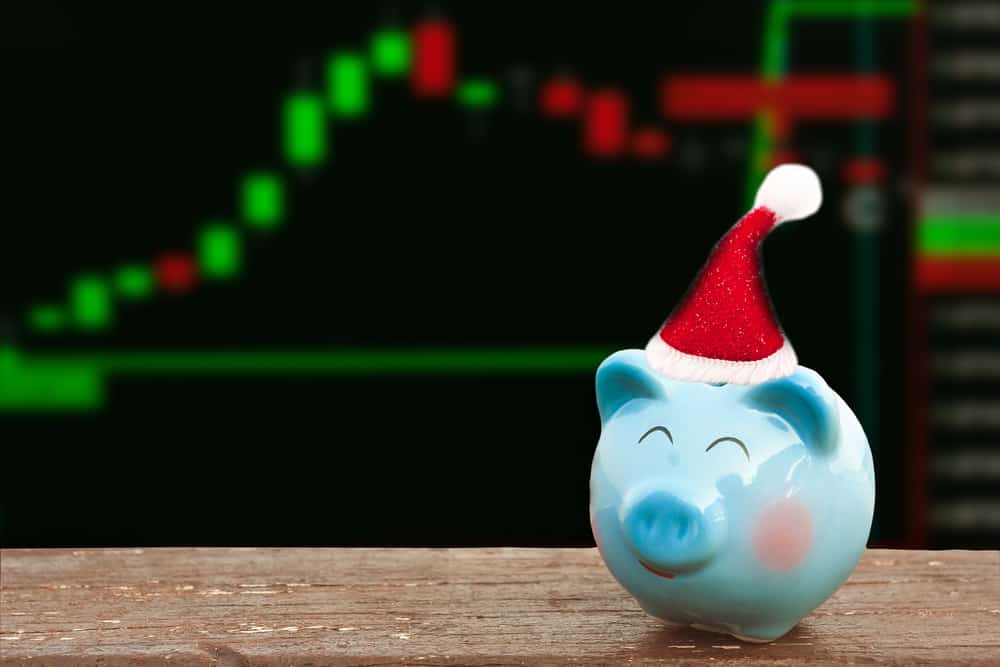 What Is The Santa Rally?
The Santa Rally, like all good market myths, and Santa himself, is hard to prove but easy to believe. After all, doing so has resulted in gifts being showered on those who buy-in.
Stock indices such as the S&P 500 and FTSE 100 are often the main subject of conversation regarding the Santa Rally. The US index is also picked out as historically benefitting from a seasonal price surge.
According to the Stock Trader's Almanac research, the Santa Rally has resulted in the S&P 500 making gains 18 out of 27 times since 1993. The average return since 1950 is 1.3%. So, what could go wrong?
The first risk comes from the start date of the rally being hard to pinpoint. The 14th  of December is widely used, but setting the date parameters to different days can bring varying results and negative returns. With the risk that the theory is being reverse engineered and involves picking dates to prove a point, it's worth noting that the significant benchmarks have already posted significant returns for December. Between the 1st and 13th of December, the S&P posted a gain of 1.90% and the FTSE 100 a gain of 2.36%.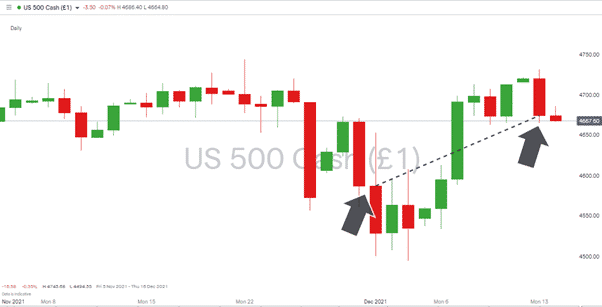 Source: IG
Historical data shows the average monthly return for the FTSE 100 in December is 2.02%. That is higher than for every other month apart from April; however, it does suggest that this year's Santa Rally could already be priced in. The question is this year, not if the Santa Rally will come into play, but if it has already done so.
Other Strategies to Trade in December
There are plenty of other trading opportunities available. Professional operations on this list of trusted brokers offer free research and charting tools to look for trade entry points. This trade ideas report using technical analysis methods pre-empted Monday's weakness in major global indices, including the Nasdaq 100.
Strategies based on Fundamental Analysis might also come into play. The US Federal Reserve is due to update interest rate policy on Wednesday, and the European Central Bank is to follow suit on Thursday. Both announcements are potential catalysts for new long-term trends.
Digging into the potential causes of the Santa Rally might help explain if the much-hyped trend will come into effect this year. It has, after all, occurred 67% of the time in the years since 1993.
Crowdsourcing information about scam brokers can help others avoid falling into the traps set by disreputable brokers and you can share your experiences here. If you want to know more about this particular topic or have been scammed by a fraudulent broker, you can also contact the team at [email protected]
---
Safest Forex Brokers 2022
Forex Fraud Certified Brokers
Stay up to date with the latest Forex scam alerts
Sign up to receive our up-to-date broker reviews, new fraud warnings and special offers direct to your inbox
Stay up to date with the latest Forex scam alerts