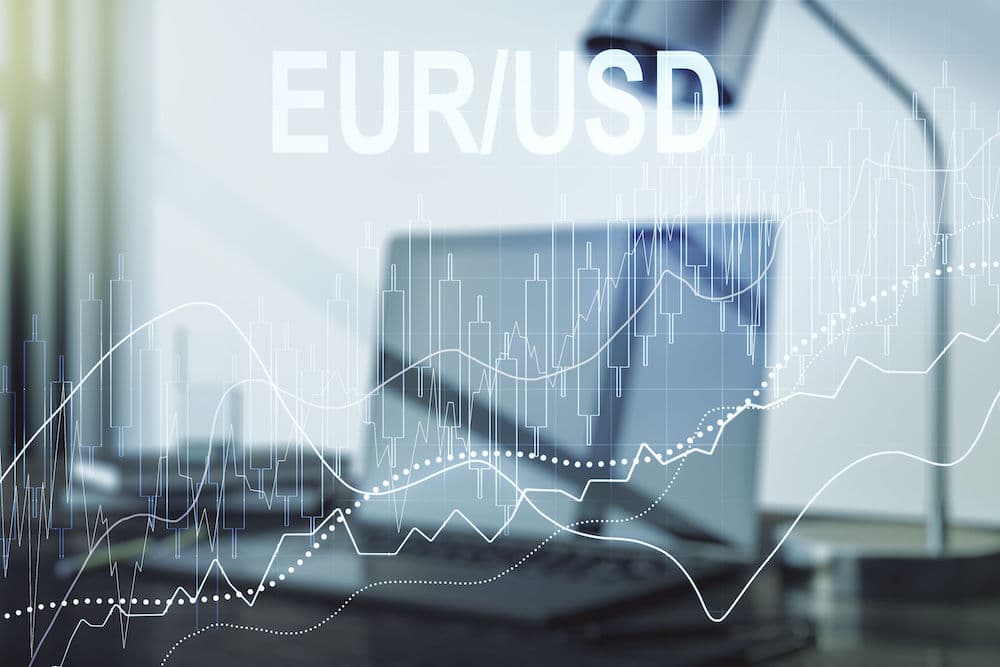 Friday will be a busy day in the forex markets, especially earlier on.
It is the single European currency that looks set to occupy almost all of the attention, at least in the morning.
The day will begin at 8am GMT with a data release focusing on Italian industrial sales over the course of May.
On a month-on-month basis, this release is expected to show a change from -29.4% to -30.9%.
However, on a year-on-year basis, some improvement is forecast.
A shift from -46.9% to -26.8% is expected.
Italy was especially hard hit by the coronavirus pandemic, and was widely considered to have had one of the worst experiences of any nation on the continent.
The country already had a shaky economy even before the pandemic, with many traders perceiving it to be somewhat volatile.
As a result, these figures are likely to be monitored by traders – although with the Italian economy not being the largest in the bloc, the effect on the euro may be small.
A series of central banker speeches from the decision makers at the all-important European Central Bank (ECB) is due to occur later in the morning.
Two bankers will speak at 8:30am GMT.
The first will be Isabel Schnabel, who is relatively new to the ECB's executive board.
She joined it as recently as January 2020.
The other speaker will be Luis de Guindos, who serves as the ECB's vice president.
At 9am GMT, meanwhile, the bloc-wide consumer price index for June will be revealed.
This is due to show a change from -0.1% to +0.3% on a month-on-month basis.
However, there is no change forecast for the same metric on a year-on-year basis.
By that measure, the metric is expected to remain firm at 0.3%.
Details on European construction output are also expected in this time slot, with both month-on-month and year-on-year change shown.
At present, however, there is no forecast for this.
The main action for the euro, however, is likely to lie in a summit that is taking place on Friday and into the weekend.
Heads of government from across the bloc will gather to discuss financial planning for the coming years.
Over lunchtime in the GMT timezone, meanwhile, a series of data releases from the US will be released.
A release covering building permits is due out at 12:30pm GMT, which will continue the theme of construction industry performance indicators.
This release, which is covering June, is set to show a month-on-month rise from 1,216,000 to 1,290,000.
Housing starts data for June, meanwhile, will be out in the same timeframe.
This is due to show a change from 974,000 to 1,169,000 on a month-on-month basis.
The day will be rounded off by the preliminary Michigan Consumer Sentiment Index for July.
This is expected to show a small change from 78.1 to 79.
The measure, which tries to show levels of personal consumer confidence, is closely followed by greenback traders.
---
Olympic Legend Usain Bolt Lost $12m in Savings Scam
24.01.2023
Usain Bolt loses $12m in an alleged investment scam Jamaican officials and the FBI are investigating investment manager Stocks and Securities Ltd Others are feared caught by the scheme Jamaican Olympic sprinter Usain Bolt has had a $12m savings and investment account he set up for his retirement wiped out.
Read more
Phoney Pastors Caught Running $28m Church-Based Ponzi Scheme
17.01.2023
Churchgoers targeted by scammers posing as pastors A total of $28m fraudulently taken from largely immigrant community Promises of 'financial freedom through God' undone by the fact the project was a massive Ponzi scheme Deception, distraction, and abuse of trust are standard tools of fraudsters.
Read more
Safest Forex Brokers 2023
Forex Fraud Certified Brokers
Stay up to date with the latest Forex scam alerts
Sign up to receive our up-to-date broker reviews, new fraud warnings and special offers direct to your inbox
Stay up to date with the latest Forex scam alerts