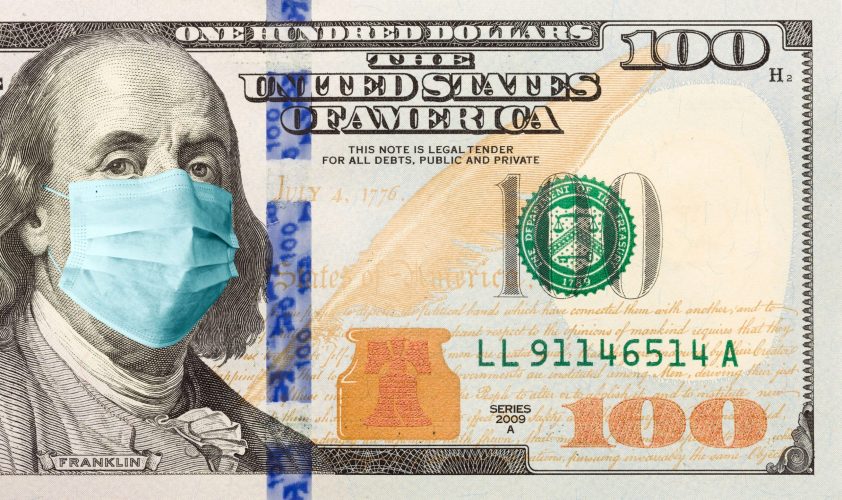 The US dollar continued a week of surges in lots of its key pairs after the coronavirus pandemic placed itself firmly back on the agenda.
The dollar index, which is a tool used by traders to compare the greenback's performance to several others from around the world, showed a spike of 0.1% to reach its best position in two months.
It was seen at 94.50 at one stage and has risen by almost two percentage points over the course of this tumultuous week alone.  Previous hopes that the world economy might be about to recover from the coronavirus pandemic's impact now appear to be dwindling.  In a now-common paradox, the US dollar benefited despite the fact that domestic data in the country was negative.
Commercial activity rates in the country were shown to be down in September.  The outlook from Federal Reserve central bankers during a speech earlier in the week was also pessimistic – with one suggestion that unemployment risks in the country are now deeply bedded in.  However, the dollar's positive performance was also boosted in part by news from Europe, where the pandemic appears to be causing problems once again.  When calculated including the European Economic Area and the UK, cases in Europe have now surpassed the 3m mark.
Spain is the worst hit, with 693,556 deaths as of yesterday.  The risky currencies, which in the post-pandemic phase experienced something of a boom, continued their negative week.  The Australian dollar was one key loser, dipping in the markets by just over half a percentage point.  It reached $0.7042 at one stage.  This put it close to its worst position since the middle of July.  Sterling experienced a day of twists and turns in the markets.  Despite an earlier move from rises to falls and back again, the currency managed to stabilise at a relatively higher point following an announcement from the government.  Rishi Sunak, the Chancellor of the Exchequer (a post equivalent to finance minister), said that the government would pay some of the wages of employees across the country.
He also announced measures designed to help firms that are struggling with cash flow.  Turning to the economic calendar, it appears that the US will be back in the spotlight with several economic data releases over the course of Friday.
Durable goods orders for August will be out at 12:30 pm GMT and are due to show a big drop – from 11.4%, where they were last recorded, to 1.5%.  A metric looking at non-defence capital goods orders for August will also be out during this time slot.  This measure will exclude aircraft and looks set to go down from 1.9% to just half a percentage point.  These gloomy forecasts, then, are likely to do nothing to help the causes of the traders of risky currencies.
---
Olympic Legend Usain Bolt Lost $12m in Savings Scam
24.01.2023
Usain Bolt loses $12m in an alleged investment scam Jamaican officials and the FBI are investigating investment manager Stocks and Securities Ltd Others are feared caught by the scheme Jamaican Olympic sprinter Usain Bolt has had a $12m savings and investment account he set up for his retirement wiped out.
Read more
Phoney Pastors Caught Running $28m Church-Based Ponzi Scheme
17.01.2023
Churchgoers targeted by scammers posing as pastors A total of $28m fraudulently taken from largely immigrant community Promises of 'financial freedom through God' undone by the fact the project was a massive Ponzi scheme Deception, distraction, and abuse of trust are standard tools of fraudsters.
Read more
Safest Forex Brokers 2023
Forex Fraud Certified Brokers
Stay up to date with the latest Forex scam alerts
Sign up to receive our up-to-date broker reviews, new fraud warnings and special offers direct to your inbox
Stay up to date with the latest Forex scam alerts