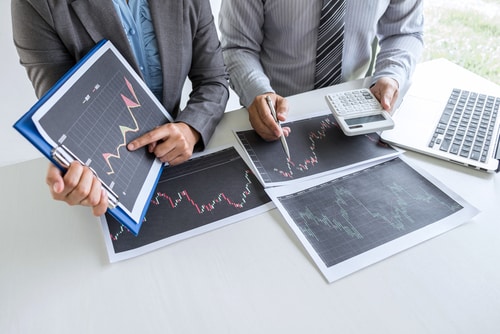 All eyes will be on the US on Wednesday. Federal Reserve Chair Jerome Powell and Treasury Secretary Janet Yellen will address the US Senate's Committee on Banking Housing and Urban Affairs at 10 a.m. Eastern Time.
Powell and Yellen will speak about the fiscal and monetary response to the Covid-19 pandemic, so market prices are setting themselves up to react to clues as to the direction of future policy.
Before that address, key US manufacturing data is due at 8.30 a.m. (ET), when the durable goods manufactured numbers for February will be released.
Markit's manufacturing and services purchasing manager index (PMI) for March is due at 9.45 a.m. (ET).
These events come as the all-important US bond markets made a move towards higher prices and lower yields.
US T-Bill – 4H candles – breakout to the upside?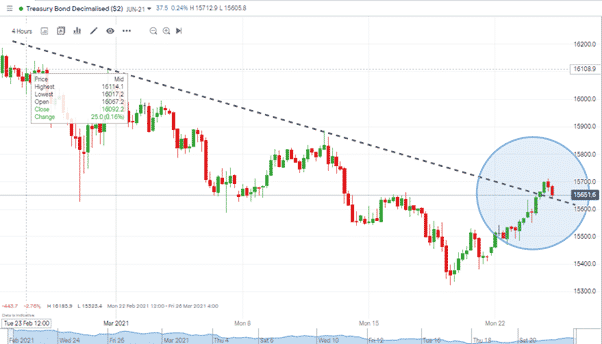 Source: IG
During Wednesday's Asian trading session, the yield on the US 10yr T-Bill fell to 1.63% and that on the 20yr note fell to 2.317%
That marks a potential break out of a multi-week downward price trend. Given that the US T-bill market dictates the direction of traffic in most of the world's financial markets, the move is significant. By 11 a.m. CRT price had broken the downward trend line and then decided to sit on it, possibly waiting for the events in the US to unfold.
There are also hints at a disconnect between the T-bills market and some major currency pairs.
Lower yields in US Treasury's are usually associated with lower demand for US dollars. Hot money in the global financial system can instead find an alternative home, one where it will receive a more preferential interest rate and a superior return on capital.
Weaker demand for dollars would be expected to boost the price of GBPUSD but the 4h price chart shows the price of cable sliding to 1.372.
GBPUSD – 4H candles – Price slide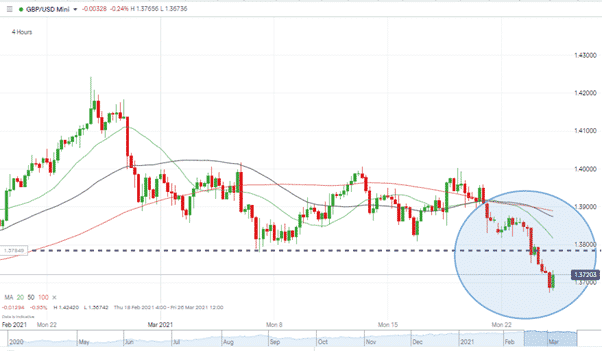 Source: IG
At the same time, EURUSD mirrored the move in GBPUSD. The disconnect in this currency pair made more surprising by data released on Wednesday morning confirming that the eurozone business activity had grown for the first time in six months.
HS Markit's flash composite PMI for the eurozone hit 52.5 in March compared to 48.1 in February. The index measures activity in both the manufacturing and service sectors.
EURUSD – 4H candles – Price slide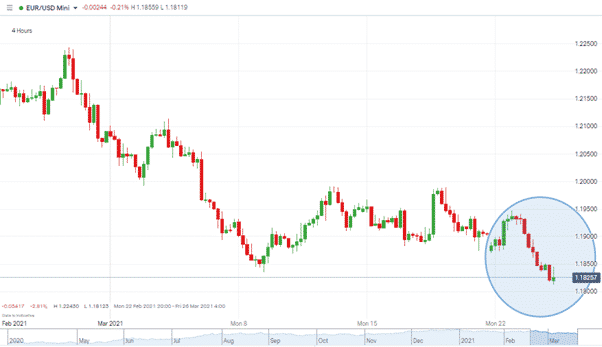 Source: IG
Anomalies such as this tend to be short-lived in nature and the statements due from Powell and Yellen could be the catalyst for the markets to realign.
Both officers have been laying the foundations for a more dovish policy. Speaking on Tuesday, it became clear they consider asset price levels to be high but not a threat to financial market stability. Yellen said:
"I'd say that while asset valuations are elevated by historical metrics, there's also belief that with vaccinations proceeding at a rapid pace, that the economy will be able to get back on track."
More room to the upside for risk-on assets such as GBPUSD and EURUSD?
If you want to know more about this topic or have been scammed by a fraudulent broker, please contact us at [email protected]
---
Olympic Legend Usain Bolt Lost $12m in Savings Scam
24.01.2023
Usain Bolt loses $12m in an alleged investment scam Jamaican officials and the FBI are investigating investment manager Stocks and Securities Ltd Others are feared caught by the scheme Jamaican Olympic sprinter Usain Bolt has had a $12m savings and investment account he set up for his retirement wiped out.
Read more
Phoney Pastors Caught Running $28m Church-Based Ponzi Scheme
17.01.2023
Churchgoers targeted by scammers posing as pastors A total of $28m fraudulently taken from largely immigrant community Promises of 'financial freedom through God' undone by the fact the project was a massive Ponzi scheme Deception, distraction, and abuse of trust are standard tools of fraudsters.
Read more
Safest Forex Brokers 2023
Forex Fraud Certified Brokers
Stay up to date with the latest Forex scam alerts
Sign up to receive our up-to-date broker reviews, new fraud warnings and special offers direct to your inbox
Stay up to date with the latest Forex scam alerts