CFDs are complex instruments and come with a high risk of losing money rapidly due to leverage. 78.24% of retail investor accounts lose money when trading CFDs with this provider.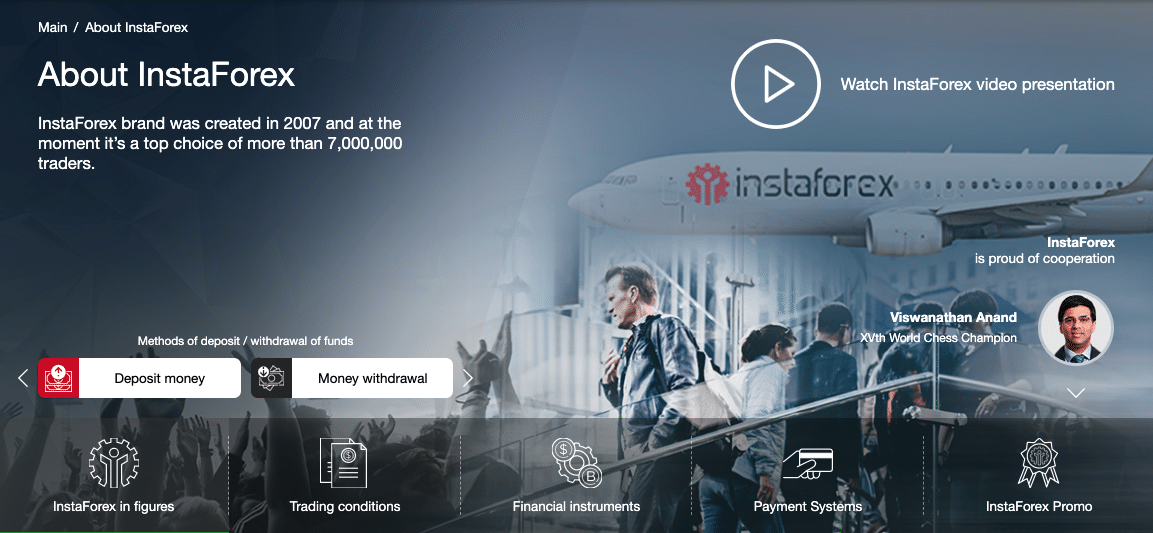 Experts Viewpoint
InstaForex has equipped itself well since launching in 2007 and ForexFraud affirms it as a top-quality and competitive platform. The most recent awards listed give a good sense of its ability to deliver as a recommended broker.
When considering the online feedback from the investor community, it is clear that InstaForex EU is getting positive commentary with 75% of Trustpilot reviews describing the service as 'excellent'. It particularly gets a good write up from traders operating in the forex market and from traders who are active in the Asian markets.
It is critically important to have a strong regulator in place when considering signing up to an online broker and in this case, Cyprus Securities and Exchange Commission (CySEC) fits that bill perfectly. This gives the user of InstaForex EU a reliable capital protection framework to operate in, which also ensures that the quality of the service is kept to a high standard.
Customer support is also vitally important. Here we find that InstaForex EU is not lacking in its efforts to treat each individual trader on their merits, whether a beginner or experienced trader. The broker's educational course for beginners also provides a strong framework for traders to consider their options.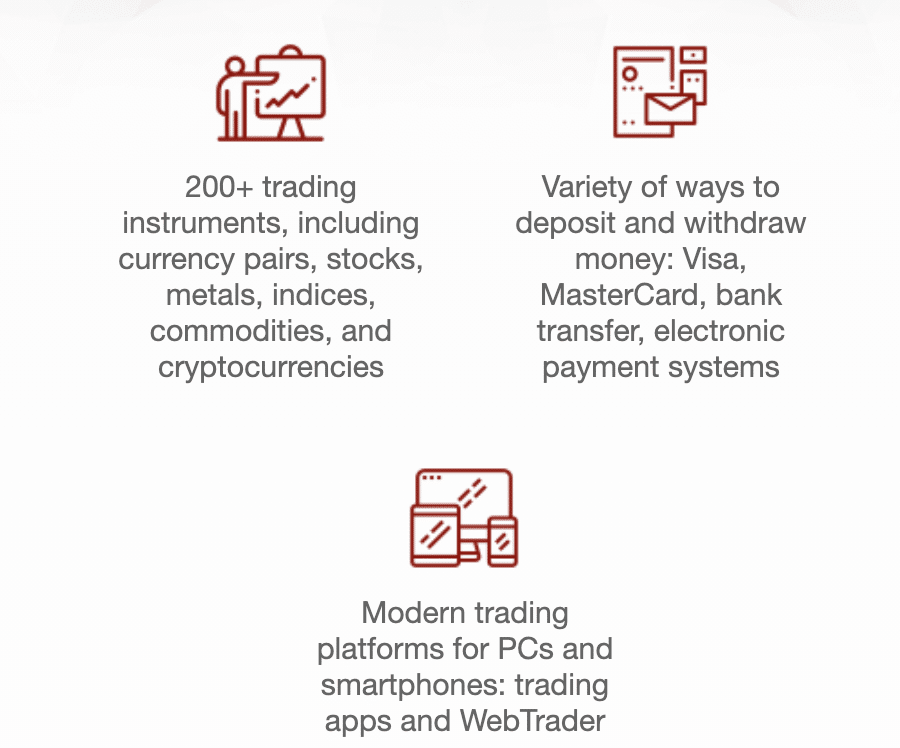 Broker Summary
InstaForex operates on an international scale. Clients in the EU are provided services by Instant Trading EU Ltd — incorporated in Cyprus and regulated by the CySEC with licence number 266/15. InstaForex is a broker that has been providing access to Forex and CFD markets since it was first established in 2007. Since that time, the brand has expanded and grown to incorporate over 260 offices and worldwide locations. It services over 7 million clients. The broker is headquartered in Kaliningrad, Russia, but operates on the licenses of the regulator of the British Virgin Islands and Cyprus. It is important to be aware that InstaForex comprises two different brokers — Instant Trading EU (registered in Cyprus, main website InstaForex.eu) and Instant Trading LTD (registered in the British Virgin Islands, main website InstaForex.com). In this review, we are focusing on the InstaForex EU broker.
Broker Introduction
InstaForex (InstaForex EU) is regulated in Cyprus. Only the citizens of the EU — not including Belgium — are able to open accounts with the broker. In line with CySEC's decision, clients from Ukraine, UAE Belarus, Indonesia, Nigeria and a range of island states can also open accounts. However, the Cyprus office has made the decision to not open new accounts for clients in Ukraine due to the country's 'low liquidity'.
Formally, there are no documents required for opening an account, which can be set up very quickly. However, the trader is required to fill out a detailed questionnaire, provide detailed information about their wealth, trading experience and other information — typical for registration of an account in a respected jurisdiction like Cyprus/EU.
When you have been provided access to your account, however, that is when you will need to pass the necessary verification checks. In order to pass verification at level one, a passport (national, foreign or diplomatic) or drivers licence is required. To pass level two, a bank statement (within three months), utility bill or military id is required. Having uploaded these documents, and on submitting a request, an account verification response should come through within 24 hours.
There are five types of accounts available on InstaForex EU. Under Cyprus jurisdiction, these are entitled Insta.Standard, Insta.Eurica, ECN, ECN Pro, Scalping and VIP accounts. All accounts have the US dollar and the euro listed as their base currencies, with the first two accounts offering British pounds as well. The Insta.Standard account is the chosen account for the vast majority of InstaForex's traders. These accounts provide the average user with a range of base features. This account comes with the added benefit of allowing traders to alter their deposit size and leverage.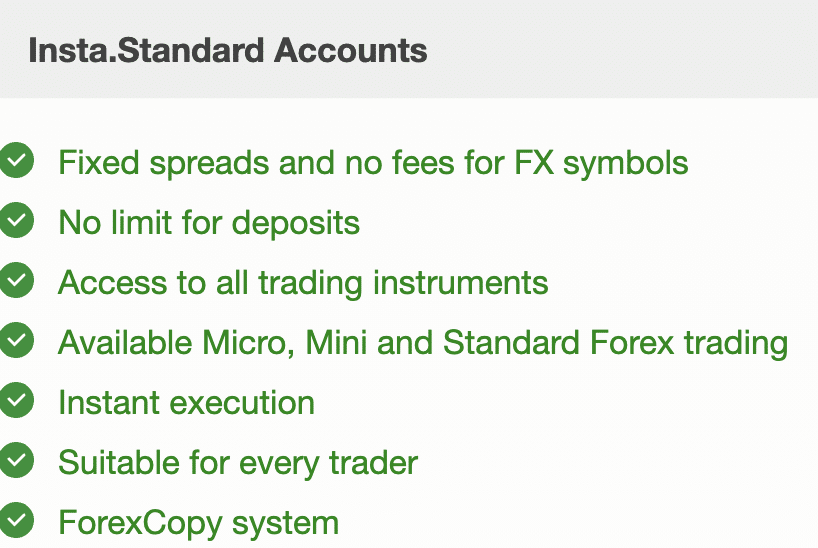 The Insta.Eurica account has no spreads required, with fixed fees applying on all trades. The ECN family of accounts are designed for a level of trader with greater experience and come with a greater degree of flexibility in market execution. ECN Pro has a minimum deposit of 2,500 euros and is ideal for more experienced traders. The Scalping account has floating spreads, with no commission trading and is ideal for day traders. There is also the VIP account available for more experienced, large traders.
Market accessibility on InstaForex EU is comprehensive. Despite InstaForex primarily acting as a forex broker, it does offer a varied selection of assets, which complement the broker's forex products. InstaForex offers over 100 currency pairs, including exotic pairs, which compares very well with its competitors and also offers the possibility to trade forex options.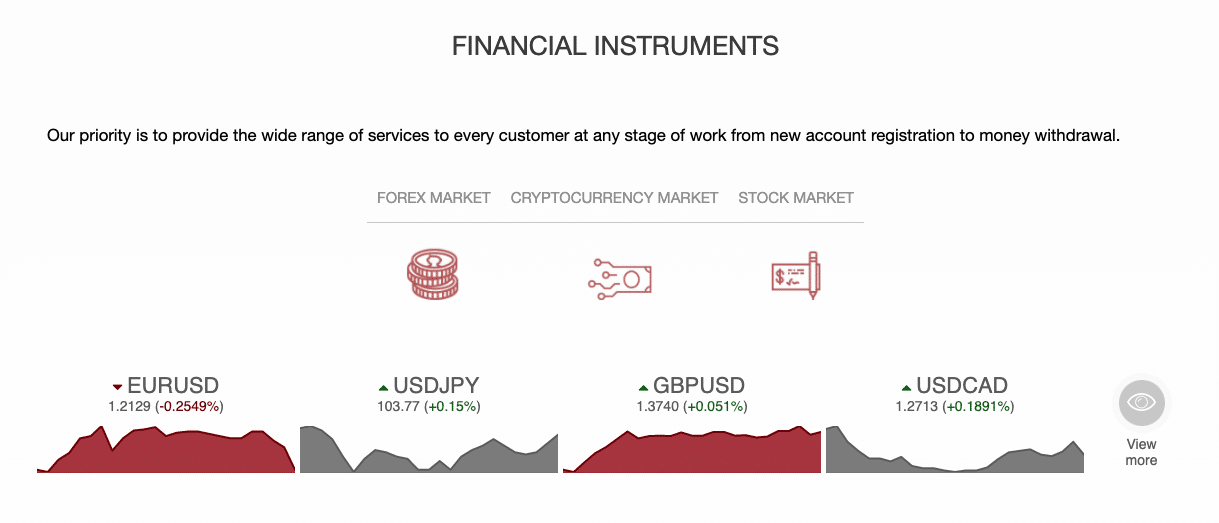 Complementary to this, InstaForex is active in the CFD market for stocks and commodities. All major markets are offered, in particular with the major stocks and indices in North America and just six in continental Europe. In Asia, only Japan, Australia and Singapore are represented as stock indices in the CFD format. Russian indices and stocks are not available. However, CFDs are offered on the major commodities and also on five cryptocurrencies. Outside of forex, the diversity of the CFD market accessibility is on a par with competitors on the InstaForex EU platform.
There is also the ForexCopy trade system, which allows the experience of successful traders to work for the benefit of beginners. With the ForexCopy system you can copy deals of professionals, trade and learn at the same time. You can choose a trader based on a range of criteria and automatically copy their deals. Your deposit remains on your account and you can cancel a deal at any moment.
Spreads & Leverage
As discussed above, there are two basic accounts on offer — Insta.Standard and Insta.Eurica. The main variable between these accounts are as follows. The Insta.Standard accounts have fixed spreads, which start from two pips. The Insta.Eurica accounts have fixed commissions that start from 0.02%. Account types including the ECN, ECN Pro and Scalping accounts are provided for EU customers with a floating spread of 0.8 or 1.2 pips.
One of the positives of InstaForex is the broker's leverage availability. InstaForex's maximum leverage available is 1:30. This reflects the EU regulation on forex trading for clients (retail).
Platform & Tools
While some brokers develop their own proprietary version of a trading platform, InstaForex has stuck with the tried and tested, and very reliable, MetaTrader4. The broker has provided its own internally-developed plugins such as One Click Trading and Superior Forex Desk.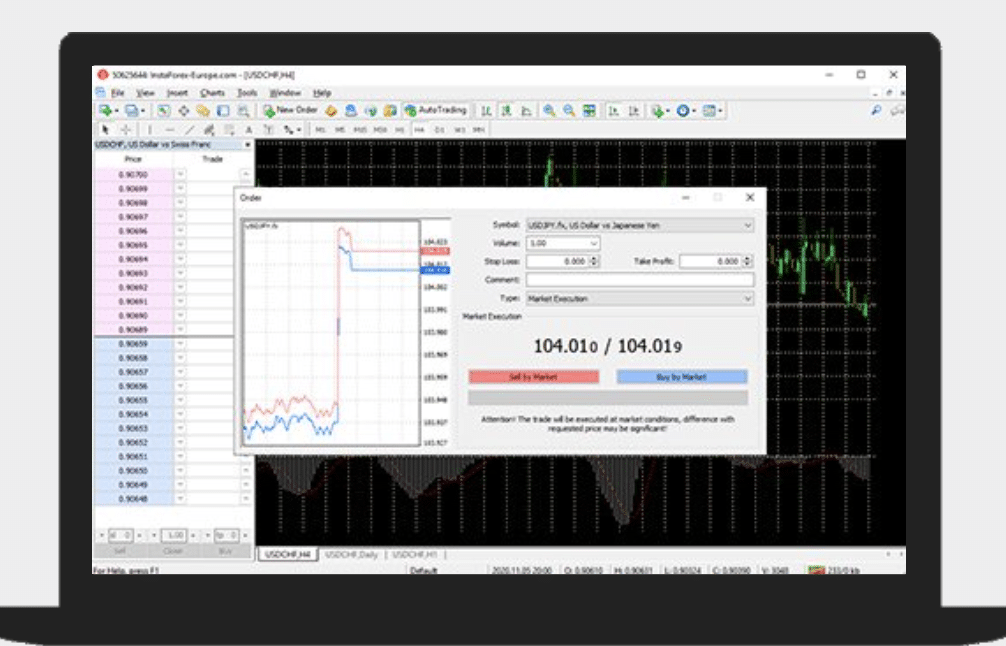 As a reminder, the industry standard MetaTrader has a number of attractive features. The speed of the platform is competitively fast. The accepted lot on the MT platform as offered by InstaForex equals 10,000 units. This is the case whatever account you have set up. It is important to be aware that a lot of 10,000 units is suitable for those who wish to trade small amounts.
In addition, there is a Webtrader — a browser platform developed by InstaForex that has some interesting functions. It is regarded as very user friendly with an attractive interface. The home page shows a consolidated table of instruments and you can see your current balance of open long/short positions on each asset you have traded. Also, the Webtrader platform displays the current trend with up and down arrows. You can trade directly from the panel by pressing on the quotations of 'buy' or 'sell' and an order would be sent directly for execution without a conformation required. There is also a chart panel that allows you to work with price charts to assess entry and exit levels on a potential trade. One of the drawbacks of the WebTrader user-friendly interface is that does not offer any volume analysis, and algorithmic trades and trade copying are unavailable.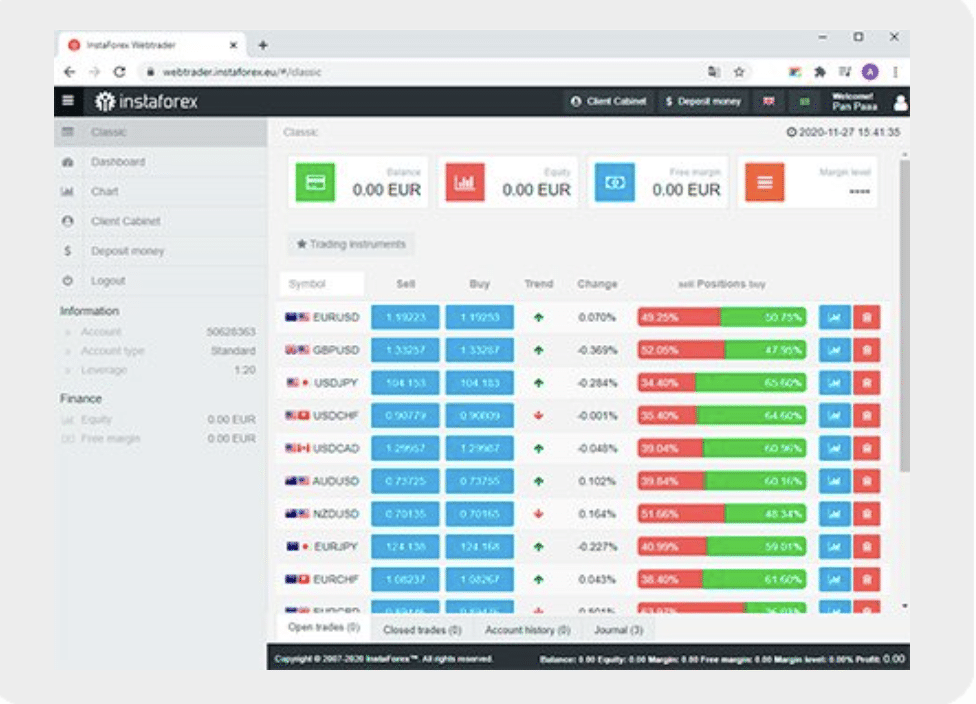 The mobile platform is offered for both Android and iOS. It is quick loading and has an up-to-date intuitive interface. All markets offered by the broker are available, as well as, if prompted, basic data on the positions of the broker's customers. News updates are available once signed in, although an alert setting is unavailable. However, when compared to platforms intended for desktop, InstaForex has an established list of the different tools and functionalities it provides for mobile users.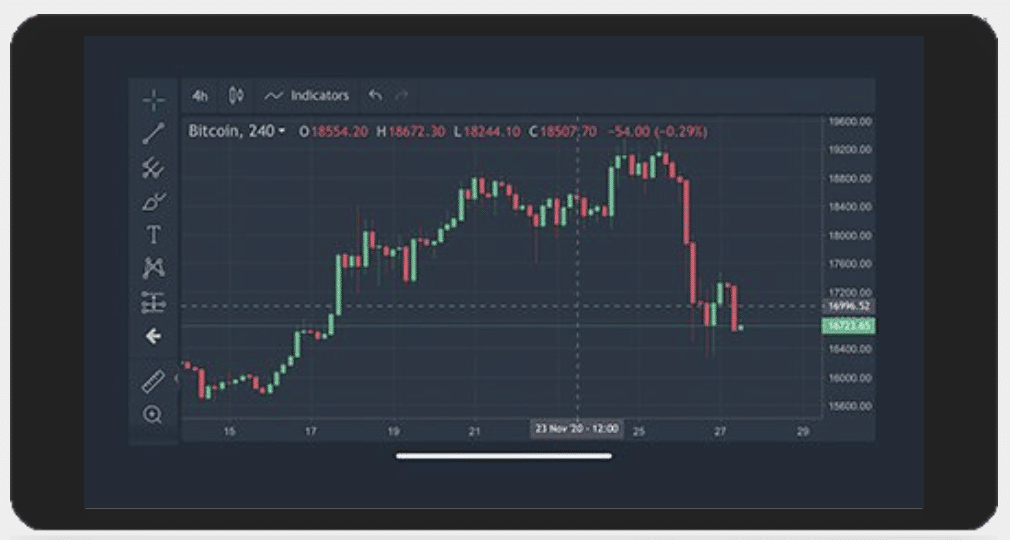 Commissions & Fees
InstaForex uses spreads and commissions for its platform, which many users will recognise from many other online brokers. These spreads and commissions vary according to your specific account held. The primary differences between the two most popular accounts are as follows. Standard accounts employ fixed spreads, which start from two pips. Eurica accounts see fixed commissions that start from 0.02%. Remaining account types, including ECN Pro, ECN and Scalping accounts adhere to a floating spread of 0.8 or 1.2 pips.
The peculiarities of depositing funds differ depending on the jurisdiction in which the account was opened. InstaForex EU, as per EU regulations, directly specifies that the broker does not charge a fee (the fees can be charged by the payment systems, which depends on the system itself and the country of the customer). With withdrawals, InstaForex EU charges a minimum fee of 5 euros for a one business day payment via wire transfer. Debit/credit cards are charged at 1.8% plus 0.05 euros. Skrill, Neteller and Sofort are also acceptable for withdrawals, with fees of 1 euro, 1% and a minimum of 5 euros respectively. An investor can also be paid in bitcoin, within one business day if they prefer, so long as they accept a 1% fee.
Education
The education section offered by InstaForex is very informative. There are updated articles on fundamental and technical market analysis, and how to manage capital and risks. For beginner traders, forex tutorials are available as well as technical issues, like how to make the most out of the underlying platform once the trader has set up an account. In addition, many educational materials can be found on video via social media (YouTube, Facebook). Below is an example of a forex learning course offered by InstaForex EU.

Customer Service
InstaForex EU publishes all available methods of customer support on https://www.InstaForex EU/support.
The broker can be contacted by email at [email protected], by telephone on +35725654112. Other communications, as seen above, include live chat, Whatsapp, Skype and Facebook.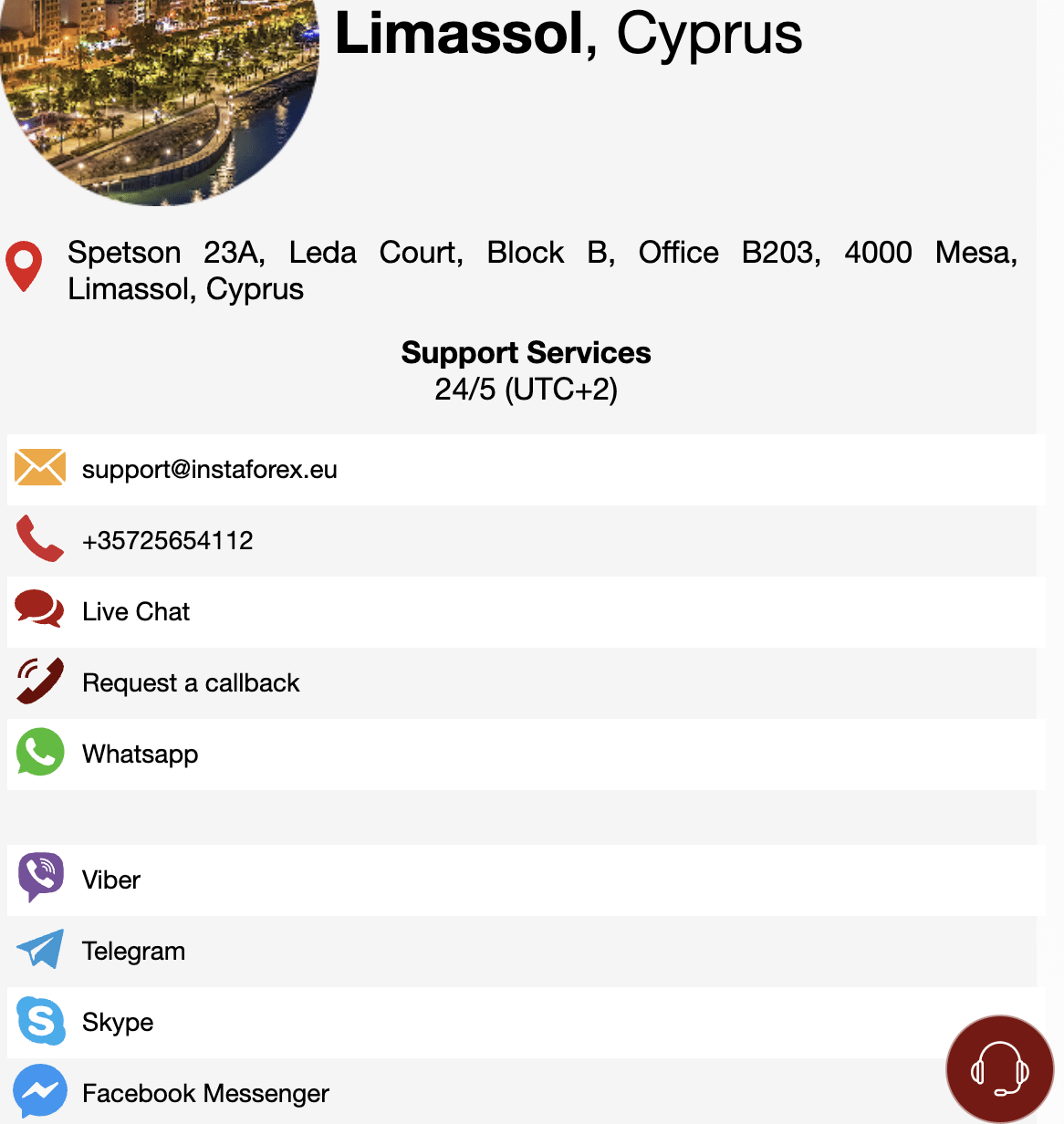 In addition to the headquarters in Cyprus, the broker has three regional offices in Poland, Czech Republic and Slovakia.
A personal manager is available for accounts on InstaForex EU. There is also 24/5 customer support and consultations can be handled by phone via a callback system.
Final Thoughts
As an online broker platform with over 10 years of trading experience, InstaForex EU is a sensible choice for beginners and more experienced investors. The underlying MetaTrader4 technology is well known and very user-friendly.
There is considerable comfort in the CySec regulation. Upon the opening of an account with the broker, a trader can enjoy negative balance protection and an excellent execution policy. The regulation sits neatly in an EU framework.
The coverage model is very acceptable, with all major markets available, including currency pairs, stock indices, stocks, commodities, cryptocurrencies. Although it has Russian roots and a vast Russian-speaking audience, InstaForex does not provide access to Russian trading instruments, which is a small but not critical drawback.
The educational and contact support offering is very comprehensive. While the deposit and withdrawal process is diverse enough to be quick and easy.
The choice of accounts to open is attractive and includes segregated accounts for high-value deposits, two-factor authentication and anti-phishing technologies.
Broker Details
The InstaForex group of companies owns and operates InstaForex EU, a multi asset, forex focused CFD broker. It is regulated by the Cyprus Securities and Exchange Commission (CySEC) that operates under the EU Financial regulatory framework. Coming under the legislative framework of MiFID II, the broker is authorised to provide services across countries in the European Economic Area (EEA) and beyond.
FAQs
How can I open a demo account with InstaForex EU?
InstaForex gives its users free access to demo accounts. These allow new or intermediate traders to familiarise themselves with the MT4 system, for example. It comes with virtual money and gives an excellent feel for what real trading is like on the platform.
It is straightforward to open a demo account on InstaForex. You need to choose the type of demo account you want to open and after filling out a basic form, you will receive the required information for accessing your demo account to your email.
Is InstaForex EU a regulated broker?
The European platform is regulated by the established and well-respected Cyprus Securities and Exchange Commission (CySEC). When Cyprus became an EU member state in 2004, all regulations, processes and operations of CySEC had to comply with the European MiFID financial harmonisation law. CySEC has distributed guidelines and regulations on a range of trading activities. These regulations include new guidelines for cryptocurrencies, such as bitcoin, bonus circulars and directives for money laundering. In addition, CySEC can also set minimum capital requirements, leverage limits and bonus qualifications. Brokers must also ensure access to investor compensation funds and meet regulations around indemnity insurance.
What are the deposit options for InstaForex EU?
There are many ways to deposit funds with InstaForex. They include Visa, MasterCard, bank transfer, Neteller, Skrill, bitcoin (via Skrill), Sofort, B2B in Pay. InstaForex EU states its average deposit processing time to be just 20 minutes 25 seconds.
How do I withdraw money from InstaForex EU?
InstaForex EU offers a range of methods to withdraw money. These are Visa, MasterCard, bank transfer, Neteller, Skrill, bitcoin (via Skrill), Sofort, B2B in Pay. The average withdrawal processing time is less than four hours.
Other people have looked at this broker review:
Please be advised that certain products and/or multiplier levels may not be available for traders from EEA countries due to legal restrictions.
---
---