Technology is the bedrock of the retail forex trading industry, and, for the past two decades, successful brokers have relied upon innovative technologies to fuel a major growth dynamic across the globe in this trading regimen. High casualty rates with traditional trading methods have forced brokers to create alternatives like "mirror", social, and copy-cat trading for beginners and veterans that prefer to profit from the prudent selection of experts in the arena. FXTM (ForexTime.com), an industry-leading broker with offices across the globe and licenses in the UK and Cyprus, recently announced in February of 2016 the latest upgraded version of this approach with its new offering – FXTM Invest. Simplicity, flexibility, safety, and transparency are the hallmarks of this new service. Unfortunately, U.S. clients are not accepted at this time. Read on for our FXTM Invest review.
You need not be a beginner to enjoy and recognize the benefits of this service. There is something for everyone on both sides of the deal, as noted in the firm's press release: "FXTM Invest is a flexible program especially tailored to those traders who are just starting out in the markets, don't have much time on their hands for trading, or simply don't have the patience for it. If that sounds like you, then this is your program! Once you choose the trader you'd like to follow, you automatically copy their trading pattern and make a profit whenever they do!" What has the track record been for the past eight months? The FXTM website claims that, if you had been fortunate enough to invest $1,000 in the initial fund and had chosen the leading traders presented, your fund balance could now be over $4,500. As we have always been told, however, previous results are no guarantee for the future, but a "4.5X" multiple is pretty impressive.
Not everyone is cut out to be a real-time cutthroat trader. It may be easy to open a position, but the majority of newcomers to this field lack the discipline to stick with a particular trading strategy or have the nerve it takes to let a position run or to close it before losses are insurmountable. Why not allow an expert to carry the heavy load? FXTM has developed software that makes choosing an expert an easy task. All that is left to do is fund your account and monitor results. The worry of sending money to some far off fund manager that you know nothing about is not an issue. Your contract is with FXTM, and, with its global breadth and history of regulatory compliance, your peace of mind is assured. Client deposits are segregated from operating capital and maintained in AAA-rated banks, and your profits can be withdrawn at any time.
A "Win-Win" for Investors and Strategy Managers
The "FXTM Invest" service development team has been attentive to customer wishes. "Having listened to the feedback from our clients, FXTM's highly skilled R&D team has developed FXTM Invest, a cutting-edge investment solution for both traders and investors." You can choose to be either an "Investor" or a "Strategy Manager", or, perhaps, even both. There are ample benefits for each participant in the transaction. ECN technology provides flawless execution speeds, and fixed leverage up to 1:200 amplifies the profit possibilities. As an Investor, you may review the profiles of Strategy Managers or choose quickly from the latest list of high achievers. Each manager has a "copy fee", typically 30% to 40% of profits earned, the same rate as you might expect from an independent fund manager.
How does it work?
The following diagram demonstrates how easy it is to use FXTM Invest: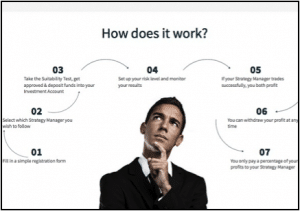 After a simple registration process, you may choose an expert, agree to terms, and fund your account. From that point on, it is up to you to monitor your performance versus your acceptable risk levels. Profits are shared per the allocation formula agreed to up front, and profits can be withdrawn at any time. The "FXTM Invest' software handles everything for you, including online reporting of account balance changes and your history with each expert.
What are the benefits of this service?
The various benefits for both Investors and Strategy Managers, per the FXTM website, are presented as follows:
Benefits for Investors:
1)    Access opportunities without any deep technical expertise
2)    Limit your exposure to risk with our advanced tools
3)    Expand your portfolio in a market with limitless opportunities
4)    Choose the Strategy Manager whose strategy fits your goals and needs
5)    Get real-time notifications, every hour, to keep tabs on your investment
6)    Join the program with an investment of as low as $/€/£ 100
7)    Sign up and get started in minutes with 4 easy steps
8)    Enjoy full control and easy access to your funds at all times
Benefits for Strategy Managers:
1)    Ability to set your preferred fee for your strategy.
2)    Your strategy, your rewards. FXTM takes no commissions.
3)    Own a dedicated page for your account, through which, Investors can connect to you.
4)    No position adjustments – no need to readjust a position for each new investor.
5)    Start with only 100 USD/EUR/GBP.
6)    Monitor your performance in real-time with our reporting tools.
7)    Enjoy security and confidentiality. Your trading strategy will not be made public.
8)    Trade with unparalleled trading conditions: ECN technology, no commissions, fixed leverage up to 1:200.
Why use the "FXTM Invest" service?
The concept of profiting from the trades made by others is not new within the retail forex trading community. Fund managers have been around for quite a while, as has social and mirror/copycat trading. It is rare, however, to have a seamless process under one roof, so to speak. FXTM has complete control of the trading environment. Investors and Strategy Managers have complete transparency, as well. Profiles of managers are continually updated and the "stars" presented for your individual review. After selection, the manager is informed of your participation and profit history. The accounting is taken care of by the innovative software, which is completely web-based. No downloads are required, and your deposits are safe at all times via segregation and national investor protection schemes. Routines are intuitive, and execution speeds are top of the chart.
Concluding Remarks
FXTM has done it again – provided an innovation that takes an existing business model, enhances it with the latest software capabilities, and then presents a better solution for all involved. The ability to profit from the efforts of experts in the forex industry is now effectively at your fingertips. FXTM Invest delivers the goods. As noted by FXTM management, "This new program meets a two-fold need by matching experienced traders looking to take their careers to the next level, with investors who want to copy the success of experienced traders. With transparency at its core, a simple pre-agreed percentage is paid by the investor to the strategy manager if and when a profit is made." What could be easier than that? The entire service is also under one roof, and regulatory compliance is a given, too. Is now the time for you to join in on the fun and success?
Please be advised that certain products and/or multiplier levels may not be available for traders from EEA countries due to legal restrictions.
---
---