---
When we last looked at both USDCAD and USDJPY here on 19th November we noted the USDCAD shift to an intermediate-term bullish outlook and an intermediate-term neutral theme for USDJPY
The early December trade war truce has done little to alleviate global growth concerns and has actually produced a broader shift to a "risk off" environment across global asset classes (underlined by equity market losses).
This activity has also seen a bid to the Japanese Yen, as a safe haven, and for USDJPY the probe below 112.27 switched the intermediate-term outlook from a neutral range to bearish.
However, USDCAD gains to start December have reinforced and maintained an intermediate-term bullish theme.
USDJPY Intermediate-term bearish shift intact
A rebound Friday after Thursday's plunge to probe the bottom of our previous intermediate-term range (defined as 112.27 to 114.55), down to 112.25, but whilst contained below 112.93 we still see the bias back lower for Monday
The early December probe below 112.27 swing and range support shifted the intermediate-term outlook to bearish.
For Today:
We see a downside bias for 112.25; break here aims for 111.82, 111.51 and even to the key swing low at 111.35.
But above 112.93 opens risk up to 113.24, maybe 113.71/85.
Intermediate-term Outlook – Downside Risks: We see a downside risk for 111.35.
Lower targets would be 110.36 and 109.74.
What Changes This? Above 114.04 shifts the outlook back to neutral; above 114.55 is needed for a bull theme.
Resistance and Support:
| | | | | |
| --- | --- | --- | --- | --- |
| 112.93 | 113.24** | 113.71/85* | 114.04*** | 114.21** |
| 112.25 | 111.82 | 111.51 | 111.35*** | 111.09/01 |
4 Hour USDJPY Chart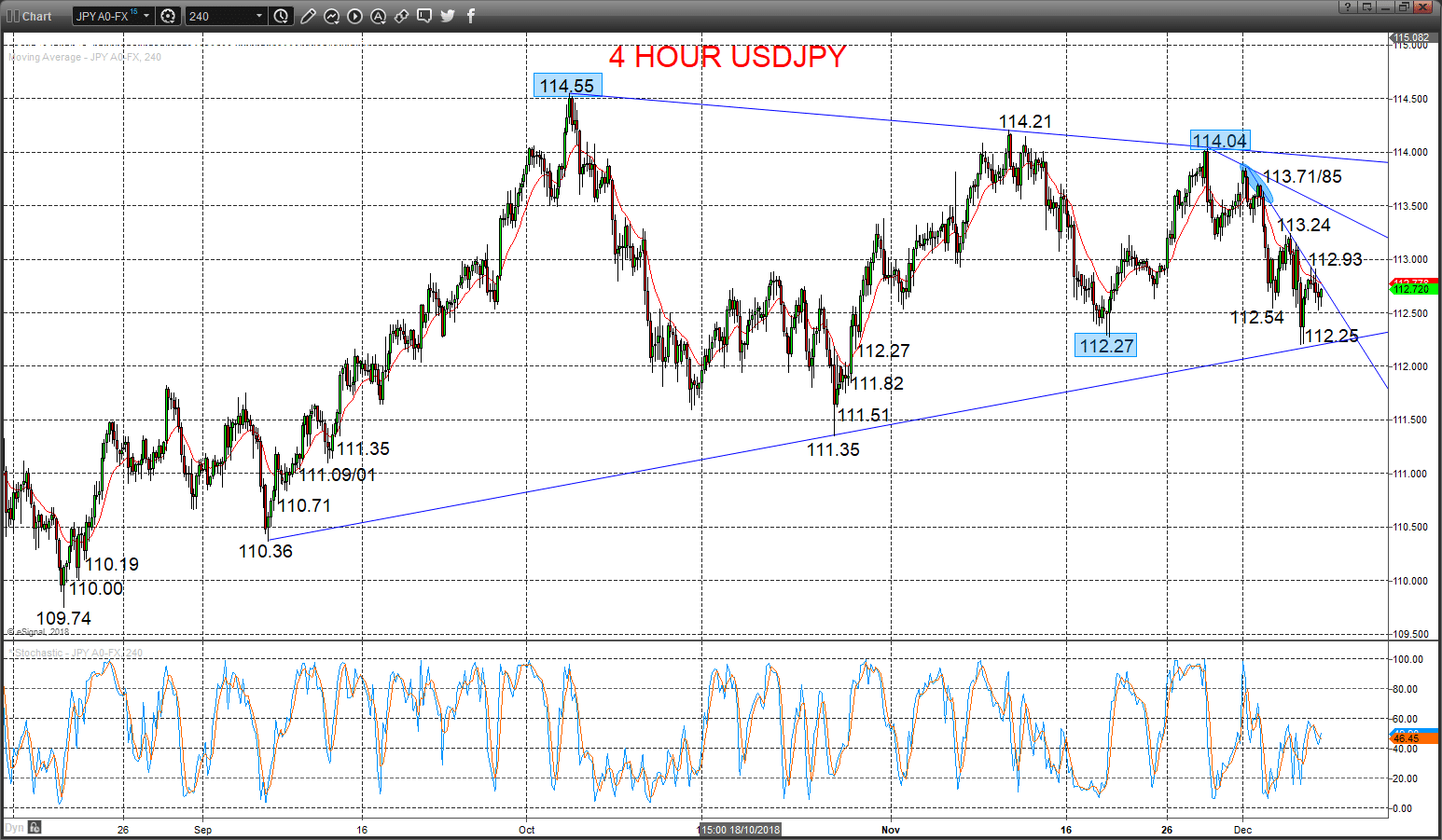 USDCAD Erratic, but the intermediate-term bull trend is intact
An extremely erratic Friday with the US and Canadian Employment reports, but the plunge and rebound from just above the 1/3239 support (from 1.3249) sustains upside forces from the early December surge and extension s to another new cycle high (above the 1.3382/86 cycle peaks), to keep the bias higher for Monday.
The early November probe above 1.3226 set an intermediate-term bull tone.
For Today:
We see an upside bias for 1.3400; break here aims for 1.3455 and 1.3470, maybe towards 1.3503.
But below 1.3249/39 opens risk down to 1.3199, maybe key 1.3157.
 Intermediate-term Outlook – Upside Risks: We see an upside risk for 1.3500.
Higher targets would be 1.3777 and 1.4000/17.
What Changes This? Below 1.3157 shifts the outlook back to neutral and then through 1.3123 would quickly sees a bear theme.
Resistance and Support:
| | | | | |
| --- | --- | --- | --- | --- |
| 1.3409 | 1.3455 | 1.3470* | 1.3503 | 1.3539/47** |
| 1.3350 | 1.3267** | 1.3239 | 1.3199 | 1.3157/51** |
4 Hour USDCAD Chart