---
We last looked at the USDCAD and USDJPY currency pairs here our in 4th February article and indicated an intermediate-term bearish trend for USDCAD and a USDJPY range, neutral theme.
A shift to more of a global "risk on" scenario since then has reinforced a more positive tone for the Canadian Dollar, assisted by a higher oil price, and has also seen a weakening of the US Dollar, which previously strengthened as a safe haven.
This has seen the USDCAD Forex rate reinforce the previously flagged intermediate-term bearish trend.
The USDJPY FX rate, however, simply retains an intermediate-term, neutral range theme, but with a slight upside bias.
USDCAD negative theme reinforced
A selloff Friday through 1.3146/36 supports to reject Thursday's rebound that was capped by the 1.3281/95 area, resuming negative pressures from Wednesday's selloff through 1.3192 and 1.3168 supports and from the mid-February setback through the February up trendline, to keep risks lower for Monday.
The late January plunge below 1.3157 shifted the intermediate-term outlook to bearish, BUT risk is growing for a shift to neutral above 1.3375.
For Today:
We see a downside bias for 1.3124; break here aims for key 1.3064 and maybe towards 1.3052/44.
But above 1.3195/3205 opens risk up to 1.3243.
 Intermediate-term Outlook – Downside Risks: We see a downside risk for 1.3000.
Lower targets would be 1.2912 and 1.2784.
What Changes This? Above 13375 shifts the intermediate-term outlook straight to a bull theme.
Resistance and Support:
| | | | | |
| --- | --- | --- | --- | --- |
| 1.3195/3205 | 1.3243** | 1.3281/95* | 1.3340** | 1.3375*** |
| 1.3124 | 1.3064* | 1.3052/44* | 1.3022/11* | 1.3000* |
4 Hour Chart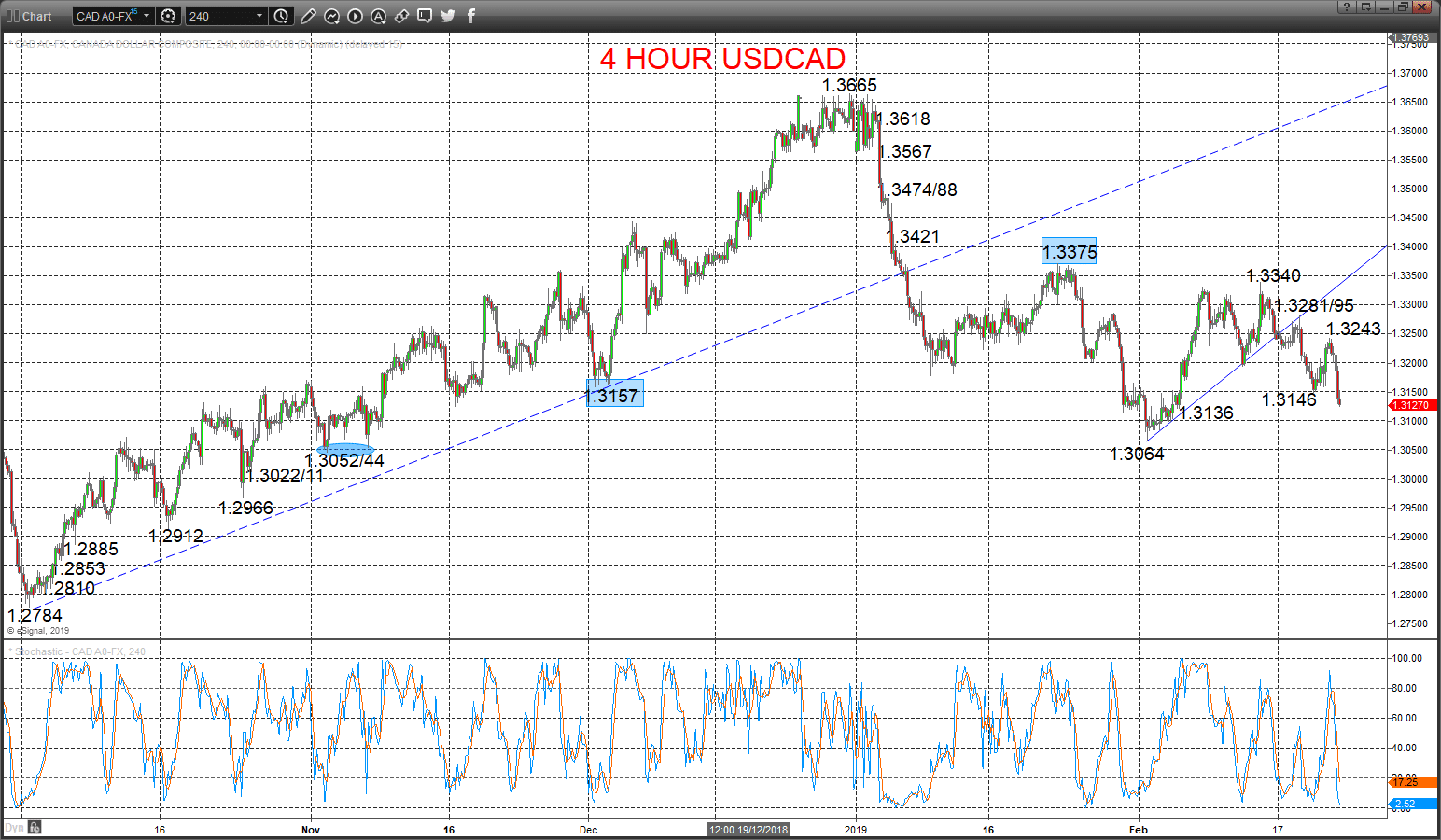 USDJPY modest upside bias
Once more, a sideways consolidation Friday as seen since mid-February, leaving a slight positive bias from the mid-month bounce off of new 110.23 support and the early February push above key 109.99, to keep risks higher into Monday.
We see an intermediate-term range as 111.41 to 108.47, BUT growing risk for an intermediate-term bullish shift above 111.41.
For Today:
We see an upside bias for 111.13; break here aims for key 111.41, maybe towards 111.97.
But below 110.23 quickly opens risk down towards 109.93 and maybe 109.66, which we would look to try to hold.
Intermediate-term Range Breakout Parameters: Range seen as 111.41 to 108.47.
Upside Risks: Above 111.41 sets a bull trend to aim for 71, 114.55 and 115.00.
Downside Risks: Below 108.47 sees a bear trend to target 107.74, 72/55 and 104.78/56.
Resistance and Support:
| | | | | |
| --- | --- | --- | --- | --- |
| 111.13 | 111.41*** | 111.97 | 112.64* | 113.11/18 |
| 110.23 | 109.93 | 109.66* | 109.40* | 108.85* |
4 Hour Chart