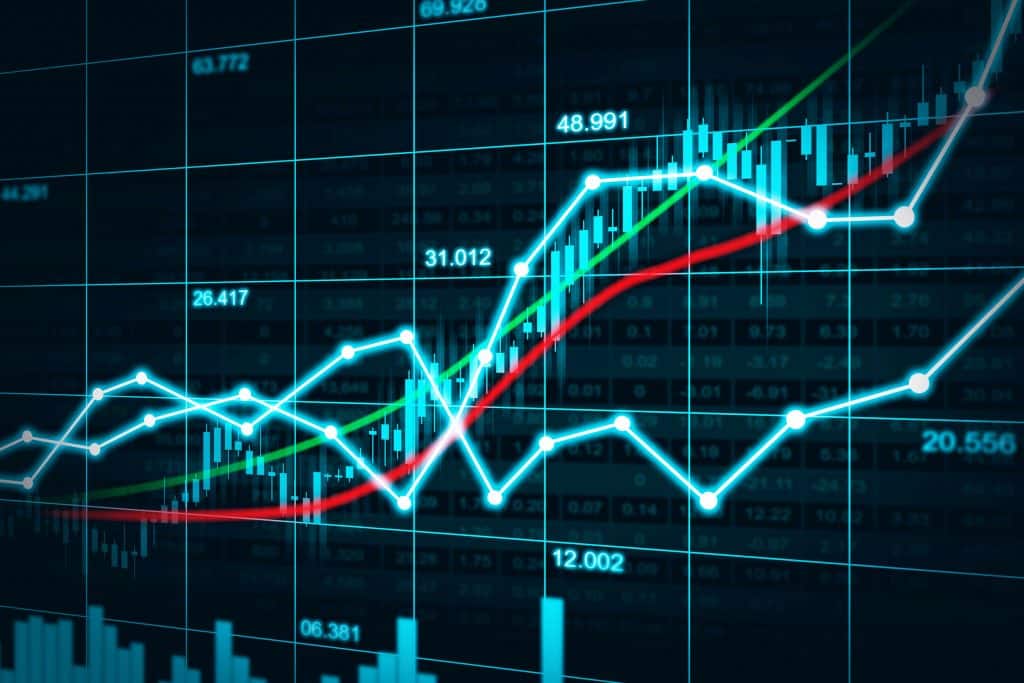 With minimal news events diarised for the week beginning the 18th of October, it looks like fans of technical analysis might be best positioned to test their strategies in the next few days.
The major fundamental analysis stories of the week were in the public domain before European exchanges opened on Monday morning.
Third-quarter GDP growth in China's economy came in at 0.2% rather than the expected 0.5%, and both the forecast and actuality were a long way short of Q2's 1.3% number.
The Evergrande property debacle has moved down the news headlines – the outlook for the firm still looks poor, but the risk of economic contagion appears to be subsiding. The Forex Fraud report of the 30th of September discussed Why Evergrande is Not Lehman and Why That is Good News for Traders.
Weekend commentary from the Bank of England saw the Governor state that the bank would "have to act" in a bid to curb rising inflation. Markets are now pricing in a rate rise before year-end.
GBPUSD – The Week Ahead
The Bank's guidance appears to be pre-empting the release of UK Consumer Price Index, Producer Price Index and Retail Price Index data due on Wednesday. Sterling's Monday morning weakness indicates that inflationary pressures detailed in those numbers look to have been built into price last week. The rise from 1.3568 on Wednesday to 1.3773 on Friday and subsequent sell-off on Monday appears to be a case of 'buy the rumour, sell the fact'.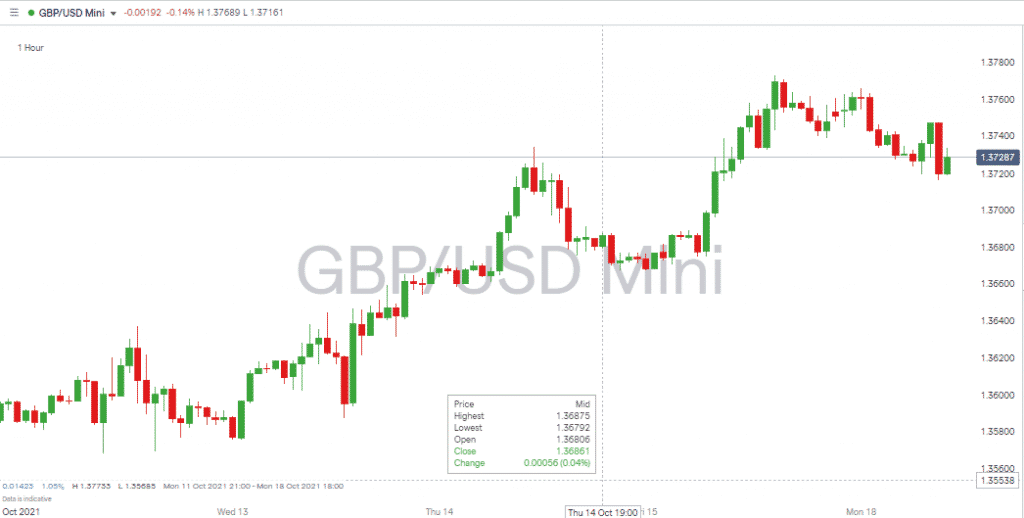 Source: IG
Sterling looks set for a period of price consolidation above the 'big number' support level of 1.37. Strategies designed to profit from short-term price moves in range-bound markets could be the best approach.
Stock Indices – The Week Ahead
After a solid finish to last week, the disappointing news out of China took some froth off equity prices. The S&P 500 started the week 0.33% down from Friday's close. There is obvious potential to buy the dip, but the question is when.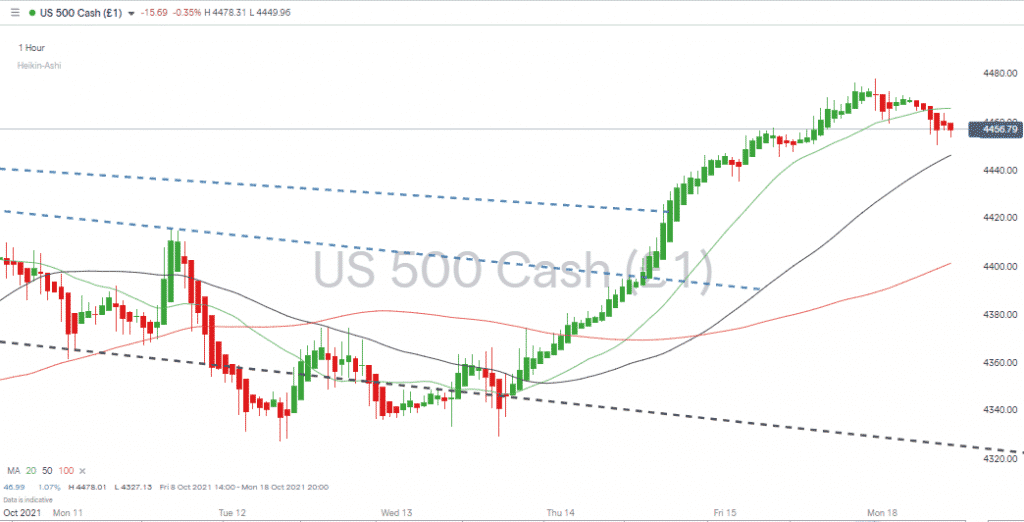 Source: IG
The longer-term, daily candle Heiken Ashi candle chart shows bullish price action. The ultimate target would be the all-time-high of 4549, but with little news to generate interest, it could be a case of prices waiting for moving averages to come and support the market as it tries to creep up to that level. Last week's break of the trend-line resistance levels was impressive enough but was fuelled by 'real' data being released by the US Federal Reserve.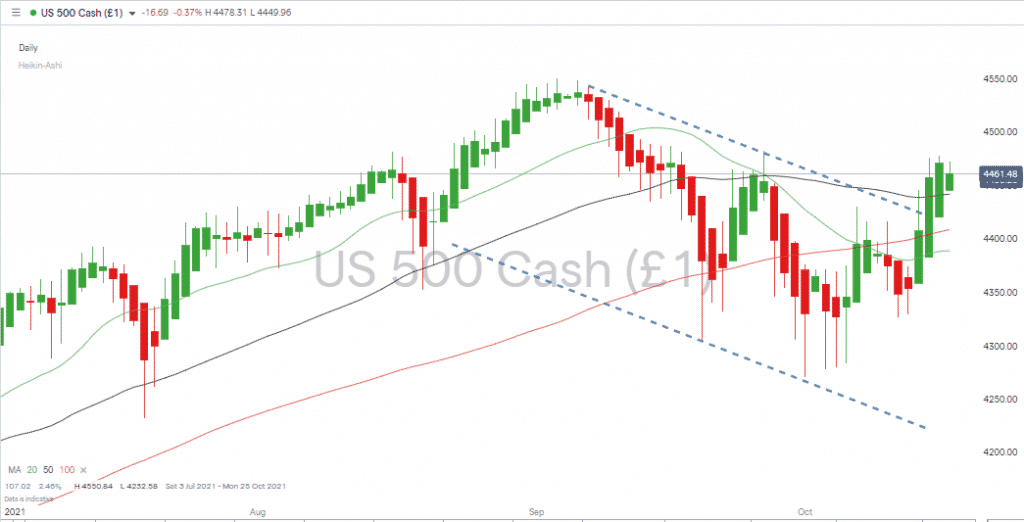 Source: IG
A more likely target would be a gap-fill to start the week when the US exchanges open on Monday. Further price falls can't be ruled out, but with the major indices being so close to Friday's closing prices (4470 in the case of S&P 500), a gap-fill would tidy things up from a technical perspective, regardless of whichever way price then heads.
Crowdsourcing information about scam brokers can help others avoid falling into the traps set by disreputable brokers and you can share your experiences here. If you want to know more about this particular topic, or have been scammed by a fraudulent broker, you can also contact us at [email protected]
---
Olympic Legend Usain Bolt Lost $12m in Savings Scam
24.01.2023
Usain Bolt loses $12m in an alleged investment scam Jamaican officials and the FBI are investigating investment manager Stocks and Securities Ltd Others are feared caught by the scheme Jamaican Olympic sprinter Usain Bolt has had a $12m savings and investment account he set up for his retirement wiped out.
Read more
Phoney Pastors Caught Running $28m Church-Based Ponzi Scheme
17.01.2023
Churchgoers targeted by scammers posing as pastors A total of $28m fraudulently taken from largely immigrant community Promises of 'financial freedom through God' undone by the fact the project was a massive Ponzi scheme Deception, distraction, and abuse of trust are standard tools of fraudsters.
Read more
Safest Forex Brokers 2023
Forex Fraud Certified Brokers
Stay up to date with the latest Forex scam alerts
Sign up to receive our up-to-date broker reviews, new fraud warnings and special offers direct to your inbox
Stay up to date with the latest Forex scam alerts