Trying to follow the travails of a questionable forex broker, especially when it deliberately flies beneath the radar of regulatory oversight, can be a challenging task. Today's modern brokerage can be totally "virtual", outsourcing its major activities to distant third parties, while it focuses on marketing and customer acquisition, retention, and attrition. Its true identity, registration, and location, however, are often unavailable due to the anonymity of the Internet, a cloaking mechanism that unscrupulous brokers have learned to use to their advantage. Failing to publish addresses or management names can also raise suspicions. Trade24.com could be just such an example.
Things began to go south for Trade24.com over the course of 2016. By mid September, we wrote, "Use extreme caution or avoid altogether the forex broker that goes by the name of Trade24.com. It is generally difficult to tell the exact moment when a legitimate and trusted broker suddenly becomes a risk to all involved, but, in the case of Trade24, the warning signs have come fast and furiously over the past several months. Customer complaint levels have risen, due primarily to withdrawal requests that have either been delayed or ignored. Regulators have become suspicious and published advisories of their own, warning the public about the unauthorized activities of this broker. Lastly, the broker has refused to return our calls or emails, a very bad sign, for sure."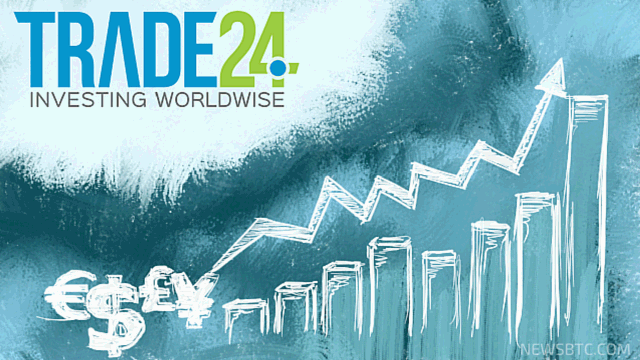 What has changed to warrant a fresh update of Trade-24.com?
Since last September, two things have changed, one positive, the second, negative, from our perspective. The first item of note was that our phone calls were finally returned in February of this year. We published the following update at that time: "We have spoken with Trade24 upper management and feel that they are doing their best to resolve past issues and mend their tarnished reputation. They are currently seeking CySEC regulation and once they receive that regulation we will post an updated review of their platform and brokerage. In the meantime, we still suggest caution- especially if you are in UK as they are not FCA regulated. But they are doing MUCH better and their customer service is on top of it."
Trade24 is no small enterprise, if their website claims can be accepted as truth. They boast a presence in London, with satellite offices in Paris and Zurich. Their disclaimer notification on the bottom of each page posits an address in Lamarca, Cyprus, and they also claim to have over 300,000 customers. Once we had re-established contact, and the new management team asserted that they had terminated offending parties and were making a new go of it, giving the new team the benefit of the doubt seemed appropriate at the time. We admitted that they still had a ways to go and that CySEC regulation would go a long way to restoring their credibility.
It is now three months later. There has been no news of changes in regulatory status, but comments regarding delays in processing withdrawal requests, always a bad sign, seem to be increasing of late. Upon further investigation on our part, a few disturbing negatives came to light. First, we were never quite sure of the individual we were dealing with back in February. It could have been "Ari Browne" or "Harry Browne". A search of Linked-In produced a page for Harry Browne – CMO of Trade24 in London since February of 2009, also having served as the CEO of "+CLICK!" for the two years preceding years.
Why were we concerned? The picture on the page revealed something suspicious. It was actually a profile shot of a Canadian lawyer for a law firm located in Newfoundland, Canada. The regulatory authorities in Ontario had recently blacklisted Trade24 last September. Were the new folks at Trade24 playing games in the background? We also found it odd that ten years back, another Harry Browne, a very famous investment adviser, author, and politician, had passed away. Had they also manufactured this entire bio as one more subterfuge?
But what about customer service? Had that not improved? In early May, a new name from Trade24 began to appear on our web pages. The new fellow was Harry Miller, Senior Manager, Customer Service at Trade24. A search on his identity produced a webpage for a London-based author that had published a book, but little else was forthcoming. His responses on our website seemed encouraging, but many were just "cut-and-pasted" repeats that could have been crafted better, especially if an accomplished author had written them. Was "Harry Miller" fabricated, as well?
Trust and a good reputation can take years to build, but can disappear like snow in the desert if and when the very least bit of chicanery is discernible. We, again, would like to give Trade24 a chance to rebuild and recover, but our suspicions have been raised. On May 19th, we published the following warning: "Forexfraud does not recommend anyone trade with Trade24 before they are regulated!"
What else has changed regarding Trade24?
The forex brokerage industry is highly competitive, and with trade volumes shrinking in some quarters, a lackluster global economy continuing to be stuck in a low gear, and regulators firing every barrel of their compliance artillery, many brokers are treading on thin ice. A wary public can also be sensitive to the slightest bad news and can then shift their allegiances in a heartbeat. When a broker falls victim to bad press coverage, the carnage can be swift. The firm's options include re-branding, selling off its assets, or shutting its doors for good. Continuing on as if nothing had happened is a struggle, with the odds weighing heavily against you.
Trade24 ran into trouble in 2016, when authorities in Belize blasted away. Here is a brief recap of how things went from bad to worse:
In early June of 2016, the International Financial Services Commission (IFSC) of Belize published an advisory warning that the license presented on the Trade24 website was a forgery and a fake. The spokesperson for the IFSC was blunt in its assessment: "We confirm that "TRADE24 Investments Ltd." is not licensed by the International Financial Services Commission of Belize or any other competent authority in Belize to engage in any type of trading business." Extreme caution was the further counsel of this regulator;
Other regulatory agencies soon followed suit, including the FCA of the UK and CONSOB of Italy. Both groups claimed that Trade24 was conducting business without the proper authorizations, and the FCA went on to say that, "You should be aware that if you give money to an unauthorised firm, you will not be covered by the Financial Ombudsman Service or Financial Services Compensation Scheme (FSCS) if things go wrong."
Complaints have been rising related to delays in honoring withdrawal requests, a sure sign that something is wrong. A sudden rise in activity on the website is also emblematic of customer service/financial issues. The majority of its traffic during the latter half of 2016 came from these five countries: Kazakhstan (15.9%), Russia (13.2%), Canada (8.8%), Singapore (8.3%), and Japan (7.5%);
More regulators have subsequently joined the opposition. The Ontario Securities Commission of Canada, "has added a UK-based company under the name 'Trade-24' to its list of companies not to do business with, according to a regulatory statement." The AMF in France also announced in March that the firm of Trade24 was neither registered nor authorized to offer its services in France.
To date, there have been warnings from Belize, the UK, Canada, Australia, New Zealand, Italy, and France. Each authority failed to publish any names of the management team, but did emphasize that Trade24 "has been providing financial services or products without regulatory permission." It is also a fact that Trade24 claims to have offices in London, Paris, and Zurich, but provides no addresses or contact information on its website other than an email or phone number. The FCA did publish this address: "Tower 42, 25 Old Broad Street, EC2N 1HN; 1st Floor, 2 Woodberry Grove, Finchley, London, N12 0DR".
Customer complaints are also on the rise, but one always has to step back when complaints arise in the forex industry. Are they due to the broker's poor service or are they from disgruntled traders that have lost money due to their own inexperience or lack of discipline? Casualty rates in traditional trading can run as high as 65% and more. If you look at CFDs and binary options, rates can get into the nineties. People can and do lose a lot of money, based upon their own frivolous trading regimens, and that phrase may err on the positive side. Having said this fact, there are a few desperate brokers that will resort to unscrupulous means in order to survive another day. Ferreting out these lowlifes can be a challenging and arduous task.
Concluding Remarks
Our recent warning still applies: "Forexfraud does not recommend anyone trade with Trade24 before they are regulated!" As we learn more in this very convoluted story, we will pass along our knowledge in further updates. In the meantime- please continue to post any comments, complaints, or praises (as long as you do not work for Trade24 or a competitor!) for Trade24 and we will do our best to encourage open communication between Trade24 and our visitors. Stay vigilant!
---
Safest Forex Brokers 2023
Forex Fraud Certified Brokers
CFDs are complex instruments and come with a high risk of losing money rapidly due to leverage. Between 74-89% of retail investor accounts lose money when trading CFDs. You should consider whether you understand how CFDs work and whether you can afford to take the high risk of losing your money.
Stay up to date with the latest Forex scam alerts
Sign up to receive our up-to-date broker reviews, new fraud warnings and special offers direct to your inbox
Stay up to date with the latest Forex scam alerts