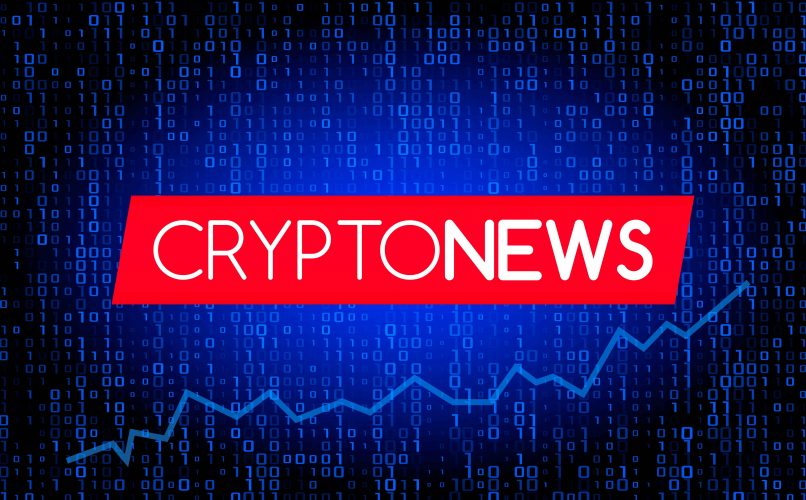 New rules prohibiting certain types of trading in crypto came into force on the 6th of January. They could have a serious impact on the safety of crypto traders, so they are very important. If you have an intention to trade those markets, you must get up to date with the changes.
Market risk – the risk that price goes against you is one thing, but the risk that a broker is a scam, and that you lose all your funds, is an even greater one.
The FCA's New Rules on Retail Crypto Trading
The UK's Financial Conduct Authority (FCA) has banned retail traders with CFD accounts from opening new positions in Bitcoin, Ethereum, Litecoin and the hundreds of other Altcoins. The full details can be found here.
The move by the FCA is understandable. Their mandate is to protect individual investors, and crypto markets are associated with notoriously high price volatility.
The summary of the situation is that many can no longer add to positions in the way they have been doing. They can still sell out of existing positions, at their leisure, but new positions are off the agenda.
Where Will UK Retail Clients Now Trade Crypto?
The price volatility in Bitcoin and other cryptos won't go away because of the FCA's move, and it's certain that many will still be drawn to the market. Everyone's heard a story about a friend of a friend who made a killing, and the price of Bitcoin has recently shot up by an eye-watering 576% in the space of 44 weeks.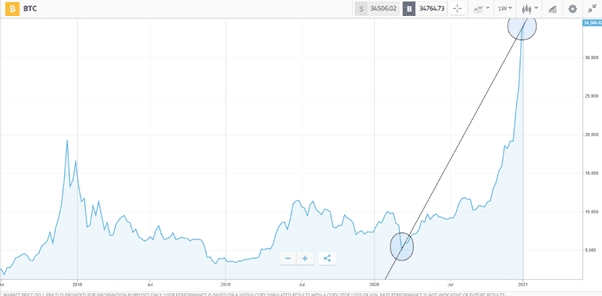 Source: eToro
By making it harder, but not impossible to trade crypto, there could be some unintended consequences.
Most of the affected activity had been taking place at regulated brokers. The FCA is regarded as one of the world's leading financial authorities, and many of the brokers who were offering the service were licensed and authorised by the FCA.
There is a risk that those still drawn to the intense price moves of crypto markets head towards unregulated brokers and exchanges, and that could be catastrophic for them.
Forex Fraud recommends that anyone thinking of opening an account at an unregulated broker or crypto exchange does not do so. There is a risk of losing everything. We monitor the murky world of unscrupulous brokers and have a very long list of brokers to avoid who have taken clients' money and simply disappeared overnight.
How to Trade Crypto – Safely?
There is still a route for retail UK clients to trade cryptos like Bitcoin using an FCA regulated broker. The work-around is to trade without leverage. If you are a UK retail client and buy the crypto outright at, for example, eToro, you'll still get exposure to the crypto market but will come under the umbrella of the FCA.
The move to take CFDs out of the equation has removed the ability to use leverage, and with price moves what they are that is probably a good thing. It's a case of ensuring that any trading that you carry out is safe.
If you would like to know more about this topic or have been scammed by a fraudulent broker, please contact us at [email protected]
---
Olympic Legend Usain Bolt Lost $12m in Savings Scam
24.01.2023
Usain Bolt loses $12m in an alleged investment scam Jamaican officials and the FBI are investigating investment manager Stocks and Securities Ltd Others are feared caught by the scheme Jamaican Olympic sprinter Usain Bolt has had a $12m savings and investment account he set up for his retirement wiped out.
Read more
Phoney Pastors Caught Running $28m Church-Based Ponzi Scheme
17.01.2023
Churchgoers targeted by scammers posing as pastors A total of $28m fraudulently taken from largely immigrant community Promises of 'financial freedom through God' undone by the fact the project was a massive Ponzi scheme Deception, distraction, and abuse of trust are standard tools of fraudsters.
Read more
Safest Forex Brokers 2023
Forex Fraud Certified Brokers
Stay up to date with the latest Forex scam alerts
Sign up to receive our up-to-date broker reviews, new fraud warnings and special offers direct to your inbox
Stay up to date with the latest Forex scam alerts