Yes, it is once again that joyous time of year, but, in all good conscience, we must remind you, as we have in the past, that, "The holidays are a time for shopping, reveling, and celebrating good cheer, but, unfortunately, if you let your guard down for even a second, jolly Scam-a-Claus will come to town and rain on your parade, big time." A global gang of fraudsters has been gearing up for the next month and half, polishing off their tried-and-true schemes from previous times and preparing to launch a few new ruses, just to test the waters with the unsuspecting public.
Consumers – Beware! During this time of year, your attention tends to be on anything but being tricked out of your hard-earned cash, a fact that conmen actually celebrate every holiday season. This spirit of holiday taking typically commences each year on Black Friday, the last Friday in November and the traditional kick-off for Christmas shopping across the planet, but it quickly reaches its zenith on the following "Cyber Monday", when online shopping suddenly shifts into a much higher gear. If anything, crooks have learned to adapt their favorite tactics for maximum potential yield on the Internet, quickly determining over the years that our trust can be easily obtained when no eye-to-eye contact is a prerequisite for closing a deal.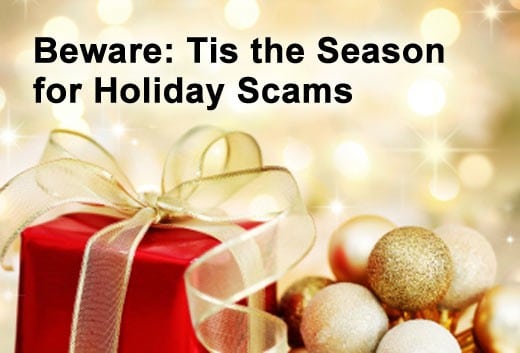 As you might expect, not every participant in organized crime is actually waiting for the shopping to commence. Many crooks test out their plans early, or the impatient types have already rushed to the shopping malls or social media to scarf up a few targets before the real action starts. But, during last year's "Black Friday" and "Cyber Monday" in the United States alone, consumers spent  $7.9 billion and $6.6 billion, respectively, and those figures were 23% higher than the year before. Whatever the case may be, crooks are looking to grab onto a healthy percentage of those figures, both in the U.S. and across the globe. Fraud never sleeps, especially during the Holiday Season!
What are a few of the early trends to be wary of?
As your thoughts focus on what and where to buy those special gifts for your family, the cybercrime professionals at RiskIQ have warned the general public that, "As people across the U.S. prepare to find good deals Thursday night and early Friday morning, hundreds of malicious Black Friday apps and websites will be waiting, hoping to steal personal data and credit card information." They go on to iterate that the primary targets are consumers in both the U.S. and the UK, but citizens of other jurisdictions should not let their respective guards down in any event. Criminals respect no national borders.
Eager for the best deals, consumers are easily led to phony or "clone" websites, or even to legitimate sites that post ads from companies that they perceive as permissible advertisers. The experts point out that, "Consumers are especially vulnerable when shopping on smartphones. Crooks want to convince consumers to download bad apps or visit bogus sites and ultimately "phish" for sensitive data." There is already a general warning about the popular messaging platform WhatsApp. Beware of ads that tout 99% discounts off on items on Amazon.com. Amazon is warning its shoppers via Twitter: "Please don't share your order/account/personal details on such websites."
CNN reporters have also surveyed security professionals to ascertain what's hot and what's not. They, too, have reported that shoppers must be very suspicious when downloading apps that sound too good to be true. CNN states that, "Bogus holiday deal apps made by scammers can fool users into typing in their credit card information, while other apps feature malware that can steal personal data or lock a smartphone until the user pays a ransom fee." RiskIQ also notes that there are thousands of Black Friday and Cyber Monday apps in the cyber-sphere. Of these, roughly 5% are bogus.
What are potential "red flags" that might signal a potential scam in the making? Here are a few quotes from security experts:
"Look for spelling mistakes. Look for reviews. If you go on Google or Apple, users will review them. Don't get anything that's one-star for sure;"
"Look at the link. If you`re picking a detail at xyz.com, make sure that when you click a link in the email, that it really goes to that domain and not some weird place. I'd even encourage you to be careful, rather than click a link to an email, I'd visit the site directly;"
"Do know that the real Fed-Ex and UPS will sometimes send an email, they're not going to put a document in the email for tracking, so as you're waiting for things, go to the online retailer yourself and follow that tracking link;"
"If you buy a device, maybe it's for your home computer, change its default password. A lot of the devices have basic default passwords. If you don`t change it, that's one of the first ways you`re hacked;"
"Always use a credit card instead of a debit card that way it's easier to track and there's no direct connection to your bank account. Or even better, use Paypal, Google wallet or Apple wallet as an extra layer of protection."
Smartphones have been, perhaps, the greatest consumer innovation of the past decade. We have become dependent on their usefulness and ability to simplify our lives. Crooks are well aware of our dependency and how trusting we can be when shown anything in the palms of our hands. They have also invested in the latest technology to gain an edge, which they will leverage to the hilt, if they can just get us to bite on their bait.
Fraud in these quarters requires a positive response from us, before the hook can ever be set. Always be wary of situations where you are requested to do anything, with particular emphasis on email links, blinking ads in social media, or incredible deals that seem too good to be true. Curb you greed instincts, and live to spend another day.
If you have holiday travel plans, know that fraudsters wait to prey upon you.
When you are traveling, you are focused on getting from point "A" to point "B", what you will do when you get there, and quite possibly what work you must attend to once you get back home. The last thing on your mind is being caught up in some clever con game, but it happens, more often than you might think. The season really does not matter. Shady con artists have always taken advantage of tourists in every nook and cranny of the globe. When we are in unfamiliar surroundings, we are particularly at risk, but during the holidays, more of us tend to hit the roads more often than not.
You may not be able to predict when you might get scammed, but it might help if you were aware of the types of travel scams that exist. Here are a few of the "favorites" that Matthew Karsten, a seasoned traveler and author, noted in a recent article:
Broken Taxi Meter: You arrive, jump in a cab, and guess what? The meter is broken. Negotiate ahead of time or choose another ride.
Overbooked or Closed Hotel: The same taxi driver informs you that your hotel is overbooked or closed, then takes you to a place where he gets a kickback.
Friendly ATM Helper: Imagine having a friendly, supportive person at a foreign ATM. While entering your PIN number, he runs the card through a skimmer, while his buddy behind you observes your PIN.
Injured Or Child Beggars: Beggars come in pairs. The one behind you picks your wallet.
Fake Bus/Train/Plane Tickets: Why would someone offer you a great deal? It is a fake.
Gemstone Or Carpet Deals: Never buy luxury items on a tourist jaunt. They are more than likely cheap fakes.
Fake Hotel Wakeup Call: You get a call asking you to verify your credit card data. Don't do it. Go to the front desk.
What other scams are typical of the holidays?
If you think that someone else will become a victim of the conman's holiday tricks, then guess again. The cybercrime wave has reached tsunami proportions, and even basic ruses continue to swallow up more people than you might think. Here are a few tricks to be on guard against in the months ahead:
Look-alike Websites: Beware of "clones" for popular websites. They only want your private information. Verify phone number and addresses.
Social Media Gift Exchanges: Exchanging one gift for another sounds nice, but it is more than likely a scam.
Grandparent Scams: A grandchild calls with a tale of woe or of an accident, and then asks you to send money. Validate before sending or be sorry.
Temporary Holiday Jobs: One of the hotter trends this year – If you are approached, do not hand over your private information over the phone or via an email.
Free Gift Cards: Who does not like "for free", but in this case, you must enter a wealth of information about yourself, before being granted anything, if at all.
E-cards: Beware of e-cards that require that you enter information about yourself, before accessing them.
Fake Shipping Notifications: The old "tried-and-true" fake shipping notification. Do not enter the information requested, or you will pay in the future.
Phony Charities: Our desire to give is heightened over the holidays. Fake charities abound with look-alike names. Verify at "Gift.org".
Unusual Forms of Payment: If the seller at a website requires that you pay with a wire transfer or prepaid debit card, be suspicious.
Puppy Scams: How much is that doggie in the window or the computer screen? Do a search on the picture. If it shows up many times, it is a scam. These conmen will typically ask for unusual forms of payment, too, but no puppy.
Concluding Remarks
Along with jingling bells and roasting chestnuts, fraudsters the world over are omnipresent during the Holiday Season, and with bells on, too. Be wary if anything resembles the situations described in the above paragraphs. Scam-a Claus may be lurking in the shadows, just waiting to invade your space and pounce upon your wallet, whether physical or electronic. Yes, it is embarrassing to be tricked out of your hard-earned cash, but worse things could happen. In any event, enjoy the season to be merry, and beware of the twinkle in the conman's eye. Happy Holidays!
---
Safest Forex Brokers 2023
Forex Fraud Certified Brokers
CFDs are complex instruments and come with a high risk of losing money rapidly due to leverage. Between 74-89% of retail investor accounts lose money when trading CFDs. You should consider whether you understand how CFDs work and whether you can afford to take the high risk of losing your money.
Stay up to date with the latest Forex scam alerts
Sign up to receive our up-to-date broker reviews, new fraud warnings and special offers direct to your inbox
Stay up to date with the latest Forex scam alerts