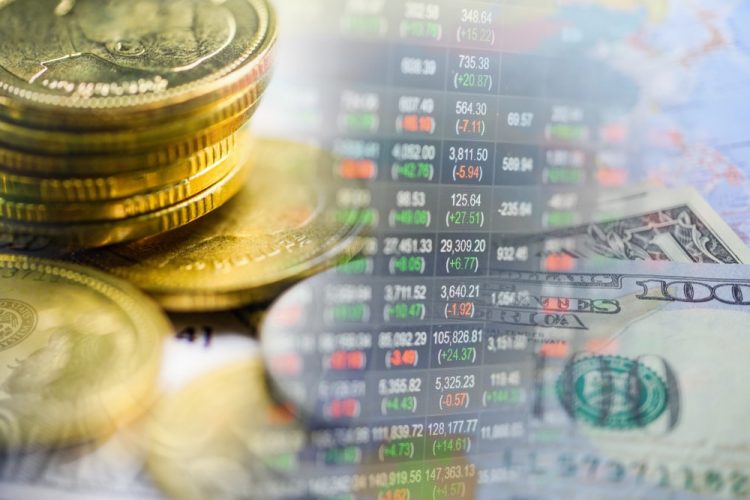 After two weeks of dramatic price moves, the financial markets have opened the week forming consolidatory patterns. This could signal a shift from momentum to range-bound trading strategies. A change in sentiment can't be ruled out though and for many the US Dollar continues to be the leading indicator to watch.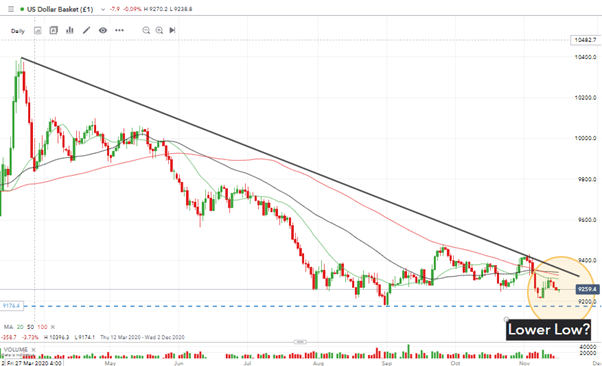 Source: IG
A move towards Risk-On assets and a rotation into traditional industries saw the Dow Jones outperform the Nasdaq 100 index last week. With COVID-19 still casting a shadow over the global economy, 2020 continues to be the year when airlines and hotels are categorised as riskier assets than tech-start-up unicorns.
That brings the dollar-question firmly to the top of the agenda. The greenback has been out of favour in recent months as its value as a safe-haven has counted for little. Investors have instead favoured growth stocks, international trade and emerging markets.
Price action in the US Dollar Basket is approaching two key levels and a break of either could offer the chance to enter into a breakout momentum trade.
The downward trend which has run through the second half of 2020 is heading for a test of the six-month low on the 1st of September, at 9174.1
Then there is the question of whether there will be a lower low. The existing trend pattern is so well-formed that a fundamental break to the momentum would be seen as significant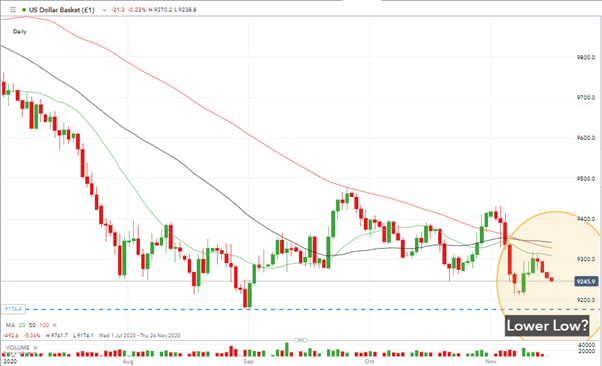 Source: IG
Macro-economic events may also be coming in to play. Unlike the US Presidential election, these aren't dates set firm in the diary. They are more to do with news and opinion trickling into the markets and impacting price.
Things to watch out for this week
There remain obstacles for economic activity going forward. COVID cases are rising rapidly in the US. On average, more than 1,000 people a day are dying with the virus, the overall death toll is soon to break 250,000 and a total of 11m cases have now been reported.
Rumours spilling out of the camp of President-elect Joe Biden are giving mixed signals. It appears he will restrain from imposing a national lockdown. But at the same time finds himself unable to force through the COVID-19 fiscal stimulus bill.
Regional and national lockdowns are coming into effect across the northern hemisphere as seasons change. That could derail global growth prospects and boost the dollar's status as a haven-linked currency.
Keep an Eye on Treasuries
Real US Treasury yields rose last week. The move by the bond guys to sell UST's increased the spread between the US 10-year Treasury yield and a basket of returns on major nations in the same peer group (Germany, Australia, the UK and Japan).
If this move by the bond dealers now makes UST's appear under-priced, it could be a catalyst for a USD recovery as investors double-back to the US bond market.
If the dollar is going to once again act as a leading indicator then looking one link up the chain to the bond markets could give the earliest indication of what is about to happen.
---
Olympic Legend Usain Bolt Lost $12m in Savings Scam
24.01.2023
Usain Bolt loses $12m in an alleged investment scam Jamaican officials and the FBI are investigating investment manager Stocks and Securities Ltd Others are feared caught by the scheme Jamaican Olympic sprinter Usain Bolt has had a $12m savings and investment account he set up for his retirement wiped out.
Read more
Phoney Pastors Caught Running $28m Church-Based Ponzi Scheme
17.01.2023
Churchgoers targeted by scammers posing as pastors A total of $28m fraudulently taken from largely immigrant community Promises of 'financial freedom through God' undone by the fact the project was a massive Ponzi scheme Deception, distraction, and abuse of trust are standard tools of fraudsters.
Read more
Safest Forex Brokers 2023
Forex Fraud Certified Brokers
Stay up to date with the latest Forex scam alerts
Sign up to receive our up-to-date broker reviews, new fraud warnings and special offers direct to your inbox
Stay up to date with the latest Forex scam alerts