Plus500, a darling on the London Stock Exchange that had recently achieved a $1 billion market cap after its 2013 IPO, finally encountered the Grim Reaper, of sorts. The firm's operating systems had been experiencing unexpected processing delays of late, enough to require a freeze on a majority of accounts in order to fix the problem. When the resulting notice appeared on the company's website, a stampede for the exits ensued.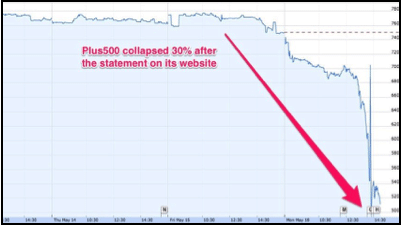 As soon as Monday retail stock markets opened, shocked shareholders started to bail immediately. What had begun as a small trickle, soon turned into a flood of sell orders, driving valuations due south, as depicted in the following chart:
Who is Plus500 and what happened to cause such a stir?
According to its website, "Plus500 is a leading provider of Contracts for Difference (CFD's), delivering trading facilities on shares, forex, commodities and indices, alongside innovative trading technology. The Plus500 trading platform is offered by Plus500UK Ltd., a UK based company with its main offices located in the city of London. The company is authorised and regulated by the Financial Conduct Authority (FCA) to offer Contracts For Difference (CFD). The company is a rapidly growing CFD provider in Europe and Asia and currently offers its portfolio of over 1000 instruments to over a million clients."
The firm was founded in 2008 and was a pioneer in the Contract for Difference (CFD) space, where investors could trade on the price changes for stocks, commodities, indices, and currency pairs without ever having to purchance the underlying asset. In three short years, the company surpassed the one million mark for trading customers, who submitted over two million execution orders each and every month. After its amazing initial success story, Plus500 soon became the top CFD trading company on the planet, and, in 2013, the broker went public on the London Stock Exchange under the ticker 'PLUS'. Values have continued to rise unabated over the past two years.
Plus500 is actually based in Israel, but its UK entity is headquartered in London, where it is authorized, licensed, and regulated by the Financial Conduct Authority (FCA). The FCA has recently been coming down hard on anything that smells like an infraction in the forex industry after many high-profile banks were assessed fines for manipulating key Libor and forex fixing rates in the market. Plus500 began experiencing issues with customer documentation records last week, and the general thinking on the street is that the FCA slammed them for compliance violations.
What was the nature of the notice to account holders?
The details of the notice posted on the firm's website provide a few clues, as to the reason for the freeze placed on many accounts. Here are the details:
"As an authorised financial institution, Plus500UK Limited has a regulatory obligation to comply with the UK Money Laundering Regulations 2007 and other rules and guidance which requires us – amongst other things – to identify and verify our customers, the nature and purpose of the business relationship and source of funds.
Whilst we understand the inconvenience this will cause, we have no alternative but to place a restriction on your trading account until such time as we have been able to undertake a complete review of the documentation and information we hold currently on you.
Until the review has been satisfactorily carried out, you will be unable to open any new trades on your account, deposit or withdraw funds. If you have any open trades you will, however, still be able to freely service your existing positions with additional Maintenance Margin, although again, will not be able to withdraw funds until the review is complete."
The management team goes on to request that customers respond quickly to any requests for more current documentation and provides the details of what documents are acceptable. The Plus500 Team concludes by stating, "We assure you that, as soon as the review is successfully complete, you will be able to re-commence trading activities, including depositing and/or withdrawing funds. We value you as a customer and sincerely apologise for any inconvenience caused. Thank you for your patience."
Are their any other extenuating factors related to this affair?
Government officials and regulatory agencies have been under attack ever since the financial market misdeeds that led up to and, in many minds, caused The Great Recession some years back. Not a single banker has been jailed for their errant ways, while the general public has had to live through extremely difficult economic times. Yes, new laws have been enacted, but most of these efforts have been blocked by a banking community that keeps on trading with reckless abandon and pocketing exorbitant bonus compensation, year after year.
When the recent forex scandals surfaced primarily in London, the FCA was quick to spring into action. Major fines seem to have increased their appetite for compliance enforcement activities, especially in the foreign exchange arena. Recent press releases have been rife with closure notices and expanded blacklists of potentially fraudulent operators, both foreign and domestic. The FCA now appears to be more pro-active, not waiting for complaints to reach a certain stress level before acting, but more willing to jump when smoke suggests that a fire may be brewing behind the scenes.
One fact of note is that many forex firms, at least more than the norm, are pursuing very aggressive marketing campaigns to lure new customers to their websites. Casualty rates tend to be high in forex, digital options, and spread-betting circles, necessitating a never-ending effort to deal with above average client attrition rates. Plus500 has been one of many that seized upon high-profile sports sponsorships, as the preferred marketing vehicle for this purpose. Their most recent contract signage was a sponsorship deal with the Spanish champions Atlético de Madrid football club.
Sports sponsorship deals are not cheap. The FCA could easily reason that firms that do these kinds of deals might also abuse their customers with high-pressure sales tactics, account churning, and a host of other shady business practices, each designed to fleece an unsuspecting client of his account balance and more. Two months back, an FCA-inspired raid had closed down CWM FX, another high-flyer that had signed a multitude of glamorous sports deals. Chelsea FC immediately cancelled its relationship with CWM, but the practice of using Premier League teams in the UK, Spain, France, and Germany to expose brand names on their jerseys to vast audiences is quite common.
Concluding Remarks
Plus500 may just have temporary compliance issues that could be resolved in quick order. If that is the case, then a rebound in their stock value may also occur. On the other hand, investors may see the decline as a sure indicator that something is inherently wrong with the firm, and they may never return at all. In any event, high-profile marketing campaigns, especially with sports franchises, may be a harbinger of questionable business practices. Brokers that insist on living the high life must do so at the expense of their customers. The funds have to come from somewhere, and investors are loath to fund such activities in the first place.
The second lesson to learn from this episode is that your broker's being on a stock exchange does not necessarily ensure that you will not encounter a problem with it down the line. Plus500 seems to have run afoul of the FCA and its compliance rules, although this story is still developing and may have many more weeks before revealing the truth behind the account closures. Money Laundering documentation rules appear to be the culprit, but time will tell. As for brokers on a stock exchange, FXCM sustained nearly $700 million in losses related to the Swiss Franc Debacle and its recovery from it, and this firm is traded on the OTC markets in New York. A publicly traded company can be more transparent and secure, but mistakes can still happen.
Lastly, broker due diligence is an ongoing activity. It does not stop, as soon as you choose a broker as your business partner. Stay abreast of the news, and continually check broker review sites for good and bad comments. Your domestic regulator can also provide a wealth of invaluable information on the industry and where pitfalls may lay. The best policy is to stay currently informed. It's only your money! And, by the way, the shares for Plus500 have now slumped by 36% today. Oops!
---
Olympic Legend Usain Bolt Lost $12m in Savings Scam
24.01.2023
Usain Bolt loses $12m in an alleged investment scam Jamaican officials and the FBI are investigating investment manager Stocks and Securities Ltd Others are feared caught by the scheme Jamaican Olympic sprinter Usain Bolt has had a $12m savings and investment account he set up for his retirement wiped out.
Read more
Phoney Pastors Caught Running $28m Church-Based Ponzi Scheme
17.01.2023
Churchgoers targeted by scammers posing as pastors A total of $28m fraudulently taken from largely immigrant community Promises of 'financial freedom through God' undone by the fact the project was a massive Ponzi scheme Deception, distraction, and abuse of trust are standard tools of fraudsters.
Read more
Safest Forex Brokers 2023
Forex Fraud Certified Brokers
Stay up to date with the latest Forex scam alerts
Sign up to receive our up-to-date broker reviews, new fraud warnings and special offers direct to your inbox
Stay up to date with the latest Forex scam alerts