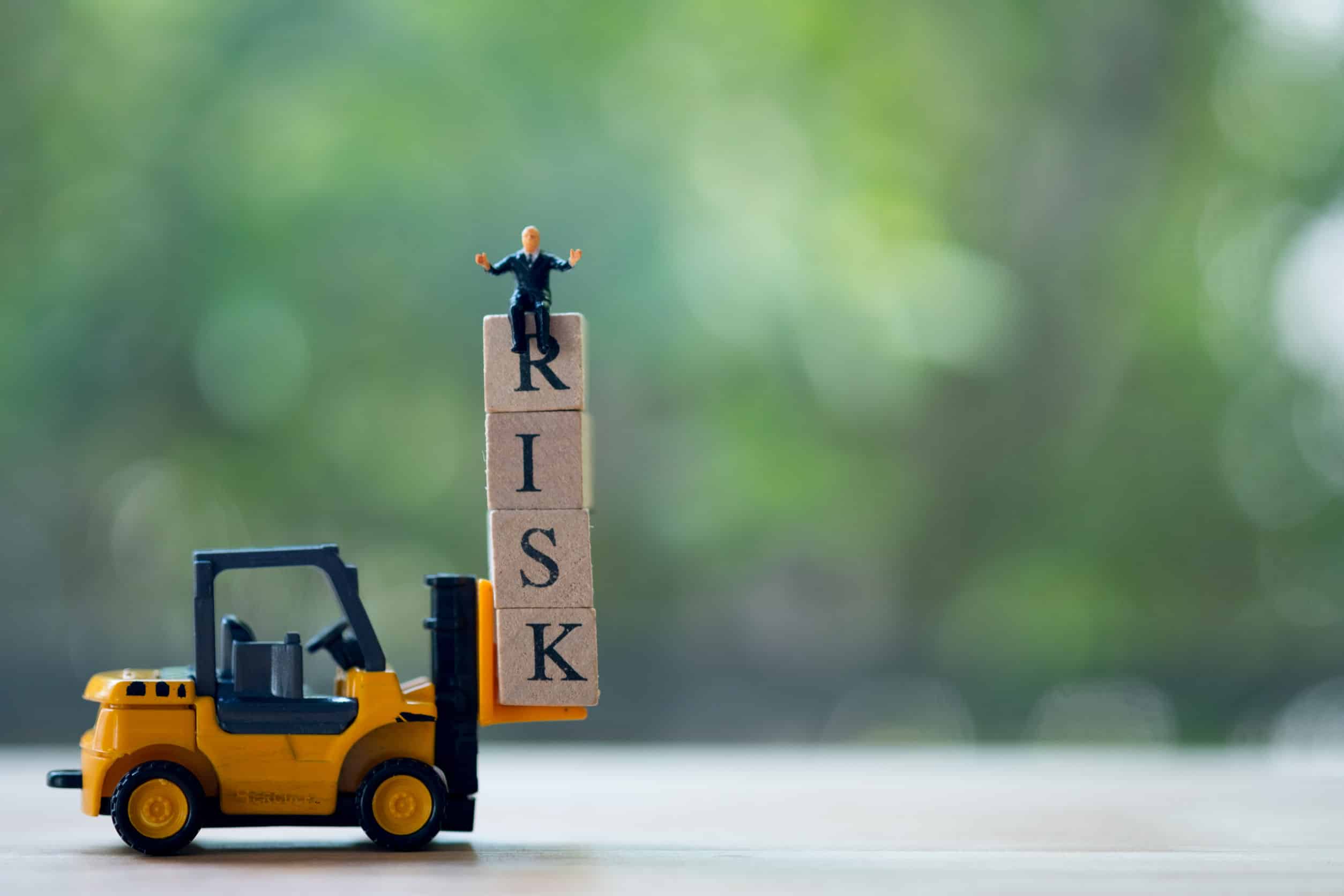 Given that the US Federal Reserve's primary function is to bring stability to the markets, its statement that it is "talking about, talking about" a change of monetary policy could appear an appropriate opening gambit. It was never going to be easy delivering bad news to markets that have been feeding off cheap money for years.
The key comments coming out of Wednesday's FOMC meeting related to news that interest rate hikes are likely to be coming into place sooner than previously expected. Chair of the Fed, Jerome Powell, may still be talking about rate hikes that are more than 12 months away, but many investors were left scratching their heads. The language used suggested Powell was trying to let the markets down gently, but Wednesday's news was not what was expected. Until this week, the Fed had repeatedly described inflationary pressure as "transitory", and major risk-in assets fell in price thanks to the change of stance.
Major equity indices plummeted on the back of the official release of the latest monetary statement. Thanks to Jerome Powell's conciliatory tone at the post-statement press conference, they did recover some ground soon after.
The Dow Jones Industrial Average index closed the day down 0.8%. The S&P 500 index was down 0.5%, and the Nasdaq Composite index gave up 0.2% of value.
Precious metals also posted significant losses. Silver has fallen almost 4% in value and on Thursday morning is now testing the critical support level of the 13th of May low of 2672. Similarly, gold has given up 3.2% of value and continued its price slide overnight.
Silver 4H Price Chart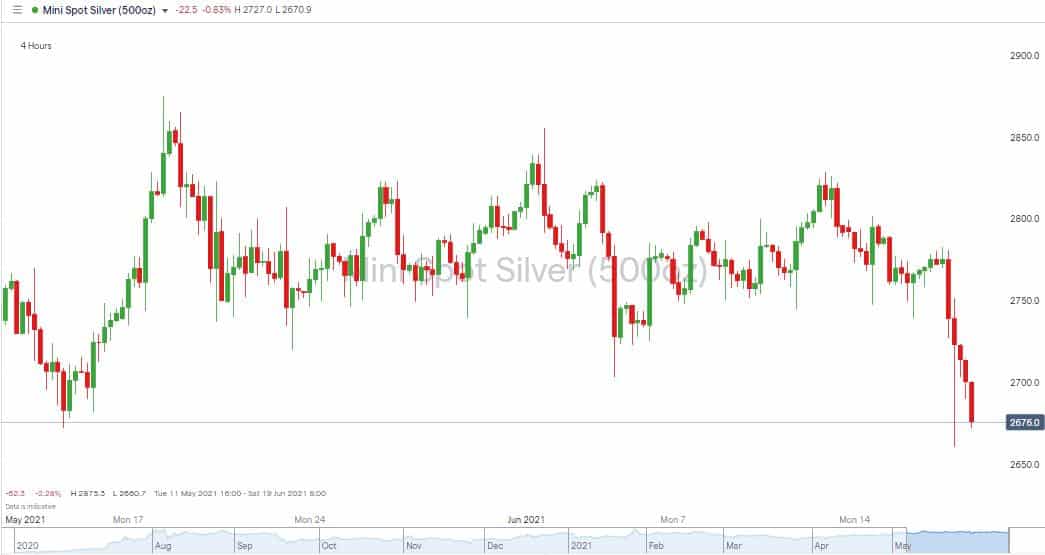 Source: IG
Gold 4H Price Chart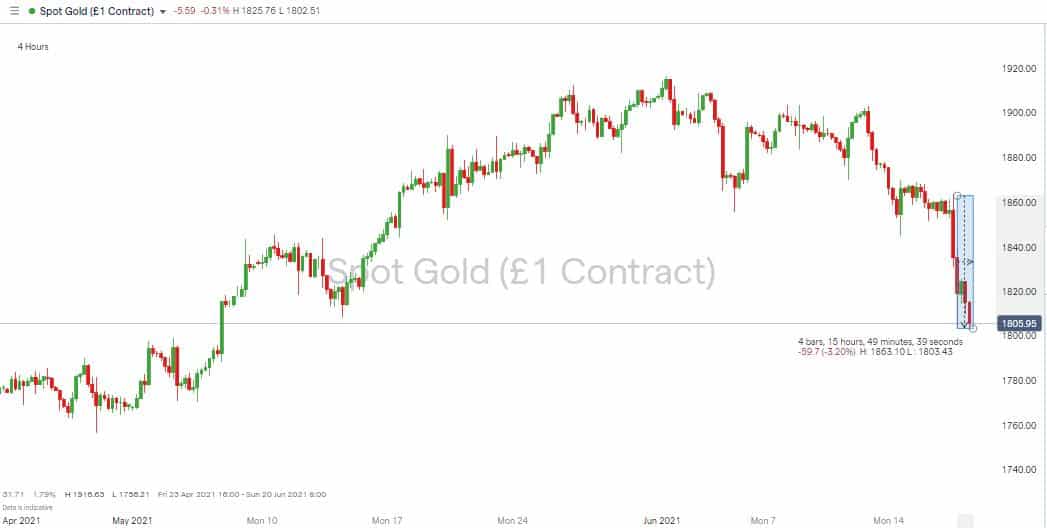 Source: IG
The precious metal and treasury markets could be the ones to watch as they can offer a clearer indication of long-term market mood. The knee-jerk reactions from equity markets sometimes come down to factors other than economic fundamentals.
It's now down to investors and analysts to consider the details of the FOMC meeting minutes to fully understand the likely pace of change – although the direction of travel is left in no doubt.
One key element of the official statement for the last 12 months has been its opening statement:
"The Covid-19 pandemic is causing tremendous human and economic hardship across the United States and around the world."
That's now gone and has been replaced with the much more upbeat suggestion that the recovery is confirmed to be in progress.
"Progress on vaccinations has reduced the spread of Covid-19 in the United States. Amid this progress and strong policy support, indicators of economic activity and employment have strengthened." Source: US Federal Reserve
The voting patterns among FOMC representatives suggest the committee is agreed on what they want to happen, but not on how to get there. Given the unprecedented events of the last 14 months, that's not surprising, but the uncertainty looks set to play a role through the summer.
If you want to know more about this topic or have been scammed by a fraudulent broker, please contact us at [email protected]
---
Olympic Legend Usain Bolt Lost $12m in Savings Scam
24.01.2023
Usain Bolt loses $12m in an alleged investment scam Jamaican officials and the FBI are investigating investment manager Stocks and Securities Ltd Others are feared caught by the scheme Jamaican Olympic sprinter Usain Bolt has had a $12m savings and investment account he set up for his retirement wiped out.
Read more
Phoney Pastors Caught Running $28m Church-Based Ponzi Scheme
17.01.2023
Churchgoers targeted by scammers posing as pastors A total of $28m fraudulently taken from largely immigrant community Promises of 'financial freedom through God' undone by the fact the project was a massive Ponzi scheme Deception, distraction, and abuse of trust are standard tools of fraudsters.
Read more
Safest Forex Brokers 2023
Forex Fraud Certified Brokers
Stay up to date with the latest Forex scam alerts
Sign up to receive our up-to-date broker reviews, new fraud warnings and special offers direct to your inbox
Stay up to date with the latest Forex scam alerts