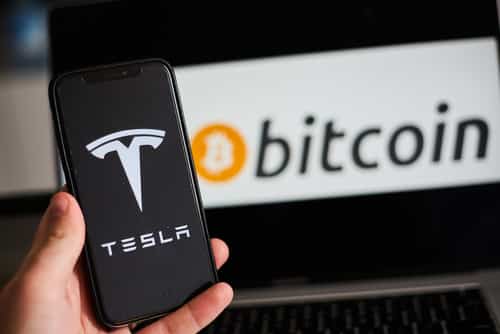 Bitcoin's price crash on the back of comments made by Tesla has provided another warning about the price volatility in the crypto markets. If the news at the end of last week from one of the largest corporations in the US wasn't bad enough, there was more fall-out to follow over the weekend. On a week-to-week basis Bitcoin is now down 24.46% and the testing and subsequent breaking of the $50k price level has left the coin a lot of work to do if it is to push to new highs.
Tesla have come out on Monday morning to confirm they haven't sold any of their Bitcoin holding. While they'll be nursing P&L losses, that's probably preferable to the fury they would have faced if they'd been exposed as pumping and dumping the market.
Rumours over the weekend emanated from Tesla founder Elon Musk's personal Twitter account. Many interpreted his comments on the social media portal as pointing towards Tesla bailing out of its BTC position only days after stating that it wouldn't.
Currently, as much thought is being given to the comments of Elon Musk as to the carefully crafted words of the Chair of the US Federal Reserve, Jerome Powell.
In response to the below Tweet from Twitter user @CryptoWhale, Musk replied "Indeed"
"Bitcoiners are going to slap themselves next quarter when they find out Tesla dumped the rest of their holdings. With the amount of hate @elonmusk is getting, I wouldn't blame him…"
That was taken as a sign that the standard bearer of the crypto had fallen. Crypto exchange, Coin Metrics, which reports price on a 24/7 basis reports that BTC printed prices as low as $ 42,241 at 12.07am (ET) on Monday.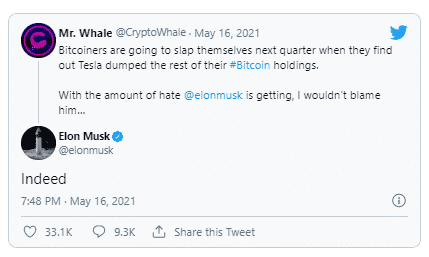 Source: Twitter
A recovery to over the $45k mark followed Musk Tweeting "To clarify speculation, Tesla has not sold any Bitcoin". Of equal concern to those in long positions is the price action on the daily chart. The May month-to-date high of $59,272 now looks a long way off. Monday's market price for Bitcoin is now over 30% off the 14th of April all-time high of $64,862.
Bitcoin Daily Price Chart – Year to date – 2021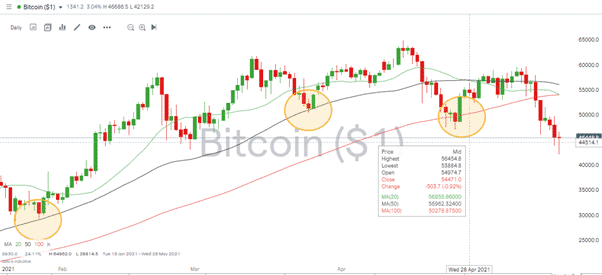 Source: IG
This trend started long before Tesla and Musk shared concerns about the high-carbon footprint of crypto networks which use more energy than entire countries. It's estimated that Bitcoin miners use half as much energy as all the data centres in the world combined. While Amazon, Google and Microsoft have extensive carbon-offset programs in place to ensure they comply with their CSR policies, crypto as an industry is a free-for-all, and that is giving it a bad name.
Bitcoin Daily Price Chart – Year to date – 2021 & price support levels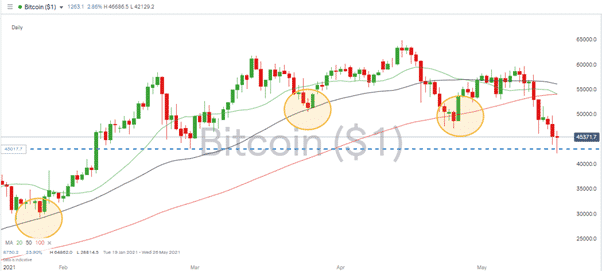 Source: IG
The next key support for BTC is the $43,028 low from the 28th of February.
After that there is support at $32,577 the low of the 27th of January. Followed by $27,974 – the year to date low on the 4th of January.
If you want to know more about this topic, or have been scammed by a fraudulent broker, please contact us at [email protected]
---
Olympic Legend Usain Bolt Lost $12m in Savings Scam
24.01.2023
Usain Bolt loses $12m in an alleged investment scam Jamaican officials and the FBI are investigating investment manager Stocks and Securities Ltd Others are feared caught by the scheme Jamaican Olympic sprinter Usain Bolt has had a $12m savings and investment account he set up for his retirement wiped out.
Read more
Phoney Pastors Caught Running $28m Church-Based Ponzi Scheme
17.01.2023
Churchgoers targeted by scammers posing as pastors A total of $28m fraudulently taken from largely immigrant community Promises of 'financial freedom through God' undone by the fact the project was a massive Ponzi scheme Deception, distraction, and abuse of trust are standard tools of fraudsters.
Read more
Safest Forex Brokers 2023
Forex Fraud Certified Brokers
Stay up to date with the latest Forex scam alerts
Sign up to receive our up-to-date broker reviews, new fraud warnings and special offers direct to your inbox
Stay up to date with the latest Forex scam alerts