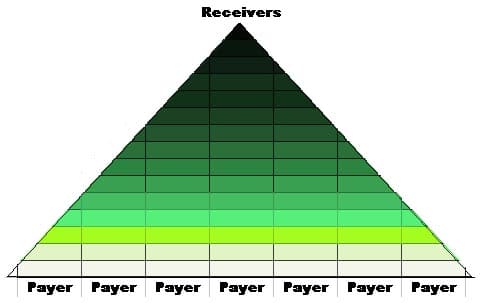 Investment fraud has been more conspicuous than ever during these recessionary times. As most law enforcement officials will tell you, when the tide goes out, the rocks on the shoreline become highly visible. Investors, driven by fear and sudden cash needs, make withdrawal requests in mass, and Ponzi scheme fund managers are suddenly exposed for what they are. Financial news headlines have showcased arrests and prosecutions for high flyers like Bernie Madoff (read about this fantastic $12-20 billion scam) and Kenneth Starr, but a cursory review of the Internet reveals a host of petty and big time criminals feeling the long arm of the law, crying in court and wondering where all the money went.
Read about Scott Rothstein sentenced to 50 years in prison.

Offshore fraud schemes
But what about the "rocks" that are further offshore? Offshore fraud schemes continue to proliferate at record pace, and stamping them out is especially difficult since the criminals are far away in another legal jurisdiction where law enforcement is sparse, corrupt or too busy dealing with other forms of crime. You could not ask for a more nightmarish scenario than to attempt to press your legal rights overseas in another country. Global markets, even in developed countries, are not set up to support this type of prosecution, and jurisdictional issues alone will prevent you from gaining any recourse at all.
And so the beat goes on. Offshore criminals are pernicious in their approach to fraud and outwardly blatant in using the Internet to enable their trade. Get rich schemes abound. Tempting offers are ruses well disguised. Fraud-bots seize control of your PC and won't let go until you fork over a fee to get the magic PIN number to unlock your laptop. The fact is that a ".com" can be registered from any country. It does not mean that they are onshore or somewhere in this country.
Awareness is key for you
If the cops can't or won't attempt to shut these guys down, what is a person to do? Awareness is key. Be skeptical and alert, and especially cautious with any unsolicited offers. If you Google these solicitations by name, there is usually a trail of angry consumers or agencies trying to warn everyone to beware. Read more about what signs to look out for.
Examples of uncovered schemes
You are always your first and last line of defense when it comes to preventing investment fraud. Stop it before it ever gets a chance to get started. The scam artist is always focused on the "sell", his only hurdle to get into your checkbook or wallet. From an offshore perspective, here is a series of recent successes in uncovering the clever designs of these crooks overseas:
Headline: US trusts 'scam' investigated by FSC – Financial regulators in the Isle of Man have uncovered an alleged fraud by high-profile U.S. traders. Working with the SEC, authorities revealed a £350 million insider-trading scam by Texan billionaires. The SEC has accused tycoons Charles and Sam Wyly of using a string of phony trusts in the Isle of Man and the Cayman Islands to conceal share trades in four public companies of which they were directors.
Headline: New rules decimate Switzerland's forex bucket shops — Several Swiss-based foreign exchange trading platforms have shut up shop since tough new rules introduced in 2009 obliged them to get a banking license and sought to bring them under regulatory scrutiny.
Headline: Nigerian laundered $2 million from advance fee frauds through FCIB, says U. S. — A Nigerian advance fee fraudster used the stolen identity of a Roman Catholic nun to launder funds through the now-defunct First Curacao International Bank in the Netherlands Antilles, it has been alleged.
Headline: Single sales pitch in Bahamas brought in $25 million for fraudster, claims SEC — A single sales pitch in front of 1,000 investors attending a seminar at a Bahamas resort produced $25 million of investment for a scheme that promised annual returns of up to 36%, according to a complaint by the U. S. Securities and Exchange Commission in Seattle. In all, $300 million was raised from approximately 3,000 investors from 1999 to 2008, it was claimed.
Headline: Mexico investigates Forex.com.mx — Mexico has requested evidence from JPMorgan Chase Bank, Capital Market Services LLC, and IFX Markets Inc. in the United States as part of a criminal investigation into an alleged unlicensed financial intermediary known as Forex.com.mx.
Headline: IRS Retools for Bigger International Role — Tax collection and enforcement are more global now, and the Internal Revenue Service is retooling to reflect that. In a move billed as primarily affecting corporate taxpayers, but that will also touch individuals who own or invest in companies, the agency has reorganized a decade-old division that has dealt with international tax matters. Over 1,500 agents will focus on offshore tax evasion schemes.
From this subset of news headlines alone, one can easily discern the prevalent avenues that swindlers continue to traverse. Investment seminars that promise high returns with little risk involved. High profit claims made by unscrupulous forex brokers. Moving funds around through offshore accounts to deceive investors and authorities as to where the funds found a home. And, no offshore list of scams could be complete without at least one story about a clever Nigerian bilking some unsuspecting target out of his bankroll. However, to use the stolen ID of a nun to launder his advance fraud receipts seems to be crossing a line into new territory never seen before.
The last story suggests that perhaps help is on the way. Evidence necessary to convict a fraudster can be difficult to assemble when beyond the U.S. shoreline, but tax evasion always offers a way to prosecute most any criminal who does not declare his illicit gains as taxable income. Al Capone was the first to find out about this legal tactic, and many have followed in his footsteps to a dark prison cell behind bars.
Do business with onshore partners
The FBI has said on many occasions that investment fraud exceeds $40 billion on an annual basis. Much of what can be construed as offshore fraud may escape anyone's effort to count it, but the source or "mark" generally tends to be unsuspecting Americans who easily give their trust away, particularly in cyberspace. Do not let your greed exceed your caution. Be aware, be skeptical, and only do business with onshore partners. You will sleep better at night if you do.
To avoid a fraud, beware of unrealistic returns.
Learn more about spectacular HYIP programs and Ponzi schemes.
---
Safest Forex Brokers 2023
Forex Fraud Certified Brokers
CFDs are complex instruments and come with a high risk of losing money rapidly due to leverage. Between 74-89% of retail investor accounts lose money when trading CFDs. You should consider whether you understand how CFDs work and whether you can afford to take the high risk of losing your money.
Stay up to date with the latest Forex scam alerts
Sign up to receive our up-to-date broker reviews, new fraud warnings and special offers direct to your inbox
Stay up to date with the latest Forex scam alerts