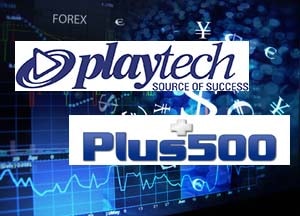 ---
86% of retail investor accounts lose money when trading CFDs with this provider. You should consider whether you can afford to take the high risk of losing your money.
---
Eat or be eaten is the law of the jungle when it comes to survival, but it also applies to corporations, as well. This survival tune finally played out today for Plus500, the beleaguered binary/CFD brokerage house on the London Stock Exchange. In the past few weeks, regulators, its customers and shareholders, and the press have unmercifully beaten down Plus500 and its management team over what appeared to be minor infractions over client documentation issues.
Share values plummeted 65%, recovered slightly, but, with today's news, we find out that Playtech, "the world's largest online gaming software supplier traded on the London Stock Exchange Main Market," has gobbled up the firm with a takeover bid of £459.6 million ($702.05 million). By the way, the market cap for Playtech is just shy of $3.7 billion, such that the acquisition of Plus500 shares should put much of a dent in their corporate cookie jar.

News of this acquisition should come as good news for any customers whose accounts had been frozen and that were concerned that they may never see their funds again due to some flagrant financial misdeeds of Plus500 staff. The simple truth is that Playtech, a company that makes huge profits from gambling, saw a bet they could not refuse – a related company that had its share value depleted over transitory issues that would disappear over time. Rarely does such a "sure thing" pop up in the business world.
In early trading, share values for Plus500 have risen, based on the acquisition news. Shares for Playtech, however, have fallen a bit, but this scenario is typical in the world of mergers and acquisitions. Buying companies generally have to pay a premium for control, and shareholders of the buyer are typically suspect of the real value exchange that is proposed. More than a majority of acquisitions fail to live up to their original billing, the reason that shares for the buyer decline at the outset. Time will tell if this deal is a sound one.
---
86% of retail investor accounts lose money when trading CFDs with this provider. You should consider whether you can afford to take the high risk of losing your money.
---
How did Plus500 create this buying opportunity for Playtech?
The takeover bid of $702 million, however, is roughly half of the $1.3 billion market cap that Plus500 had enjoyed in early May, well before the Financial Conduct Authority (FCA) flexed its muscles and forced Plus500 to freeze poorly documented trading accounts on its file. May 18th became a "Black Monday", of sorts, as shares tumbled nearly two-thirds. Irate customers complained loudly. The press smelled blood in the water, but a shareholders' Annual General Meeting (AGM) went off rather calmly, considering the paper losses of nearly $650 million that were absorbed.
Financial disclosures at the AGM were very favorable. Plus500's business model had produced $229 million in revenues in 2014, nearly doubling the results of 2013, and net profits after taxes soared to $102.5 million. Gambling can be highly lucrative for the House when profit margins are as high as 45%, an obscene figure in most any other line of business. The market P/E ratio at the time was just below "13", another reason that Playtech saw a bargain. Its buyout figure represents a "7" P/E, extremely low for a company experiencing hyper growth. Plus500 management have recently stated that they believe growth in 2015 will be flat after factoring in the current crisis.
The current crisis originated following a routine controls audit of Plus500 business procedures by the FCA. The seriousness of the control infractions has never been fully disclosed. The presumption is that the back office of Plus500 was woefully under-resourced. Anti-Money Laundering (AML) account documentation paperwork for more than half of its accounts had not been verified or was found to be terribly inadequate. The firm had committed $6 million and more than a month to fix the problem, but progress has been slow, and communication, seriously lacking.
Deadlines were missed, and designated accounts were frozen, as of May 15th, although any open positions could be closed, if clients desired. The only clarification of the true situation came when Mor Weizer, chief executive officer of Playtech, explaned on a call with investors, "The recent regulatory scrutiny placed on Plus500 has highlighted it does not have the necessary infrastructure and expertise to support the complexity of the business at its size and rate of growth. We believe this can be remedied sooner rather than later."
---
86% of retail investor accounts lose money when trading CFDs with this provider. You should consider whether you can afford to take the high risk of losing your money.
---
What happened after the press furor subsided and accounts gradually thawed?
Merger discussions have been taking place for more than a week. Once again, Weizer clarifies to his investors that, "I know it's only a week, but within this week we basically injected all possible resources into this project. We managed to go through all relevant due diligence processes for us to feel comfortable that this is the right transaction for us. We wanted to act quickly. We see an opportunity. We believe that by combining the two, we will remedy the situation. There are certain scenarios defined in the agreement that for certain material adverse change affecting the business, the transaction basically becomes void."
By "combining the two", Weizer is referring to his recent acquisition of TradeFX Ltd., another online trading platform. The plan is to combine both software technology companies and then cross-sell their products and services across the global client base of Playtech. Since both firms are highly profitable, the share price for Playtech should appreciate handsomely, as long as all things go well. The takeover will take a few months to be consummated, targeted for sometime in September. Shareholders and regulators must approve the deal, but Weizer is optimistic.
How has Plus500 reacted to the deal? Gal Haber, the Chief Executive Officer of Plus500, said in a statement: "We are very proud to have built Plus500 in a short time into a significant player in the CFD market. Having been admitted to AIM at a share price of 115p on 24 July 2013 and paid significant dividends during this time, we believe that now is the right time to combine the business with Playtech who can provide additional infrastructure and expertise to add to our core skills in products, technology and marketing."
Is it a good deal for Plus500? Jonathan Goslin, an analyst that covers Plus500, quipped in a note this morning, "Given the ongoing uncertainty surrounding how [UK regulator] the FCA may react, what proportion of clients can ultimately be verified and the potential reputational impact on the Group, we believe this represents a good deal for shareholders." Odey Asset Management, the largest shareholder of Plus500, has increased their position to just over 20%, but a spokeswoman for the firm failed to comment on its position relative to the approval of the business acquisition.
---
86% of retail investor accounts lose money when trading CFDs with this provider. You should consider whether you can afford to take the high risk of losing your money.
---
What about Plus500 shareholders and customers?
As we have written in a previous article, "From a sky-high value of £7.75 attained before the crisis set in, shares for Plus500 have nosedived 65% to £2.48 before staging a modest recovery." Playtech is offering shareholders 400 pence per share, roughly a 30% premium over its recovered stock price. As a rule, acquirers generally pay a premium for control that is in this percentage neighborhood, but, as news about the merger leaks from insiders, the market tends to raise the current share price to just below the takeover bid. The difference is often interpreted as the degree of perceived completion risk.
Will shareholders be satisfied with this outcome? If the shareholders focus on the gain since inception and not on the recent paper losses, then they might be satisfied. Since Playtech is a major player in the gambling sector and they expect good things to come, then there is always the chance that these recent losses can be recovered over time and quite possibly at a quicker pace than if Plus500 plowed along on its own. The big question is whether any litigation will arise to claim damages in a class action suit. Most of the major investors, however, are banks and hedge funds. These firms want their gains and to move on to other more profitable investments.
What about customers? Customer accounts are slowly thawing from the recent freeze. The merger should confirm that monies will be released in due course, even though the merger itself will take longer than the so-called period required to resolve documentation issues. To date, there has not been a thorough disclosure as to how bad a paperwork jungle existed in the bowels of Plus500, but, in order to fix the problem, customers must complete a new questionnaire and file new ID documents. If half of the customer base must respond, then it is a tall order to expect the entire group to respond on a timely basis. The onus of a frozen account, however, now sits with the customer. He must respond positively to get his account re-activated.
---
86% of retail investor accounts lose money when trading CFDs with this provider. You should consider whether you can afford to take the high risk of losing your money.
---
Concluding Remarks
It appears that the Plus500 fiasco is finally reaching its last act on stage. Playtech will eventually control whatever information is shared with the public, but, after Plus500 and TradeFX are combined, it will be difficult to answer any questions about the past. The new entity will create a life entirely of its own. As a department within a larger group, the goings on of Plus500 going forward will be blurred at best. Playtech has already decided that its CFO, Ron Hoffman, will run the combined organization.
Here are a few of his thoughts that were shared this morning, "Plus500 was very focused on product and marketing, not CRM [customer relationship management], which is why we see there's a great opportunity to combine this. You combine two different best of breeds in different parts of the verticals. Our plan is to run one, best of breed offering. We will maintain both brands because both brands are strong and strong in different markets. From a technology perspective, we will make sure we've got best offering for both."
The Plus500 brand may continue, at least for a subsequent period of time, but its results will eventually be consolidated into those for Playtech. Of course, approvals must take place, and Plus500 assets must perform for this scenario to play out. In the meantime, customers of Plus500 have a decision to make – do they stay or do they go? Plus500 CEO Gal Haber told investors at the recent AGM that the average length of stay for a customer was eighteen months. I doubt if that benchmark will remain as high without an incentive package to encourage loyalty. Time will tell.
---
86% of retail investor accounts lose money when trading CFDs with this provider. You should consider whether you can afford to take the high risk of losing your money.
---
---
Safest Forex Brokers 2023
Forex Fraud Certified Brokers
CFDs are complex instruments and come with a high risk of losing money rapidly due to leverage. Between 74-89% of retail investor accounts lose money when trading CFDs. You should consider whether you understand how CFDs work and whether you can afford to take the high risk of losing your money.
Stay up to date with the latest Forex scam alerts
Sign up to receive our up-to-date broker reviews, new fraud warnings and special offers direct to your inbox
Stay up to date with the latest Forex scam alerts