If there is one industry that has prospered greatly due to the advent of the Internet, then it would have to be online gambling, and, if there is one individual that gained billionaire status by riding this wave, then it would have to be Teddy Sagi and his Playtech empire. Sagi's acquisition exploits dominated gambling industry headlines in the UK in 2015, but, as it turned out, regulators blocked his aggressive moves to expand his gambling activities. Sagi, however, remains undaunted. His wallet is bloated with cash, and recent headlines suggest that he is planning another buying spree in 2016.
It seems that the public's urge to get rich quickly could never be satiated enough by attending physical gambling venues, like casinos, betting parlors, or racetracks. In today's electronic age, one need only have a desktop or smart device to access the Internet and an online gambling site. Put down a wager or two, "24X7", and there you have it – instant gratification real time. In the early days of web surfing, the public may have scoffed that porn or gambling were the only profitable activities on the web, but a few insightful individuals saw the possibilities of riches at every turn.


Teddy Sagi, an Israeli businessman with a questionable past in the investment and banking industry, quickly experimented with a few adult websites of his creation. As one pundit wrote, "He took the knowledge he had from his time running a collection of adult websites and used it to create a company that became the backbone of the iGaming industry. Essentially, he made himself the surfboard upon which the major casino operators had to ride." And so, faster than a speeding bullet, Mr. Sagi accumulated his ill-gotten returns on the backs of foolish consumers, addicted to fast-paced action.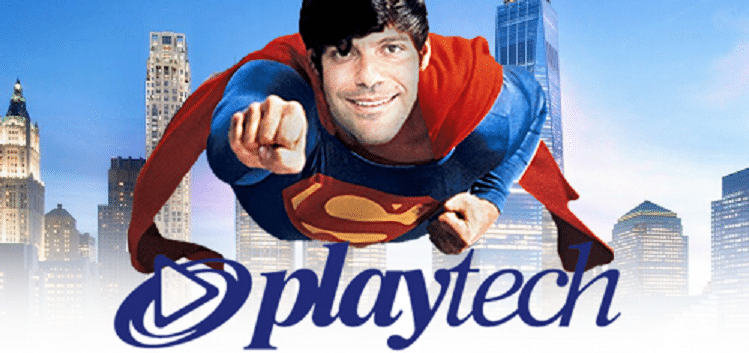 Countless articles have been written decrying the debilitating outcomes his rise to riches may have caused, but Sagi keeps smiling and laughing all the way to his bulging bank account, oblivious to the criticism gathering about him. He may consider himself a "Superman" in the world of business entrepreneurs, but his lurid past and the nature of his business escapades may one day prove to be his undoing, a form of kryptonite, so to speak. A few courageous regulators may have stood in his way in 2015, but persistence is one lesson that Mr. Sagi knows will always ensure a positive endgame. If one path is blocked, there is always another alternative.
What do today's headlines say about the continuing saga of Sagi and Playtech?
It is only two months since our last update on the travails of Teddy Sagi. He had constructed a forex trading beachhead within Playtech after his acquisition of TradeFX, the owner and operator of Markets.com. Sagi then moved with light speed to gobble up Ava Trade and Plus500, two more highly profitable gambling enterprises. After obtaining nearly every approval necessary, however, the Central Bank of Ireland and the FCA moved in a coordinated fashion to rain on Sagi's carefully orchestrated parade. The Playtech acquisition juggernaut came to a sudden and screeching halt.
Why did the regulators withhold their respective approvals? As we reported, "The only problem is that he (Sagi) is a convicted felon, a fact that regulators do not take lightly when they review prospective owners of banks or large gambling concerns. The word on the street is that his criminal background is what scuttled the deal and that the FCA demanded that he sell his controlling interest in Playtech before approval could be given, a certain deal breaker in Sagi's eyes."
The undeniable fact, however, is that gambling businesses can throw off a great deal of cash flow. Mr. Sagi is flush with cash at the moment, and it is burning a hole in his pocket. As we also noted back in November, "It is only a matter of time before he and his team execute "Plan B", whatever that might be." There are definitely other worthy targets to acquire on the iGaming playing field. We would suspect that Teddy's desk has been flooded with all manner of enticing deals. Sellers and their agents can always smell money on the table, but Sagi is a shrewd buyer. He wants a bargain and one that will not run afoul of regulators down the road.
The word now on the street is that Playtech wants to purchase OpenBet, a UK-based gambling software company and reputed rival in providing software platforms for online sports betting, casino games, and lotteries. Vitruvian Partners, the venture capital firm that owns OpenBet, has been peddling its investment to potential buyers for months with a price tag of £300 million, a figure that would garner a 50% return for its investors after five years of ownership. With a market cap of £2.5 billion and free cash exceeding £1 billion, Playtech would be a likely candidate and suitor for this gaming related company.
Playtech has been careful not to mention publicly anything about a pending offer for OpenBet. It has been preoccupied with its latest deal with Warner Brothers Consumer Products. "The deal will allow Playtech to incorporate many of DC Comics' most recognizable superhero movie characters into real-money online gambling products." Teddy may yet don Superman's cape in what Playtech CEO Mor Weizer is already claiming will be "a long and prosperous relationship."
In the absence of an official comment from either Sagi or Playtech or Weizer, the press pundits are left to ponder what might transpire in the near term. Judging from Sagi's penchant for bargains and a price multiple that would meld well with his existing returns, he might feel that anything over £200 million might be too much to pay. The current rumors are that two opposing bookmakers, William Hill and Paddy Power, might also jump into the ring. The former company also had a run in with Playtech in 2011, one reason for making a defensive bid to escape any further dependencies on Sagi.
At this point, all is speculation. If the seller's of OpenBet are looking forward to some kind of bidding war, then it may not include Playtech. OpenBet is not a forex trading company. It would not add much to Sagi's new retail forex trading division, but it might enhance his software distribution business with additional contracts in the betting industry. Whether Playtech has abandoned its hope for a larger forex trading footprint is open for conjecture, but, until the details surface regarding regulatory concerns in the forex space, we will have to adopt a wait-and-see approach. In other words, the UK and Ireland may be off limits, but there may be several viable candidates in Cyprus and other locales.
Recent FCA warning letters indicate more problems await UK CFD providers.
The FCA is not immune to the public outcry that has been directed at the gaming industry in the UK of late. A general rule of this industry has always been to keep a low profile to avoid the outrage that consumer advocacy groups can bring to bear on public officials. Regulators tend to categorize complaints and follow their trends as a worthy way to measure when things are going over the line. Complaints have been rising, and the high-flying antics of Teddy Sagi have only served to embolden public resistance to his activities.
After audits of ten CFD providers in the UK, the very customers that depend on Playtech's primary software product line, the FCA issued letters to all CEOs in the CFD industry. It had "identified a number of areas of concern and asks the companies to consider whether your firm complies with FCA requirements for sales of CFD products". Megan Butler, the Executive Director of Supervision, Investments, Wholesale & Specialists Division at the FCA, concluded that, "We ask you to consider whether your firm complies with FCA requirements for sales of CFD products and the points we raise in this letter regarding the process that your firm follows when taking on new clients."
What points were raised? The defalcations had to do with improper AML reviews and inadequate risk disclosures. It seems that every provider accepts nearly any client that walks in the online door, so to speak, without any screening procedures aimed at defining the true risks of the products and informing potential clients of what the probability of loss might be. The full messaging seems eerily similar to what transpired at Plus500 in May of last year, when everyone thought the problem was related to faulty AML documentation procedures alone. The FCA is also concerned about the assessment procedures for determining the eligibility of potential clients in the first place.
Plus500 has also recently announced that sales growth is continuing and that there are no longer any restrictions on its on-boarding of new customers in the UK or elsewhere, for that matter. It has continued to gain share in a competitive market, mostly at the expense of IG Group Holdings, the market leader. Aside from Saxo Bank, the other two major market participants are CMC Markets and City Index. The former is preparing to go public, and the latter is owned by Gain Capital Holdings, a New York Stock Exchange firm.
Concluding Remarks
If Teddy Sagi is still focused on buying a UK-based retail forex trading company, then there may be slim pickings at this stage. The recent figures published by "Investment Trends" reveal a market in flux. The IG Group was always viewed as a worthy competitor for Playtech, but it recently installed a new CEO to shake up the ranks and turn the tide depicted in the chart below. Things could get interesting in 2016.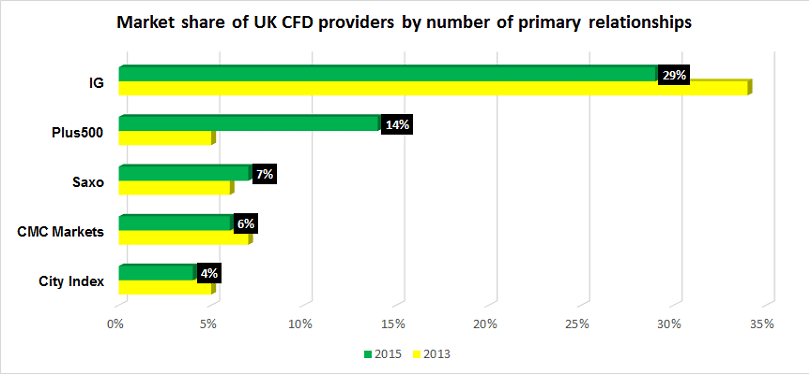 It is also interesting that folks in the public relations profession have been able to recast online gambling under the banner of iGaming activities. The growth in this arena has been impressive and has given the likes of Teddy Sagi and Playtech a path to instant riches. According to one industry reporter, "Through a combination of timing and technology, the iGaming industry is now worth an estimated £27 billion/$41 billion per annum. That, by any standards, is an impressive global turnover when you consider that the first online poker and casino sites only went live in the late nineties."
Will Mr. Sagi buy OpenBet? We doubt if he will accept the £300 million price tag, but we do know that he has a mountain of cash. The quickest path to expansion is often through acquisitions, and in his case, we believe it would be prudent to look for bargains outside the UK marketplace. Stay tuned!
---
Safest Forex Brokers 2023
Forex Fraud Certified Brokers
CFDs are complex instruments and come with a high risk of losing money rapidly due to leverage. Between 74-89% of retail investor accounts lose money when trading CFDs. You should consider whether you understand how CFDs work and whether you can afford to take the high risk of losing your money.
Stay up to date with the latest Forex scam alerts
Sign up to receive our up-to-date broker reviews, new fraud warnings and special offers direct to your inbox
Stay up to date with the latest Forex scam alerts