---
86% of retail investor accounts lose money when trading CFDs with this provider. You should consider whether you can afford to take the high risk of losing your money.
---
The newswires today are abuzz with the latest news on the Playtech £460 million ($700 million) takeover bid for Plus500 – the deal is off. After the news, shares for both companies took a dive, which may take a few days to resolve, but, for the time being, Plus500 is an independent entity once again. The original closing had been planned for September, then delayed until the October-November timeframe, due to undisclosed regulatory concerns. Last week, the Playtech management team informed Plus500 that the completion date would most likely occur in December. Playtech then announced today that its $105 million bid for Ava Trade had also been terminated.
In our last installment on this never ending story, Teddy Sagi, the Israeli billionaire and precocious founder of Playtech, had run into regulatory roadblocks on his planned acquisitions of both Ava Trade and Plus500. The Playtech acquisition juggernaut had seemed to be unstoppable up to this point in time. Its buying spree of trading related companies was the talk of the town and the London Stock Exchange. The spree included four separate entities for a nifty combined price tag of $1.3 billion. A new trading division was hyped in the press, and new executives were joining the firm weekly in anticipation of the fun to come. Sagi was riding a tidal wave of his own creation.

And then the highly touted and sure to be highly profitable train to trading Nirvana came to a screeching halt. The headlines read, "A £460 million trading takeover that lit up the City just got killed and shares are crashing — Playtech gives up on £460m Plus500 takeover." Not all was well in Sagi-Land. His bid for a new and improved empire had reached a bump in the road, and Teddy had backed away, leaving numerous questions on the table related to why and what may come in the near-term future. The Plus500 Fiasco, which had begun in May without Playtech in the picture, had suddenly morphed into a tragedy for an Israeli billionaire that had chosen to fly too close to the sun.
---
86% of retail investor accounts lose money when trading CFDs with this provider. You should consider whether you can afford to take the high risk of losing your money.
---
Why was the takeover bid of Plus500 scuttled?
Playtech had already received approvals, many unanimous, to proceed with its merger of Plus500. Shareholders for both firms had voted in the affirmative. Regulatory approvals from Israel and Cyprus had been garnered without a hitch. The only remaining hurdle was the Financial Conduct Authority (FCA), the UK's regulatory watchdog for such deals. This time, there were hitches. No details had been forthcoming, since, as a Playtech spokesperson asserted publicly, "Discussions between Playtech and the FCA are confidential by law."
As one delay followed another, it became apparent that resistance from the FCA had been encountered. Playtech is headquartered outside of the UK and earns the majority of its revenue from outside the UK borders. Questions, followed by proposed remedies, would have dominated discussions. As Nick Batram, an analyst for Peel Hunt, explained, "Our concern at the outset of this process was that the FCA was going to be a different beast from the many gaming regulators with which Playtech is currently used to. The FCA wanted to have an understanding of Playtech's business to a level of detail that just wasn't possible in the time frame provided by the deal".
The merger agreement was set to expire on December 31, 2015. If the FCA had more than just "certain concerns", as portrayed by Playtech to reporters, what were the "proposed remedies"? The Playtech board decided last Friday that it could not proceed quickly enough with FCA "changes" to ensure that all deadlines were met. Accordingly, it concluded that, "The company has discussed with Plus500 the consequences of the recent developments with the FCA and has agreed to the termination of the merger agreement." Considering the enormity of the aforesaid statement to the public, an exclamation point seemed warranted at its end.
Carefully worded press releases, such as this one, only stimulate speculation and conjecture in the media. Israeli sources were quick to dig up dirt and lace the drama with another twist – Teddy Sagi's lurid past. When Sagi was a young investment manager in the nineties, he consorted with a group of banking executives to pump-and-dump bond securities for a tidy profit. In January 1996, he confessed and accepted a plea bargain for his offenses. He "was convicted of bribery, securities fraud, and aggravated fraud", and then served a nine-month sentence and was fined NIS 300,000.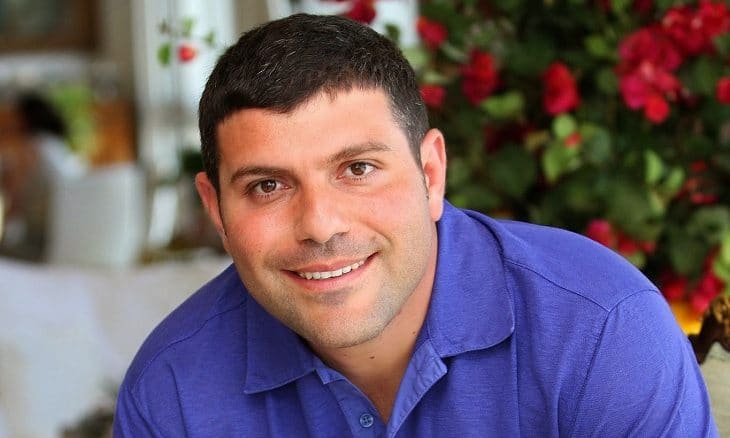 We doubt that Mr. Sagi was smiling, as above, in 1996, but he has had the last laugh, so to speak, having quickly risen to billionaire stardom in the decades that followed his jail time. The only problem is that he is a convicted felon, a fact that regulators do not take lightly when they review prospective owners of banks or large gambling concerns. The word on the street is that his criminal background is what scuttled the deal and that the FCA demanded that he sell his controlling interest in Playtech before approval could be given, a certain deal breaker in Sagi's eyes.
---
86% of retail investor accounts lose money when trading CFDs with this provider. You should consider whether you can afford to take the high risk of losing your money.
---
What are the ramifications of the FCA's refusal to comply?
Once the FCA domino had fallen on the Plus500 deal, industry speculation was quick to surmise that the Ava Trade takeover bid would run into the same regulatory concerns. The Central Bank of Ireland (CBI) had already publicly opposed this $105 million merger. No details had been shared, other than Playtech was determined to fight the good fight to obtain the requisite approval. Simon French, an analyst at Cenkos, was not so sure. He recently quipped that the FCA concerns would bleed over to CBI: "Based on this development, we also think it is unlikely the Ava Trade acquisition will complete."
It was, therefore, not a shocker to hear today that Playtech announced the termination of its bid for Ava Trade and the forfeiture of a $5 million non-refundable deposit. Oddly enough, the firm also announced that it would continue to seek approval for its intended takeover by appealing the decision made by the CBI. The fact remains that Playtech is now flush with cash and hungry for acquisitions. One analyst noted, "Playtech will continue to search for bolt-on acquisitions to bolster growth in both the financials and gaming divisions."
Independent of Playtech's new aspirations, the gossip will now begin as to the future of Plus500. Odey Management, the largest individual owner of Plus500 shares, must be pleased. It had opposed the merger deal on the grounds that it was too "opportunistic" and should be much higher. Plus500 shares now hover around 350 pence, a good bit below the Playtech bid of 400. If there was to be a shareholder lawsuit, there is no defendant to be sued, except for Plus500 management. Will the IG Group, a well-established UK firm and able competitor of Playtech, become a suitor for Plus500? Only time will tell on that score.
How is Plus500 reacting to this news?
Share prices have fallen, but our bet is that they will return in short order to higher realms. Plus500 staff have corrected the problems it had with the FCA. All restrictions have been rescinded. Growth has resumed, along with new account solicitations and planned innovations. It may be six months later in the process, but forecasts for 2015 will exceed in good measure the results for 2014. Profitability may be down a bit, due to the millions devoted to remedying AML documentation shortfalls, but the future is bright.
Gal Haber, the CEO of Plus500, provided these comments regarding the outlook for the firm: "Following the agreement with Playtech that the merger between the companies will not proceed, we can confirm that our business is in good shape for a successful future as an independent company. Plus500 remains a growing, highly profitable and cash generative company with strong momentum in an expanding international market. We have adopted a "business as usual" policy during the lengthy acquisition timetable and continued to invest in our marketing, technology and regulatory operations during this period. As a result we are very confident that as an independent business we are well positioned to continue to deliver significant returns for shareholders."
---
86% of retail investor accounts lose money when trading CFDs with this provider. You should consider whether you can afford to take the high risk of losing your money.
---
The executive went on to list a number of positive developments, including the following:
Growth trends are continuing as they did in the first semester of 2015 through the final half of the year for accounts and fee revenue;
Regulatory compliance is no longer and issue either today or going forward;
A number of new product innovations have been implemented and more are in the pipeline;
Independent of segregated client deposits, cash flows have contributed cash deposits in excess of $95 million;
An Interim Dividend of $0.2121 per share has been declared with more details to follow;
 A stock buy-back program of up to $20 million was also approved that will serve to boost the value of shares traded today on the exchange.
The last six months have been a test of fire for the Plus500 crew, but it appears that they have risen like the proverbial Phoenix from the ashes. Shareholders may still regret losing $700 million of value on paper, but accountability may be delayed now, pending future performance. Will another firm attempt a run at this money machine in the near term? With regulatory compliance issues behind them and tailwinds behind them, as well, this company is set for another stellar run. It remains to be seen if the recent high silhouette of the gambling industry will spark any new rules or taxes for the public good.
Concluding Remarks
It truly is the holidays, and this Playtech storyline is the gift that keeps on giving. Is there any steam left in this hot-air balloon? One curious note is that Playtech has not disposed of its 9.9% interest in Plus500. If another acquirer were to step into the ring, I suspect that the combination of Playtech with Odey Management will make a formidable team for demanding a more lucrative price of ownership than a mere 400 pence/share. If there ever were any lawsuits in the making, those, too, are most likely on the back burner for now.
Lastly, do not shed any tears for Teddy Sagi. He will continue to smile broadly. His gambling empire is outrageously profitable and hungry for more. It is only a matter of time before he and his team execute "Plan B", whatever that might be.
---
86% of retail investor accounts lose money when trading CFDs with this provider. You should consider whether you can afford to take the high risk of losing your money.
---
---
Safest Forex Brokers 2023
Forex Fraud Certified Brokers
CFDs are complex instruments and come with a high risk of losing money rapidly due to leverage. Between 74-89% of retail investor accounts lose money when trading CFDs. You should consider whether you understand how CFDs work and whether you can afford to take the high risk of losing your money.
Stay up to date with the latest Forex scam alerts
Sign up to receive our up-to-date broker reviews, new fraud warnings and special offers direct to your inbox
Stay up to date with the latest Forex scam alerts