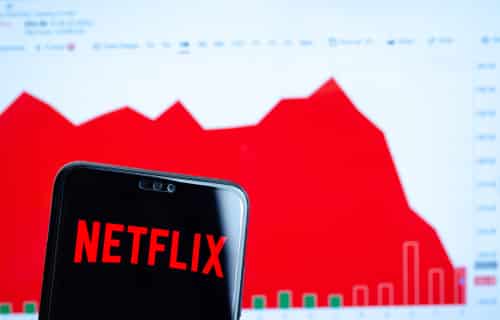 The headline event of Tuesday was the release of Netflix Q1 earnings that turned into something of a horror show. The worry is that the home streaming service could be a pandemic-only play, and on the back of stalling subscription numbers, the Netflix share price plummeted by as much as 14% intraday.
Some of the price drops are Netflix specific but some reflect a broader sell off in equities on Tuesday.
S&P – Down 0.7%
DJIA – Down 0.8%
Nasdaq Composite – Down 0.9%
Russell 2000 – Down 2%
Is This the Time to Buy Netflix and Other Growth Stocks?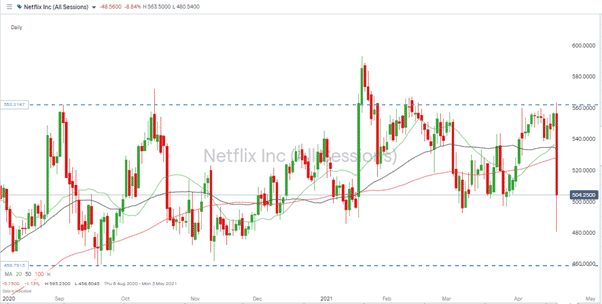 Source: IG
Dip-buyers can point out that from a technical perspective, Netflix has not broken its long-term support line at $460. Tuesday's price fall started from an elevated price level – the stock had indeed been throwing off signals there may be a break out to the upside.
2020 Q4 – added 8m new subscribers
2021 Q1 – added 4m new subscribers, 2m fewer than its original estimate of 6m
2021 Q2 – Netflix forecasts only 1m new subscribers
From a fundamental perspective, the firm's earnings announcement was accompanied by a message from management that current subscription levels may represent car-crash TV. However, they expect subscriptions to pick up in H2 of the year.
Netflix Fundamentals 1 – Production Problems
They state that while Covid increased the size of their target audience, it also restricted their ability to make the trademark high-quality content it uses to attract new customers. That situation has already begun to be rectified.
Netflix Fundamentals 2 – A More Robust Balance Sheet
All firms suffer peaks and troughs but this pull-back in growth is not the existential crisis it could have been at an earlier stage of Netflix's life cycle. It's not the loss-making moon-shot company it was until 2019.
Netflix is a bona fide business which in Q2 generated $7.2bn of revenue – beating the $7.1bn forecast. It's also developing the key metric of APRU (Average Revenue Per User) that was up in Q1. All in, the balance sheet appears strong enough to weather the storm. Year on year revenue is up by 24%.

Source: IG
Netflix Fundamentals 3 – Mature Management
The forecast of only one million new subscribers in Q2 suggests the management are willing to use their relative financial health to draw out all the bad news in one hit. It's a conservative number and one which could well be soundly beaten by the time the next earnings figures are released.
Netflix – Is the Story Believable?
Netflix now has more than 200m subscribers across the globe. A staggering 36m of those were added in 2020. The management claims last year's Covid rush cannibalised new users they would expect to sign up in 2021.
It's not the strongest argument – to suggest customers onboard in a conveyor belt fashion. Pointing to the production problems which appear to be over and the otherwise solid financial fundamentals, it would appear to have been more likely to find favour with investors.
If you want to know more about this topic, or have been scammed by a fraudulent broker, please contact us at [email protected]
---
Olympic Legend Usain Bolt Lost $12m in Savings Scam
24.01.2023
Usain Bolt loses $12m in an alleged investment scam Jamaican officials and the FBI are investigating investment manager Stocks and Securities Ltd Others are feared caught by the scheme Jamaican Olympic sprinter Usain Bolt has had a $12m savings and investment account he set up for his retirement wiped out.
Read more
Phoney Pastors Caught Running $28m Church-Based Ponzi Scheme
17.01.2023
Churchgoers targeted by scammers posing as pastors A total of $28m fraudulently taken from largely immigrant community Promises of 'financial freedom through God' undone by the fact the project was a massive Ponzi scheme Deception, distraction, and abuse of trust are standard tools of fraudsters.
Read more
Safest Forex Brokers 2023
Forex Fraud Certified Brokers
Stay up to date with the latest Forex scam alerts
Sign up to receive our up-to-date broker reviews, new fraud warnings and special offers direct to your inbox
Stay up to date with the latest Forex scam alerts