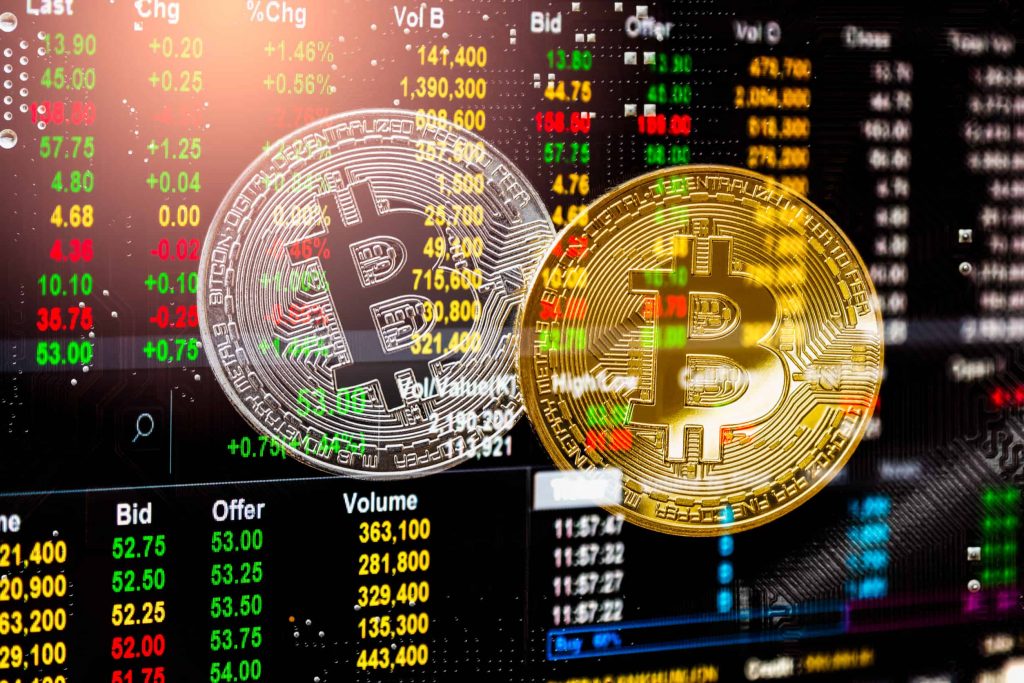 Bitcoin and Ethereum, the two flagships of the cryptocurrency market, have recently seen their prices go into a tailspin. BTC is the market leader in terms of being a store of value, and ETH the more likely to offer a blockchain-based means of exchange – but both approaches are currently finding little support from investors.
Bitcoin Daily Price Chart – 2021-2020 – At Key Swing-Low Support Level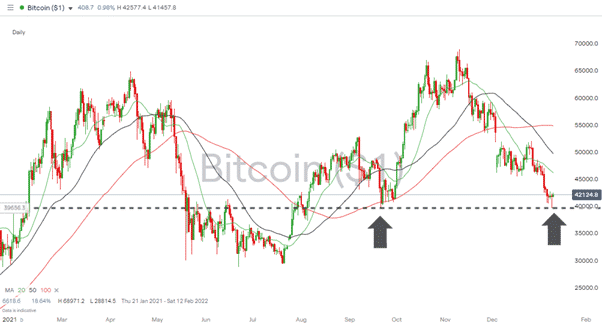 Source: IG
Bitcoin is already at a key long-term price support level, and Ethereum appears to be heading that way. The question is whether this is part of the usual high volatility crypto experience or the result of a paradigm shift in terms of regulatory restrictions on trading?
The market is supported by specialist crypto platforms and online brokers that offer crypto trading and other asset groups such as equities and forex. The former, the crypto specialists, can appeal to the anti-establishment end of the crypto fan base. They are unregulated and sometimes offer a more comprehensive range of Altcoins, but unfortunately for them, they appear to be firmly in the sights of regulators.
That regulatory oversight has primarily involved authorities offering increasingly stern guidance to retail traders. Crypto markets may have unique characteristics, but prices are still ultimately driven by supply and demand so far.
Regulatory Clampdown On Crypto
In June in the UK, the Financial Conduct Authority (FCA) ruled that the world's biggest cryptocurrency exchange, Binance, couldn't conduct any "regulated activity" in the UK. The FCA does not regulate cryptocurrency markets or crypto platforms but requires exchanges to register with them. Binance has not registered with the FCA and, therefore, cannot operate an exchange in the UK.
Asian regulators are also reigning in the market. In September, China's regulators declared all crypto-related transactions "illegal" and must be banned. The move caused Bitcoin to lose 5.5% of value in one day. Singapore's intervention included the Monetary Authority of Singapore (MAS) placing the Binance.com platform on the Investor Alert List.
Crypto Price Rally Despite Regulatory Guidance
One interesting feature of the market is the lag between the clampdown starting and prices falling. Regulators began applying pressure in Q3 of 2021, but the price of Bitcoin more than doubled between July and November.
Bitcoin Daily Price Chart – 2021-2020 – Q4 Rally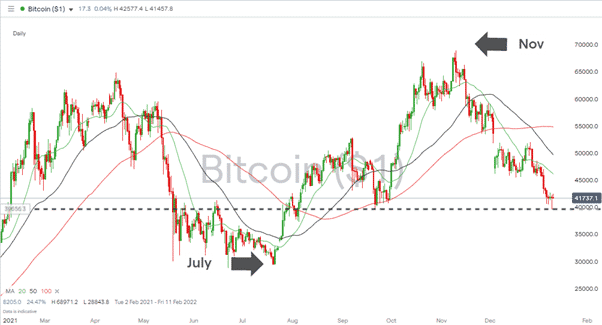 Source: IG
It is also the case that crypto traders and investors can still find ways to access the market. Multi-asset brokers such as eToro provide a user-friendly route into the market which doesn't involve specialist wallets. The broker is regulated at a higher level – although trades in crypto are not – suggesting that the price moves are so far part of the typical extreme peaks and troughs associated with the market.
Crowdsourcing information about scam brokers can help others avoid falling into the traps set by disreputable brokers and you can share your experiences here. If you want to know more about this particular topic, or have been scammed by a fraudulent broker, you can also contact us at [email protected]
---
Olympic Legend Usain Bolt Lost $12m in Savings Scam
24.01.2023
Usain Bolt loses $12m in an alleged investment scam Jamaican officials and the FBI are investigating investment manager Stocks and Securities Ltd Others are feared caught by the scheme Jamaican Olympic sprinter Usain Bolt has had a $12m savings and investment account he set up for his retirement wiped out.
Read more
Phoney Pastors Caught Running $28m Church-Based Ponzi Scheme
17.01.2023
Churchgoers targeted by scammers posing as pastors A total of $28m fraudulently taken from largely immigrant community Promises of 'financial freedom through God' undone by the fact the project was a massive Ponzi scheme Deception, distraction, and abuse of trust are standard tools of fraudsters.
Read more
Safest Forex Brokers 2023
Forex Fraud Certified Brokers
Stay up to date with the latest Forex scam alerts
Sign up to receive our up-to-date broker reviews, new fraud warnings and special offers direct to your inbox
Stay up to date with the latest Forex scam alerts