Everyone loves a great investment that delivers enormous returns, but when is "hot" another word for a scam in progress? Initial Coin Offerings, or "ICOs", are the latest rage, riding on the coattails of crypto-currency zealots that believe that Bitcoin or Ethereum or any other variety of this genre is the best thing going since sliced bread. The religious zeal that accompanies crypto-currencies and their blockchain technology is nothing short of extraordinary, but intrinsic manipulation of supply/demand dynamics has driven valuations beyond the realm of believability. ICOs, the latest variation on this continuing saga, have disrupted the venture capital world, but are they a "good thing"?
Regulators, bankers, and especially government officials in China are currently attacking the latest chapter in irrational exuberance, yet values remain elevated, even after declines of ten percent or more. Consider this simple proposition: If you had bought Ethereum at the beginning of this year at $8 a coin, you would be staring at a current valuation of $280. What? A return of 3500% in only nine months? Sounds like a scam to any outsider, but there is more to tell in this story. For the time being, remember that paper gains are not real gains, until you sell your position.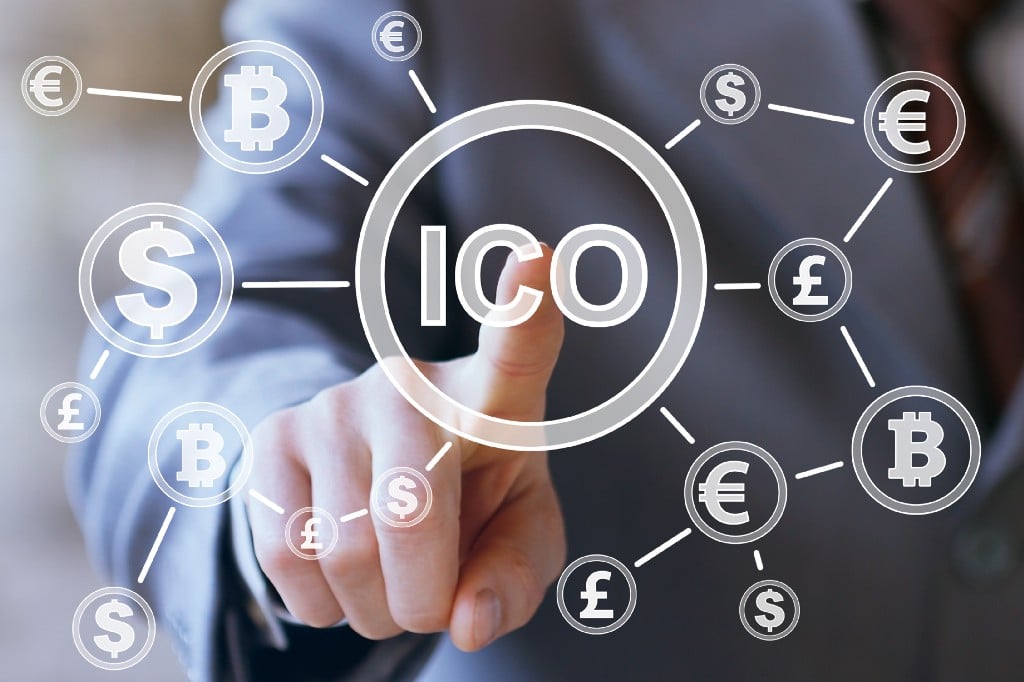 What about Bitcoin, Ethereum's larger and more stable competitor? Returns there are not too shabby either. Depending upon the broker where you may have purchased your Bitcoin stash (there is no central clearing floor), you could be staring at a Ten-Bagger, or over 1000% return, but only if you had found a willing buyer to jump upon your offer. Even Bitcoins were selling for around $10 some years back, but their valuation today is in the $4,000 range. Major returns may have been spread over a few years, but you get the picture. When supply is controlled, demand can overwhelm the market, leading to high price volatility and truly irrational and unsustainable valuations.
What is going on in this world of crypto-currencies, what is an ICO, and are these offerings nothing more than the newest forms of an asset bubble on parade? As for ICOs and their ability to disrupt traditional capital funding mechanisms, investors have plopped down over $2.3 billion in this market in a few short months. Despite high risk, several people obviously are expecting to get their money back and more, but will they?
Read more currency news
What is an ICO and why the craze with crypto-currencies in the first place?
If you are not a technology buff or geek, then your learning curve for understanding this crypto-currency craze may be a bit constrained. To fully grasp the nature of an ICO, one must first start with a crypto-currency like Bitcoin, and then graduate to the next level by fully taking in the uniqueness of its structure and its all-important element of blockchain technology.
Let's start with Bitcoin: "Bitcoin is a completely digital form of currency and uses cryptography, which controls the creation and transfer of this currency. There is no centralized exchange for any transaction to occur with this currency. Any number of Bitcoins can be sent to anyone living anywhere in the world without the intervention of any traditional financial institutions such as banks. Every transaction that takes place is recorded in a public ledger called the blockchain. However, any user can receive Bitcoins even when they are offline to their Bitcoin address."
Now let's move on to blockchain technology: "A blockchain is a distributed database that maintains a continuously-growing list of data records hardened against tampering and revision. It consists of data structure blocks, with each block holding batches of individual transactions and the results of any blockchain executables. The blockchain consists of blocks that hold time-stamped batches of valid transactions. Each block includes the hash of the prior block, linking the blocks together. The linked blocks form a chain, with each additional block reinforcing those before it."
Is everyone with me so far? There will be a test shortly, but we wrote these words over a year ago after the Ethereum network had been hacked for $79 million. You can imagine what happened to the value of one Ether at that juncture, but investors returned, and the feeding frenzy commenced once again, although from a much lower stating point. If you are now on board with "Crypto-Currencies 101", it should be a snap to understand that, "An IPO, or initial public offering, offers a chance to make big money quickly by getting in on the ground floor of the next new Google or Facebook. An ICO, or initial coin offering, offers a chance to make big money quickly by getting in on the next new money."
Yes, ICOs specifically relate to the development of new "crypto-currency" alternatives, according to some sources to be as many as 1,109 to date. It appears that there is the opportunity to make big money in this environment, and entrepreneurs and investors have rushed in with reckless abandon. There have already been 140 new offerings in 2017, but future programs have been delayed due to the regulatory onslaught of late. Officials in the U.S., Canada, the UK, Singapore, and China have recently put their collective feet down on these funding mechanisms, labeling many as outright frauds.
How successful have these innovative funding vehicles been? One need only look at a few charts to be amazed at how quickly this movement has taken hold. First off, here is a chart of how much capital has been raised by month in 2017: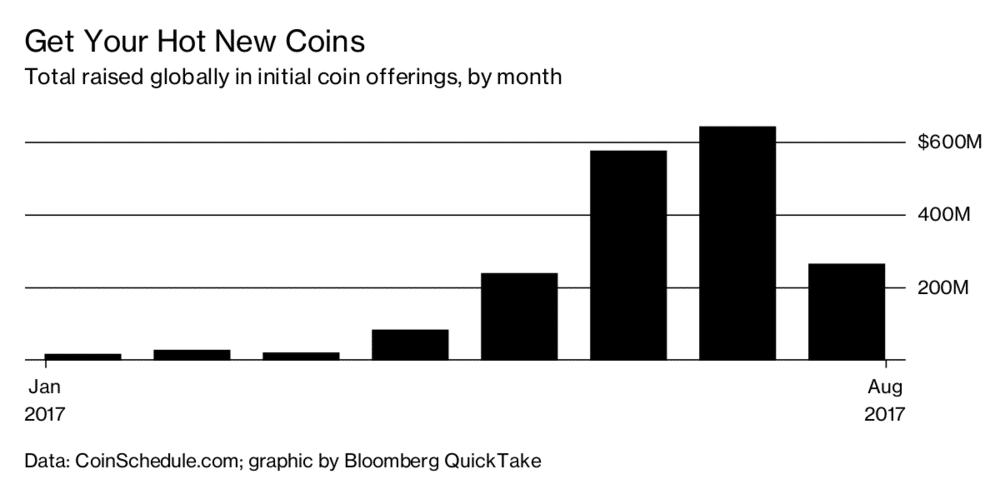 The SEC spoke its harsh summation in July, the reason for the August slump, but insiders foresee the total for the year to top out at $4 billion, a good bit above the $2.3 billon figure to date. Capital raises, however, have been uneven across the board, concentrating in a few major programs, as depicted in the following chart: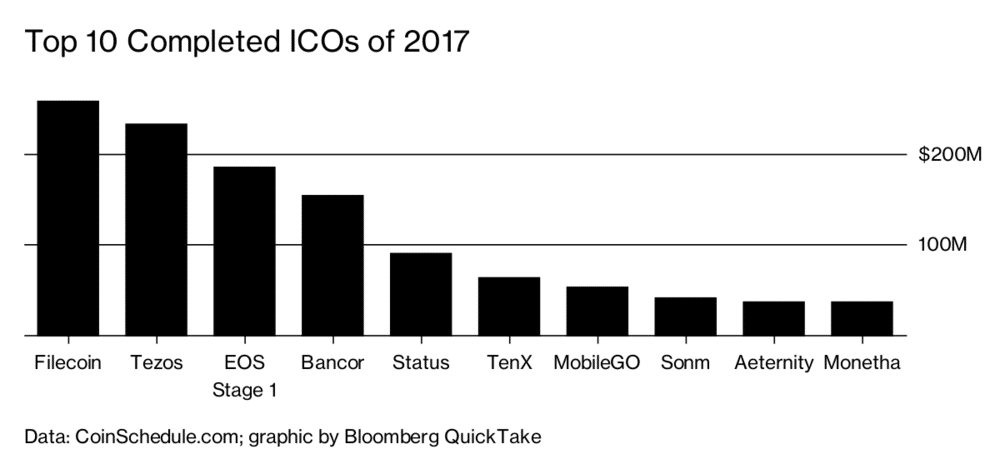 According to CoinMarketCap.com, "About half of the money raised in ICOs has gone to the 10 largest ventures. Most are made to be used as a means of exchange inside an application. They get a virtual credit or token, which can mean different things in different ICOs. Filecoin, a data storage network, raised $257 million, while Tezos, which has developed its own secure blockchain infrastructure, raised $232 million."
How is the capital raising industry taking these events? Per one analyst: "ICOs are turning my own profession of venture capital on its head. For the first time ever, capital raised through ICOs eclipsed VC money in Q1 2017, according to CoinDesk's state of Blockchain report, and this gap will only continue to increase."
ICOs have their fair share of critics. Jamie Dimon, the CEO of JP Morgan Chase (JPM), is not a fan of Bitcoin. He has announced publicly that, "Bitcoin is a fraud… It has no value… It's not a real thing… Central banks look at is as a novelty." In the same breadth, however, he endorses blockchain technology. It should also be known that JPM filed a patent for a virtual currency in 2013 along the lines of Bitcoin and that major banks around the world are currently forming a consortium to leverage the advantages of this patent and the principles of blockchain technology on a global basis.
At the end of the day, one could make the argument that ICOs are a consequence of a decade-long sluggish economy held back by central bankers' near-zero and sometimes negative interest rate policies. Global capital is chasing double-digit returns across the planet without fully assessing the risks involved, much as what happened back when the Great Recession started. ICOs are more the illness than the symptom of how market forces will operate to deliver what the market truly needs.
As a closing argument, we offer up the sage summation of Emma Channing, general counsel at The Argon Group: "The froth and the attention around ICOs is masking the fact that it's actually a very hard way to raise money. I don't think that there's been an obsession of Silicon Valley that has overtaken seed and angel investing in a single year. I don't think Silicon Valley has ever seen anything quite like ICOs."
Are ICOs the latest version of a complex forex fraud?
Regulators have observed the ICO phenomenon from the sidelines, but their apparent restraint has dissolved. Consider for a moment these recent position statements:
SEC in the United States: "The SEC this summer warned startups that they could be violating securities laws with the token sales. In an investor bulletin, it warned of the potential for fraud, scams and hacking. It will treat some ICOs as IPOs — as security offerings, in other words, with all the registration requirements that entails, unless a valid exemption applies."
The FCA of the UK: "The FCA has added its voice to other watchdogs around the world, issuing a formal consumer warning about the risks of Initial Coin Offerings, or ICOs. ICOs are very high-risk, speculative investments. Investors should be conscious of the risks involved and fully research the specific project."
China bans ICOs: "Chinese officials deemed ICOs as a threat to financial market stability. The People's Bank of China said it will strictly punish offerings in the future while penalizing legal violations in ones already completed. The regulator said that those who have already raised money must provide refunds."
With over a thousand existing offerings and more to come, it is highly unlikely that many of these experimental projects will succeed. Fraud is also a given, but this craze is very reminiscent of the Internet some years back, when investors threw money at anything that involved the world wide web. Far too many entities are scrambling for far too few opportunities. Many will fail. Many investors will lose their entire investment.
Concluding Remarks
ICOs are the latest rage in the investment world. Are they real or just the latest currency scam? Our counsel has been to be wary of these get rich schemes, and we have also written in other venues that this "asset bubble" valuation phenomenon is reminiscent of the "Tulip Craze" in the 1600's, as well as the Internet frenzy of recent memory.
Having offered up that bit of wisdom, we cannot ignore the fact that, "If you had bought $100 of Bitcoin seven years ago, you'd be sitting on $70 million today. ICOs pose the potential to shift the investment status quo and provide new fundraising opportunities." In his heart of hearts, Jamie Dimon has also said, "Bitcoin can go to $100,000 before it goes down." You could also lose every dime of value. Caution is advised!
---
Safest Forex Brokers 2023
Forex Fraud Certified Brokers
CFDs are complex instruments and come with a high risk of losing money rapidly due to leverage. Between 74-89% of retail investor accounts lose money when trading CFDs. You should consider whether you understand how CFDs work and whether you can afford to take the high risk of losing your money.
Stay up to date with the latest Forex scam alerts
Sign up to receive our up-to-date broker reviews, new fraud warnings and special offers direct to your inbox
Stay up to date with the latest Forex scam alerts