Jingle Bells and scam artists? Yes, it is that time of year for joyous giving and trusting in your fellow man, but wait, you better watch out, you better not cry, 'cause fraudsters are coming to town, but in the shrewdest of disguises. If you are caught unaware and buy into one of their clever schemes, you run the risk of feeling like the Grinch paid your household a visit and scurried away with your Yule tidings.
As a matter of fact, I just received a cold call from India from some fellow telling me that my computer was sending out viruses and that I needed to go to his server to repair the damage. NOT! Have you received one of these types of calls, the latest in a calculated attempt by cyber crooks to get mal-ware on your access devices. These devious bits of software report back your keystrokes to a collection server, where analytical routines search for login and password combinations. Your forex account may already be, unbeknownst to you, in jeopardy from these thieves. Change your password now!

Read more forex fraud news.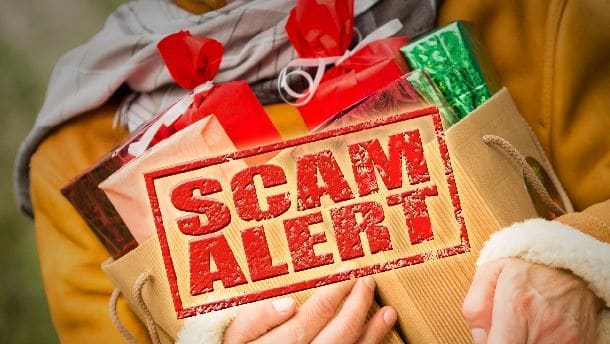 Cyber thievery at this time of year is top of the list and should be top of mind for anyone that wishes to enjoy this holiday season. The first step in fraud prevention is always awareness. Armed with information, your mind can then be skeptical and not easily taken in by the latest ruse that is making the rounds. Crooks will go to great lengths to acquire your personal identity information, then either use it or sell it to the highest bidder on the black market. It is only a matter of time before someone will go to the next step, which security professionals call "monetization", i.e., cashing in big time.
'Tis the season to be jolly, but you might want to heed these alerts to remain in a  festive mood:
Holiday forex Ponzi schemes are alive and well across the planet.
Who does not want a little extra cash or a better return on your investments during this time of year? Scam artists are well aware of this craving for extra and have learned how to wrap their clever tricks in shiny paper with a big bow on top. One of the oldest tricks in the book, i.e., a Ponzi scheme, continues to befuddle the public. Every corner of the globe seems to be dealing with an assortment of these cases, whether it is a major market like the U.S. or Europe, or also part of the developing world like Thailand, the United Arab Emirates, Dubai, or even Singapore.
We sometimes forget that foreign exchange trading has spread like wild fire into every nook and cranny of the globe, including not only developed countries, but also many emerging markets, as well. In these latter countries, forex trading may still be a bit of a novelty. Regulators may be stuck in deliberation mode, unsure of what protective actions to pursue, or may be totally oblivious. Although international trade is a large part of every Asian economy, retail forex trading has only begun to penetrate these new markets, a fact that has drawn fraudsters from several other locales to ply their schemes on the unsuspecting public.
Malaysia is a case in point. The plight of emerging markets over the past few years has received a great deal of press. Capital flight has been a major problem, together with increasing USD indebtedness, as the Almighty Dollar went on an appreciation tear. The Malaysian Ringgit over this period of time devalued from 3 to the USD, way down to nearly 4.5 in todays market trading. This devaluation has only spurred on Ponzi purveyors, who also like to disguise their efforts as a "High Yield Investment Program". Seminars are being held touting the latest return scheme, depicted in the chart below: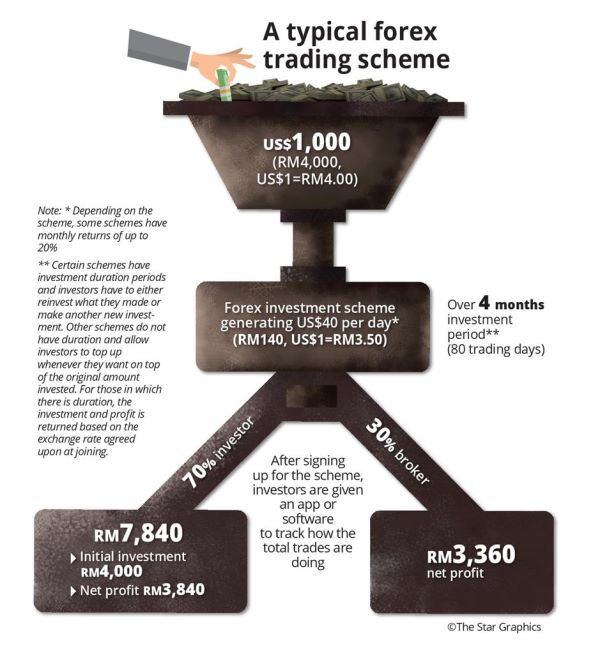 The message being broadcasted during the seminar tour is that, "An investor needs to place a minimum initial investment of US$1,000 (RM4,000). Returns are 4% per day for 80 days, so the amount bloats to US$3,200. At the end of 80 days, the company takes 30% and the investor takes the rest, which is US$2,240."  If you do the math, your return in this scheme would be 96% after three months, or, on an annual basis, a whopping 384%. Is everyone ready to jump on this with both feet?
Apparently, there are a lot of Malaysians that have taken the bait. One victim shared his experience with the press: "When I first heard of this company, it was represented by a smooth-talking Malaysian businessman who owned super-fast cars, who claimed to be earning millions of Ringgit per year and was living the ultimate dream lifestyle."
He went on to say that, "I was skeptical at first but, after two seminars, I was so convinced by what he had to offer that I jumped in without thinking twice. His company was offering double-digit returns per month with a capital guarantee on the original investment. As an added incentive, you were also offered cash bonuses being invested by people you introduce."
This company was not registered in Malaysia, but supposedly offshore in Australia. One local banking official complained that forex schemes in Malaysia tend to follow this tact: "Because the company receiving the money is outside the country, the authorities cannot do much. In previous cases, the companies that collected the money were within the country and the authorities raided and charged them with illegal deposit taking and anti-money laundering laws."
Gullible investors were also drawn in by false appearances, as well: "Illegal operators usually portray a professional and reputable image, a high-tech office layout and advanced IT facilities, such as LCD screens displaying movements in exchange rates to provide the impression that a legitimate and real business is being conducted. These facilities are merely a false front." The lesson to learn with these so-called "High Yield Investment Programs", a Ponzi derivative, is that, if it sounds too good to be true, then it most likely is a lie. Stay skeptical, and listen to your gut – It can smell a con game.
Beware of crypto-currency fraudsters like "Xmasbit".
Crypto-currencies are another phenomenon that has swept the globe, and, as you might surmise, criminals and con artists are hot on the trail of this new money train. Bitcoin, the largest example of this new wave in Internet currency, is often the target or mechanism for defrauding unsuspecting consumers of their hard-earned cash. The Bitcoin system and its operators are not the problem. It is the multitude of innovative service providers that provide access to Bitcoins in a variety of ways. These entities fly beneath the regulatory radar, which has spent most of its time defending banking rules while decrying the lack of regulatory disciplines and KYC/AML rules within crypto networks.
The crooks like this space due to the anonymity provided on the receiving end. They have recently used this trait to advantage by demanding ransoms, to be paid in Bitcoins no less, from brokers and customers, where mal-ware robots had blocked files from being accessed. The files had been encrypted, but, for a small sum, a key would be provided to unlock the tampered with files.
The latest ruse, however, is quite different. A crowd-funding investment firm that goes by the name of "Xmasbit" has recently been labeled a fraud by investigators. According to a warning by the International Financial Services Commission (IFSC) of Belize, "An online firm which calls itself Xmaxbit is falsely purporting to be an International Business Company registered in the Central American country."
Officials in the Seychelles have also accused Xmasbit of forging registration documents in their jurisdiction, as well. In case you are curious, the official Xmasbit website claims that it "is a company that invests in Bitcoin and Forex, Mining, Crowdfunding, Cryptocurrency…", to name a few, and is headquartered in Crown Towers, Tower Bridge Road, London, UK. The FCA has yet to take action, but we suspect that you may soon see an Xmasbit registration in a tax haven near you before Santa boards his sleigh.
Social Media outlets are fast becoming a playground for fraudsters.
It was not that long ago that texting was the craze among the populace and their offspring, but times have changed. With smart phones and the advent of social media sites, the desire to connect electronically in real time with pictures, video, and, yes, texting. These sites have also encouraged advertisers to ply their ware, a way of paying for our free rides, but they have done little to police those that present overtly enticing links to their servers and beyond.
The Internet has long been a playground for scammers. Email scams are prevalent that entice you to check out a link, often from a well-known brand name that adds an aura of credibility. These links will direct you to the crook's server, which will implant mal-ware or ask for personal identification information, the primary goal of most of these types of trickery. The popularity of social media sites, however, is too good to be ignored by today's generation of evildoers, and, if you think that you are smarter than these folks, surveys show that 4 out of 5 victims are college educated. According to one expert in the field, the six top scams to avoid this holiday season are as follows:
1)    Fake surveys, giveaways, and contests;
2)    Bogus gift card offers;
3)    Fake gift card number generators;
4)    Fake coupons and discounts;
5)    Fake apps;
6)    Fake news stories.
This particular expert also advises you to avoid links appearing in popular hashtag comments. Scammers also know that these addresses are frequented by a multitude of people – the broader the audience, the better the chance of finding a willing victim. You may also find helpful hints in the security section for each social website, as well.
Concluding Remarks
Yes, 'tis the season to be merry, but it may also be the season to be wary of temptations. We tend to be more trusting of our fellow man this time of year. Our wallets open wide without a second thought. If you have not already noticed, there have been a plethora of warnings from newsrooms, online newspapers, and the like that the holidays are prime time for clever con artists and thieves. They have been salivating for months, waiting to feast upon raw holiday meat. Heed the warnings above and from whatever other media sources that have tried to get your attention – Be very wary of those intent on ruining your Yuletide cheer. Stay vigilant and skeptical! Happy Holidays!
---
Safest Forex Brokers 2023
Forex Fraud Certified Brokers
CFDs are complex instruments and come with a high risk of losing money rapidly due to leverage. Between 74-89% of retail investor accounts lose money when trading CFDs. You should consider whether you understand how CFDs work and whether you can afford to take the high risk of losing your money.
Stay up to date with the latest Forex scam alerts
Sign up to receive our up-to-date broker reviews, new fraud warnings and special offers direct to your inbox
Stay up to date with the latest Forex scam alerts