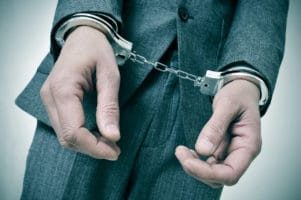 Four men from India have been arrested as part of a crackdown against foreign exchange fraud by Indian law enforcement officials.
The men, who come from major areas like Gujarat and Bengaluru, stand accused of scamming investors out of more than INR 47,000,000, which is equivalent to over USD $67,000 or GBP £52,000.
They were arrested on Monday 20 August 2018.
As well as allegedly offering fake foreign exchange pairs, the gang are accused of asking investors to contribute to what they thought was a global stock market scheme that was, in fact, a scam.
According to local media, the gang told some of those who invested that it would be possible to increase their initial investment by multiples of three or four.
However, one statement from an alleged victim even claims that the gang told him he could earn back hundreds of times the amount he invested.
Rakesh Patra, one of the plaintiffs who claims he was scammed out of INR 17,000, said the gang had "lured" him before they were trapped in a sting by police officers.
"The gang had lured me to invest in the trading scheme promising 300 to 500 times return," he told Odisha TV.
He also said that the gang then went cold, leading to the arousal of suspicions.
"After they did not return calls, we sensed something wrong. We contacted the group members through another friend about possible investment opportunity. Later, four members were arrested by police when they had come to meet investors here," he added.
Patra claims that other alleged victims may have lost up to INR 30,000 between them.
A police spokesperson in the area also released a statement confirming the allegations:
"Preliminary investigation reveals that the gang had collected money in Indian currency and later used it to purchase foreign currencies. The gang members used to deposit the money in a fake account to win the trust of people," said Anup Sahu, Deputy Commissioner of Police for the city of Bhubaneswar in the Indian state of Odisha.
India has a major problem with internet-based financial product scams, and this is far from the first such incident in recent times.
The country has a large technology workforce – and while that can bring many benefits in terms of legitimate market activities, it also means that there is a high occurrence of internet-based fraud.
At the end of last month, for example, an Indian website design professional, also from Gujarat, was taken into custody by police in Hyderabad after he allegedly scammed an investor out of INR 200,282,90, equivalent to more than USD $287,000 or GBP £220,000.
In that case, the alleged perpetrators were accused of everything from using false details to encouraging tax-evasive practices among their apparent victims.
"[The alleged fraudster] and others used to introduce themselves using fake names while talking to victims. The accused used to make the victims pay money through unauthorised means like hawala and cite reasons like avoiding taxes," police in Hyderabad told the Times of India.
---
Olympic Legend Usain Bolt Lost $12m in Savings Scam
24.01.2023
Usain Bolt loses $12m in an alleged investment scam Jamaican officials and the FBI are investigating investment manager Stocks and Securities Ltd Others are feared caught by the scheme Jamaican Olympic sprinter Usain Bolt has had a $12m savings and investment account he set up for his retirement wiped out.
Read more
Phoney Pastors Caught Running $28m Church-Based Ponzi Scheme
17.01.2023
Churchgoers targeted by scammers posing as pastors A total of $28m fraudulently taken from largely immigrant community Promises of 'financial freedom through God' undone by the fact the project was a massive Ponzi scheme Deception, distraction, and abuse of trust are standard tools of fraudsters.
Read more
Safest Forex Brokers 2023
Forex Fraud Certified Brokers
Stay up to date with the latest Forex scam alerts
Sign up to receive our up-to-date broker reviews, new fraud warnings and special offers direct to your inbox
Stay up to date with the latest Forex scam alerts