Our retail forex trading world is still reeling from the regulatory onslaught delivered in December by the FCA and CySEC. Proposed regulations would severely dampen potential revenue streams and the ability to acquire new customers. In other words, the entire competitive and profitable nature of our industry suddenly sustained a broadside attack that will redefine our industry for years to come. After enduring such a month of surprises, one might expect January to be a month of calm recovery, but au contraire.
As we have often said, "Fraud never sleeps." Reports of forex fraud dominated this month's headlines across the globe. Stories were not restricted to the confines of London and New York, a reflection that our industry is global and that fraudsters are quite capable of international intrigue in every jurisdiction on the planet. Forex fraud investment schemes seemed to be the flavor of the month from the look of articles from Egypt to Dubai to the Philippines, but crooks in the system had many more tricks up their sleeves. Technology and the Internet have become the modern tools of the scam trade.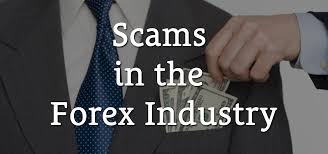 It is amazing how easily investors can be duped by promises of extraordinary returns, but it is even more astonishing when a bank is actually defrauded by currency conmen. Warnings about clones and irregular email links were also prevalent, but the prize for the month has to go to a group that produced a fake video of one of the world's most renowned physicists that touted a "can't lose" trading algorithm. Your easy path to riches would be revealed after depositing $250 or more. Many did, but never saw their funds again. Once more, the anonymity of the World Wide Web enabled a fraudster's dream.
January Forex Fraud Roundup
Did you catch any of these headline stories during last month? If not, be sure to learn from these lessons how the conman initially gains your trust, then fleeces you for all that you are worth. Here are seven brief recaps from around the globe:
#1 – Dubai – Do you know where your money is?: Dubai is a gleaming city in the United Arab Emirates that exudes wealth and prosperity, but all that glitters in Dubai may not be gold, as quite a few investors recently discovered. Exential, a local money management firm, had promised investors that a deposit of $25,000 would be doubled in value by its unique forex trading "advisory service". Investors from around the world flocked to this scam, from as far away as Nigeria and the Philippines. Employees pleaded ignorance of the bogus investment scheme, but officials claim to have arrested the man behind the fraud, a Sydney Lemos, 36, from Goa in India and CEO of the firm.
Unfortunately, $13.6 million in client funds have disappeared. Investigating officials have noted that, "We are working with various authorities both inside and outside Dubai, and looking at the alleged laundering of more than 50 million Dirham (AED) by one individual. We are working with the authorities in Australia and British Virgin Islands and will be reporting our findings to Dubai CID. Getting stolen money back is hard, dangerous, expensive work, so it is better not to lose it in the first place."
#2 – London – Bankers can be duped, too: If you have any deposits in the Russian owned banking group Otkritie Holding, you might want to make a quick withdrawal, if the bank lending company is still solvent. In a bazaar twist of fate, two Russian forex traders with experience at Threadneedle Asset Management, a Georgy Urumov and Vladimir Gersamia, deceived the bosses of an Otkritie subsidiary of their longstanding friendships with principals of the firm.
These two enterprising individuals then convinced the powers at hand to pay over a $25 million signing bonus for their services. Another $115 million has also gone missing. The verdict: "Urumov was sentenced to a total of 12 years in prison and Gersamia for 7 years after a four-month trial at Southwark Crown Court." What is the Russian word for fraud?
#3 – New York – Outrageous claims equate to fake account statements: In case you have not noticed, there has been an upsurge in websites that fraudulently market foreign exchange, commodity, and trading advisory services. Regulators are becoming increasingly concerned that the public is not getting the message and that market integrity is suffering. In order to get its point across, the CFTC persuaded a court in New York to assess an $11.6 million fine on EJS Capital Management (EJS), Alex Vladimir Ekdeshman and Edward J. Servider for running a blatant forex trading scam.
These crooks pleaded guilty to bilking over $2 million from 112 investors for their own private enrichment. Their story is familiar. According to the CFTC, "While claiming the funds would be used for foreign currency trading, even issuing fake account statements to customers, the defendants instead took most of the money for themselves, spending it on a lavish lifestyle." How many times have we heard this one before?
#4 – Egypt – The Land of the Pharaohs is not immune to forex fraud: Have you heard of the firm by the name of MerexMarkets? How about CommexFX? Abdel Rahman El Omari, CEO and founder of both entities, is accused of defrauding 4,000 investors out of $53 million through an elaborate forex scam. Irate traders in Egypt have asked the central bank to get involved, but the whereabouts of the Egyptian funds is unknown.
Authorities suspect that the funds have already left Egypt. Omari recently revealed that he has several banking accounts in Dubai and the UK. The problem appears to be that Omari goes by many different names and spellings. He was also arrested in 2015, but has been delaying court proceedings and asking for bail in an effort to reactivate his forex trading escapades and pay back the missing funds. And, if you believe that…
#5 – Australia – Beware the email wolf in regulatory clothing: If imitation is the sincerest form of flattery, then the Australian Securities and Investments Commission (ASIC) must be blushing crimson at the moment. The bright shade of "Red", however, is the color of their latest consumer alert: "It has been brought to ASIC's attention that some customers have received emails containing attachments or links to fake invoices. Fake emails may look different to ASIC emails and generally instruct the recipient to click a link to make a payment or download an invoice."
Cyber-crooks employ this ruse to steal, install mal-ware, or poach personal identification information. ASIC Commissioner John Price added: "Scam emails often appear at busy times of the year such as holiday and tax time, when it's easy to overlook something suspicious." Verify all emails.
#6 – Malta – If it looks and smells like a clone, then it probably is a clone: The Republic of Malta is an island nation in the Mediterranean between Sicily and North Africa. It joined the EU in 2004 and signed the Lisbon Treaty in 2007. Malta is a well-known tourist destination, but it is also a financial hub for many forex brokerage firms. The Malta Financial Services Authority (MFSA) has regulatory oversight over island-based forex brokers and requires that all brokers comply with EU MiFID guidelines.
The latest Maltese FSA alert has to do with a "non-authorized, clone of forex broker FXDD, which is a Malta-regulated entity." The latest clone in a long line of similar offenders goes by the name of "FXDD Trade" and sports a website under www.fxddtrade.com. This imposter uses the Maltese registration for the real "FXDD" firm and presents misleading information on its website that is intended to deceive potential traders and to suggest that this entity is in some way aligned with the registered company. The real "FXDD" is licensed by the MFSA, a part of Switzerland-based Compagnie Financiere Tradition, and a company listed on the Swiss stock exchange.
#7 – World Wide Web – Is Stephen Hawking a forex trader, too?: If there is a monthly award for innovation in the crime world, then this last feat of forex fraud would surely be this month's winner. The lesson is that not everything on the Internet is to be believed, even if there is a video that features Stephen Hawking, one of the world's most distinguished physicists and cosmologists. The clever conmen behind this scheme actually developed a phony video where Hawking claims to have developed an incredible forex trading software algorithm that he is giving to the world for free so that everyone can be rich. Does this tempting "bait" smell like a hoax to you?
Unfortunately, many victims took the bait, hook, line, and sinker. Beware the desire to visit the "Hawkingcode.com" link provided after the video. It is a siren's call to rack and ruin. If you follow the link, you will be transferred to a trading platform that will instruct you to deposit $250 or more, if you wish. As one report noted, "The platform appears to be branded as "Hawking Code", but in reality is operated by a firm called "Option.fm", headquartered in Saint Vincent and the Grenadines, with payments processed through Bulgaria. The firm does not appear to be covered by any UK regulators."
The suspicious firm specializes in binary options, but willing victims' deposits quickly disappeared down one of Hawking's mysterious black holes. Regulators in Hong Kong, Canada, and Australia have already issued warnings, but, back in the UK, hundreds of thousands of Pounds have been lost. The Sunday Times reported that Helen Travis had "deposited a £640,000 inheritance from her father on the site – only to find one morning it was gone." When contacted, Cambridge University, where Stephen Hawking serves as a director of research, confirmed that, "Hawking had no knowledge of or involvement with the financial product, and that the voice in the video was not his." As far as we know, these fraudulent websites remain active to this day. Resist the temptation.
Concluding Remarks
Fraudsters in the forex industry have definitely gone global in a big way, employing technology and the Internet to put a convincing look on their modern day schemes. The population of victims is growing by leaps and bounds across every international border. If these stories have helped you become more aware of what to avoid and how to spot crooked intent, then so much the better. Be extremely cautious when you let others manage your money or when asked to deposit funds for a "can't lose" proposition. The criminal element of our society is very proficient at deception. Stay skeptical, and remember that you are your first line of defense when it comes to fraud prevention!
---
Safest Forex Brokers 2023
Forex Fraud Certified Brokers
CFDs are complex instruments and come with a high risk of losing money rapidly due to leverage. Between 74-89% of retail investor accounts lose money when trading CFDs. You should consider whether you understand how CFDs work and whether you can afford to take the high risk of losing your money.
Stay up to date with the latest Forex scam alerts
Sign up to receive our up-to-date broker reviews, new fraud warnings and special offers direct to your inbox
Stay up to date with the latest Forex scam alerts