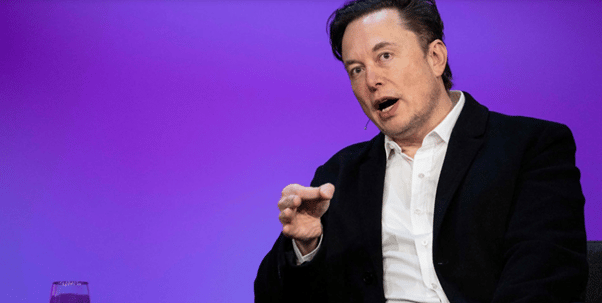 A new and worrying impersonation scam is defrauding investors of millions of dollars. It's such an effective operation that the scammers are managing to get cryptocurrency sent to them by just setting up fake YouTube accounts in the name of high-profile personalities.
Elon Musk's name has been most used by scammers so far. His publicly stated support of crypto makes him an obvious choice for the cybercriminals to draw on, but others are getting caught up in the crimes. The ARK Invest hedge fund, headed by Cathie Wood, has also been targeted thanks to its known investments in the crypto sector.
Musk has said that YouTube is not doing enough to tackle "scam ads". A spokesman for ARK said the firm "is aware of hacked third-party YouTube channels fraudulently posing as ARK. These accounts are impersonators and not affiliated with ARK Invest in any way. ARK Invest will never use YouTube or other social media to solicit money, including cryptocurrency."
How The Scam Works
One real risk associated with this YouTube scam is the professional nature of the setup. It uses hacked accounts on the YouTube platform to host professionally made videos promising to double the money of anyone who sends them Bitcoin or Ether. With a live tracker of other investors apparently getting paid out and a deadline for the 'special offer' to be redeemed, it's catching out hundreds of innocent coin holders.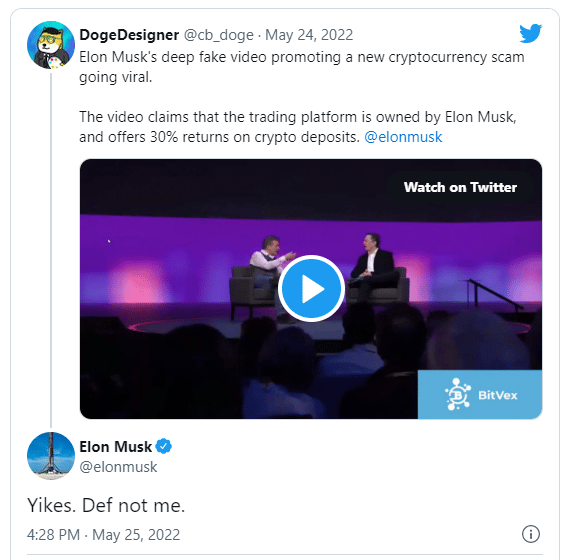 Source: PetaPixel
Those involved are bright people. One victim was talking to the BBC when he said, "I'm not an idiot". Caught out by a moment of indiscretion "Sebastian" from Cologne lost $492,000 of Bitcoin in a matter of minutes. You don't get to have life-changing amounts of money like that without being ahead of the curve, which gives an idea of how tricky the scam can be to spot.
Once the crypto coins are sent to the scammers' wallets, they're syphoned away, never to be seen again, with whatever 'regulators' there are of the crypto industry unable to do anything to help. It's not a bad return for the scammers who hijack the YouTube accounts by testing logins using popular passwords or drawing on log-in details from previous data breaches.
Bitcoin – Daily Price Chart –2019 – June 2022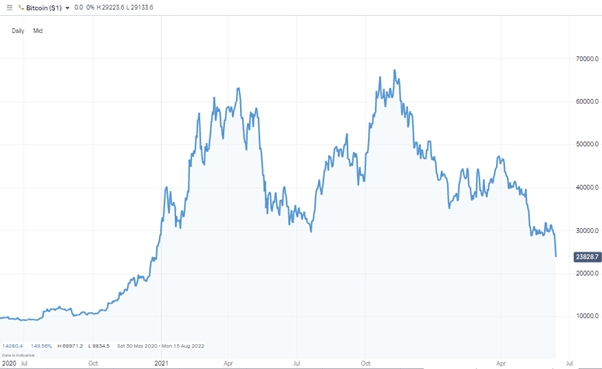 Source: IG
Crypto prices have been on the slide in 2022, but even at these lower prices, the scammers are raking in millions. Analysts estimate the scam cost investors $98m in 2021 and has already racked up $30m in 2022. The videos which tell their victims they will double their money by sending Bitcoin or Ethereum to a digital-wallet address might sound implausible, but YouTube appears unable to stop them from being created. The company has said they "have strict Community Guidelines prohibiting scams, including impersonation and hacking." However, until that becomes a reality, it's time to keep in mind the Forex Fraud advice on how to spot a scam.
Crowdsourcing information about scam brokers can help others avoid falling into the traps set by disreputable brokers, and you can share your experiences here. If you would like to know more about this particular topic or have been scammed by a fraudulent broker, you can also contact us at [email protected]
---
Olympic Legend Usain Bolt Lost $12m in Savings Scam
24.01.2023
Usain Bolt loses $12m in an alleged investment scam Jamaican officials and the FBI are investigating investment manager Stocks and Securities Ltd Others are feared caught by the scheme Jamaican Olympic sprinter Usain Bolt has had a $12m savings and investment account he set up for his retirement wiped out.
Read more
Phoney Pastors Caught Running $28m Church-Based Ponzi Scheme
17.01.2023
Churchgoers targeted by scammers posing as pastors A total of $28m fraudulently taken from largely immigrant community Promises of 'financial freedom through God' undone by the fact the project was a massive Ponzi scheme Deception, distraction, and abuse of trust are standard tools of fraudsters.
Read more
Safest Forex Brokers 2023
Forex Fraud Certified Brokers
Stay up to date with the latest Forex scam alerts
Sign up to receive our up-to-date broker reviews, new fraud warnings and special offers direct to your inbox
Stay up to date with the latest Forex scam alerts