On February 17 a situation was deliberated where the EURJPY currency pair was in the early stage of a new downtrend with a short position triggered and reached its first target. It is important to emphasize the fact that after a possible set-up is identified, it is critical to work out exactly what the calculated risk will be and just as important to know where the possible targets will be. We have to accept the fact that we do not know what the market will do but we can identify and act on a set-up as defined by our strategy or method and know how to manage any resulting risk accordingly. The advantage of this can be clearly demonstrated in the EURJPY currency pair situation.
After the short position was triggered on February 10 and the first target reached on February 13, a news event caused a dramatic bullish reaction and buyers flooded the market. The market broke through the 15 and 34 Simple Moving Averages and the Momentum Oscillator broke through the zero baseline into positive terrain. In the process the resistance level at 121.152 was broken, the anticipated scenario was invalidated and the short position was liquidated to protect trading capital.
Important to note is the fact that when the first target that was reached and part of the open position closed, this has reduced the remaining open risk.
As long as sellers and buyers maintain an impartial sentiment with neither supply nor demand dominating, the outlook for the EURJPY currency pair on the Daily time-frame will remain neutral.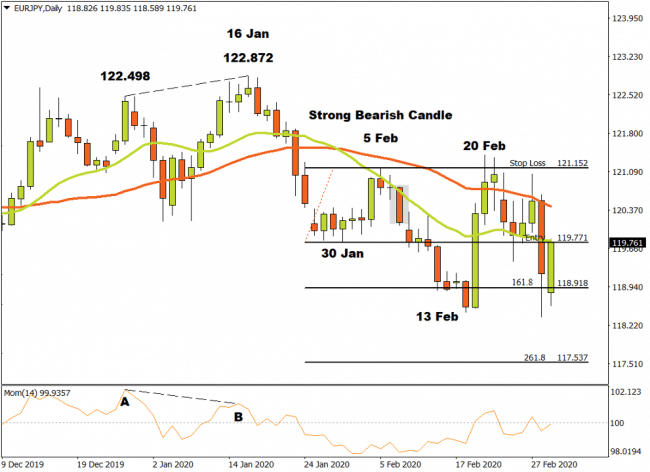 For more information, please visit: FXTM
---
Olympic Legend Usain Bolt Lost $12m in Savings Scam
24.01.2023
Usain Bolt loses $12m in an alleged investment scam Jamaican officials and the FBI are investigating investment manager Stocks and Securities Ltd Others are feared caught by the scheme Jamaican Olympic sprinter Usain Bolt has had a $12m savings and investment account he set up for his retirement wiped out.
Read more
Phoney Pastors Caught Running $28m Church-Based Ponzi Scheme
17.01.2023
Churchgoers targeted by scammers posing as pastors A total of $28m fraudulently taken from largely immigrant community Promises of 'financial freedom through God' undone by the fact the project was a massive Ponzi scheme Deception, distraction, and abuse of trust are standard tools of fraudsters.
Read more
Safest Forex Brokers 2023
Forex Fraud Certified Brokers
Stay up to date with the latest Forex scam alerts
Sign up to receive our up-to-date broker reviews, new fraud warnings and special offers direct to your inbox
Stay up to date with the latest Forex scam alerts