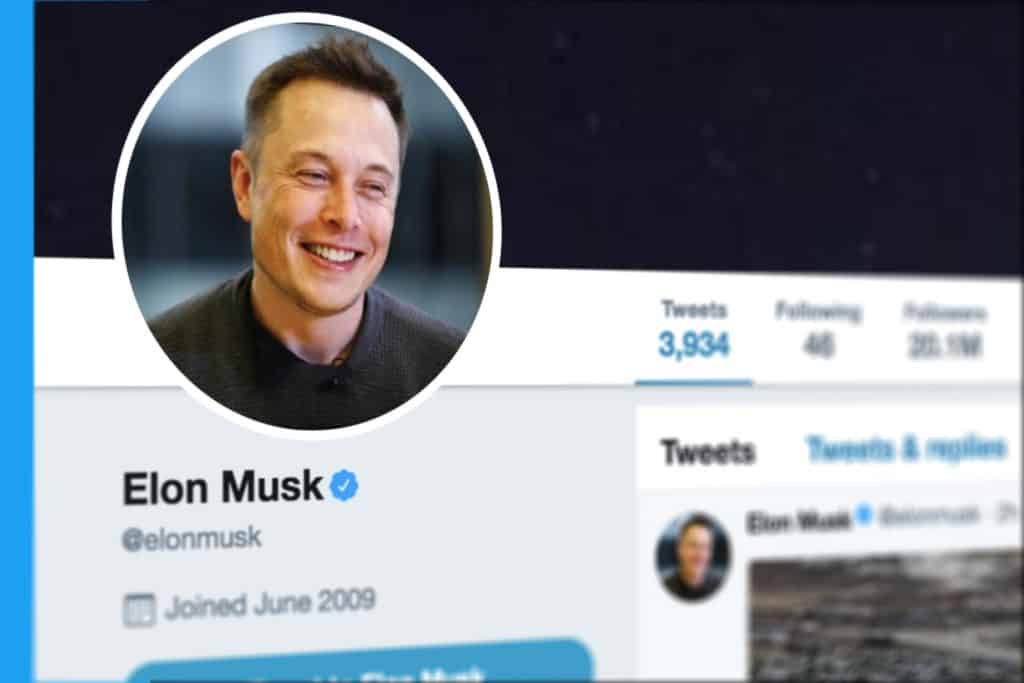 Not for the first time in his life Elon Musk has taken to 'oversharing' personal thoughts on Twitter. This time his actions could be seriously impacting the net wealth of many around the world. When the markets opened on Monday morning, Tesla (Nastaq:TSLA) stock on the Frankfurt exchange was down 9%. That is a big deal for Tesla shareholders and the wider markets.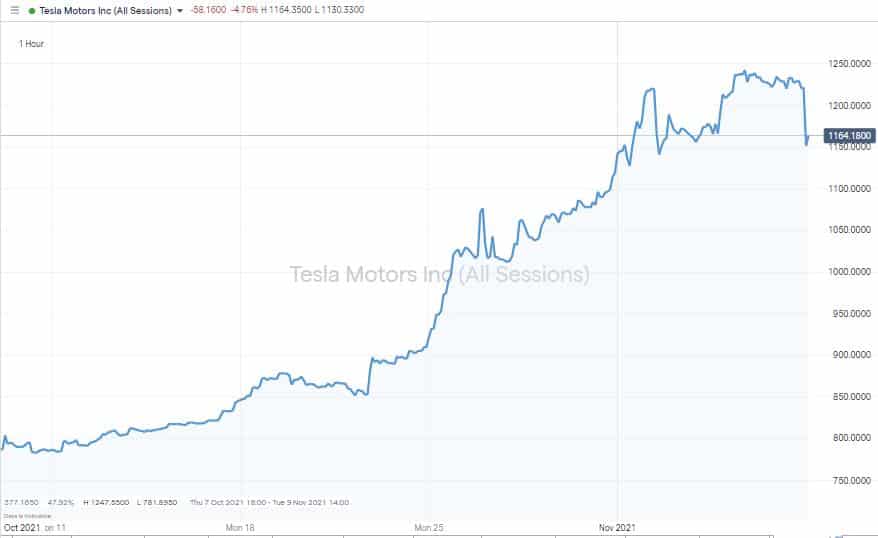 Source: IG
The car firm which Musk founded and which he is still CEO is a significant bellwether of the market mood. In October, it joined an elite club when it reported a market capitalisation of $1trn, which only Apple, Microsoft, Amazon and Alphabet have achieved.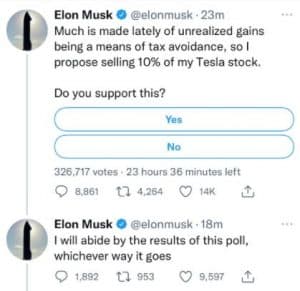 Source: Twitter
Musk's Saturday Tweet was a post asking his followers if he should sell 10% of his stock position in the firm, which at the time equated to approximately $26bn of TSLA stock. By Monday's opening time, 3.5m people had responded, and 57.9% had voted "yes". It's not clear how binding a Twitter vote is but given the interest in his question, it's unclear how Musk could back down. The underlying reality is that he probably wants to, and possibly needs to, sell some of his position to resolve two different situations.
Elon's Options
The first is that Musk holds call options in Tesla, which are thought to expire in the next three months. He isn't obliged to exercise the options and convert them into stock, but the eye-watering price rise shown in the Tesla share price chart suggests the strike price, the level at which he'll buy the stock, will be some way below current price levels. The options give him the right to purchase the options, but he'll still need to find the cash to process the transaction. Profit will be built in, but only if he can seal the deal.
Billionaires' Tax
The second issue is longer running in nature and could have far greater consequences for the stock markets. The "billionaires' tax" proposed by Democrats in the Senate is intended to increase the tax take on ultra-high-net-worth individuals who hold their wealth in the form of company stock. As Musk doesn't draw down a cash salary or any cash bonuses for his work at Tesla, his remuneration package is primarily stock-based. Washington based plans to tax unrealised profits would again leave Musk with cash flow issues, and that tax bill would likely be paid by him liquidating some of his stock position.

Source: Twitter
Final Thoughts
Musk's weekend move might look like Saturday brunch musings, but it could be a smart one. By providing an advanced warning of the sale, he'll be less likely to damage the euphoria surrounding the stock. It would be more a case of letting some air out of the bubble. It also helps him rotate his position from the existing stock into in-the-money options.
The repercussions for the broader market could be more interesting, with the billionaires' tax issue likely to play a significant role for many more US firms.
Crowdsourcing information about scam brokers can help others avoid falling into the traps set by disreputable brokers and you can share your experiences here. Find out more about this area, or if you have been scammed by a fraudulent broker, you can also contact [email protected]
---
Olympic Legend Usain Bolt Lost $12m in Savings Scam
24.01.2023
Usain Bolt loses $12m in an alleged investment scam Jamaican officials and the FBI are investigating investment manager Stocks and Securities Ltd Others are feared caught by the scheme Jamaican Olympic sprinter Usain Bolt has had a $12m savings and investment account he set up for his retirement wiped out.
Read more
Phoney Pastors Caught Running $28m Church-Based Ponzi Scheme
17.01.2023
Churchgoers targeted by scammers posing as pastors A total of $28m fraudulently taken from largely immigrant community Promises of 'financial freedom through God' undone by the fact the project was a massive Ponzi scheme Deception, distraction, and abuse of trust are standard tools of fraudsters.
Read more
Safest Forex Brokers 2023
Forex Fraud Certified Brokers
Stay up to date with the latest Forex scam alerts
Sign up to receive our up-to-date broker reviews, new fraud warnings and special offers direct to your inbox
Stay up to date with the latest Forex scam alerts