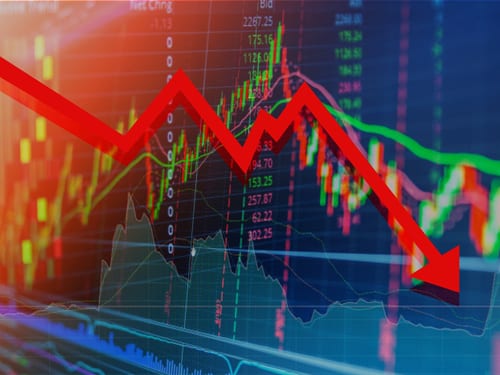 The market is full of perma-bears, naysayers who think everything is overvalued and market prices are artificially inflated by governments and central banks looking to secure political support. They could be right but trading their ideas would have been very costly over the last decade.
Friday saw bearish attitudes move from online chatrooms to the actual markets as billions of dollars of stocks were offloaded in a fire-sale caused by a hedge fund being caught out over-extending itself. The question now is whether this will have a domino effect. Will other funds that are also over-leveraged cause a sell-off in the markets?

Archegos
The mechanics of the winding down of US Hedge fund Archegos Capital Management have been seen before but liquidity squeezes always cause concern. On Friday morning, before the US exchanges opening, investment banks including Nomura, Credit Suisse and Goldman Sachs contacted more solvent funds to offer them 'block trades' of primarily tech stock names at a significant discount.
Relationships still matter in the industry and offering some transparency the sale was described as being caused by "forced deleveraging" by a fund.
It's understood that one of the stocks held by Archegos was Discovery Inc. In the space of eight hours, that stock saw its share price plunge by more than 40% (black arrow to black arrow).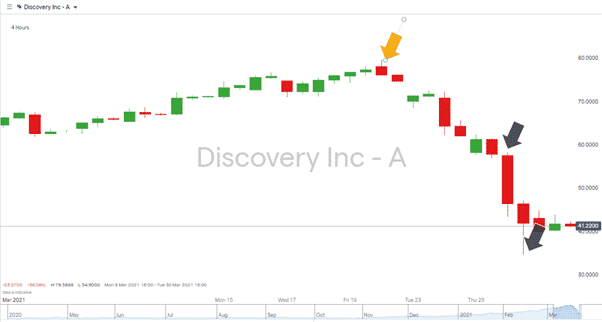 Source: IG
What is potentially more concerning is that the forced sale occurred after a relatively minor correction in prices (gold arrow to first black arrow). Archegos was so heavily leveraged that a price slide from $80 to $60 in a US TV broadcaster was enough to leave it scrabbling around for cash. It's also worth considering that some of that initial price fall could have been down to Archegos trying to sell its way out of trouble.
How close to the wind was Archegos sailing and what other funds are in the same position?
When efforts to secure further lending failed, the fund was left with no alternative but to offload positions in an effort to meet margin calls.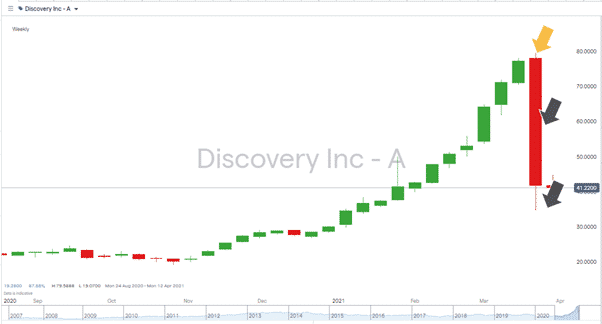 Source: IG
Archegos' reporting is best described as opaque. As it uses CFDs, it doesn't have to report details on its positions; Industry insiders are speculating some of those sales in single stocks could have been as large as $1bn.
Does Archegos Highlight the Next Structural Risk?
Every market crash is followed by a period of introspection and a list of new rules and regulations designed to take the systematic risk out of the market. The Archegos situation has revealed one which has not yet been dealt with – prime brokerage lending. Possibly more specifically, the ability of hedge funds to leverage up their portfolios with a bunch of prime brokers who are oblivious to the fact that they are just one of many potentially left on the hook if things go wrong.
Japan's largest investment bank Nomura advised its shareholders that losses from the Archegos situation could total $2bn; its share price was down 16%. The prime brokerage division of Credit Suisse also had exposure to the problem. As analysts tried to establish how much money the bank could lose from its support of the trading activity of Archegos its share price was down 14%.
Those not part of that conversation would have picked up on events by tracking share prices.
If you want to know more about this topic or have been scammed by a fraudulent broker, please contact us at [email protected]
---
Safest Forex Brokers 2023
Forex Fraud Certified Brokers
CFDs are complex instruments and come with a high risk of losing money rapidly due to leverage. Between 74-89% of retail investor accounts lose money when trading CFDs. You should consider whether you understand how CFDs work and whether you can afford to take the high risk of losing your money.
Stay up to date with the latest Forex scam alerts
Sign up to receive our up-to-date broker reviews, new fraud warnings and special offers direct to your inbox
Stay up to date with the latest Forex scam alerts