Wherever there is money involved, there is an opportunity for fraud, plain and simple. Crooks will find a way, and their task becomes much easier when technology and complexity can be leveraged to their advantage. The Internet has sparked the current Digital Age, but it has also provided an immense playground for the criminal element of our society to ply their unscrupulous wares. Forex fraud is but a small component of a much larger landscape that threatens to unravel your very livelihood, but protection can only begin once awareness, greed, and denial are put aside.
It is time to recognize and accept, as one expert reported, that, "Today's cybercriminals are talented, organized, efficient, and well-funded. In the last year, they have successfully attacked numerous retail and financial organizations, taking personal and financial data of hundreds of millions of consumers to fraudulently open new accounts, take over existing accounts and commit payment fraud." Today's modern crooks can actually hack into your electronic device, log on to your bank or brokerage account, and transfer funds to waiting "mule account" holders, where the stolen largesse is cashed out and then distributed, never to be seen again.

The following graphic was prepared from data gleaned from 24 countries in 2012: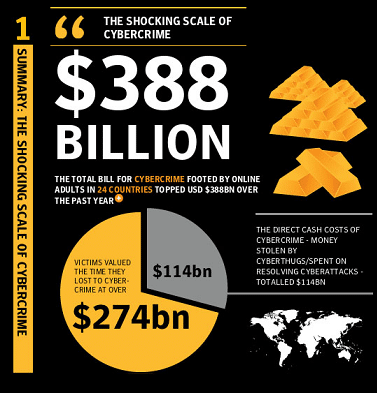 A total of 556 million individuals were impacted in one year for an average direct cash loss of $200, but this figure increased by 50% in 2013. At these rates of growth, the total cost of cybercrime, including time wasted dealing with the aftermath, could easily top a staggering $1 trillion on an annual basis by the end of this year. If these figures did not grab your attention, then here are a few more facts for you, each assembled by IBM for the U.S. market alone: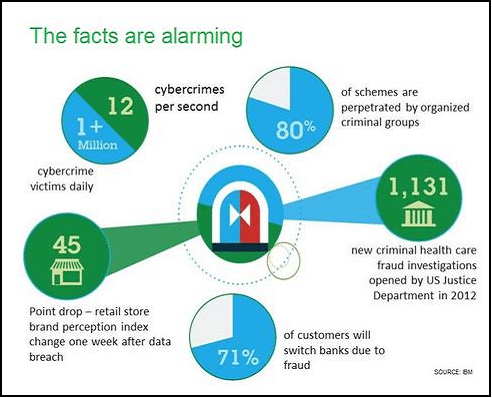 Financial fraud is ubiquitous and well organized. As per the experts, once more, "Cybercrime can't be ignored – with data breach headlines appearing daily, it's well known that computer-related fraud and cybercrimes are significant, growing problems. In fact, a recent Ponemon study found that over the past four years, cybercrime-related costs have climbed an average of 78%." The odds are high that you or another family member within the next year will encounter a potentially fraudulent situation, whether via forex or through another venue. Are you prepared to deal with the attack before the wolf is at your door?
How does one prepare for a potentially fraudulent attack?
The simple message to this point in this article is that fraud and the Digital Age go hand in hand. You should expect an attack and not be surprised if and when you are approached. The avenues of attack are also predictable, each requiring a different mode of defense to ensure prevention. First, you must be ever vigilant and skeptical when handing out your personal identity information. You do not want to fall prey to a phishing scam or have rogue software infiltrate your Internet device and hand over valuable data or device control to a crook bent on cleaning out your financial accounts.
Second, business owners and websites, your eventual partners in cyber activity, are constantly battling cyber crooks at every turn. Studies show that roughly 30% of companies are victims of cyberfraud every year. They must continually invest in security precautions to audit, detect, and prevent a host of attacks from electronic criminals. The complexion of fraud is also constantly changing, as the bad guys keep poking about searching for a new vulnerability to exploit. Encryption techniques provide a measure of protection, but companies have had to deploy very sophisticated real-time solutions that compare expected behavioral attributes with current cyber activity to screen for the possibility of fraud. Fraud losses may be gigantic, but they may only represent one in a thousand transactions, the proverbial needle in the haystack.
Consumers need not go to such extremes, but you can follow a conscious path to create an ongoing check and review system for your own protection. To avoid being a victim of identity fraud, the first step in the process is to remember a simple anagram: "SCAM":
Skepticism is your best ally. Think twice before freely handing out your personal information. Be wary of emails with links to suspicious websites that look alarmingly like sites that are familiar to you. These "clone" sites have been designed to gain your trust and may attach malware to your device that can be used later to compromise your security. Studies show that 1 in 6 PCs do not have some form of virus protection software. Crooks always go after the easiest marks, especially those with PCs with a Welcome sign out front;
Check all financial items received in the mail or via email to confirm that everything is as it should be. The point here is to look for anything that appears irregular. Did phone numbers or addresses suddenly change for no reason? Was your name misspelled? If something strange has occurred, be sure to investigate;
Ask for your credit report and check for anything that might look odd. If you see new items that were not on a previous report, investigate with your credit bureau. Periodic checks like these are highly recommended;
Maintain good financial records on an ongoing basis. Do not wait until the end of the year when you prepare your tax returns. You need to validate that every item on a bank or brokerage statement is accurate and belongs to you. Errors do occur, in addition to fraudulent ones, but your consumer protections are time sensitive. If you want items reversed according to consumer protections in the law, you must react within defined time periods.
Are there more protective measures for preventing forex fraud scams?
Cyber criminals can come at you from a variety of directions, the reason that you must be very skeptical when approached from whatever angle. Fraudsters must establish trust immediately, and, for that reason, you may be approached by a friend, a family member, or a respected member of your community from a church, school, company, or government entity. Assuming for the moment that you have protected your personal information from potential abuse, what do you do when a marketing agent calls or emails you with the greatest way to make money since the dawn of mankind?
First, understand that the potential swindler already has a script to follow, with a list of appropriate responses to anything that you might say. His goal is to stop you from talking and thereby prevent you from asking important questions. Asking questions at this stage is welcomed and encouraged by reputable investment personnel. Shady types are adept at diverting your attention, but asking questions is your best line of defense. Here are just a few queries to ask up front:
1) How did you get my name, email address, phone number, etc?
2) What risks are related to your proposed investment?
3) Can you send me a written prospectus that covers your proposed investment?
4) May I have my attorney, accountant, or investment advisor speak with you about your proposal?
5) How long have you been in business and who are your owners and principal officers?
6) Are these investments traded on an exchange?
These are just a half dozen cogent questions that require precise answers. If the marketing agent balks or hedges his replies, then you should be suspicious. Before you get this far in the discussion, he may have already cut and run to the next name on his list. Crooks do not waste time when the odds suddenly drop to lower digits. Are there more questions that could be asked? Of course there are, and you will find them and a more detailed discussion under the "Forex Scams" tab of this website.
Concluding Remarks
We live in a vibrant and exciting electronic world, but connection comes with a price, which can vary by individual depending upon how vigilant you are at protecting your personal information, Internet access device, and natural tendencies from compromise. Cyber crime is growing at breakneck speed. Everyone could now be susceptible to a potential attack from a hacker or a criminal ring, each well versed in how to steal the modern way. Law enforcement officials are not sitting on their hands, but professionals in this area will tell you that financial fraud cannot be eliminated – it can only be controlled and hopefully maintained at acceptable levels.
In the meantime, you are your first and last line of defense. You must establish a level of personal skepticism, so that when you are approached by a potential fraudster, you are prepared to defend yourself with a bevy of questions. Not all marketing agents are unscrupulous, but there are quite a few that will test your defenses with fast talk and promises of untold fortunes if only you would hand over one small initial deposit. Awareness is key to recognizing a potential conman plying his trade. If your gut is twisting while you hear his spiel, then put your greed aside, and walk the other way.
---
Safest Forex Brokers 2023
Forex Fraud Certified Brokers
CFDs are complex instruments and come with a high risk of losing money rapidly due to leverage. Between 74-89% of retail investor accounts lose money when trading CFDs. You should consider whether you understand how CFDs work and whether you can afford to take the high risk of losing your money.
Stay up to date with the latest Forex scam alerts
Sign up to receive our up-to-date broker reviews, new fraud warnings and special offers direct to your inbox
Stay up to date with the latest Forex scam alerts