It is especially disconcerting when a high flyer in any industry crashes and burns before our very eyes, but when a major fraud is also part of the story, the plot only thickens with time. In our foreign exchange space, the darling of the press that fell immediately from grace earlier this year was  CWM FX, fraud being the headline. A brokerage that seemingly rubbed elbows with celebrities, sports stars, and royalty with an ease that impressed even their worst of their many critics, who was Anthony Constantinou, their CEO? Where did he come from, and where did he get his endless supply of cash that he spread so freely about the UK?
The tabloid press had dubbed Constantinou as "the tragic son of fashion tycoon Aristos Constantinou, gunned down in his Bishop's Avenue mansion in 1985 when Anthony was three. The unsolved case became known as the Silver Bullet Murder due to the six nickel-jacketed bullets that ended Aristos' rags-to-riches life." His mother was later implicated, but she has never been arrested on any charges. From these lurid beginnings, the ambitious CEO set up shop in the Heron Tower at 110 Bishopsgate, one of the most prestigious high rises that now dot the London skyline.

CWM FX was just one of many financial service companies that were envisioned as critical parts to the burgeoning Constantinou empire, until the 5th of March this year. A highly visible afternoon raid shut down the CWM FX offices, in which "the City of London Police raided the offices of CWM at the Heron Tower and arrested ten men and three women, who at the time worked at the foreign exchange brokerage arm of CWM.  Foreign exchange dealing at the firm was also suspended in March."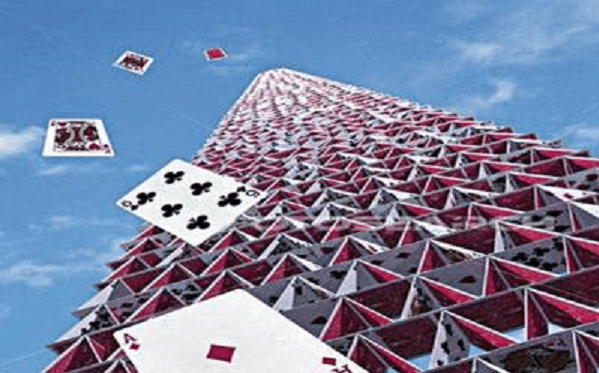 The story could have ended nicely at this point, but bedlam soon broke loose. As the house of cards began to crumble, executives at CWM claimed that no raid had ever taken place. They soon changed that story to concede that a former disgruntled employee had tried to exact his revenge by alarming regulatory officials unnecessarily. Once the dust had settled, they would soon be up and running again. Unfortunately, the FCA and law enforcement officials pretended that the raid had never occurred, as well. The level of secrecy surrounding this entire case seemed way out of proportion.
In the absence of any official statement, the press was left to play a guessing game for weeks, trying to explain how this little firm had risen so high, so quickly. In a few short months, CWM executives partnered with the likes of the "Chelsea Football Club, Wigan Warriors rugby league team, CWM LCR Honda in MotoGP, CWM Cyclone boxing promotions, the Sport Industry Breakfast Club, the Outstanding Contribution to Sport Award in 2015, and the London Boat Show." Where did the cash come from to negotiate such high profile sports sponsorships? What lessons were there to be learned?
Lesson #1: A sports sponsorship does not convey financial credibility.
The Barclay's Premier League has become a haven for sponsorships with forex brokers. London is the undisputed champion of the foreign exchange market, and as such, it makes absolute sense for brokers to seek awareness amongst the cheering throngs. This phenomena, however, is not necessarily reserved for the UK. The following chart lists just a few of the deals that have been inked over the past year: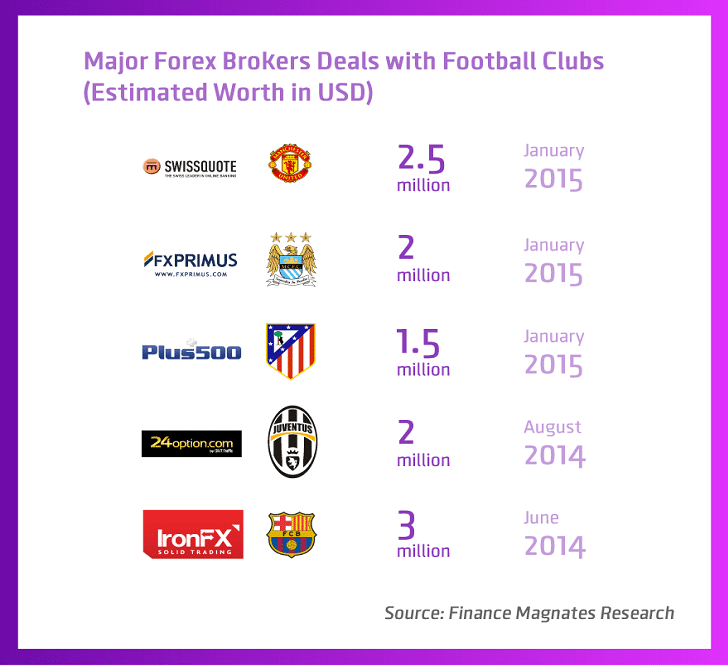 FC Barcelona is considered by many as the number one football club in the world at the moment, the reason for its $3 million price tag. Juventus, an Italian club that lost to FCB in the European playoffs, made off with a cool $2 million, as well. The question is why did not Chelsea FC do its due diligence on CWM FX before signing on the dotted line?
Sanjay Mistry from PR Limited, a marketing consulting firm, is not surprised by the lack of attention paid when someone is willing to fork over large sums of money for nothing more than a name printed on a player's jersey. He explained, "Forex trading is a relatively new sector, and clubs sometimes misunderstand how they operate with the money remittance, and deliverable FX business being mistaken as the product a margin FX broker offers. Sports clubs should look at the history, management, target markets, products and general outlay of a firm."
It would seem that administrative staff never bothered to read the risk disclaimers that the rest of us read on a routine basis. Forex trading is high risk. Casualty rates do tend to be high, as well, hitting 70% in the first few months of trading. Client attrition is a major problem in our industry, and it no doubt forces a heavy interest on the marketing aspects of new customer acquisition. One of those aspects is to gain widespread awareness among the general public, especially those individuals well enough off to afford today's exorbitant ticket prices for sporting events.
Have sport sponsorships worked for the forex brokerage industry? We have yet to hear one broker brag about how his specific deal has won the day. In most cases, the firm's executives get an opportunity for great photo ops and to be around their sports heroes, but other than that, the jury is still out. Sponsoring a sports franchise can be a way of rewarding staff and clients, but the rub off into new business is questionable. Once you get into one of these deals, it is also very difficult to pull away.
As for Chelsea, they were quick to pull the release chord on CWM FX. CWM FX immediately disappeared from the club's website, but no statement was issued to explain why. It is also not known if any sponsorship fees were refunded. One has to wonder if the club has been cursed this year after this shady turn of events. Chelsea is having its worst season in decades, hovering barely above the relegation level in the Premier League table.
But the beat goes on unabated. One reporter noted that, "The €1.3 billion ($1.5 billion) paid in soccer sponsorships last year included dozens of deals with small online gambling and financial trading companies that used the sport to drive traffic to their websites, according to research by Simon Rines, a sponsorship-analysis firm." Not all of these deals have been with reputable firms. Power8, a Taiwan broker appearing on many stadium advertising boards and sporting a host of sponsorship deals, has been alleged to be a massive fraud by the Taiwan Police. Client deposits have disappeared.
At the end of the day, it is, perhaps, all about the money. As one insider put it, "Sports sponsorship lets companies get credibility by aligning with well-established sports brands. Everything looked good on paper for the Chelsea-CWM FX deal. If Chelsea hadn't done it, another club might have jumped into the space and taken the deal off of them." Yes, greed apparently is alive and well behind the closed doors of team sports.
Lesson #2: High flyers rarely make money the old fashioned way.
Whenever a broker or any other business entity suddenly makes a big marketing splash with expensive ads or sponsorship deals, it is a red flag to anyone paying attention that something is extremely odd. The money for such ostentatious displays has to come from somewhere, if not from current invested capital, then from client deposits or future fees when charged. The alert is even redder, if that makes sense, when the offending company is in start-up mode. These actions signify a management team that is willing to place an enormous bet with your money with very little potential for a big payoff.
With CWM FX, it was not just one marketing deal. It was more than half a dozen and counting. Their staff may have wanted the "disgruntled employee" story to stick, but the behavior of their executives had attracted a high level of suspicious scrutiny, especially from regulators. Part of the reason that the FCA and law enforcement officials were so slow in revealing details was that, once inside of CWM FX, they found a much larger fraudulent operation than they had ever suspected.
When the City of London Police finally confirmed the target of the raid publicly, they issued this statement: "The primary objective of the arrest phase of this investigation was to stop what we believe was ongoing criminality and prevent people putting their money into CWM's managed funds offering 5% interest per month. Now we need anyone who thinks they have invested in this specific enterprise to get in contact and help us clarify exactly how this company has been using the funds given to them in good faith by citizens living in both the UK and abroad."
Police originally thought they were looking at a £20 million fraud. They soon discovered that unwitting investors had deposited £50 million in an unauthorized account in a Cayman Islands bank. The funds were to be used for trading in the foreign exchange market, something that never took place, and "the fund offered unsuspecting investors a 5% guaranteed return together with the ability to withdraw funds on 30 days' notice." By the time the law arrived, only £1.2 million remained.
Until this discovery had been made, the funding source of CWM's marketing campaigns had been the conjecture of tabloids. Constantinou was even accused of links to "a massive $16 billion Ponzi scheme, orchestrated by the Mauritius-regulated Belvedere Management Limited". At present, a class action lawsuit has been filed against the offending bank in the Caymans, but I would not hold your breath on that one. The clear lesson is to avoid high flyers in the market. Most all will crash and burn at some point.
Concluding Remarks
There are several important lessons to learn from the CWM FX fraud. If your broker embarks on an expensive marketing campaign, just remember that the money it just spent must come from somewhere, namely you. Second, partnerships with sports franchises do not mean that the broker is financially stable or that its intentions are credible. Lastly, outrageous returns, like 5% per month, are impossible and are also unsustainable in today's financial markets. You are correct in assuming that a Ponzi scheme is inevitable when guarantees like this one are made.
Stay vigilant and skeptical of brokers that tout their marketing prowess or capacity to produce ridiculous returns over their ability to serve your interests in the foreign exchange market. Fraud never sleeps!
---
Safest Forex Brokers 2023
Forex Fraud Certified Brokers
CFDs are complex instruments and come with a high risk of losing money rapidly due to leverage. Between 74-89% of retail investor accounts lose money when trading CFDs. You should consider whether you understand how CFDs work and whether you can afford to take the high risk of losing your money.
Stay up to date with the latest Forex scam alerts
Sign up to receive our up-to-date broker reviews, new fraud warnings and special offers direct to your inbox
Stay up to date with the latest Forex scam alerts