We soon learn in our formative years that there are consequences for our actions. The equal and opposite reaction to our actions may take time to develop, but justice will out, as many wise men have said. Although there are several legitimate binary option brokers, it appears that the recalcitrant ones in the market never learned that bad karma can come back around to haunt you to your dying day. After Simona Weinglass, an investigative reporter for the Times of Israel, penned her compelling exposé about the binary options industry in early 2016, the consequences have now reached a fever pitch.
Ms. Weinglass revealed the ugly underbelly of an industry that had disguised itself as a highly profitable investment vehicle, while running a rigged gambling casino in the back office. Unbridled greed morphed into outright fraud in some instances and very shady business practices, as well. Our headline article at the time read, "Israel's vast, amoral binary options scam exposed." Consumers were being fleeced for billions of dollars, but regulators and law enforcement officials did nothing. Israeli authorities claimed their hands were tied because the crooks had been smart enough to avoid victimizing local Israelis, but the reputation of Israel suffered as a result.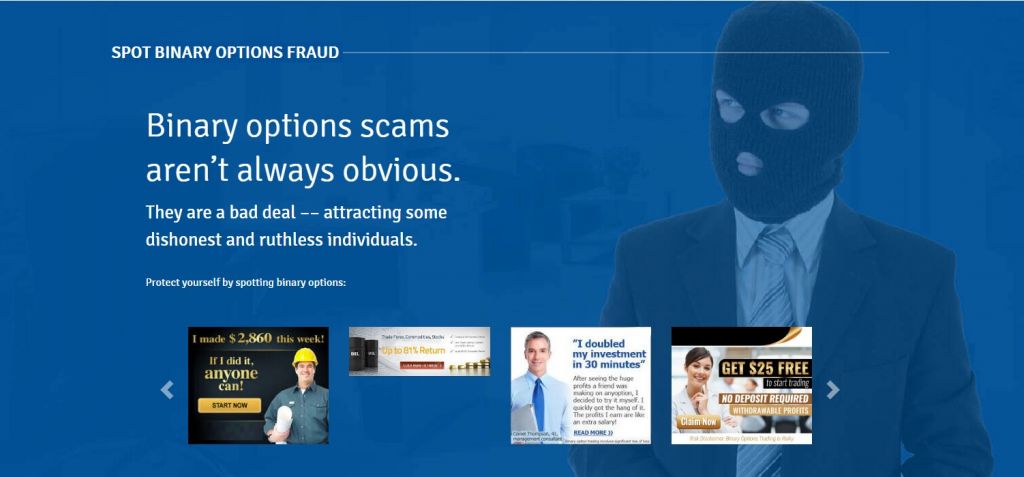 Promises of immediate fortunes to be made was the initial "net" thrown out to capture unwary investors. Overtly aggressive sales tactics led to increased pressure after the first deposits were recorded. The simplicity of the process, coupled with enormous returns in very short time periods, was the siren call heard across the globe. Fake trades touted how easy it was to place winning positions in what regulators called "outright gambling", an excuse used by many regulatory agencies and established forex brokers to ignore the crimes being perpetrated.
Consumer complaints soon flooded regulatory offices, but the nature of the problem was not immediately evident until Ms. Weinglass put the pieces of the puzzle together. As we subsequently wrote, "Customer complaints began to escalate, as well, reaching the thousands for regulators in every jurisdiction. Reported losses were in the billions, and these estimates were regarded as very low. Regulators in the U.S., Canada, Australia, China, Japan, France, and Belgium, to name a few, forbade the cross-border solicitation of their citizens. What had begun as a market response to the difficulty of online trading had gotten way out of hand. Binary option brokers, both good and bad, had literally been painted into a corner."
The level of complaints regarding aggressive marketing tactics, bonus come-ons with onerous restrictions, tricking clients into thinking they have invested in company stocks when they were really gambling, the refusal to honor withdrawal requests, and deliberately misrepresenting expiration prices grew to avalanche proportions in every jurisdiction of the globe, especially in developed countries where forex trading had been flourishing for decades. France was just one example. Its securities regulator, the AMF, had been in the press broadcasting that complaint levels have risen over the past five years from a smattering of 100 or so to over 6,000 in calendar 2015.
French authorities, in an exasperated attempt to determine the depth of public losses, went on national television to highlight the problem and ask victims to come forward. In a highly publicized press conference, it was reported that, "The Public Prosecutor of the High Court of Paris, along with the AMF, the Office of Fair Trading of the Economy Ministry and the Prudential Supervisory Authority of the Bank of France, urged victims to come forward. Over 25,000 victims have responded to date, representing an estimated €4 billion in alleged fraud in the past six years."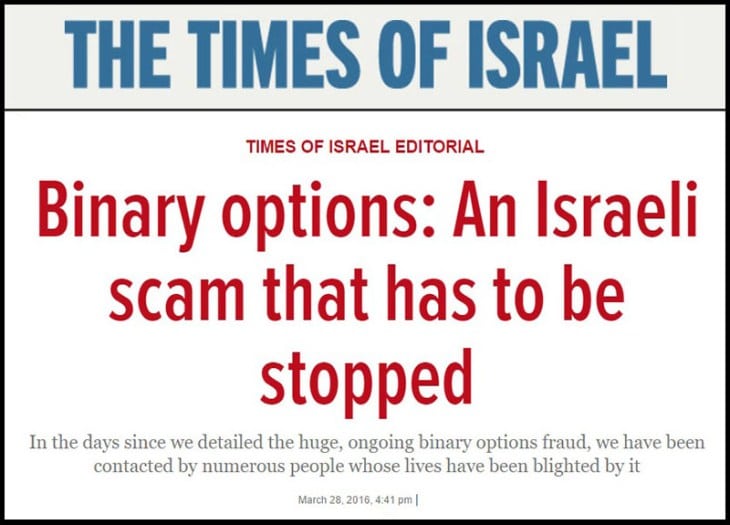 France was not alone. Similar horror stories were surfacing in North America and Asia, as well, and sounded much like this one account: "At first, their broker was friendly, knowledgeable and highly attentive. After they made their initial deposit, they would experience a series of successful trades, and seeing how easy it was, keep adding funds to their investment account. Until one morning they woke up to see a large portion of their balance wiped out. When they complained, their broker turned cold and unresponsive or, alternatively, tried to persuade them to invest more to try to recover what they'd lost. Eventually, the losses piled on and the client gave up, or had their account closed against their will, while the fraudsters disappeared with the cash."
Subsequent articles by Ms. Weinglass also revealed how extensive and developed the criminal conspiracy had become: "Fraudulent binary options is a vast criminal enterprise, employing thousands of people in over 100 companies, many of them in Israel, but also in countries like Romania, Bulgaria, Ukraine and the Philippines. The industry is thought to earn hundreds of millions, if not billions of pounds a year and victims worldwide are believed to number in the millions."
The exposé went on to detail that, "Fraudulent Israeli binary options companies ostensibly offer customers worldwide a potentially profitable short-term investment. But in reality — through rigged trading platforms, refusal to pay out, and other ruses — these companies fleece the vast majority of customers of most or all of their money. The fraudulent salespeople routinely conceal where they are located, misrepresent what they are selling and use false identities."
Binary Option brokers are reeling under the pressure of public condemnation.
Fast forward one year, and the public backlash has been enormous, including but not limited to regulatory attacks with fines, license suspensions, and new highly restrictive regulations, not to mention a plethora of criminal lawsuits across the globe. Officials in Israel have also gotten the message and crafted new legislation to address the travesty upon its shores. Everywhere you look in the financial press these days, there is news of another attack on the industry. Legitimate binary option brokers have even formed a lobbying group to plead their cause, which may have reaped rewards in Israel.
Here is a brief rundown of the latest news briefs on the topic of binary options:
Israel – New watered-down legislation, but what took you so long?
The public outcry fomented by Ms. Weinglass's articles appeared to have had an impact on government officials in Israel. ISA finally recommended proposals that would outlaw unlicensed binary option firms, assess severe penalties for violations of the new rules, and cast a broader web over a host of other activities and products like CFDs. For many victims, the question on their lips was why did it take so long for Israeli officials to take action against such shady business practices.
The hope for justice, shared by thousands of defrauded consumers, soon faded. The lobbying process quickly moved behind the scenes to morph this well-intended legislation into a feckless combination of useless regulations. In the latest watered-down version of the corrective legislation, current violators need only change a few words in their product descriptions to get around the new narrow binary option definitions. Critics have stated openly that Israel has become the "Colombia" of illicit financial services.
To make matters even worse, lobbyists also dragged out discussions before the various committees of the Knesset to such a lengthy degree that the earliest implementation date for any new rules has been pushed out to early 2018. How did such good intentions get derailed? It seems that financial impacts have trumped any notions of culpability or national pride: "The Israeli binary options industry has been estimated to bring in between $5 billion and $10 billion a year, to number well over 100 companies, and to employ between 5,000 and tens of thousands of employees." When push came to shove, the loss of domestic jobs and tax revenue won out over foreign victims.
Despite the game-playing antics at a government level, these actions will not circumvent the filing of legal claims in the courts. Several cases against Israeli firms are already on the books, and more will surely come. This story will not go away quietly when billions in losses are at stake. Binary culprits understand the potential of these consequences and have already closed down operations in Tel Aviv and relocated to more acceptable locales like the Ukraine and Eastern Europe. When it comes to global fraud, you can squeeze the balloon, but it will only expand into another area. The beat will go on.
United States – The CFTC springs into action.
Binary options, like the variety marketed in Europe and across the planet, have been outlawed in the U.S. for many years. In this region, these options must be traded on a regulated exchange. The same is true in Japan. The two exchanges that exist offer their products in both the U.S. and Canada, but these conditions are not enough to thwart foreign binary option operators from soliciting clients in both countries. Regulators are constantly warning the public of unlicensed firms, posting broker names on "black lists", and prosecuting criminal activity, when and if the evidence warrants.
Occasionally, however, crooks can get a bit ambitious in their exploits, as did Jason B.
Scharf of Valley Village, California, and his marketing affiliate, Michael Shah, based in Jacksonville, Florida. Per the news release: "The CFTC continues to be committed to rooting out and prosecuting binary options fraud in our markets. As alleged, the fraudulent scheme here involved false claims of outsized profits, fake testimonials, and "guaranteed" returns. The scheme, as alleged, was massive, resulting in the misappropriation of over $16 million from more than 8,000 customers. This action should send a message to would-be fraudsters that the sort of conduct alleged here will not be tolerated." Would the CFTC have cared if these fellows had marketed to foreigners?
Australia – Even Google and Apple have been duped by binary option swindlers.
Binary option marketing firms often state that they only target people that like to gamble, but this excuse does not fly when modern methods are used to entrap the under-35 demographic. Social media is replete with ads that scream and blink about the wonderful advantages of binary options, but the sure-fire way to reel in your prey in this venue is via the latest and greatest smart-phone app.
ASIC recently noted that, "It had conducted a sweeping review of mobile app stores focusing on those associated with so-called binary options trading. It said that the review highlighted over 330 apps that were offered by entities and individuals that appeared to be unlicensed." Consequently, Google and Apple pulled hundreds of apps from their online stores over fears of potential financial scams being attributed to their blind acceptance.
Concluding Remarks
When will binary option purveyors regain respectability? Not anytime soon would be our best guess. Buyers beware is the best advice for now.
---
Safest Forex Brokers 2023
Forex Fraud Certified Brokers
CFDs are complex instruments and come with a high risk of losing money rapidly due to leverage. Between 74-89% of retail investor accounts lose money when trading CFDs. You should consider whether you understand how CFDs work and whether you can afford to take the high risk of losing your money.
Stay up to date with the latest Forex scam alerts
Sign up to receive our up-to-date broker reviews, new fraud warnings and special offers direct to your inbox
Stay up to date with the latest Forex scam alerts