Yes, the holidays are a time for shopping, reveling, and celebrating good cheer, but, unfortunately, if you let your guard down for even a second, jolly Scam-a-Claus will come to town and rain on your parade, big time. At least that is the story that Norton and other security outfits are telling us, whether we choose to heed their well-intentioned warnings of dire criminal intent at this time of year or not. While we rejoice in the holiday giving spirit, the criminal element in our society has been gearing up and polishing off their most lucrative schemes that have rewarded their holiday spirit of taking. As forex traders, we have come to trust the Internet, but 'tis the time to be wary!
This spirit of holiday taking typically commences each year on Black Friday, the last Friday in November and the traditional kick-off for Christmas shopping across the planet, but it quickly reaches its zenith on the following "Cyber Monday", when online shopping suddenly shifts into a much higher gear. If anything, crooks have learned to adapt their favorite tactics for maximum potential yield on the Internet, quickly determining over the years that our trust can be easily obtained when no eye-to-eye contact is a prerequisite for closing a deal. The art of duping on the net has escalated in recent years and is borne out by a massive landslide of evidence that the crooks are winning big time.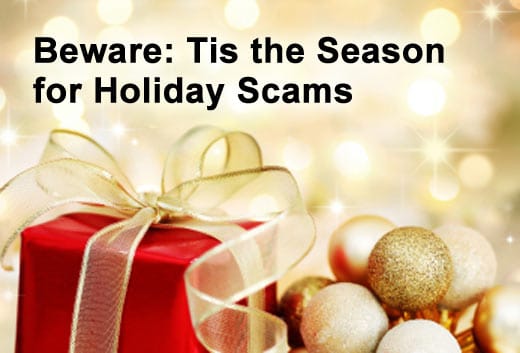 Warnings appear everywhere on the web – from Norton's website: "You better not pout, you better not cry, you better keep your wits about you, I'm telling you why… Holiday time is fast approaching and crooks, thieves, and cyber criminals of all kinds are prepared more than ever to steal your money, your identity, and reap untold havoc upon you. Black Friday, the date we now know as the busiest shopping day of the year, is a particularly vulnerable time for online and mobile holiday shoppers." We are now a week or two into the shopping spree of the year, but Santa's elves will not save you this time.
Do we even have a chance against organized crime? According to every security expert out there, these holiday efforts to scam you are not purely individual actions. They are a concerted effort by organized thieves, highly motivated, supremely capitalized, and definitely equipped with the latest and greatest technology. Here is what Scott Augenbaum, a longtime special agent with the Federal Bureau of Investigation (FBI), has to say on the matter: "Most men, including myself, we don't like to go to the mall. So what do we do? We shop online. The bad guys know that, so now the bad guys are starting to prey on the consumers. You do not have to become a victim in a majority of these matters. Almost 90 percent of it could've been prevented by using some good common sense." We will define what "good common sense" means later in this article.
What are the crime statistics for this time of year?
Global figures are hard to come by, but here is one info-graphic that may get your attention regarding consumers in the United States: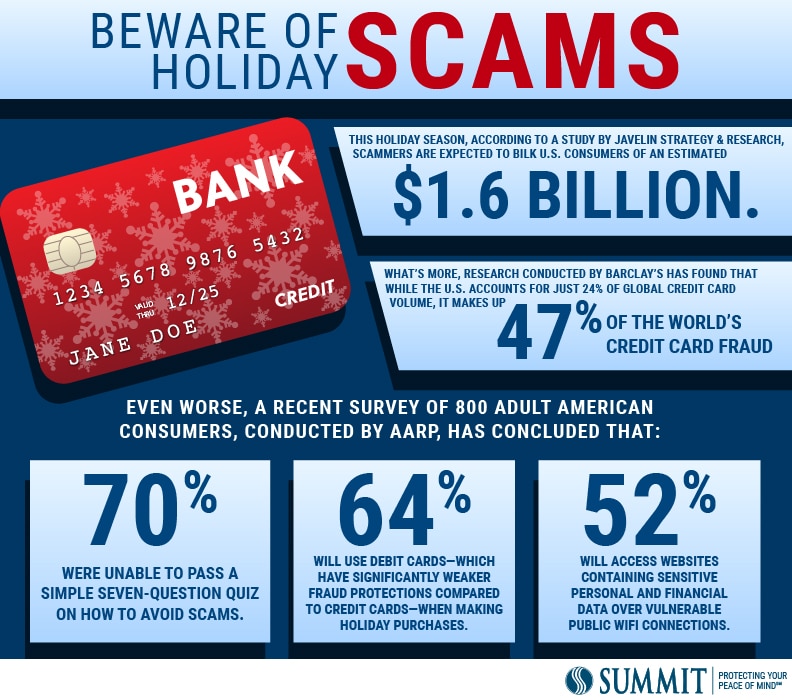 These figures may be quite scary for both of us, but these were compiled, based on 2015 reports. FBI reports assert that figures in 2016 escalated another 24% from the previous year. We can only guess what has happened so far in 2017, but every indication from the security professionals that track this sort of thing suggests that current increases are not just simply arithmetic – they are growing at geometric rates like never before seen in recorded time.
Evidence is also mounting that the efforts are highly organized, as noted above and in the pictorial depicted below: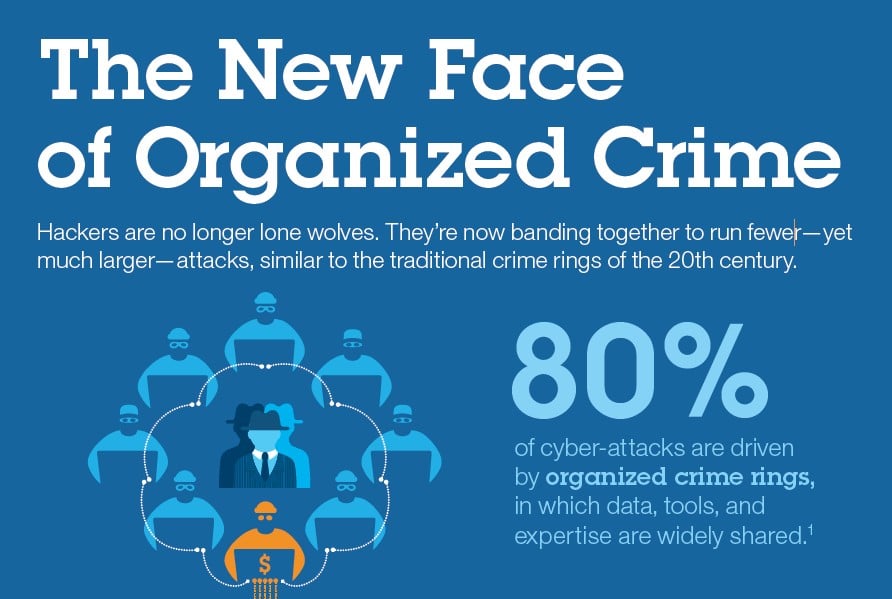 These "rings" not only combine their forces, plan for the future, and utilize the best technology has to offer, but they also share lists of their victims. In other words, if you fall for one scheme, then there is a high probability that you will be approached again. It may be the same scam or a simple twist on what worked before, or it may be a group of thieves that preys on your desire for retribution. These "rings" will guarantee to recover a portion of your losses for a small fee up front, but you will never recover any prior losses, and you will also lose the fee you offered up in the first place.
What are the biggest and most popular fraud schemes this holiday season?
As you might expect, there are numerous articles on the Internet, which enumerate every type of scam known to man. If there is one type of fraud that prevails in an offline environment, then you can be sure that some wily thief has taken that central theme and developed an even more insidious con game for use in the online world. Cyber-thievery is the modern form of warfare in today's world, and law enforcement is way behind the curve in stamping any of these efforts into oblivion. Part of the reason for this inability to halt the wave of cyber-crime is that much of it emanates from overseas. By the time you realize that the perpetrator is offshore, it is too late to call the local sheriff for help.
What should you be wary of? Here are ten suggestions:
1) Gift Cards: These handy little items continue to be a very popular gift, and, as a result, online gift card exchanges have emerged. These exchanges will swap or buy cards at a discount. Crooks also target these cards, as well, setting up phony exchanges to fleece the unwary. Check for service guarantees;
2) Counterfeit Goods: Watch out for huge discounts on major brand names. The product is usually a knock-off. Per one industry professional, "Counterfeit goods have been a problem persistently in the e-commerce space for a while, but it tends to flare up around this time";
3) E-Holiday Cards: Phony e-card sites are next: "There are a few ways to tell the e-Card is a fraud, including the sender email address seems off, the email is not personalized to the recipient or when you hover your cursor over the link it doesn't match the website it says it is from";
4) Corrupt Coupons: Various firms now issue coupons and promotional discount codes. It is not a wonder then that the crooks have latched onto these items, too, but they use the site for phishing purposes. Do not hand over your personal identity, credit card, and cell-phone information;
5) Buy Online, but Pick Up in the Store: Retailers have resorted to this technique to save time and shipping costs for customers, but, as you might expect, crooks have figured out a way to defraud the system. There are often two systems within the retail complex, and neither coordinates with the other as well as it should. Crooks use fake IDs to order items and pick them up, long before stores figure it out;
6) Not Delivered in Time: Whatever the hottest electronic items might be, these phony web storefronts guarantee that the item is in stock and will be shipped in time for Christmas. NOT! Once Christmas is past, these crooks are long gone, never having shipped even one item;
7) No SSL/TLS Certificate: Be wary of any website that does not have SSL/TLS certifications. You can tell by the "https" designation in the web address. Many browsers also display this notation in green, alerting you that everything is as it should be. These sites also encrypt, thereby protecting your payment card data;
8) Social Media Links: As forex traders, we are very familiar with this type of scam. Ads on social media sites blink and scream at you to click on them, only to be delivered to a crooked server, doling out mal-bots that will report back key login and password information to the crooks for use later;
9) Sloppy Websites: A sure sign that something might be wrong is when a site appears sloppy, i.e., misspelling, poor grammar, and incorrect word usage in your language. Legitimate companies take the time to ensure these errors are not present;
10) Clone Scams: Once again, we forex traders are familiar with this ruse. Websites can be created that look like a well-known brands, completely down to the web pages and web address. If you are suspicious, Google the brand name and compare the proffered information with the actual real thing, down to phone numbers any other data points.
What can I do to protect myself from cyber-theft scam artists?
Prevention begins with awareness and succeeds when a skeptical mindset is present. The basic prevention advice is to be suspicious of any unwarranted solicitation effort, whether it is a link, a pop-up ad, a tempting email, or even a referral from a friend or family member. Law enforcement officials also publish helpful tips to stop a crook dead in his deceitful tracks, as well. Here are some of the better ideas that have appeared in recent articles on the Internet and which represent "good common sense":
1) Change your passwords on all of your financial accounts;
2) Ensure that you have the latest security software on your computer and that security settings are set to their highest level;
3) Block pop-up ads, even if they appear to be from someone you know;
4) Never give out your personal information (name, address, bank details, email or phone number) to anyone before validating their credentials offline;
5) Avoid tempting emails that appear genuine with links to other websites that will ask for you identity data;
6) If you shop with major credit cards, then register for Verified by Visa or MasterCard Secure Code for an additional layer of protection;
7) Monitor your bank accounts for suspicious activity and report any to your bank;
8) Check your credit file report (Equifax, Experian, ClearScore, Noddle, or other domestic provider) for unauthorized activity;
9) Be very suspicious of all offers that seem too good to be true – they most likely are;
10) Never pay by banking transfer – Credit cards offer more protection;
11) "Check what the shipping and returns policy is – if there isn't one, proceed with caution";
12) If you are a victim, be wary of anyone promising to recover your losses for a fee.
Concluding Remarks
Don't let the crooks among us ruin our Holiday Season! Be wary, vigilant, and always be skeptical! Always remember that you, and only you, are your first and last line of defense when it comes to fraud prevention! Happy Holidays!
Read more articles on forex scams
---
Safest Forex Brokers 2023
Forex Fraud Certified Brokers
CFDs are complex instruments and come with a high risk of losing money rapidly due to leverage. Between 74-89% of retail investor accounts lose money when trading CFDs. You should consider whether you understand how CFDs work and whether you can afford to take the high risk of losing your money.
Stay up to date with the latest Forex scam alerts
Sign up to receive our up-to-date broker reviews, new fraud warnings and special offers direct to your inbox
Stay up to date with the latest Forex scam alerts