***UPDATE 2 FEBRUARY 2017***
We have spoken with Trade24 upper management and feel that they are doing their best to resolve all issues and mend their tarnished reputation. They are currently seeking CySEC regulation and once they receive that regulation we will post an updated review of their platform and brokerage.

In the meantime, we still suggest some caution (as per norm with any unregulated broker)- especially if you are in UK as they are not FCA regulated nor seeking FCA regulation. But they are doing MUCH better and their customer service is on top of it.
Furthermore, our communication channel with Trade24 has been re-connected and we are able to reach out to them to verify that issues are being resolved, If they have any notices we will be able to communicate those to our visitors and if there are comments on their review page (or this article page) we can notify them so they can address the issues as they arise.
In regards to the IFSC regulation statement- the incorrect IFSC regulation claim was immediately removed and the responsible party was terminated.
It's good to see that Trade24 is working to make ammends and build back their reputation. They still have a ways to go, but CySEC regulation, should that come through, will go a long way towards that happening in our opinion.
Please check back here and if there are any other updates we will post them as they come available.
In the meantime- please continue to post any comments, complaints, or praises (as long as you do not work for Trade24 or a competitor!) for Trade24 and we will do our best to encourage open communication between Trade24 and our visitors.
Thank you,
Management
ForexFraud.com
2 February 2017
Previously posted September 2016:
Use extreme caution or avoid altogether the forex broker that goes by the name of Trade-24.com. It is generally difficult to tell the exact moment when a legitimate and trusted broker suddenly becomes a risk to all involved, but, in the case of Trade24, the warning signs have come fast and furiously over the past several months. Customer complaint levels have risen, due primarily to withdrawal requests that have either been delayed or ignored. Regulators have become suspicious and published advisories of their own, warning the public about the unauthorized activities of this broker. Lastly, the broker has refused to return our calls or emails, a very bad sign, for sure.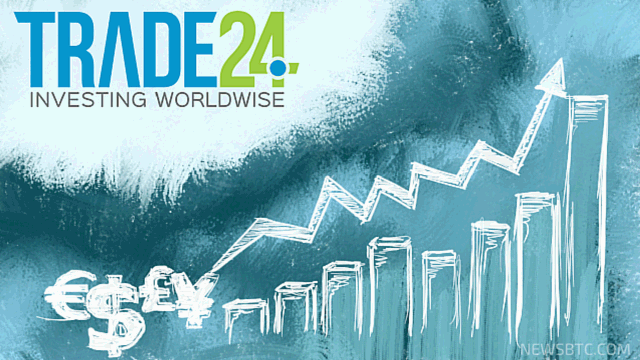 The current Trade-24.com website is actually quite impressive, claiming the leading edge with regards to trading platforms, social trading, and managed accounts. It offers both an STP/ECN interface, as well as a traditional market-maker business model. The asset offerings are broad, not just forex, and the firm claims to have garnered many industry awards, such as "Best Forex Broker – 2013". Favorable articles and reviews also proliferate the Internet, as if the analysts at this brokerage house were often sought out for their opinions. The "Home Page" even touts over $13 billion and counting in trading volume for only the first 20 days in September.
At first glance, this broker appears to be an industry leader, worthy of your consideration, but is it all a clever façade or the real deal? This broker claims to have been founded in 2007 in Switzerland, with global offices in Zurich, London, and Paris. The only addresses on today's website are located in Bulgaria and Monaco. The former is a Trade24 office, but the latter, which has much more "panache", is already claimed by another broker – a real estate broker's office for the well respected firms of Coldwell Banker and J&K Wentz, a puzzling anomaly that suggests that more investigation is in order, if we are to classify Trade-24.com as a scam or close to it.
What are the early warning signs that Trade-24.com may be in trouble?
Trade24 has been around for a decade with offices in major trading arenas, but, and this is a big "but", it has never approached the FCA in the UK, or the AMF in France, or even FINMA in Switzerland to obtain the proper licensing and authorizations to operate in Europe or anywhere else for that matter. Trade24 is a traditional forex broker that also offers CFD trading. It is not a binary options broker, which many regulators refuse to regulate on the grounds that they are nothing but online gambling. The major push of regulators for the past ten years has been to warn consumers to avoid non-regulated brokers, and it now appears that Trade24 may be suffering the consequences.
In 2016, there have been several favorable articles touting the firm's new service offerings related to social trading and managed accounts, but this year has also witnessed a dramatic rise in customer complaints on a multitude of industry blog sites. Here is a list of a few incidents that did not augur well for the future of this broker:
1)    Daily hits on the Trade24 website are approaching 150,000, a figure that ranks it in the top 50,000 of global websites. There could be good or bad reasons for this level of interest. In January, the firm ranked roughly 400,000 on the ranking charts, but there has been a sudden rise in activity, perhaps, due to the un-responsiveness of the broker's customer service area. The majority of its traffic comes from these five countries: Kazakhstan (15.9%), Russia (13.2%), Canada (8.8%), Singapore (8.3%), and Japan (7.5%);
2)    Complaints have been rising related to delays in honoring withdrawal requests, a sure sign that something is wrong and an early indicator that will draw fire from the regulatory establishment. Once complaints reach a certain level, regulators are obliged to launch a formal investigation into the affairs of the offending party;
3)    In early June of 2016, the International Financial Services Commission (IFSC) of Belize published an advisory warning that the license presented on the Trade24 website was a forgery and a fake. The spokesperson for the IFSC was blunt in its assessment: "We confirm that "TRADE24 Investments Ltd." is not licensed by the International Financial Services Commission of Belize or any other competent authority in Belize to engage in any type of trading business." Extreme caution was the further counsel of this regulator;
4)    Other regulatory agencies soon followed suit, including the FCA of the UK and CONSOB of Italy. Both groups claimed that Trade24 was conducting business without the proper authorizations, and the FCA went on to say that, "You should be aware that if you give money to an unauthorised firm, you will not be covered by the Financial Ombudsman Service or Financial Services Compensation Scheme (FSCS) if things go wrong."
When press headlines go south like these for a broker, the consequences can be immediate and painful, much as when depositors at a bank rush to withdraw their funds in masse. We at ForexFraud have attempted to contact the broker to get its response, but our calls and emails have been ignored. When we finally were able to get a real person to answer the phone, the customer service representative had no idea of who could answer our questions or speak on behalf of Trade24. We have received numerous complaints on our website that Trade24 has treated their clients in a similar fashion. The rise in complaints has been abrupt, a sure sign that Trade24 is having difficulty.
Concluding Remarks
We recommend that you avoid Trade24 at Trade-24.com for the time being. We and others have given this broker every opportunity to respond and defend itself, but the management team has chosen to remain mute. As the regulators have already warned, proceed with extreme caution when dealing with Trade24. If you are a client, it is time to look elsewhere and to withdraw your account balance, if at all possible.
---
Safest Forex Brokers 2023
Forex Fraud Certified Brokers
CFDs are complex instruments and come with a high risk of losing money rapidly due to leverage. Between 74-89% of retail investor accounts lose money when trading CFDs. You should consider whether you understand how CFDs work and whether you can afford to take the high risk of losing your money.
Stay up to date with the latest Forex scam alerts
Sign up to receive our up-to-date broker reviews, new fraud warnings and special offers direct to your inbox
Stay up to date with the latest Forex scam alerts