Non-Fungible Tokens, NFTs, look set to be one of the big investment stories of 2022. Whether you're struggling to come to grips with the concept or have already bought into the potential the market offers, there are some simple ways to explore the possibilities as safely as possible. Read on to learn how to buy NFTs and trade them.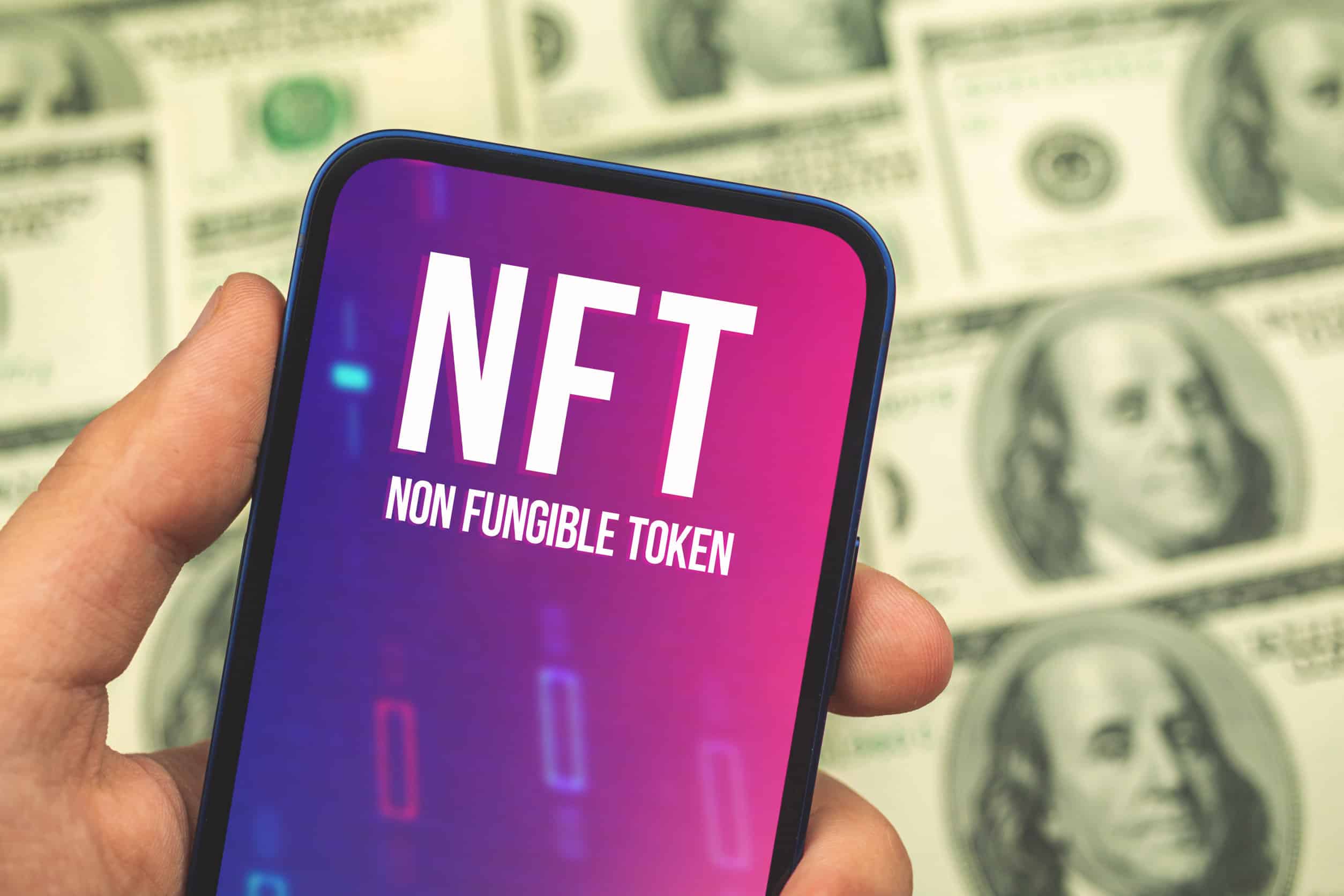 What Are NFTs?
The jargon relating to NFTs can get in the way of those trying to get to grips with what they are. Blockchain technology plays a part and helps identify the owners of a digital asset. As with cryptocurrencies, blockchain protocols allow all members of a network to establish precisely who owns what. In terms of NFTs, that 'what' can be internet collectables such as art, music and games.
Ownership is verified via an authentication certificate publicly recognised by those on the blockchain. In the way that if all the players in a game of cards play with their cards facing up, then it's clear to establish who holds a particular card.
The question for those looking to buy NFTs is how to find a safe table to take a seat at, where purchasing the jack of hearts, for example, will be recognised by all concerned.
Where Can I Buy NFTs?
The good news for those interested in the market is that regulated brokers have started offering a route into trading NFTs. The regulatory cover of brokers such as eToro isn't as comprehensive as if you were buying other assets, such as listed equities. However, the core framework of the platform will be the same robust, user-friendly one used to buy stocks and bonds. In fact, from a single trading account, it is possible to build a diversified portfolio. The standard guidance is to have most capital allocated to traditional assets and only a small percentage invested in speculative items such as NFTs. Any trading in crypto assets will be unregulated, and there will be no consumer protection on those positions.
Buying NFTs – Step 1: Open An Account At eToro
eToro is currently one of just a handful of brokers offering cryptocurrency markets to U.K. retail investors. You can't use leverage or buy the coins in CFD form, but you can buy cryptos outright and hold them in your trading account. The first step involves form filling and verifying your I.D. during the onboarding process at the broker.
Buying NFTs – Step 2: Buy Ethereum
Once your account has been funded using fiat currency, the next step is to use that regular currency to buy the crypto coins used to purchase the NFT. The Ethereum platform is a popular destination. It has a strong track record, and Ether coins are stronger than Bitcoin in terms of being used to perform transactions.
Once you have purchased the Ethereum at eToro, you will need to transfer it to your eToro Wallet. That is done by going to the Portfolio button on your eToro account, selecting Ethereum, and hitting 'Transfer to Wallet'.
Buying NFTs – Step 3: Download MetaMask
Buying NFTs does involve using third parties other than eToro. MetaMask is a crypto wallet that acts as a gateway to the Ethereum-based decentralised finance (DeFi) and NFT ecosystem. It can be downloaded onto a desktop, iOS, and Android mobile devices.
Then create a wallet, set a password, and save the recovery phrase.
Buying NFTs – Step 4: Send ETH to MetaMask & Connect to an NFT Marketplace
To transfer funds to the MetaMask account, open the eToro Wallet and hit 'Send' under Ethereum. Then open MetaMask, copy the address of your new wallet, and paste it into the address field on eToro. Specify the amount of Ethereum and hit 'Send' again.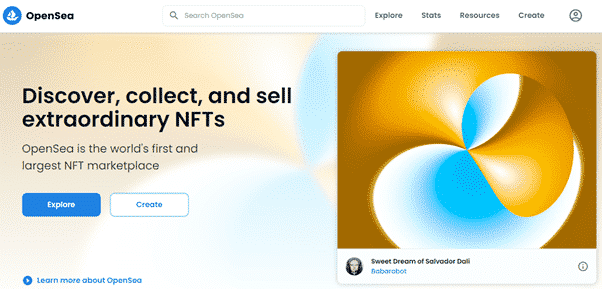 Source: OpenSea
Depending on market conditions, it can take minutes or an hour for the Ethereum to be credited at MetaMask. Then navigate to an NFT platform such as OpenSea.
In the top right corner of the OpenSea homepage, hit the wallet icon and choose MetaMask and follow the prompts to connect your wallet.
Buying NFTs – Step 5: Buy an NFT
OpenSea hosts a vast array of collectable avatars and artwork. Prices range from a few pennies to hundreds of thousands of dollars, and at this stage of the process, it's time to start browsing!
It is possible to make an offer on an NFT to see if a seller will come down in price. If you can agree on a deal or opt to just Buy Now, you'll move through to the checkout area of the site. Fees and commissions will be applied, and the transaction cost will reduce your ETH balance, but you'll now be the owner of an NFT.
Final Thoughts
Some consider the blockchain market a house of cards, and there is some debate about how to value a digital asset with no tangible form. Images of some NFTs can be found freely available online, so how does one individual owner convert their ownership rights into a price tag.
Whether NFTs are hype, or the next big thing, the market in them is tipped as one of the growth markets for 2022. The fact that NFTs offer a revolutionary new way of doing things is part of the appeal, but the real draw for most buyers is the phenomenal prices being paid for some NFTs and the resulting eye-watering gains for some investors.
A prime example in 2021 was the NBA Top Shot platform NFTs. Some of this collection of unique moments related to the US NBA in the form of digital cards sold for millions of dollars. Seminal moments in internet history are also being catalogued and sold as NFTs. The Twitter founder, Jack Dorsey, in late 2021, tweeted a link to a tokenised version of the first-ever tweet, which was sold for $2.5 million.
The NFT market is definitely a 'buyer beware' operation, and only funds which can be afforded to be lost completely should be used. Managing risk by taking the safest route into the market is also a priority. While eToro is currently leading the way, it can only be hoped other regulated brokers also step up to help retail investors mitigate the operational risk as much as possible.
Crowdsourcing information about scam brokers can help others avoid falling into the traps set by disreputable brokers and you can share your experiences here. If you want to know more about this particular topic, or have been scammed by a fraudulent broker, you can also contact us at [email protected]
---
Safest Forex Brokers 2023
Forex Fraud Certified Brokers
CFDs are complex instruments and come with a high risk of losing money rapidly due to leverage. Between 74-89% of retail investor accounts lose money when trading CFDs. You should consider whether you understand how CFDs work and whether you can afford to take the high risk of losing your money.
Stay up to date with the latest Forex scam alerts
Sign up to receive our up-to-date broker reviews, new fraud warnings and special offers direct to your inbox
Stay up to date with the latest Forex scam alerts